Big Ten Basketball Power Rankings: 5 Most Overhyped Players in the Conference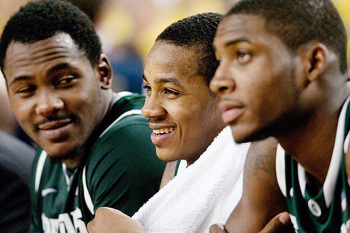 Last season, the Big Ten was one of the true power conferences in college hoops. With that reputation carrying over into 2012, there are sure to be players receiving more national attention than deserved.
The following slideshow highlights reasons for their hype. Though all the players featured are very talented and essential to their teams, they nonetheless receive more credit than they should.
I'm hoping that these players prove me wrong, but until they play consistently at a high level—and not just highly regarded based on talent and potential—I consider them overhyped.
Brandon Paul, Illinois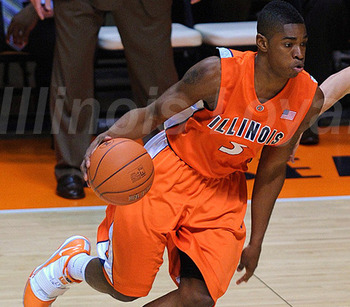 The worst thing that ever happened to Paul was scoring 43 points in an upset win over Ohio State in January. Paul ended up scoring in double figures in only three of the Fighting Illini's last six games, as they crumbled down the stretch last season.
In head coach Bruce Weber's last game, a 64-61 loss to Iowa in the Big Ten Tournament, Paul scored four points on 2-for-11 shooting and committed seven turnovers before being benched late in a close game. Despite leading the Illini in scoring on the season, Paul only shot 39 percent from the field and 33 percent from behind the arc.
He also had more turnovers than assists, averaging 3.4 turnovers to only 2.9 assists. Paul also took nearly 12 shots per game, often overlooking the pass to stud center Meyers Leonard. Paul was a Third Team All-Big Ten selection in 2011-12.
Paul returns for his senior season and despite being overhyped, will likely be Illinois' best player. It will be interesting to see the relationship between Paul and new head coach John Groce. Though he is certainly a talented player, Paul doesn't always make smart decisions, which has recently hindered Illinois' success.
Keith Appling, MSU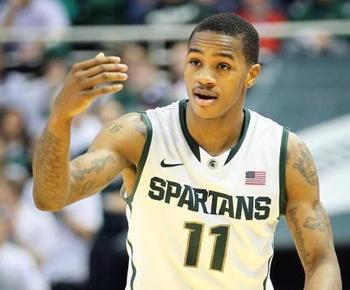 After taking over as point guard for Kalin Lucas, Appling had a very respectable sophomore season, although not at the same level as his predecessor. Inconsistency was the main cause, as Appling often had multiple double-digit scoring games followed up by poor-shooting ones.
In January, Appling shot a combined 2-for-19 in games against Minnesota and Illinois, but redeemed himself by scoring in double figures the next four games. By season's end, Appling finished with averages of 11.4 points, 3.9 assists, and 2.3 turnovers. He shot 25 percent from three-point range as well.
A staple of Tom Izzo-coached teams is that as soon as the Spartans get the ball, they find the point guard and push the ball up court looking to score in transition. While Appling is extremely quick, he was almost too quick for his own good at times and allowed careless mistakes.
Appling is projected to be Michigan State's top player in 2012-13, and though it's possible, I predict a strong return for Branden Dawson from his injury and giving Appling a run for his money. Following Draymond Green's graduation, it will be interesting to see how Appling adjusts to being the primary facilitator on offense.
Aaron White, Iowa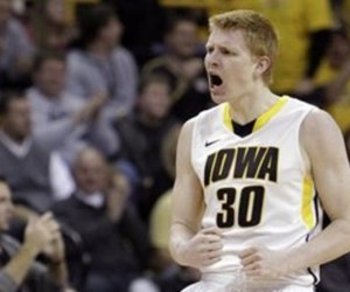 White, a freshman in 2011-12, became a starter in late January after Melsahn Basabe continued his up-and down-season. After scoring 19 points in his collegiate debut, White was unable to score in double figures in the following nine games.
Like Appling, White was inconsistent as a scorer, never able to string more than three consecutive games of double figure scoring. However, he did play well in the NIT by scoring 25 and 22 points in the Hawkeyes' postseason contests, respectively.
White shot 50 percent from the field, but only 28 percent from three-point range. He did pull in nearly six rebounds per game, but averaged less than one assist along with 1.4 turnovers. White was without a doubt one of the top freshmen in the league last year, but I just don't see him becoming a star as a sophomore.
With Matt Gatens gone, White and his teammate Roy Devyn Marble will be Iowa's two best offensive threats. And besides Josh Oglesby, the Hawkeyes lack any other outside shooters. Teams will be able to adjust to their playing style if they play strictly in the paint, although I'll bet the Hawkeyes will be NIT-bound again this year.
Tim Hardaway Jr., Michigan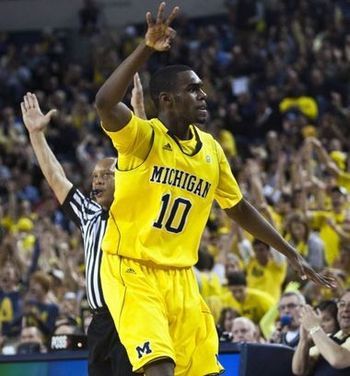 Hardaway Jr.'s numbers are nearly identical between his freshman and sophomore seasons, and with some top recruits coming to Ann Arbor this year, those numbers could likely remain constant or even take a dip during his junior year.
Hardaway Jr.'s three-point percentage dropped over eight points, to only 28 percent this season. He also only averaged 2.1 assists to 1.9 turnovers. The departure of Darius Morris to the NBA may have hurt Hardaway Jr., as Morris was a better distributor than freshman Trey Burke.
Hardaway Jr. is still a very talented player, who averaged 14.6 points as a sophomore, but as mentioned above, the additions of Mitch McGary and Glenn Robinson III could drop that number down. Hardaway Jr. is also known as a second-half player, often struggling to find his shot during the first 20 minutes.
For him to maintain the numbers he's put up through his first two years as a Wolverine, Hardaway Jr. must get back to attacking the basket rather than settling for three pointers. He has the length and athleticism to get to the basket and throw down a dunk, but we didn't see that nearly enough in 2011-12.
Derrick Nix, MSU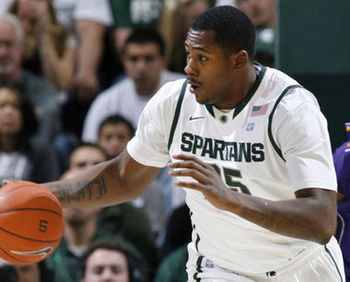 While Nix took giant strides between his sophomore and junior season, boosted by his weight loss, I don't see him making that same improvement this off-season. Nix averaged 8.1 points and 3.8 rebounds in nearly 19 minutes of playing time in 2011-12.
Despite dropping pounds, Nix still weighs in at 270, which has limited his minutes during his career. He and teammate Adreian Payne may be on the floor at the same time more this season, thus upgrading Nix to a starter, I don't see Nix playing much more than half the game.
Unfortunately, earlier this year, Nix, who once quit the Michigan State basketball program, was arrested. Hopefully off-the-court issues do not become a problem for Nix, who is already on thin ice with Coach Izzo. Losing a few more pounds, or even just gaining a little more muscle, could be very beneficial to Nix.
I also predict a a breakout season from Nix's frontcourt-mate Payne. Payne's versatility on both offense and defense is something that Nix lacks.
Keep Reading

Michigan State Basketball: Like this team?