Why the Boston Celtics Are Poised to Become Rajon Rondo's Team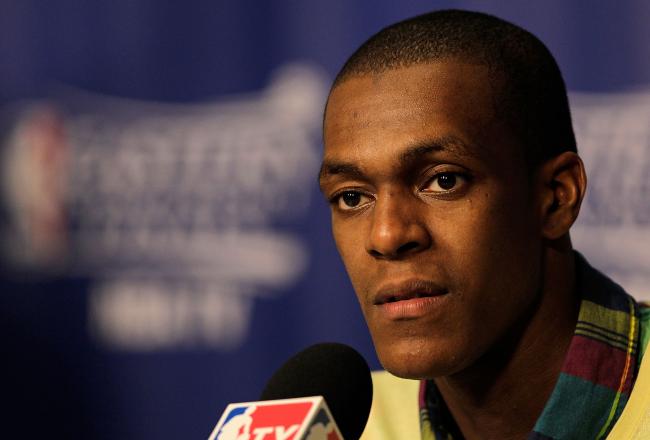 Mike Ehrmann/Getty Images
There's a good case to be made that the Boston Celtics already are Rajon Rondo's team.
In terms of on-court performance and value, you'd be hard-pressed to make an argument that Kevin Garnett or Paul Pierce is more critical to this team's wins. Though his shooting remains inconsistent, the 26-year-old floor general does everything else you could possibly want.
He's a pin-point passer with an excellent sense of space and timing, and he's deferential almost to a fault.
While the rest of his team is typically scoring the baskets, it's Rondo's ability to engineer the offense so meticulously that allows them to do so.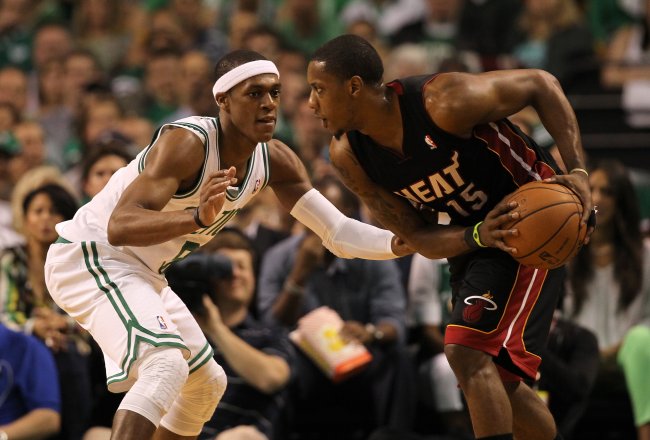 It's easy to forget just how important this guy is to the defense.
Jim Rogash/Getty Images
It's worth remembering that Garnett and Pierce are both at the stages in their careers where they could use a little help. It's easier to spot up for an open jumper than it is to battle in the post or beat younger defenders off the dribble.
And, that's just it: Rondo makes life easier for his teammates.
He's a facilitator in the truest sense, so much so that he finished eighth in this year's MVP balloting. That's a testament to his individual talent, but it also says something about just how much he contributed to an aging roster's improbable success.
The second unit certainly wasn't making the difference.
Of course, Rondo isn't just another pass-first point guard. Though he may never measure up to Steve Nash in some ways, he's already surpassed him in others. At only 6'1", he's averaged between four and five rebounds per game in five of his six seasons in the league.
He's also one of the very best perimeter defenders at his position, and you could never say such a thing about Nash.
Rondo's Game 2 against the Heat was a performance for the ages.
The scoring hasn't been there, and the perimeter shot remains a work in progress. But, his 44-point explosion against the Miami Heat in Game 2 of the Eastern Conference Finals showed the potential that remains.
There's really only one hurdle remaining for Rondo, and that's taking control of the locker room.
That's not easy with the ever-vocal Garnett around, and it's hard to steal the show when a guy like Paul Pierce has steadfastly represented the Celtics for 14 years.
With veteran Jason Terry replacing Ray Allen, it's not as if this club will be any less crowded by old guys who ostensibly have a greater claim to leadership than Rondo.
Still, it appears to be time for Rondo to assert himself both on and off the court. Sometimes that will mean adopting a scorer's mentality. Sometimes it will mean getting in a teammate's face.
Chances are, it will also mean this club once again has a fighting chance against the supposedly dreaded Miami Heat.
This article is
What is the duplicate article?
Why is this article offensive?
Where is this article plagiarized from?
Why is this article poorly edited?

Boston Celtics: Like this team?