Spain vs. Japan: Olympics Football Live Score Analysis, Recap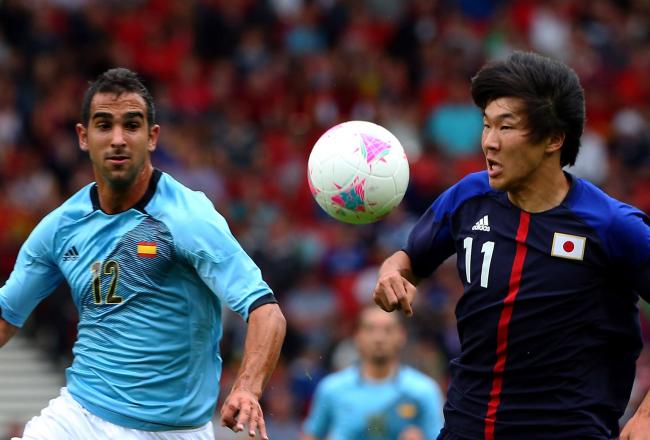 Stanley Chou/Getty Images
2012 Summer Olympics, men's football tournament, Group D
Spain 0-1 Japan (full time)
LINEUPS
Spain: David De Gea; Alvaro Dominguez, Javi Martinez, Inigo Martinez, Jordi Alba, Adrian Lopez, Rodrigo, Juan Mata, Koke, Montoya, Isco (Oriol Romeu 64')
Japan: Shuichi Gonda; Yuhei Tokunaga, Takahiro Ohgihara, Sakai Hiroki, Maya Yoshida, Yuki Otsu (Manabu Saito 46'), Keigo Higashi, Kensuke Nagai, Daisuke Suzuki, Hotaru Yamaguchi, Hiroshi Kiyotake
Goals: Otsu (JPN) 34'
Red card: Inigo Martinez (ESP) 41'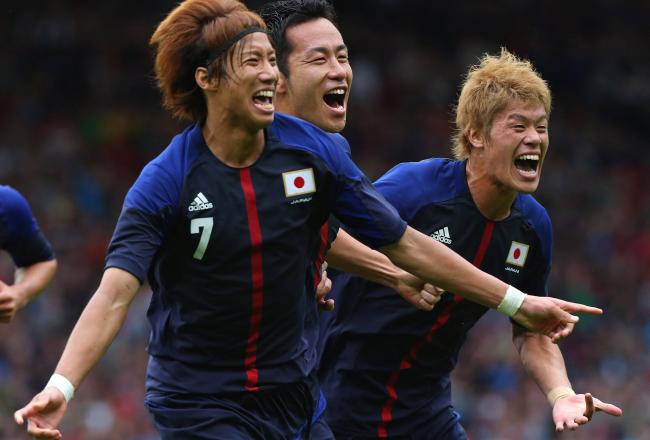 FULL TIME: SPAIN 0, JAPAN 1
There's the final whistle! Japan have pulled off the upset!
In all honesty, the Japanese players fully deserve this win. They defended heroically in the first half, sneaked a goal, then created several chances in the second half.
In fact, Japan could have won this game 3-0 or 4-0 easily, if only they had finished better.
For Spain, it's a disastrous start. Not only did they lose, but Inigo Martinez was sent off and will miss the next match.
Stick with B/R throughout the day for full reaction.
90+4
Japan definitely haven't parked the bus today. They're still trying to attack with a 1-0 lead in the final minute of stoppage time!
90+2
Nagai forces another save out of De Gea with a cross from the left.
Japan's attackers are all over the place!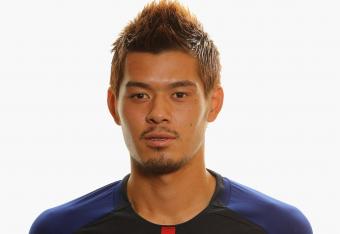 90'—JAPAN MISS!
Keigo Higashi finds himself with time and space in the Spain box. He toys with his defender, buys time and picks out the late run of Hotaru Yamaguchi.
Yamaguchi is all alone, but he fluffs his shot over the bar!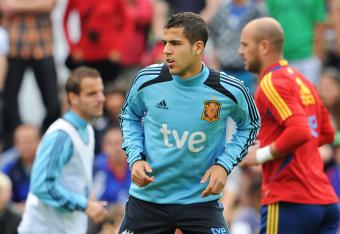 89'—YELLOW CARD!
Alvaro Dominguez receives a yellow card for a professional foul on Manabu Saito.
He knew exactly what he was doing. Good call by the ref.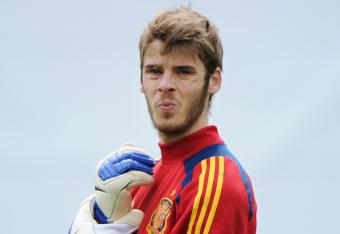 87'—SAVE!
David De Gea saves Spain!
Kensuke Nagai breaks away again behind Spain's defense, but De Gea stuffs him one-on-one.
Will Japan rue all their misses?
86'—JAPAN SUB
Takahiro Ohgihara makes way for Kazuya Yamamura.
86'—FOUL!
Keigo Higashi is whistled for a rough-looking foul in the middle. On second look, it wasn't that bad.
83'—ESP 0, JPN 1
Yamaguchi makes a great, late run at the far post. He's picked out by a curling cross, but he tries to control the ball instead of shooting first time.
ELSEWHERE
Mexico and South Korea have drawn 0-0 in today's other early match.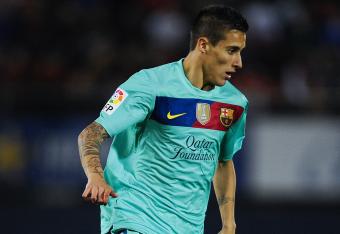 81'—SPAIN SUB
Cristian Tello replaces Koke.
That move is a bit late, if you ask me.
79'—SPAIN CHANCE!
Juan Mata and Jordi Alba combine on the left. Alba has a go, then Mata shoots from the rebound.
It's out for a corner, which comes to nothing.
Better from Spain though.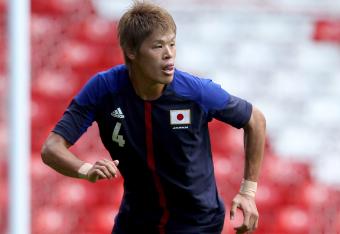 74'—JAPAN SUB
Sakai for Sakai. Defender Hiroki Sakai, who sustained an injury moments ago, is replaced by fellow defender Gotoku Sakai.
72'—INJURY
Sakai limps off. Not sure if he'll continue or not.
Big blow for Japan?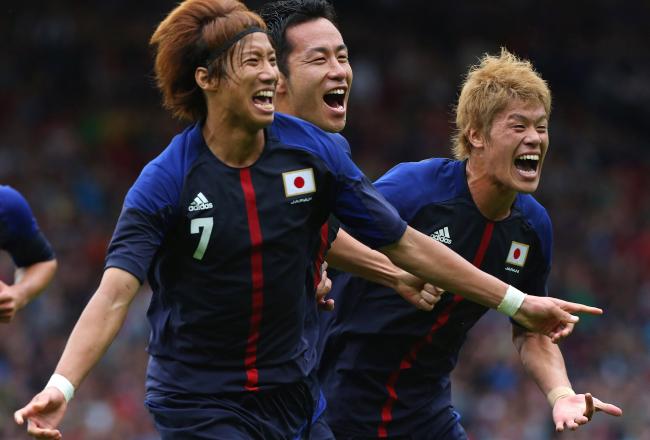 70'—ESP 0, JPN 1
We're seeing Spain with much more possession now, even with only 10 men.
Looks like Japan will try to defend from now on. They pushed for a second goal early in the second half, but they don't want to be caught out.
Tweet, Tweet
A few tweets as Spain pushes forward for the first time in a while (no shots, though).
I think the phrase is "Spain are being ripped a new one". #London2012

— Dale Johnson (@dalejohnsonESPN) July 26, 2012
And:
Spain's central defense getting wrecked again. #Olympics

— Michael Cerna (@MichaelCernaBR) July 26, 2012
Another sub
Ander Herrera also entered a few minutes ago. Replaced Adrian.
64'—SPAIN SUB
Oriol Romeu replaces Isco for Spain.
62'—ESP 0, JPN 1
Corner for Spain. Javi Martinez rises highest—that doesn't happen often—but heads wide of the near post.
The Japanese keeper was caught in between there. Decent half-chance for Spain.
61'—YELLOW CARD
Manabu Saito. Persistent infringement.
That's impressive, considering Saito just entered the match at halftime.
Anyway, the atmosphere inside Hampden Park is cookin' now.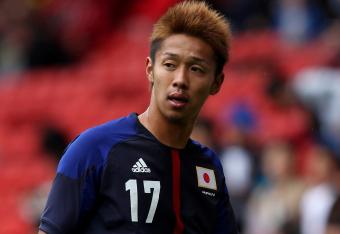 60'—ANOTHER JAPAN MISS!
Hiroshi Kiyotake spearheads another Japan counter—where is Spain's defense—and shoots inches wide of the far post.
Japan's attackers are finding tons of room in Spain's midfield and defense. But can they find their shooting boots?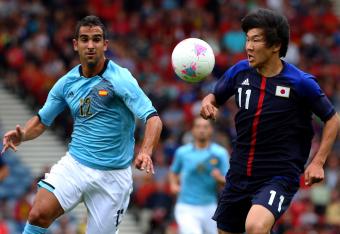 58'—JAPAN CHANCE!
It's Nagai again, and Spain has no answer for Japan's speed.
Keigo Higashi collects the ball, on-side, all alone in the middle. Spain's defense closes quickly, but Higashi plays in Nagai on the left.
Nagai's shot rolls inches wide of the far post. So close!
Japan need that second goal. Spain will always be dangerous.
56'—COUNTER!
Quick counter for Japan. Hiroshi Kiyatoke collects the ball on the right and plays a beautiful ball behind Spain's defense to Kensuke Nagai.
Nagai's first touch is a bit too long and the danger passes.
Spain teetering.
53'—ESP 0, JPN 1
Now it's Japan with all the possession. Hiroki Sakai tries to pick out Kensuke Nagai with a towering cross, but it's too high.
Spain really seem to be hurting with that one-man disadvantage. Inigo Martinez's sending off has been costly.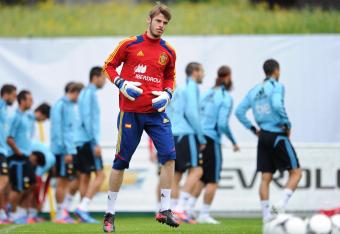 50'—SAVE!
Japan push forward, and Keigo Higashi curls a powerful shot from distance.
David De Gea saves a full stretch. Nice work.
This article is
What is the duplicate article?
Why is this article offensive?
Where is this article plagiarized from?
Why is this article poorly edited?