Olympic Volleyball 2012: 4 Countries with Huge Size Advantages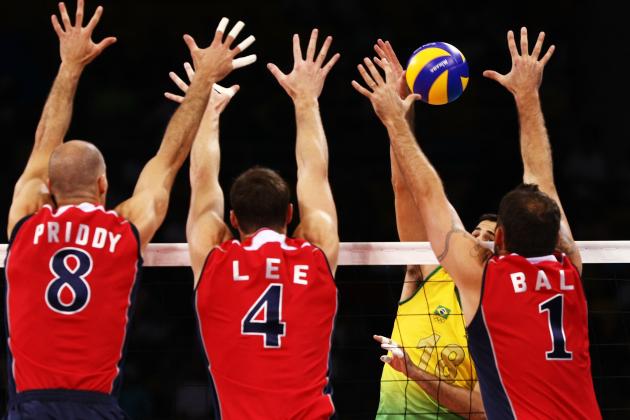 Jonathan Ferrey/Getty Images
Reid Priddy, David Lee and Lloy Ball combine to throw a huge block in 2008.
Perhaps the most important factor when it comes to volleyball is size.
And with such a small margin in skill among national teams competing in the Olympics, size becomes an even larger component of success.
In the London Games, certain teams will have major advantages when it comes to size. Not surprisingly, all four teams on this list are ranked in the top five by the FIVB.
Of course, having the tallest team does not necessarily mean an automatic gold medal. Nevertheless, having a significantly larger front line than the opponent can be the deciding factor in a match.
So, which volleyball team will have the biggest size advantage at the Olympics in London? Read on to find out.
Begin Slideshow

»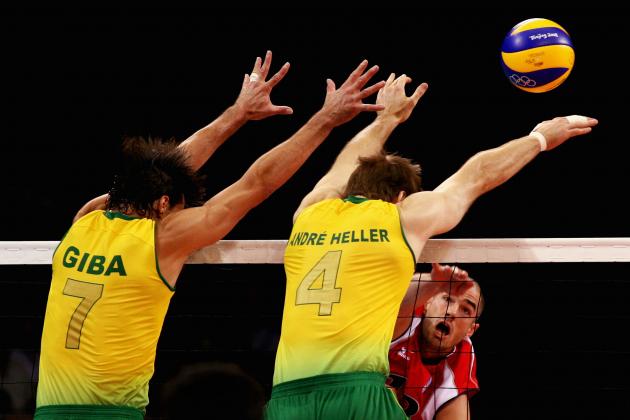 Quinn Rooney/Getty Images

Brazil has been the perennial No. 1 volleyball team in the world for years. They won gold in Athens in 2004 and had a chance to win gold again in 2008 before losing to the Americans in the championship match.
This year, Brazil will have quite an advantage at the net. Brazil's roster includes two players who measure 6'10'' or taller—Leandro Vissotto and Lucas Saatkamp. They are one of just two squads who can claim that distinction.
Furthermore, few players are as skilled or technically sound as the Brazilians. Their lethal combination of size and skill is what sets Brazil apart when it comes to indoor volleyball.
Expect big things—no pun intended—from the Brazilians in London.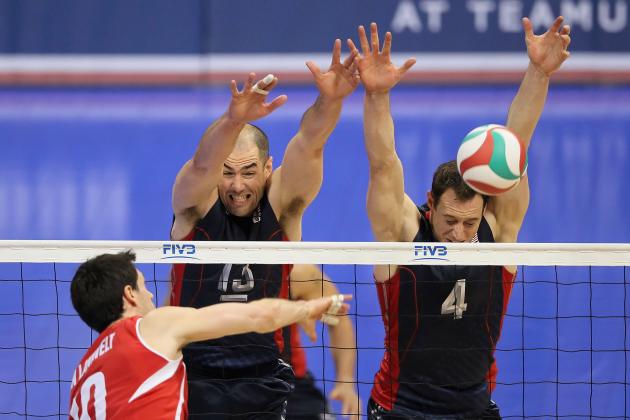 Jeff Gross/Getty Images

While the US Volleyball team doesn't include any player over 6'9'', it is one of just four teams competing in the Olympics which have five or more players who measure at 6'8'' or taller.
That sort of across-the-board height could fare very well for the Americans, as they won't lose much size due to rotations.
Don't forget, the US won gold in Beijing in 2008 with essentially the same squad, proving that the biggest team doesn't always win.
Team USA is led, in the heigh department, by Sean Rooney, Russell Holmes and Clay Stanley (pictured above on the left), who all measure at 6'9''.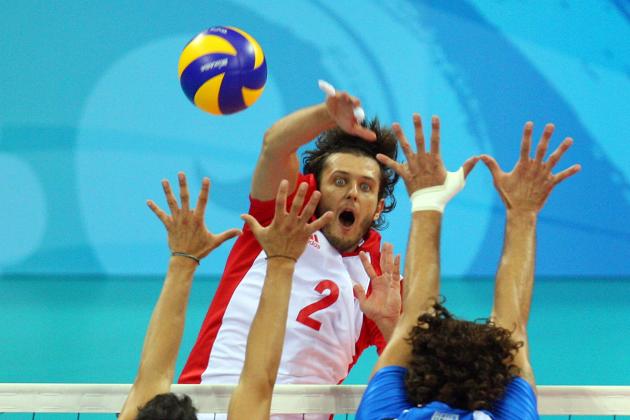 Phil Walter/Getty Images

Poland present one of the tallest teams in the Olympics, with four players measuring at 6'9'' or taller, including Marcin Mozdzonek, who is 6'11''.
That sort of height is absolutely game-changing on both offense and defense. On offense, there are going to be very few middles who can match the height of Mozdzonek. And the 27-year-old will cause havoc at the net for the opposing middle.
Stopping the opponent's middle-hitter is key because most teams try to get their middle involved early to open up hitting lanes for the outside and opposite hitters.
Poland is ranked No. 3 in the world and will surely be expecting to compete for gold in London.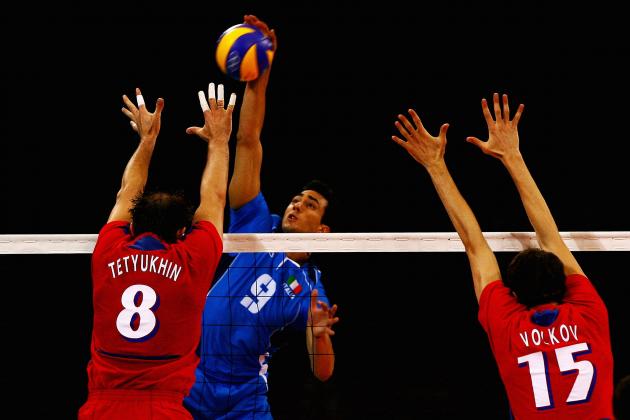 Quinn Rooney/Getty Images

Going off of size alone, Russia is the tallest team in the Olympics. The Russian squad includes Alexander Volkov, who stands at 6'11'', and Dmitriy Muserskiy, who is a towering 7'2''—easily the tallest player in the Olympics.
Ranked at No. 2 by FIVB, that size has obviously helped Russia in their international competition. The ability that a 7'2'' volleyball player must have is remarkable—especially a middle.
Middles work perhaps the hardest of anybody on the court, as they have to block every attack and often jump on every set of their own—either to hit the ball themselves or execute a dummy spike.
Muserskiy will be one of the highlights in the volleyball gym in London. Simply no other player in the tournament demands as much attention as the 23-year-old.