Baltimore Ravens: Previewing Each Position's Training Camp Battles in 2012
Dilip Vishwanat/Getty Images
Ray Lewis. Ed Reed. Haloti Ngata.
The Baltimore Ravens have had several big-name stars in their starting lineup for years so that when training camp comes around, most of the starting position battles are already settled.
Heading into the Ravens' 2012 training camp, there are several position battles that are still unsettled. From an injury to the reigning Defensive Player of the Year to the loss of veteran players, the Ravens have many questions to answer during training camp.
Here is a preview of each positions battle at the Ravens' training camp in 2012.
Quarterback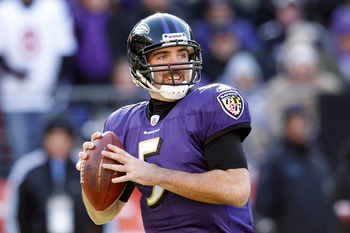 Rob Carr/Getty Images
There is no question that Joe Flacco is going to be the starting quarterback for the Baltimore Ravens in 2012.
The real battle everyone needs to keep their eye on is who will back up Flacco this season. The competition is going to be between last year's backup, Tyrod Taylor and Curtis Painter.
Taylor had the backup job last year and is a tremendous athlete, but Painter was a starter in 2011 under new Ravens quarterback coach Jim Caldwell.
Lets just hope that whoever wins the backup quarterback position does not see the field much in 2012 and that Flacco stays healthy.
Running Back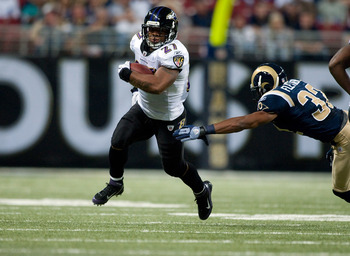 Jeff Curry/Getty Images
With Ray Rice signing his new contract recently, the Baltimore Ravens still have questions in their backfield.
Going into the 2012 season, the Ravens have a serious question mark when it comes to their No. 2 running back.
Since John Harbaugh has taken over as head coach, the Ravens have always had a great backup running back. Whether it has been Rice, Willis McGahee or Ricky Williams, the Ravens have always had great depth at the running back position.
Heading into this season, it looks like the backup running back is going to be either Anthony Allen or rookie Bernard Pierce.
Allen was a seventh-round draft pick for the Ravens in 2011 and only recorded three carries this past season, so people do not know what to expect from him. Pierce was the highest drafted running back the Ravens have taken (third round) since they drafted Rice in the second round in 2008.
Since the two of these running backs have very little NFL experience, do not be surprised if the Ravens add a veteran running back later in training camp like they did last year with Williams.
Wide Receiver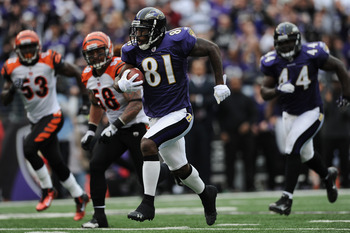 Patrick Smith/Getty Images
The Baltimore Ravens have been trying to find a solution for their No. 3 wide receiver position for years now.
Whether it has been Kelly Washington, T.J. Houshmandzadeh or Lee Evans, the Ravens still cannot seem to find the right answer.
This offseason, they signed Jacoby Jones to be their new No. 3 receiver. Jones has tremendous speed that will give Joe Flacco another vertical threat, and he also gives the Ravens a reliable returner.
Though Jones has scary speed, he still needs to work on his hands. That is where his main competition comes in.
Entering his second season, Tandon Doss has terrific hands and could make a significant impact on the Ravens offense as a slot receiver. If Jones continues to struggle holding onto the ball, look for the Ravens to give Doss a shot to show off his hands.
Tight End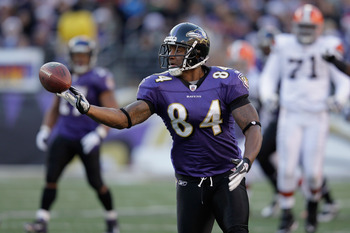 Rob Carr/Getty Images
With the success of the New England Patriots' two-headed tight end monster, the Baltimore Ravens are trying to emulate their own version with Ed Dickson and Dennis Pitta.
Last year, both Dickson and Pitta showed flashes of becoming a top tight end duo in the NFL. While Dickson was the starter and possesses great athleticism, Pitta has better hands and is a better blocker.
As the Ravens got later into the season, it appeared that Joe Flacco was developing more chemistry with Pitta and getting him more involved with the offense.
Both of these guys are still going to play major roles in the offense in 2012, but look for these two to go head to head throughout training camp to win the starting tight end position.
Offensive Line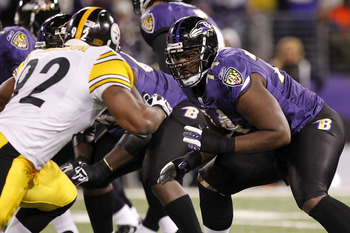 Geoff Burke/Getty Images
With the loss of perhaps their best offensive lineman in Ben Grubbs, the Baltimore Ravens have a major hole to fill at the left guard position.
Right now, the favorite looks like Bobbie Williams, who will be entering his 13th season. Williams has been the Cincinnati Bengals starting guard for the past eight seasons and brings leadership to the Ravens' young offensive lineman.
If Williams age catches up to him, then the starting left guard spot could go to Jah Reid or rookie Kelechi Osemele. Though Reid was a rookie last year, he was still active for every game and saw time on goal-line situations. Osemele, a 2012 second-round draft pick, will provide competition during training camp, but appears to be more of a project player for the future.
Defensive Line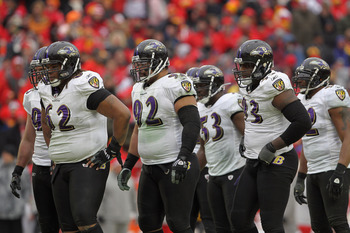 Doug Pensinger/Getty Images
With Haloti Ngata leading this group, the Baltimore Ravens defensive line continues to be one of the best in the league.
With Ngata and Terrence Cody penciled in as the starters on the line, the Ravens have one last defensive end position to fill.
With the loss of Corey Redding, the competition is going to come down to either Arthur Jones or Pernell McPhee.
Entering his third season, Jones started one game last year and has always provided solid run support on the Ravens defensive line. While Jones is more of a run stopper, McPhee is a tremendous pass-rusher. In his rookie season, McPhee surprised everyone and made a huge impact, recording six sacks.
It appears that Jones will be the starter, but the Ravens use a significant amount of pass-rushing packages that will give McPhee a significant amount of reps. Expect to see Jones on the first two downs, while McPhee will rotate in on third down.
Linebackers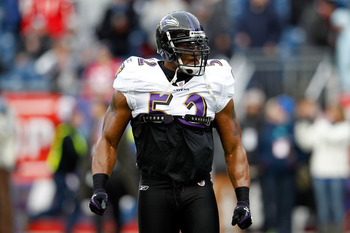 Rob Carr/Getty Images
The most talked about position battle entering the Baltimore Ravens training camp has been about their outside linebackers.
At first, it seemed like they were just going to be looking for Jarret Johnson's replacement, but with the injury to Terrell Suggs, they are going to need multiple players to step up.
The competition is not only going to be for the two starting outside linebacker positions, but also for a third-down pass-rusher.
Rookie Courtney Upshaw should come in and take over Jarret Johnson's position, while Paul Kruger should fill in for Suggs. Upshaw comes in as a highly-touted prospect out of Alabama and should immediately become a force on the Ravens defense.
2011 was a breakout year for Kruger. After two disappointing seasons, Kruger was one of the Ravens' top pass-rushers in 2011, finishing with 5.5 sacks.
The big question mark here is going to be Sergio Kindle. After missing his entire rookie season due to injury, Kindle only appeared in two games in 2011. 2012 is Kindle's make-or-break year. If he cannot take over the position of becoming a pass-rushing specialist, his time in Baltimore could becoming to an end.
Defensive Backs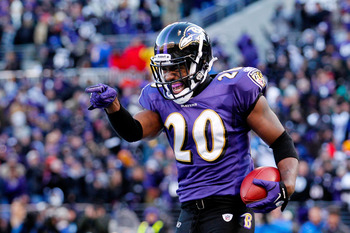 Rob Carr/Getty Images
Perhaps the best battle of training camp will be whoever wins the other starting corner position for the Baltimore Ravens.
With Lardarius Webb as the No. 1 corner, either Jimmy Smith or Cary Williams will be starting along side him.
Williams was the starter all of last season and played well, finishing with 78 tackles and 18 passes deflected. Smith was a first-round draft pick in 2011 and got off to a slow start. After getting injured in the first game of the season, Smith improved his play as the season went on and showed great playmaking ability.
Since Smith was a highly-regarded draft pick and showed much improvement throughout his rookie season, expect him to win the starting job.
The other competition battle in the Ravens secondary will be among the backup safeties.
For the past four seasons, the Ravens have had great depth at the safety position with Tom Zbikowski and Haruki Nakamura. With the two of them leaving this offseason, the Ravens will have to call upon some new faces.
Right now, it appears that free-agent signing Sean Considine and rookie Christian Thompson are the two most likely candidates to replace Zbikowski and Nakamura. These two need to be able to provide efficient depth in the Ravens secondary in case anyone goes down with an injury.
Keep Reading

Baltimore Ravens: Like this team?