Olympic Men's Gymnastics Predictions 2012: Gold Medal Odds and Projections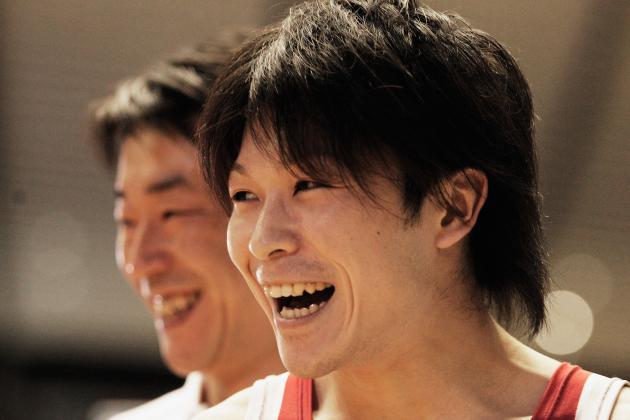 Adam Pretty/Getty Images

If you're a fan of singlets, muscles and jaw-dropping acrobatics, good news: The 2012 Olympic men's gymnastics competition has arrived.
This year's meet is flush with intrigue, starting with Japanese sensation Kohei Uchimura. The three-time reigning world champ could well be the greatest gymnast who ever lived. As the 23-year-old approaches his athletic prime, fans will be eager to see what kind of new standards he sets in London.
To find out more about his chances and his competition, click through to the slides ahead.
Begin Slideshow

»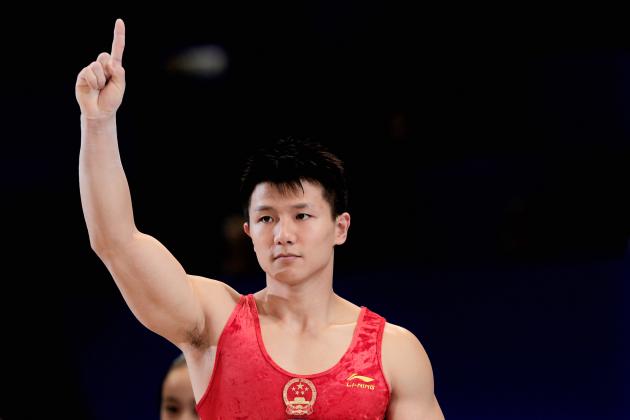 Lintao Zhang/Getty Images

China: 45 percent*
Japan: 40 percent
United States: 10 percent
The Field: Five percent
Breakdown: China and Japan are a virtual lock for the top two spots, having gone one-two at each of the last four major international competitions. Still stinging from a home loss at the 2011 Worlds in Tokyo, the Japanese hope to finally reverse that script and topple their Pan-Pacific rivals. The fight for bronze will likely come down to four teams: the United States, Germany, Russia and the Ukraine. Team USA has the momentum after coming in third at last year's world championships.
*Percentages are an estimate of each team/athlete's gold-medal odds.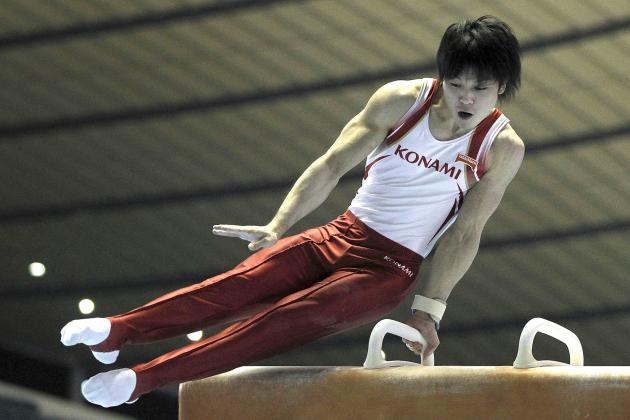 Kiyoshi Ota/Getty Images

Kohei Uchimura, Japan: 80 percent
Philipp Boy, Germany: 10 percent
Daniel Purvis, Great Britain: Five percent
The Field: Five percent
Breakdown: Uchimura, 23, hasn't lost a major international all-around competition since settling for silver at the Beijing Games. Some experts are already feting him as the greatest gymnast who ever lived, and even those with a more tempered tone concede that he's an almost certain lock to win gold in London. The best of the rest include Germany's Philipp Boy, fellow Japanese gymnast Koji Yamamuro, home favorite Daniel Purvis and Americans Danell Leyva and John Orozco.
Kohei Uchimura, Japan: 45 percent
Zou Kai, China: 40 percent
Diego Hypolito, Brazil: 10 percent
The Field: Five percent
Breakdown: Surprise, surprise, Uchimura is once again the betting favorite. China's Zou Kai gave him a nice test at 2011 Worlds and might fare better on neutral soil in London. At worst, Zou is a fairly safe bet to medal. The rest of the field is deep and about as geographically diverse as one could imagine in gymnastics. Brazilian veteran Diego Hypolito and Israeli Alexander Shatilov both have the stuff to become their nation's first Olympic medalists, while American Jake Dalton scored well on the apparatus in team finals at 2011 Worlds and was its best practitioner at U.S. Trials.
Krisztian Berki, Hungary: 60 percent
Louis Smith, Great Britain: 25 percent
Cyril Tommasone, France: Five percent
The Field: 10 percent
Breakdown: In the category of outcomes not related Kohei Uchimura, the surest thing this summer is that Hungary's Krisztian Berki will win gold on pommel horse. Berki is the event's two-time defending world champion and has won six (six!) European Championships. Brit Louis Smith is his fiercest competition and could ride the home crowd to an upset win. Beyond that, the pack thins out, but keep an eye on France's Cyril Tommasone, Hungary's Vid Hivegi and, of course, Kohei Uchimura.
Chen Yibing, China: 50 percent
Arthur Nabarrete Zanetti, Brazil: 25 percent
Aleksandr Balandin, Russia: 10 percent
Jonathan Horton, United States: 10 percent
The Field: Five percent
Breakdown: Though his overall fitness is in question after a recent knee injury, defending Olympic titlist and four-time world champ Chen Yibing should be in fine condition for his still rings routine. Barring any knee-related dismount issues, he's easily the world's best on this apparatus.
Yang Hak-Seon, South Korea: 40 percent
Flavius Koczi, Romania: 35 percent
Igor Radivilov, Ukraine: 15 percent
The Field: 10 percent
Breakdown: Despite a proud gymnastics tradition that includes eight Olympic medals, South Korea has never won Olympic gold. That ignominious streak could end this year if 19-year-old vaulting sensation Yang Hak-Seon can replicate his performance at 2011 Worlds, a meet where he landed the most difficult vault ever attempted.
Feng Zhe, China: 40 percent
Danell Leyva, United States: 25 percent
Kohei Uchimura, Japan: 10 percent
The Field: 25 percent
Breakdown: Leyva is the reigning world champ, but will need stellar execution in London to pull off a repeat. Challengers like China's Feng Zhe, Germany's Marcel Nguyen and Ukraine's Oleg Vernyayev all come into the competition with significantly higher difficulty scores. The field is deep in this event, and favorites have been hard to pin over the last quadriennium.
Zou Kai, China: 45 percent
Danell Leyva, United States: 25 percent
Kohei Uchimura, Japan: 10 percent
Zhang Chenglong, China: 10 percent
The Field: 10 percent
Breakdown: Defending Olympic and world champ Zou Kai is the clear apparatus favorite, but Leyva may be horizontal bar's most exciting athlete. The relentless risk taker has a signature skill on the apparatus and is renowned in the gymnastics world for big scores and even bigger wipe outs. Leyva's sure to let it rip in London, and we'd all be wise to have our eyes on the television set when he does.