Anderson Silva Should Accept Chris Weidman's Challenge or Retire from MMA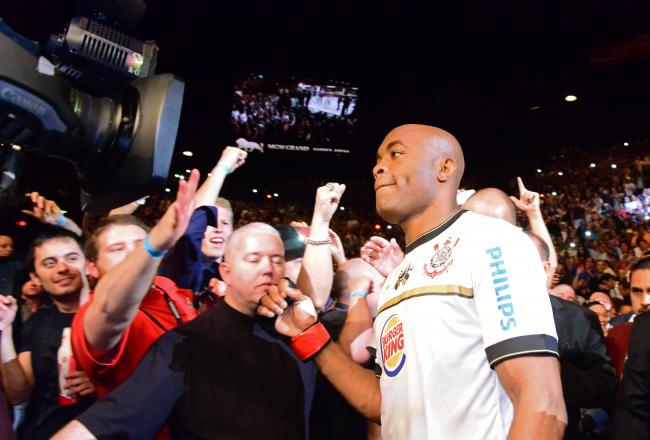 Mark J. Rebilas-US PRESSWIRE
Anderson Silva has forgotten what it means to be champion.
There's no denying the facts.
Silva is the best in the world. When it's all said and done, he will probably go down as the greatest fighter in MMA history.
Still, there is something to be said about picking fights, which is something the UFC champ has seemingly grown accustomed to.
After defeating Chael Sonnen for a second time, the MMA world has become fixated on Silva's next opponent. Chris Weidman seems to lead the pack of potential contenders after his devastating knockout win over Mark Munoz, but Silva's camp appears uninterested in the bout.
On an episode of UFC Tonight, Ariel Helwani reported on who Silva's management believes he should fight next.
The following was transcribed by MMA Mania:
As for Chris Weidman, he said, 'Well, there's another great unknown fighter.' He doesn't see those match ups as being money making pay-per-view events.

He did mention Luke Rockhold, who is the Strikeforce middleweight champion. Alas, Rockhold is contractually tied to Strikeforce, so that fight's not happening. We'll have to wait and see, but right now, the Anderson Silva camp not too excited about the options out there.
As middleweight champion, Silva has laid waste to the entire division. There isn't a single marquee name he hasn't already defeated.
A champion shouldn't be concerned with these things. The UFC title strapped around Silva's waist is proof he is the best in the world. Shouldn't the "best in the world" be prepared to take on all comers?
Champions don't get to pick and choose their opponents. They take on whomever is put in front of them.
The Boston Celtics beat the Los Angeles Lakers six times in the NBA Finals in the 1960's. They didn't complain about marquee matches or teams not deserving a rematch. As champions, they played the best available contenders at that time.
Every fight isn't going to be a blockbuster matchup. There will always be a hungry new contender who lacks notoriety, but he still somehow manage to climb into title contention.
Weidman is the perfect example of such a fighter. He is coming off a pair of impressive victories, and his style presents an interesting test for the middleweight champ.
After his highlight reel knockout over Munoz, Weidman respectfully called out Silva during an appearance on MMAWeekly Radio.
I feel like I really deserve it. I beat two top five guys and I think I'm a stylistic nightmare for Anderson Silva. I would love to get that shot. No one else is on a five fight win streak and beat the quality of guys I've beaten. I'm ready to speak up a little bit, just be confident in my abilities and respectfully call out Anderson Silva.
Once upon a time, Silva was a UFC newcomer, and Rich Franklin was content in giving him a title shot despite him having only one win inside the Octagon.
If Silva isn't willing to take on all comers, he should consider retiring from the sport. He has already made it very clear that he won't move up for any more fights in the light heavyweight division.
Other than expanding upon an already incredible legacy, the only things left for Silva at 185 pounds are rematches and fresh-faced contenders. He has to find a way to rekindle that same fire that propelled him past relatively unknown contenders in Travis Lutter, Thales Leites and Patrick Cote.
If anything, it would at least hold him over until scientists are capable of creating a suitable clone as an opponent.
This article is
What is the duplicate article?
Why is this article offensive?
Where is this article plagiarized from?
Why is this article poorly edited?