Does Raymond Felton, Jason Kidd Improve NY Knicks or Just Make Them Different?
Chris Trotman/Getty Images
The New York Knicks' decision to part ways with beloved point guard Jeremy Lin in favor of Raymond Felton and Jason Kidd seemingly splintered Knicks fans across the nation.
Some fans were heartbroken, taking to any means necessary (even creating a viral video) to voice their displeasure with owner James Dolan, star forward Carmelo Anthony and even Lin himself. Those fans viewed the Linsanity craze as something that was special, a phenomenon that New York City owned and the rest of the world just got to watch.
Lin's move ended bitterly and with betrayal in the eyes of Dolan according to the New York Daily News.
Other fans weren't so heartbroken. The $14.8 million balloon payment Lin will receive from the Houston Rockets in the final year of his three-year, $25 million deal contributed to most people's justification.
While he'll likely be a steal for the first two years of the deal at around $5-5.5 million per season, the $43 million total Lin will cost (including luxury tax) in the "poison pill" year is too steep of a price for even the mighty Knicks to pay (per ESPN).
There's also the little fact that some pundits feel a Felton-Kidd combo (total cost: $19 million over three years) may actually improve the Knicks title hopes.
Paramount to that argument is Lin's on-court relationship with the Knicks' star small forward.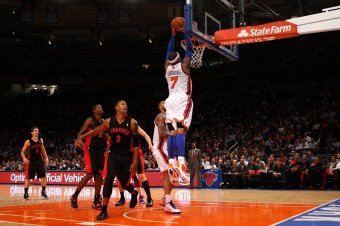 Fact: Carmelo Anthony is a better player without Jeremy Lin
Chris Chambers/Getty Images
It's no secret that Lin and Anthony is an oil/water match, as both players need to dominate the ball to reach their peak performance. When Lin's season ended due to a torn meniscus, Anthony went on a tear, scoring 29.1 points a game while shooting 49 percent from the field.
Anthony's spike in play came after looking awful playing alongside Lin. The game's second-best natural scorer put up a pedestrian 16.5 points per game on just 40 percent shooting with Lin as a starter.
That led many to speculate that the Melo, who doesn't exactly have an unselfish reputation, would be to blame for Lin's departure.
Knowing this, Melo took to the media to voice his desire for Lin to return (via the Houston Chronicle):
I hope we get it done, man. I hope we can get it done. I would love to see him back, honestly, I would definitely love to see him back. But knowing the business of basketball, it's kind of a tough situation, kind of for both parties. With Jeremy, I know he definitely would want to be back in New York, and with the team, (owner James) Dolan definitely wants him back. But it's just a matter of figuring it out.
Well, if you believe sources who talked to ESPN.com's Ian O'Connor, Melo's posturing was little more than a public relations ploy. The source told O'Conner that "everybody" in the locker room, with the exception of Anthony and guard J.R. Smith, wanted Lin back next season.
Quite frankly, it doesn't matter if New York City mayor Michael Bloomberg wanted Lin back. With Anthony, the team's best player, adding Felton and Kidd at the expense of Lin is addition by subtraction.
It doesn't even matter if Lin turns out to be the star he was during the height of Linsanity. He'll never be a better player than Carmelo, and your franchise star's happiness is the most important thing for NBA teams.
Are the Knicks better with Raymond Felton and Jason Kidd than Jeremy Lin?
Felton and Kidd are Melo-approved and could be better combo than the individual as it stands.
Felton thrived in 54 games as a Knick in 2010-11, scoring 17.1 points per game and doling out 9.0 assists a night. He's also not ball dominant and has the ability to transition to essentially a shooting guard role in Meloball mode.
Kidd, 39, is essentially a caretaker at this point who can knock down an open jumper and make a pretty open-court pass when needed. Kidd is also still an elite rebounder for his position, giving the Knicks quite possibly the best rebounding team in the NBA.
He also came to New York to fit in, not stand out.
The fact is Knicks management knows the team can only go as far as Carmelo takes them. And with Lin in the fold, that wouldn't have been very far.
Felton and Kidd make the Knicks a different, far less flashy squad. But the duo also gives New York a better shot at playoff glory.
This article is
What is the duplicate article?
Why is this article offensive?
Where is this article plagiarized from?
Why is this article poorly edited?

New York Knicks: Like this team?