College Football Predictions 2012: 50 Players on Award Watch Lists Who Will Flop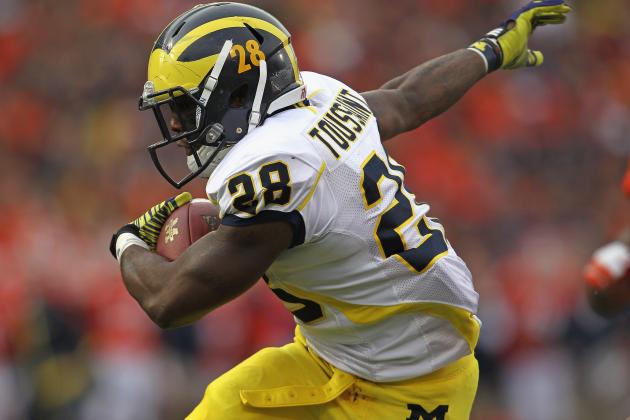 Jonathan Daniel/Getty Images

As we continue the countdown until the 2012 college football season (34 days), there were so many talented players that recently were named to all of the preseason watch lists.
However, we have seen suspensions, injuries, schedules and most importantly, playing time become vital factors into many of these players producing and living up to the preseason hype.
For those reasons listed above, there will often be disappointments due to football being the ultimate team sport.
So, taking a look at every single watch list award, here are your 50 players that will come up short of their prestigious awards and thus flop in the 2012 season.
Begin Slideshow

»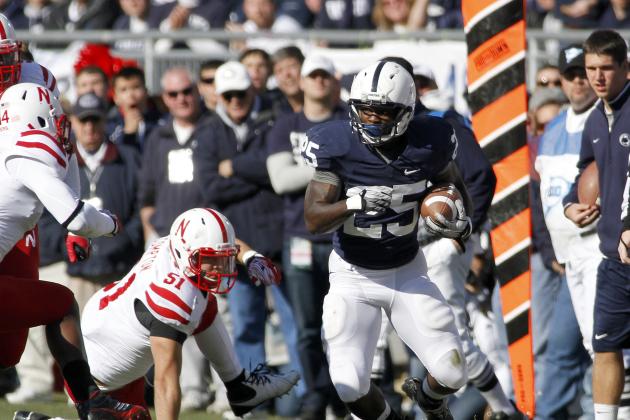 Justin K. Aller/Getty Images

Silas Redd among any Penn State player(s) that wants to appear in the postseason or a conference championship are allowed to seek a transfer and play immediately.
Redd is the hottest commodity, at the moment, because he is a flat-out stud in the backfield that would make any offense nearly unstoppable.
The Trojans cannot comment right now, so time will tell if the expected top-ranked preseason team can haul in this star (went well).
He could have legit numbers, but there are far too many questions on where he will play. He would likely have to split carries and ultimately his numbers would dip thanks to Curtis McNeal.
If Redd does stay at Penn State, his numbers could be solid, although I would not suspect gaudy statistics with opposing Big Ten defenses loading up the box.
Redd has breakaway speed and elusive vision in the backfield (top 20 RB), but football certainly is a blip on the radar these days after arguably the most tumultuous offseason scandal in college football history.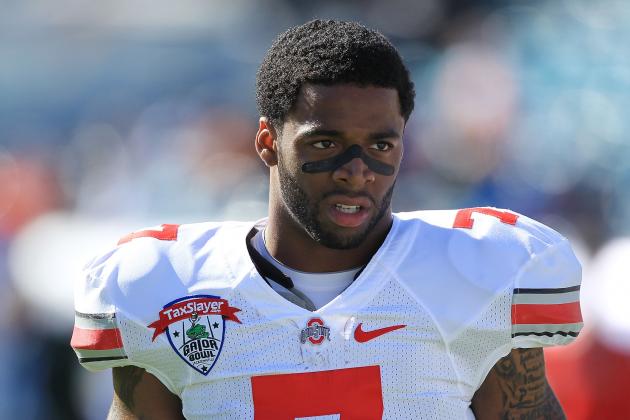 Scott Halleran/Getty Images

Jordan Hall was expected to start for Ohio State this season; he has since suffered a major injury to the bottom of his right foot.
He was simply walking barefoot outside his Columbus residence and cut open the bottom of his foot; many are fearing for the worst. The loss could be so severe that the starting back may have to redshirt.
The best case is that Hall could be back by the third week of the season, but either way the 2012 season does not look all that positive at the moment for this elusive, quick back for the Buckeyes.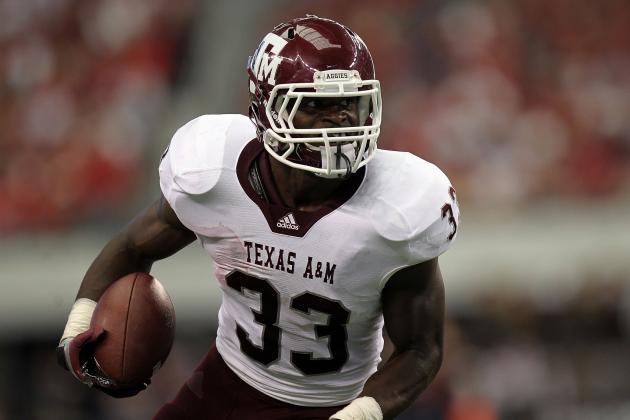 Ronald Martinez/Getty Images

The Aggies have a talented back that is ready to tote the rock against the gauntlet known as the SEC.
Christine Michael is primed to burst onto the national scene for newly hired coach Kevin Sumlin, but that will be easier said than done.
The Aggies no longer have Ryan Tannehill threading the needle and opposing SEC squads will be relentless in stopping the run (mainly because they are just amazing defensively).
While I anticipate solid numbers by Michael, most of the expectations are sky high and we should know that he will not come close to going bonkers in the best division in arguably all of sports.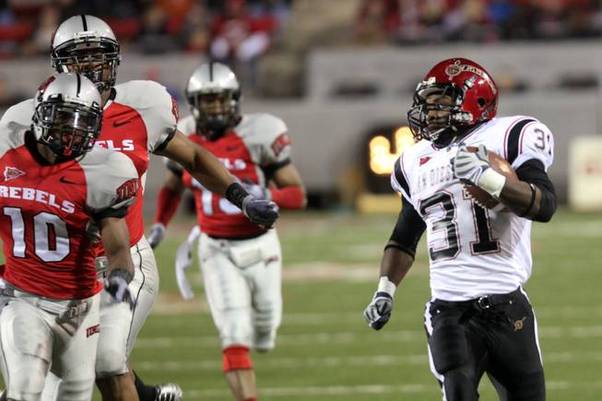 http://www.lasvegassun.com/photos/galleries/2009/nov/28/unlv-san-diego-st-football/37915/
No disrespect intended for last season's backup for Ronnie Hillman (Denver Broncos), but why exactly did he make the Doak Walker Award list?
He was a solid backup, but he is coming off a tough knee injury that forced him to miss the final four games of the season (74 carries for 339 yards and 4 TD) and he is not exactly playing for a top-tier program.
The Mountain West has decent enough competition for Kazee to be productive, but with a new quarterback coming in with Ryan Lindley (Ryan Katz), we will likely see Kazee become one of the first names to be taken off this list once the season gets underway (which is when they narrow the names down).
Plus, there is a good chance we see him actually back up Adam Muema (42 carries for 339, 4 TD).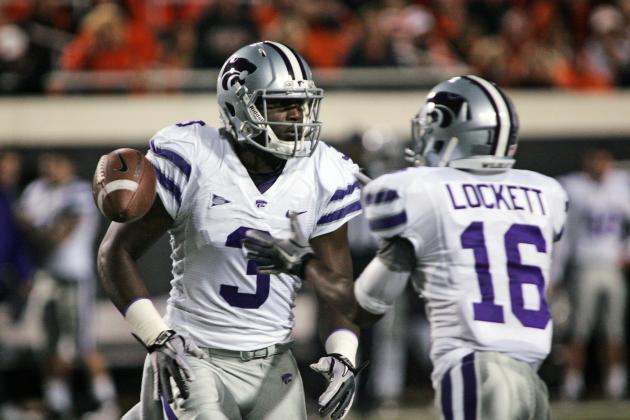 Brett Deering/Getty Images

This All-American was one hell of a return specialist, but he has recently been put on the Walter Camp watch list.
This is one of your more prestigious awards in college football since it is given to the Player of the Year.
The only problem is that Lockett is not even starting for Kansas State at the moment. He is more of a special teams speed demon, as opposed to a third and fourth (slot) receiver.
Surely this is a kid that has the capability of becoming a star receiver down the road, but at the moment, he is simply a player that will not find paydirt fairly often since he plays for a team that will pound the rock nearly 50 times per game.
Plus, if Kansas State does decide to thread it, we should not be expecting a boatload of success since they were only 108th in America (151 YPG).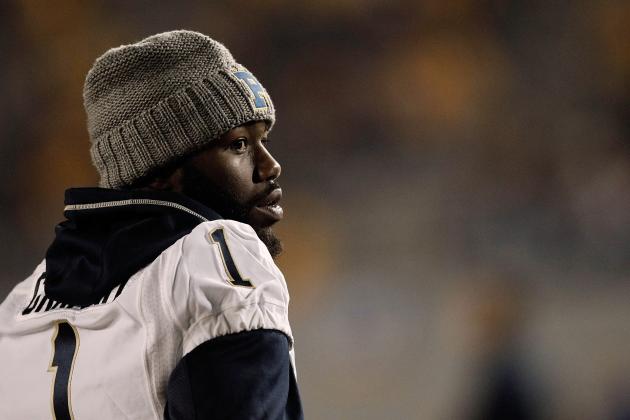 Jared Wickerham/Getty Images

Ray Graham was one of the more complete, productive backs in the country before an injury set him back a bit.
Missing the final five games due to a brutal torn ACL, it is these type of injuries that often take a full year to recover from.
Graham will be the bell cow for newly hired coach Paul Chryst, but I cannot expect a monster season with both an improving Big East conference (defensively) and a brand new system, where the Panthers may chuck it around a bit more.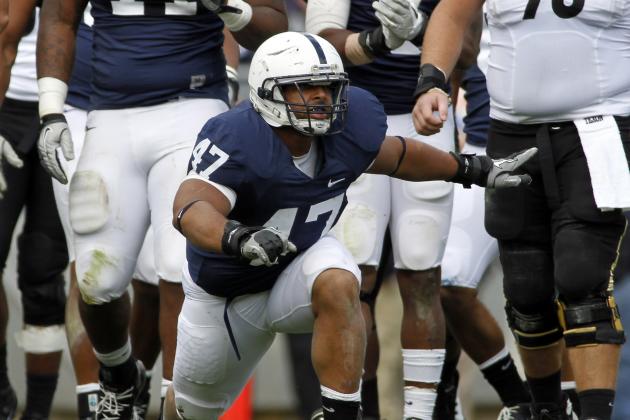 Justin K. Aller/Getty Images

A tackle-for-losses machine at defensive tackle for the Nittany Lions last season, Hill will be the focal point of opposing offensive lines this season.
It helped to have an anchor on the line in Devon Still, but now that he is gone, it will only make life more difficult on Hill.
Although the linebackers are improved and healthy, Jordan Hill may struggle to double upon his 8.5 tackle for losses and 3.5 sacks from a season ago.
Still, Phil Steele has elected Hill as a Second Team All-Big Ten selection, so it will be interesting to see how productive he will be in 2012.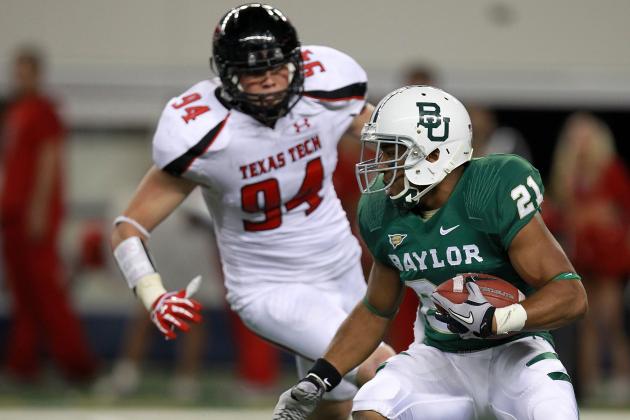 Ronald Martinez/Getty Images

The Baylor Bears offense was as electric as any in the country last season thanks to Heisman Trophy winner Robert Griffin III.
Now RGIII is gone and it will be up to Nick Florence and his cast of skill players around him to pick up the slack.
Jarred Salubi is the expected starting running back for the Bears (by some), but a passing offense will decrease his numbers. There isn't a great chance he gets the majority of the carries.
In fact, many believe Lache Seastrunk will be the starter in the backfield due to his explosive ability to burst past opposing defensive backs.
Salubi was the backup for Terrance Ganaway last year as he accounted for 331 yards and 3 TD, but his numbers won't be Doak Walker-worthy in 2012.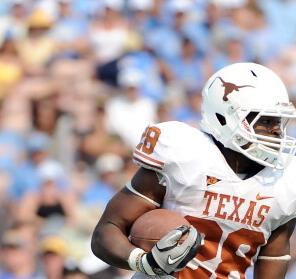 Harry How/Getty Images

The Longhorns are one of my top choices as the most improved team in the country, but the wealth that will be spread in their crowded backfield only means there will be no dominant star.
Anything is possible since Malcolm Brown is more than capable of putting up monster numbers behind a solid Texas offensive line.
However, their stable of backs that will be coming into the game to keep a stud like Brown healthy throughout the season may cost him a ton of production.
Johnathan Gray is the top freshman back in the country and guys like Joe Bergeron and Jeremy Hills are talented enough to get a few starts and/or significant playing time in games that Texas may choose to save (or rest up) Brown.
I would anticipate a solid season, but the Texas starter will need to wait for another season before he challenges for the Doak Walker.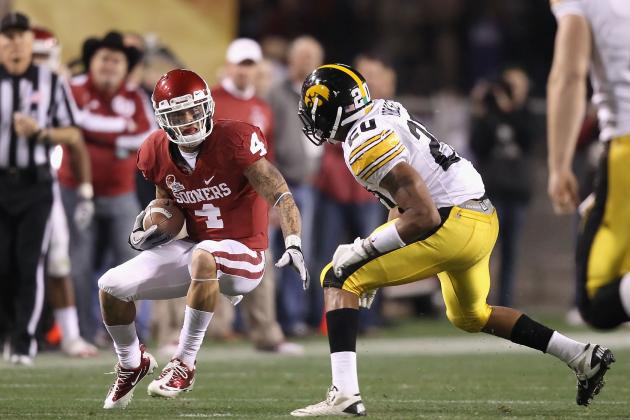 Christian Petersen/Getty Images

Kenny Stills is a fabulous and talented receiver, but we will once again find out how vital Ryan Broyles was to the Sooners offense.
Landry Jones couldn't throw a TD if his life depended on it. It was not until the final month of the season in the Insight Bowl against Iowa. But even with the addition of several receivers, it does not look like the Sooners offense will rely heavily on one man.
Stills may put up complementary numbers for a receiver that plays on the outside a bunch, but he will likely be used all over the field.
Don't look for a drop-off in production from this OU talent, but it may not be wise to expect him to put up anywhere near the numbers that Broyles posted while in Norman.
Streeter Lecka/Getty Images

Mike Glennon has been viewed as one of the elite quarterbacks in the ACC and Phil Steele actually has him as a Fourth Team All-ACC selection (Preseason).
Many also look at the Pack as a potential dark horse to shock Florida State and/or Clemson in the Atlantic Division.
Mike Glennon is arguably their biggest reason why the expectations are a bit high, but I foresee a dip in production with their wide receivers being unable to get the job done in my eyes.
They have a ton of talent to replace. Despite the momentum they may have picked up from their bowl victory over Louisville, your quarterback cannot single-handily carry your team unless he has the pieces around him.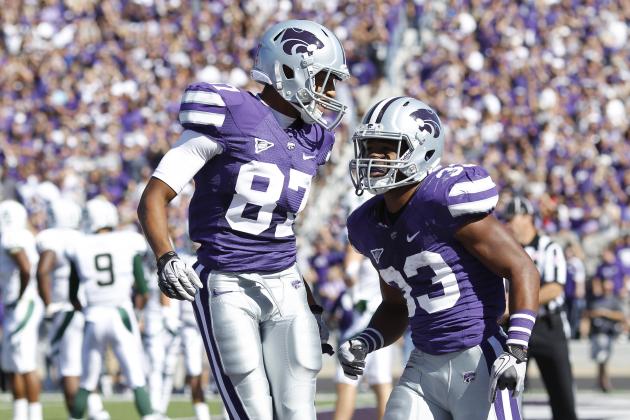 Joe Robbins/Getty Images

The Kansas State Wildcats are coming off a sensational 10-3 season in which they shocked the majority of college football, but will they be able to live up to more of the lofty expectations in 2012?
The starting Wildcat running back was given the pigskins 200 times and he found room for 970 yards, but he could only get in the end zone on three occasions due to Collin Klein garnering all the production.
Klein tied an FBS record for most rushing touchdowns (27), and yet John Hubert is still listed on the Doak Walker watch list (deserving sure, but there were a few that were snubbed).
A solid back that is worthy of being on this list, Hubert will be a bust if you are expecting him to challenge for such a prestigious award since he has one of the most valuable players in America as his quarterback.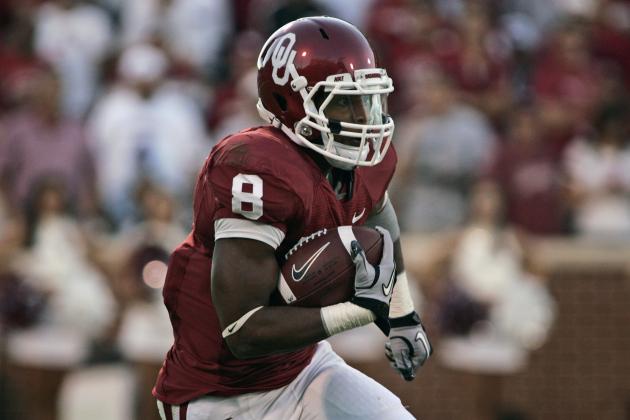 Brett Deering/Getty Images

The Oklahoma Sooners are a lock to start the season with high expectations (like always), but it is because they have so many viable options on offense.
Trey Milliard is one of the more underrated players in America at fullback, and we didn't even mention the likes of Brennan Clay or Roy Finch.
Then if we throw in their bevy of receivers in Kenny Stills, Trey Metoyer, Sterling Shephard, Courtney Gardner and Durron Neal, we start to wonder how they keep everybody happy.
Dominique Whaley certainly is one of the better backs in the Big 12, but it isn't a lock to say he will be as productive as it gets in the country since we have seen the Sooners throw the ball a ton and use a variety of different backs.
When they threaded it last season, Ryan Broyles came down with catch after highlight-reel catch.
Now that Broyles is gone, look for more spreading of the wealth as we shall see the continued emergence of the "Belldozer" (Blake Bell, 13 TD).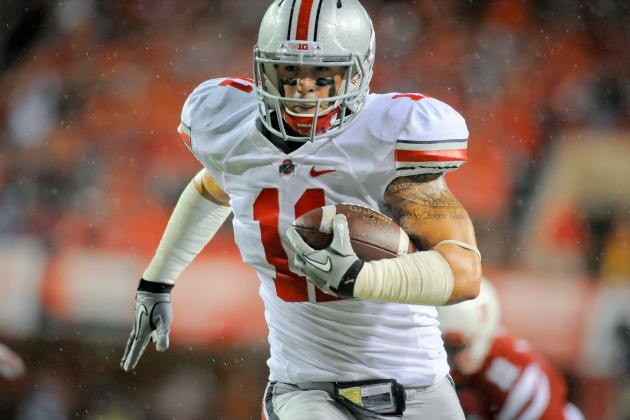 Eric Francis/Getty Images

The Buckeyes have seven home games this season and Urban Meyer is back to lead them to the promise land in the near future. However, they have had some issues during the offseason, whether it be with injuries or the law.
Stoneburner was arrested; he was charged with obstructing an official business and he has since lost his scholarship, although he can regain it sometime towards the end of the summer.
The star tight end of the Buckeyes is on the Mackey Award since he is one of the more talented players on the entire list, but right now there is uncertainty in terms of how much he may play.
Plus, most would not be shocked to see all of those Buckeye receivers mature and develop in front of our very own eyes, which could cost Stoneburner from having any sort of a prayer at the Mackey Award.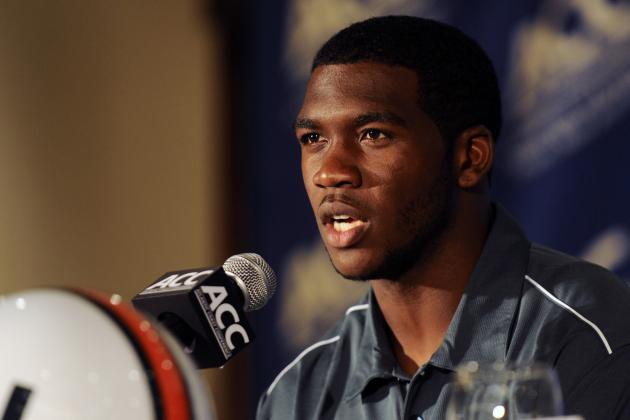 Sam Sharpe-US PRESSWIRE

One of the more dominant programs during their 1980 and 2000 runs, the Canes did not have a 1,000-yard rusher heading into last season since 2002 (Willis McGahee).
Luckily, Lamar Miller was a star for the "U" although taking his talents to the NFL will likely dash the hopes of the Canes participating in any sort of a prestigious 2012-2013 bowl game.
Mike James takes over as he filled the backup role last season, rushing for 275 yards on 72 carries. He did find paydirt seven times, but that is not nearly enough if he wants to challenge for postseason awards this season.
His overall carries and yardage will easily double, but opposing ACC defenses will focus on stopping the run as the Canes passing game has been struggling for several seasons.
Facing eight and nine men fronts will not allow James to find much running room, and the return of only two starters up front certainly does not help his case either.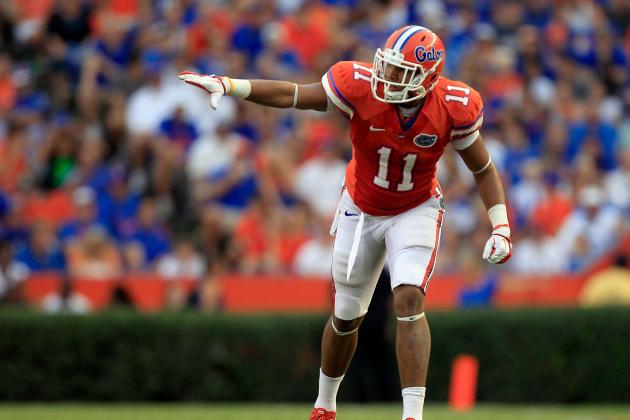 Sam Greenwood/Getty Images

Jordan Reed saw snaps at quarterback two seasons ago with all of the injuries and inexperience they had, but last season we saw him used at his best of abilities.
This H-Back and tight end-caliber of a player (and role) is more than capable of becoming a reliable threat down the field because he hauled in 3 TD and 28 catches for 307 yards (good numbers for pitiful overall numbers for UF).
The Gators as an offensive team were beyond abysmal, it was just amazing how they finished with a winning record (7-6).
Certainly their special teams and defense were good, but improvements have to be made offensively.
They were only 105th in total offense last season and most have to think there will be improvements made, but Reed isn't the guy for this offense that will put up the gaudy numbers (Gillislee could).
The development of Jeff Driskel and Jacoby Brissett will determine exactly how great of a season Reed has.
Florida is still going up against Georgia, South Carolina, LSU and Florida State. Those four defenses alone are arguably the four best in the country and that is not exactly great news for Reed and the Gators offense.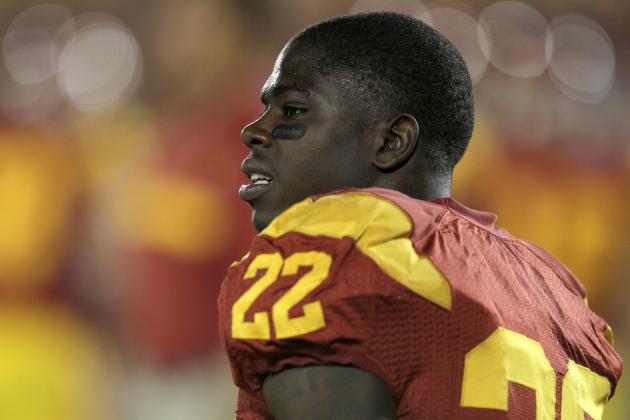 Stephen Dunn/Getty Images

The Trojans have been one of the teams that have been mentioned to be out there on Silas Redd from Penn State because the depth in the USC backfield is extremely thin.
They cannot suffer any injuries, primarily to their starting tailback..
Running for just over 1,000 yards and 6 TD are legit numbers, but they may not increase all that much because they need to keep him healthy for the stretch run of the season.
Plus, USC has that Matt Barkley guy threading it to Robert Woods and Marqise Lee as well. That trio might just be the best trio that college football has seen offensively in quite a while from a ceiling standpoint.
McNeal may have similar numbers from a season ago, but despite being listed on a few preseason watch lists (Doak, Maxwell), the senior back will likely fall short of any sort of major achievements.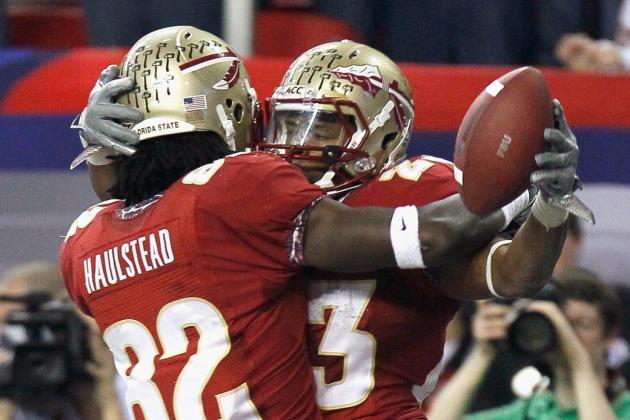 Kevin C. Cox/Getty Images
Haulstead does have 39 career receptions for 597 yards and 6 TD
Florida State's Willie Haulstead took a major lick before the season was even underway (concussion), and he ultimately was forced to redshirt and miss the entire 2011 campaign.
Now entering the 2012, he has been put on the preseason Biletnikoff Award watch list despite having caught zero passes in the prior season.
Plus, he may not see much (if any) time on the field due to the fact that FSU's receiving corps are as loaded as it gets in the country.
Rashad Greene, Kenny Shaw, Christian Green, Rodney Smith, Kelvin Benjamin, Scooter Haggins, Melvin Bracy and Greg Dent are quite the group. Throwing in Haulstead makes it ten targets if you were to include stud tight end Nick O'Leary.
E.J. Manuel has a ton of options in the passing game and many could argue that Haulstead is not and will not even be in the discussion for the mid-tier group of receivers this season—no knock on him, just they have elite depth finally at WR.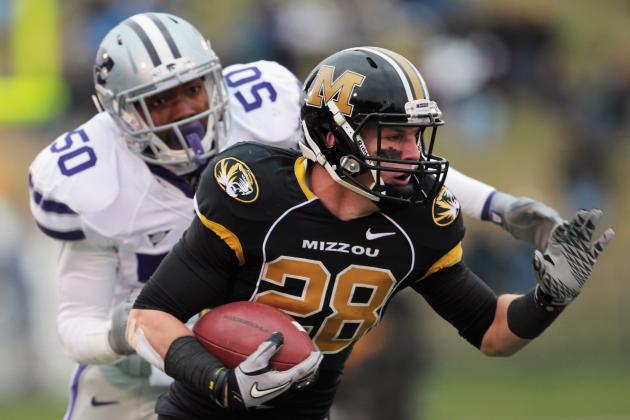 Jamie Squire/Getty Images

One of the most impressive parts of SEC Media Days was T.J. Moe and his witty and funny opinions on all aspects of the newly improved SEC.
Whether it was talk about the woman in the South or perhaps just the players and systems they run, Moe is a legit receiver for the Mizzou Tigers.
However, James Franklin is still recovering from an offseason shoulder surgery and the competition on the slate is absurd, even for the Tigers' standards.
Moe put together a clinic against the Iowa Hawkeyes in the 2010 Insight Bowl, but Dorial Green-Beckham may just steal a few more looks towards the red zone.
While Moe is certainly capable of landing on a postseason All-SEC squad, his Tigers will likely suffer half a dozen losses and we know the SEC defenses will not be allowing many yards or touchdowns.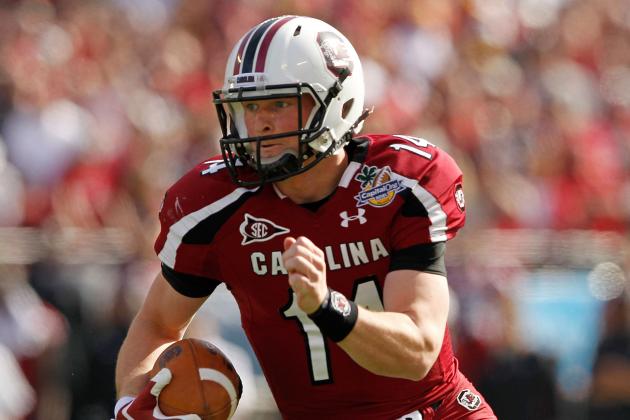 Mike Ehrmann/Getty Images

Connor Shaw has an excellent chance at becoming one of your breakout stars if the Gamecocks can hang on and win the SEC East, and perhaps challenge for a BCS bid.
At the very worst, South Carolina should be playing in a New Year's (or Eve)-caliber bowl game because of the talent that this squad has.
However, Shaw is taking one of the tougher schedules in the SEC and in the country as Clemson, Georgia, Tennessee, Florida and LSU are all on the slate.
Clemson and Tennessee may not be heading into the season with sensational defenses, but the rest of those teams on the schedule sure are.
Shaw could get dinged up with Georgia, LSU, Florida and Tennessee all in consecutive weeks, but even if Shaw stays healthy there is a chance that we see some struggles from the junior quarterback.
Spurrier brought Shaw in for SEC Media Days, who is the first quarterback that has ever been brought in during his tenure.
Let it be known that Shaw will likely be one of the more productive and more accomplished signal-callers in SC history, but don't expect a push towards the Davey O'Brien Award in 2012 (2013, perhaps).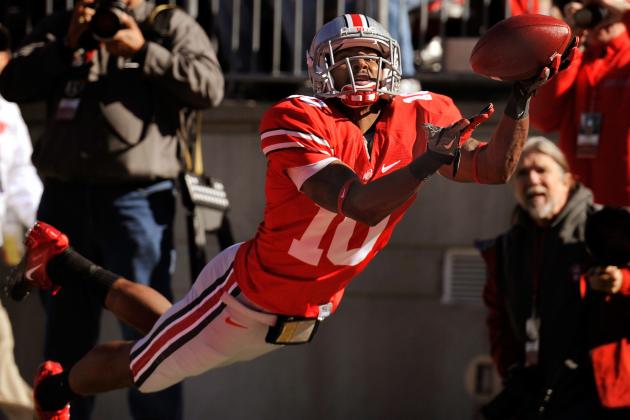 Jamie Sabau/Getty Images

Ohio State comes in as my top team in the country in terms of surprising and exceeding the overall expectations every prognosticator has for them this season.
The defense could be among the five best in America, but the offense will be a spread out system that will be one of the tougher ones to defend in the Big Ten.
Even if they lose Jordan Hall for the season, the depth is still solid enough alongside duel-threat quarterback Braxton Miller.
Miller loves to throw on the run since he escapes pressure with ease, but there are so many youngsters (Devin Smith, Chris Fields, Verlon Reed, Evan Spencer, Michael Thomas) that arguably deserve to be on these preseason lists with or over Corey "Philly" Brown.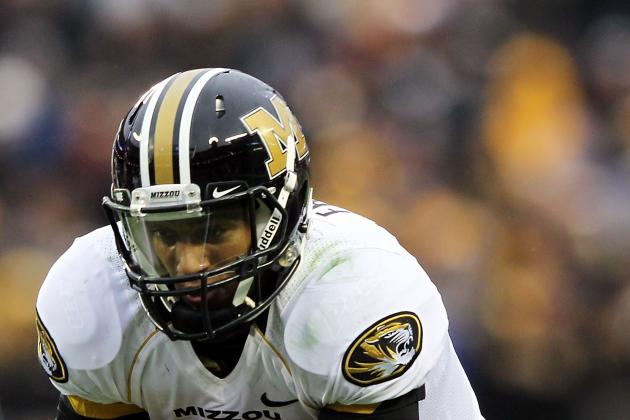 Jamie Squire/Getty Images

The Missouri Tigers could shock us all and win the SEC East. However, being the new kids on the block, on top of having a tough schedule in year number one, I foresee them going through quite the struggles (no more than six, seven wins).
The SEC East is about to get a whole lot tougher with the Gators and Volunteers getting a lot better to give the likes of Georgia and South Carolina all they can handle.
Franklin is coming off shoulder surgery and is a running quarterback, which spells doom for the Tigers since all of the opposing SEC defenses will be licking their chops knowing they can shutdown the Mizzou offense.
Turning this solid signal-caller from near All-American to at best a mid-tier of the SEC is not only possible, but perhaps likely if he suffers any sort of minor injuries in the gauntlet.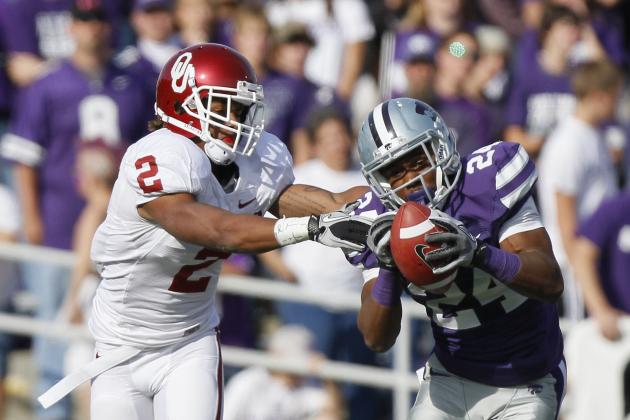 Ed Zurga/Getty Images

Picking on Bill Snyder's team per se is not exactly the smartest of ideas. But they do have to go up against eight bowl opponents from one season ago and all eight could go bowling once again (save Baylor).
The Big 12 is improving a whole lot thanks to TCU and West Virginia's offenses competing with the best of them, and the Wildcats must defend both of those high-octane offenses.
Josh Boyce, Stedman Bailey and Tavon Austin can wreck you worse than one Bo Jackson in the Super Tecmo Bowl. The feeling may only get worse for the Kansas State faithful.
Nigel Malone is a fabulous corner, but his aspirations of becoming an All-American (or All-Big 12 besides the Thorpe Award) defensive back could down the drain against Oklahoma State, Oklahoma and Texas (season finale), who are may all put some fireworks on a fairly experienced defense that helped K-State win ten games last season.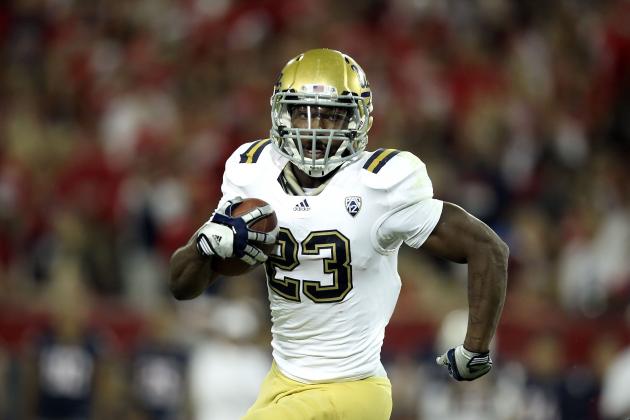 Christian Petersen/Getty Images

Jim Mora Jr. is looking for a quick start in Los Angeles with his Bruins, who have been miserable offensively speaking.
Only the Bruins could find a way to appear in the postseason and yet still lose eight bowl games once the dust cleared. The injuries at quarterback were one of the biggest reasons as to why they had so many woes, but the backfield is looked upon as one of their biggest strengths.
Joseph Fauria is a freak tight end for the Bruins, but Franklin is considered to be the focal point of the offense. Despite returning seven starters on the six-eight squad from a season ago, the expectations to challenge for a Doak Walker need to be watered down a bit.
UCLA was 72nd in total offense and 88th in scoring offense, and even if they improve a bit, the overall numbers for Franklin will look like a bust when being compared to the others on the Doak Walker and Maxwell list.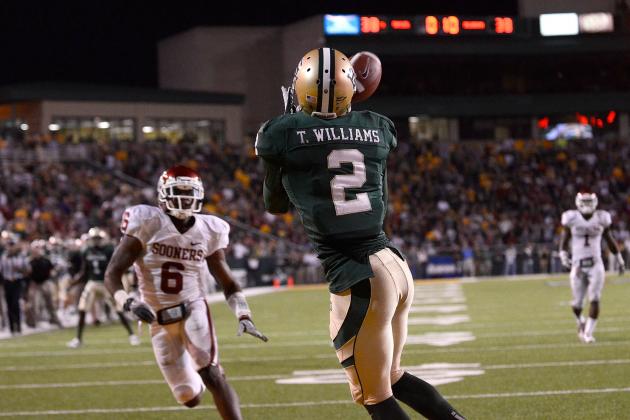 Sarah Glenn/Getty Images

Robert Griffin III made Terrance Williams a star receiver in Waco last season. He hauled in 59 receptions for 957 yards and 11 TD.
Nick Florence is on a little bit of a different wavelength in terms of production and the Big 12 just got a bit tougher with West Virginia and TCU joining the conference.
Missouri and A&M are solid programs, but TCU and West Virginia look to be just as good on defense, and better on offense.
Overall, it will be a struggle for the Bears just to appear in a bowl game and thus the numbers in the passing game will suffer.
Note: Former Michigan wide receiver Darryl Stonum has transferred to Baylor and is eligible to play right away, which only makes the potential for Williams to increase his production even tougher.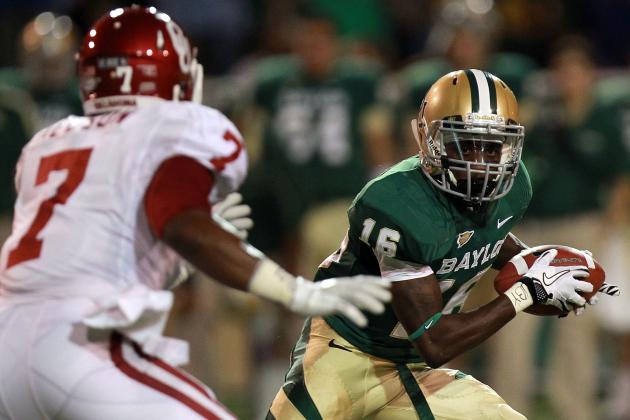 Ronald Martinez/Getty Images

Let us throw in a few more Bears as this team has quite the task coming up in 2012. The Bears have the third ranked toughest schedule in America as they have eight bowl opponents in the slate.
We talked about TCU and West Virginia stepping in right away and dominating offensively speaking, but the Bears have just six starters returning. Obviously, the losses of the Heisman Trophy winner and Kendall Wright will be devastating.
Tevin Reese will move up from the third to the second receiver, but he only had 51 receptions for 877 yards and 7 TD. Those type of numbers won't be nearly enough to last deep into the season as the final nominees among the Biletnikoff contenders.
In other words, I am selling, selling and selling for the Bears in 2012.
Note: Former Michigan wide receiver Darryl Stonum has transferred to Baylor and is eligible to play right away, which only makes the potential for Reese to increase his production even tougher.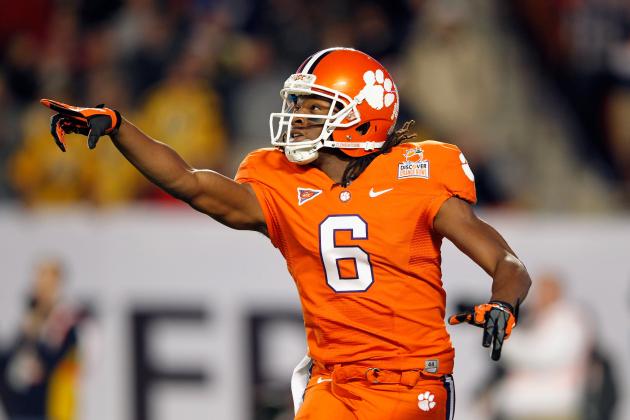 Mike Ehrmann/Getty Images

Even with the potential for Sammy Watkins to be suspended for perhaps a full game (more likely half or less of AU), there is a chance that DeAndre Hopkins actually sees his production dip a tad.
Dwayne Allen also won the Mackey Award last season and he has since moved on to the NFL (Colts) whereas Andrew Luck will be looking for him early and often in his career.
Tajh Boyd's career will likely reach stardom because of Watkins and the emergence of senior receiver Jaron Brown.
Throw in an improving running game and Hopkins may not come close to duplicating let alone improving upon his tremendous 2011 numbers (72 catches for 978 yards, 5 TD).
This isn't a terrible list to reach mainly because the expectations are so high these days in collegiate sports and there will be more production from the number one receivers that made this list.
Note: This is arguably your best talent on the list (and reach perhaps), potential First Team All-ACC this season and surely next season.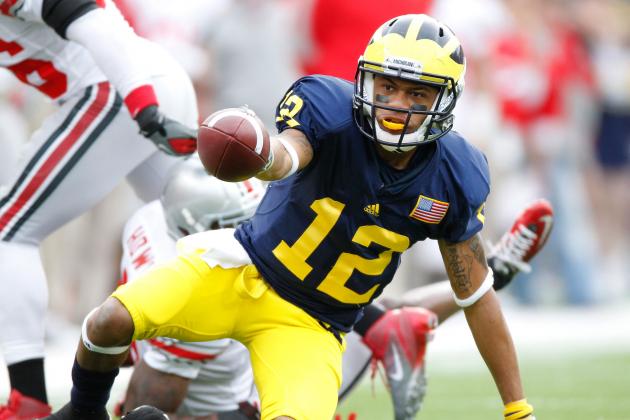 Gregory Shamus/Getty Images

One of the best tweeters in the country, Roy Roundtree can play some ball, as well, in Ann Arbor.
Denard Robinson's projected favorite target in 2012, Roundtree needs to put it all together to help lead the Wolverines back to the promise land, aka Pasadena.
Junior Hemingway took away plenty of jump balls last season, but Roundtree is not the same type of receiver. Albeit, he made a magnificent game-winning grab over Notre Dame.
Still, 19 grabs for 355 yards and 2 TD is a joke in terms of challenging for any sort of a reward.
This receiver suiting up in the Maize and Blue is far from a joke, but his production needs to take a massive jump in order to be fully worthy of making my preseason Biletnikoff list.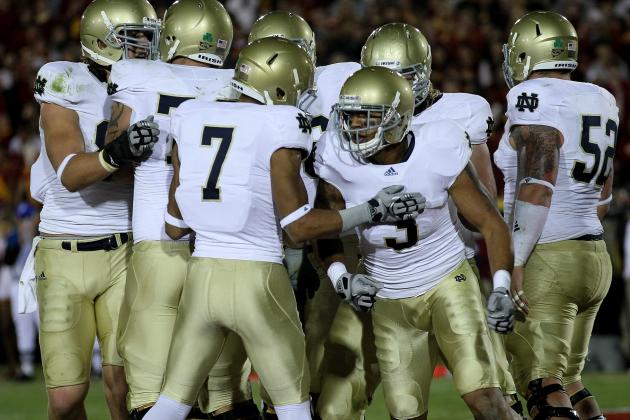 Stephen Dunn/Getty Images

The loss of Michael Floyd will be tough to overcome, even with All-American Tyler Eifert returning at tight end.
Cierre Wood in the backfield should get plenty of carries to succeed as well, but it comes down to who starts at quarterback and how much they ultimately play.
Tommy Rees is still competing for the starting gig although Andrew Hendrix and Everett Golson will be challenging for significant playing time as well.
Jones should be a reliable receiver, but his numbers will not reflect upon a number one receiver and certainly he will need to improve in time, as a junior this season.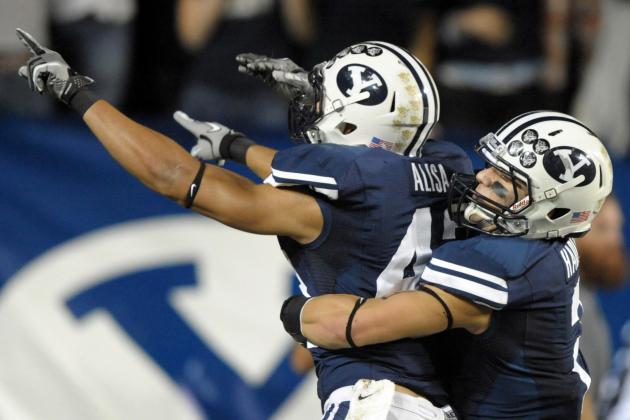 Kirby Lee-US PRESSWIRE

Michael Alisa was backing up J.J. Di Luigi last season and he actually performed well, rushing for 3 TD and 455 yards.
Alisa will once again have competition with Josh "Juice" Quezada, who ran for 298 yards and a touchdown.
Throw in the fact that Riley Nelson will be threading the needle to Cody Hoffman a bunch and it should not come as a shock if the Cougars do no improve much upon their 55th ranked rushing attack from a season ago (160 YPG).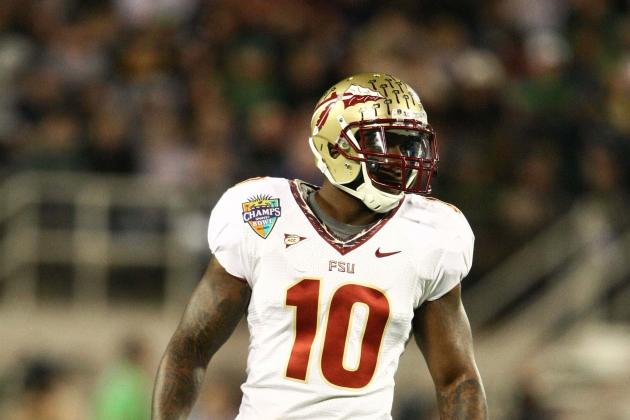 Douglas Jones-US PRESSWIRE

Nick Moody is expected to start at outside linebacker for the incredibly talented Florida State defense, but making the Butkus Award Watch List is a little bit of a head scratcher (Vince Williams much?).
Moody is a talented, physical body that accounted for just 23 tackles and a quarterback hurry last season.
Christian Jones is one of the more talented growing stars in the country and guys like Vince Williams, Telvin Smith, Terrance Smith and Nigel Terrell should produce as well.
The former safety now turned linebacker may start (expected to) and become a huge factor for the Noles' BCS title aspirations, but the pool of youth they have will make it tough for Moody to stay in the hunt for the Butkus Award.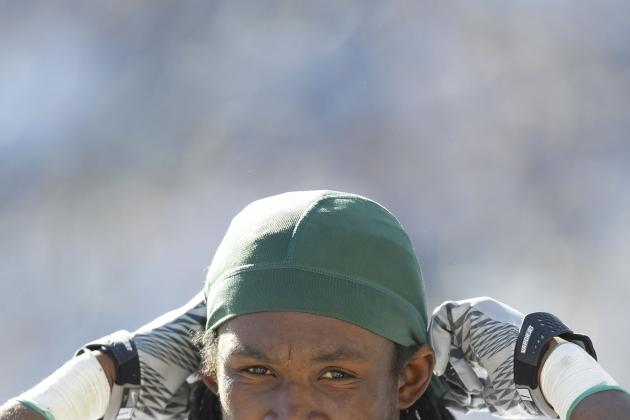 US PRESSWIRE

Allen Hurns was the third target in the Hurricanes passing game last season as he hauled in 31 passes for 415 yards and 4 TD, but the quarterback issues will likely not come to an end.
Stephen Morris is the expected starter with Ryan Williams in pursuit to see some time at some point during the season. But Hurns will demand double coverage with the loss of star running back Lamar Miller and a few respectable receivers in Tommy Streeter and Travis Benjamin.
The numbers and overall production should increase a bit if he remains the top target on the team, but there is some young talent on this team that will be largely inconsistent all season long.
The future will improve in time, but with one of the tougher schedules in America (KSU, FSU, VT, USF, UNC, ND, GT, NCST), I would look for a dip in production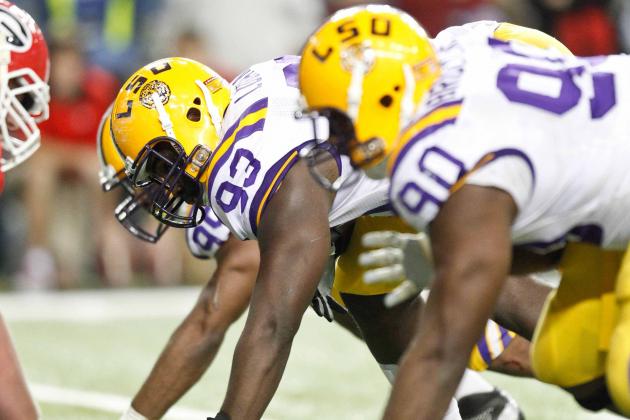 Derick E. Hingle-US PRESSWIRE

Michael Brockers has moved onto Sunday's (Rams, 14th Overall), but the Bayou Bengals defensive line is still arguably the best in college football thanks to their freak athletes.
The list goes on for days and the depth should be illegal, but the bottom line is they track you down in their sleep.
Everybody knows about Sam Montgomery and Ki-Ki Mingo off the edge, but LSU is so dominant because of the constant pressure they get up front.
Bennie Logan is one of the studs, but is he far superior to other LSU lineman?
No, no and no would be the easy answer because defensive tackle Anthony Johnson has the looks of becoming a future All-SEC and/or All-American performer, yet he was not mentioned (most underclassmen—save Marqise Lee—are never mentioned).
Throw in Josh Downs and Ego Ferguson and there may not be enough opposing ball carriers for the Tigers to demolish up front since the stats will even out a bit.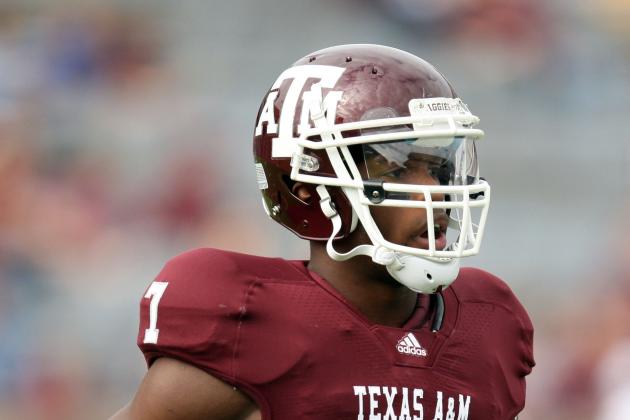 Thomas Campbell-US PRESSWIRE

Uzoma Nwachukwu has been a big, physical receiver for the Aggies for the last three seasons in College Station.
He is not coming off a productive junior season as he could not even eclipse the 700-yard mark and he hauled in just 2 TD.
Ryan Tannehill is long gone and now Texas A&M has entered arguably the toughest conference and surely division in all of sports.
Plus, did I mention they have a brand new starting quarterback that potentially has zero experience?
The potentially brutal part comes from Johnny Manziel, who redshirted last year as a freshman and he of course was arrested less than a month ago.
Manziel is the best athlete among the competitors, but Jameill Showers at least has seen some time (rushing TD, 4-of-5 for 40 yards).
Anyway you slice it up, the Aggies offense could struggle in year one of the Kevin Sumlin era.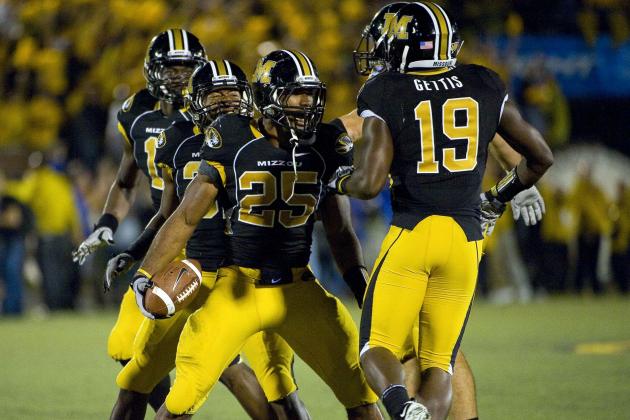 Scott Rovak-US PRESSWIRE

Zaviar Gooden has been a solid linebacker for Gary Pinkel and many can argue that this Tiger is one of the more underrated players heading into the SEC East.
The Tigers have a top 20 strength of schedule in terms of difficulty, which will challenge Mizzou's 29th ranked run defense from a year ago.
Gooden was the third-leading tackler from a season ago, but going up against the likes of Georgia, South Carolina, Vanderbilt, Alabama, Florida, Tennessee and A&M will be much tougher than some are anticipating.
The amount of tackles may be increasing if opponents are building upon leads against Missouri, but the impact and game-changing plays may appear at the bare minimum going up against some of the more physical and talented teams in America.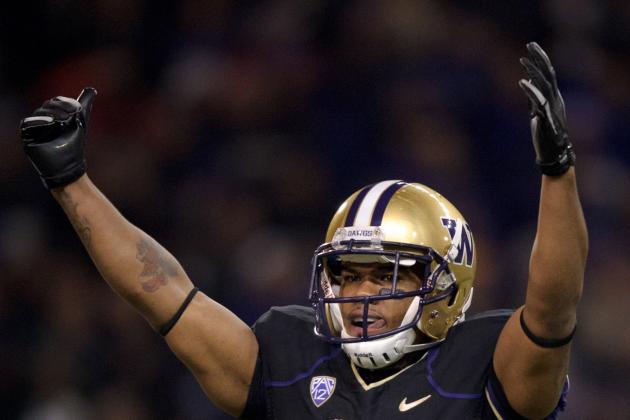 Steven Bisig-US PRESSWIRE

Jesse Callier is on the Doak Walker Watch List, but he may not even get the bulk of the carries in the Washington backfield this fall.
Callier (5'10", 203-pounds) will be battling all season with a highly touted back in Bishop Sankey (5'10", 197-pounds), who had similar numbers to this Doak Walker candidate.
Nearly identical body sizes, Washington may not even be considered much of a running team this season with one of the better slingers in the country returning.
Keith Price has an All-American tight end option with Austin Seferian-Jenkins and a slew of other targets that will be stretching the field with the best of them in the Pac-12.
UW was 63rd in rushing offense last season (154 YPG) thanks to Chris Polk, but look for the rushing numbers to stay in the same ballpark with the passing yardage climbing up the charts (35th, 255 YPG).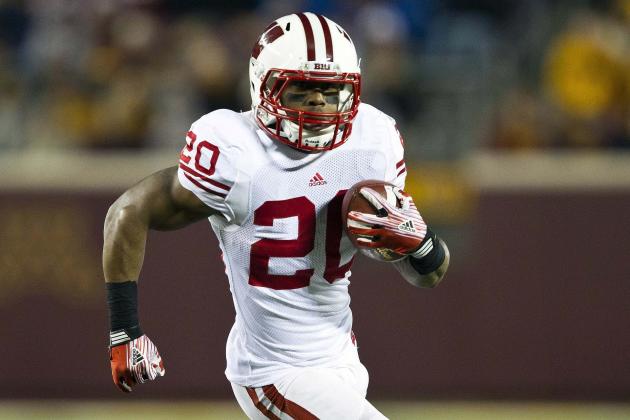 Jesse Johnson-US PRESSWIRE

James White quite possible could be the best backup running back in America, but he may not even end the season as the clear-cut number two runner for the Badgers.
Melvin Gordon has had one of the best springs among any Wisconsin offensive performer at the skill positions, and let us not forget who the starting running back is.
Montee Ball accounted for a total of 39 TD last season, which tied the single-season record set by legendary back Barry Sanders (1988).
Ball will be toting the rock with the best of them as he is the reigning Doak Walker winner and a Heisman finalist that will likely have even greater achievements on his mind for the 2012 campaign.
We know the Badgers bring the beef and athleticism up front, as many NFL teams are jealous of the freaks they have. James White will also be counted on to haul in some passes in the flats for new starting quarterback Danny O'Brien.
Matt Canada takes over for Paul Chryst (Pitt HC) as the new offensive coordinator, and while the overall scheme of things won't change much, we should still expect Mr. Ball to get the bulk of the load.
White is more than worthy of being on this list for talent alone, but his production will not do justice for the incoming junior.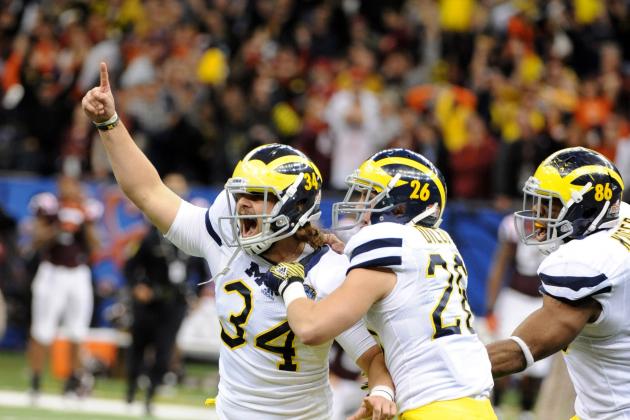 Chuck Cook -US PRESSWIRE

I will have the brashness in myself to predict Brendan Gibbons to have a missed kick that many haters will foresee as the reason why the Maize and Blue lost an extra game or two when the 2012 season concludes.
Nebraska, Michigan State, Notre Dame and Ohio State are four games that will likely come down to the wire against a Wolverines squad that went 3-1 in games decided by single-digits.
Many non-Michigan fans will argue they were simply lucky as opposed to more so talented last season, but a main reason was their ability to score touchdowns when they had to, thanks to a few virtuoso performances by Denard Robinson (see ND, OSU).
Robinson loses their top receiver in Junior Hemingway and a few key lineman, which could put more of the onus on a left-legged kicker.
Kickers in the clutch are about as much of a fluke as a one-game playoff in the NCAA Tournament (basketball), but Gibbons' (21-of-27 last year) game-winner in the Sugar Bowl could be completely reversed in 2012 when the competition gets a whole lot more intense.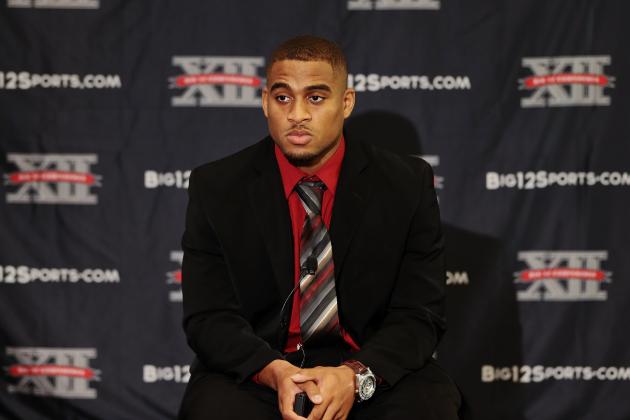 Kevin Jairaj-US PRESSWIRE

From 2001-2008 the Cyclones did not have any 1,000-yard rushers and that was one of the many reasons why they failed to reach eight or more wins in a single season.
However, that could change with the "energizer bunny" as coach Paul Rhoads calls his starting Cyclone back.
James White is a talented back that should find some running room this season with three of his offensive lineman returning, but they do not take on the sixth toughest schedule according to Phil Steele.
The improving Big 12 has now become a gauntlet of a schedule with no easy opponents on the slate, and there is a great chance that Iowa State will be forced to throw the ball if they are trailing in the majority of their conference games.
White did see significant time last season after the starter Shontrelle Johnson was lost for the season after four games, but Jeff Woody will still see a ton of carries as that north-south bell cow of a back.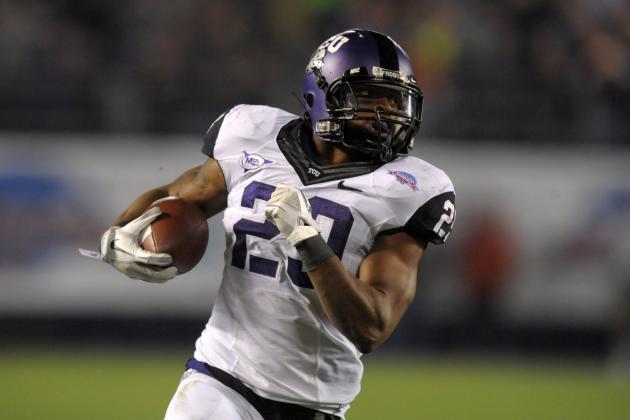 Kirby Lee-US PRESSWIRE

The loss of projected starter Ed Wesley may ultimately have an impact on the Frogs if they were an average BCS-caliber squad, but they are far from that.
The depth and overall talent at TCU has been relentless since Gary Patterson took over at the start of the 2001 season.
However, moving to the Big 12 will bring its challenges in year one for a team that has been sensational at running the ball.
Their trio of stars last season was tough to defend because they all brought something special to the table, but the two stars that have returned will once again share the bulk of the load.
That does not mean they will be busts in terms of their talent or production for the team together, but individually (which isn't even important if you asked Patterson) they will struggle to last long for the running of the Doak Walker.
Matthew Tucker is a bruising back (6'1", 227-pounds) who found paydirt 12 times last season, but splitting the carries with Waymon James will take him down from the elite in the country.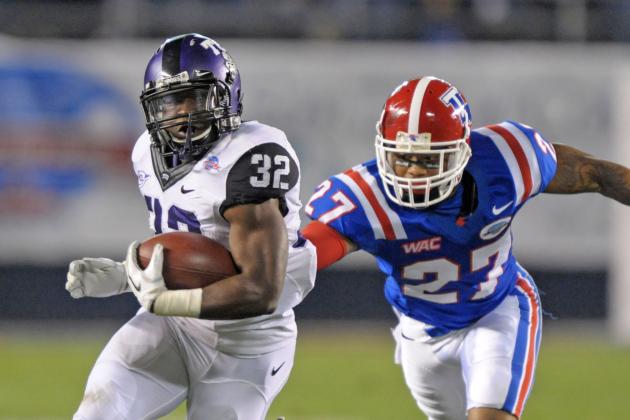 Kirby Lee-US PRESSWIRE

Waymon James was TCU's leading rusher a season ago and is dynamite in the open-field due to his elusiveness and tremendous ability to cut on the dime.
James toted the pigskin 121 times for 884 yards and 6 TD, which are tremendous numbers for a backup, but they are mediocre at best for a player contending for a prestigious award such as the Doak Walker.
Sharing time with Matthew Tucker in 2012 will cost each other some fame in terms of competing for All-Big 12 honors and awards such as the Doak, but together they rank among the best duos in the country for running backs.
TCU will likely start the season out at 7-0 thanks to these two electric players, so be wary Big 12!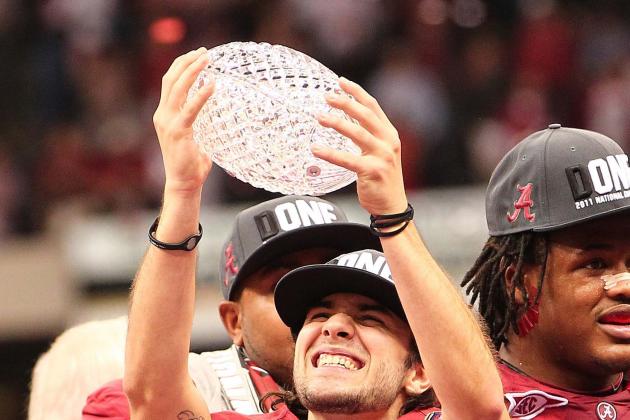 Marvin Gentry-US PRESSWIRE

Most Crimson Tide fans will never forget their heart-breaking 9-6 loss in overtime at home against the LSU Tigers.
Missing four kicks on six attempts is beyond brutal for the current best program in America, but luckily they made the most of their second chance when it really mattered.
Still, it is fairly surprising (not shocking by any means) to see Jeremy Shelley appear on the Lou Groza Watch List.
He did connect on 21-of-27 kicks last season, and it was Cade Foster who missed three of those four kicks.
However, Alabama will likely be scoring a ton of touchdowns as opposed to even attempting field goals thanks to another likely impressive defensive squad (and dominating offensive one).
There are many strong candidates out there, but there is a solid shot that Shelley does not even attempt the same amount of kicks that he made last season.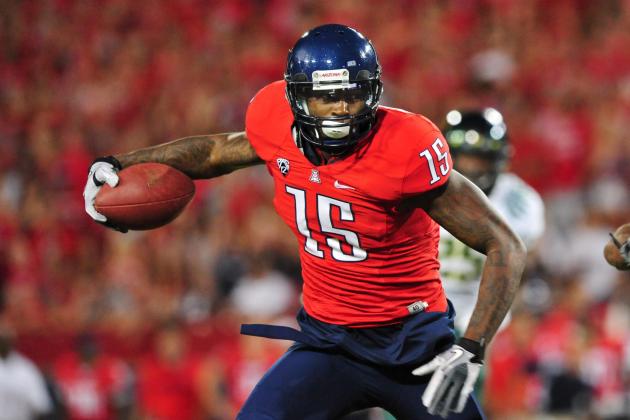 Chris Morrison-US PRESSWIRE

Dan Buckner had a chance to be a star at Texas when he was recruited and playing for them; he still has a chance to do that in his senior season with Arizona.
However, the Wildcats have brought in Rich Rodriguez to run his infamous spread offense that often concentrates on the running game. Plus, starting quarterback Matt Scott is a running quarterback that may not look for Buckner as much as most would think.
Buckner (6'4", 214 pounds) is a physical receiver who can steal a jump ball when need be, but his overall numbers will simply not reflect upon being a number one wide receiver in a BCS conference (or any for that matter).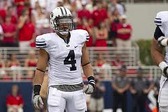 http://byucougars.com/athlete/m-football/uona-kaveinga
It is amazing how both Brandon Ogletree and Kyle Van Noy did not make the Butkus Award Watch List, despite being two of the more talented linebackers you will see in the country.
Van Noy had 10 quarterback hurries, seven sacks, 68 total tackles and eight tackle for losses, whereas Ogletree had four tackle for losses, an interception and 76 total tackles (led team).
Instead, Uona Kaveinga has made the list for the Cougars. The former USC Trojan was the fourth-leading tackler last season, which is respectable for a BYU squad that ranked No. 13 in the country for total yards given up per game (313).
Still, there is a good chance he once again does not crack the top three on the team in total tackles with a few other more talented stars on the squad.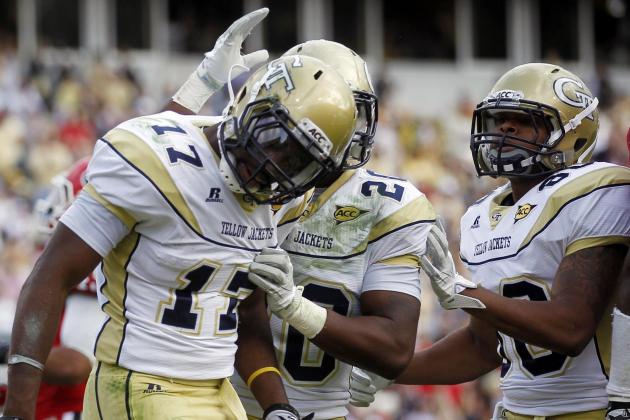 Josh D. Weiss-US PRESSWIRE

Orwin Smith is one hell of a back. He had 11 TD on just 61 carries last season. The main issue is the fact that he only had, yes, 61 carries!
No Doak Walker finalist (or preseason Watch List member) has ever had anywhere near that low of a number. It is staggering, but not once you realize that Georgia Tech's option attack involves so many players.
Quarterback Tevin Washington is the main producer, as he had the most carries, yards and touchdowns on the team.
The other Yellow Jacket that arguably should have been put on this list over Smith was David Sims. Sims ran for 698 yards on 135 carries and he accounted for 7 TD.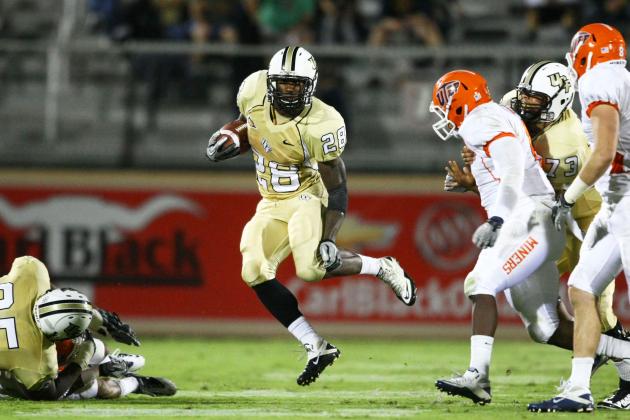 Douglas Jones-US PRESSWIRE

The Central Florida Knights enter the season with some hype thanks to a few talented transfers that may enlighten this team to achieve the success many expected last season.
Despite coming off a 5-7 season, there is a ton of optimism because of who the starting running back will likely be.
Storm Johnson (formerly of Miami) in the backfield is like trying to catch lightning in a bottle, and his physical presence will likely offset Latavius Murray's chances of having a sensational senior season.
If there were to be a Knight back on my Doak Walker list, it would be Johnson (projected starter) over Murray with his more consistent ability to take over games in the fourth quarter.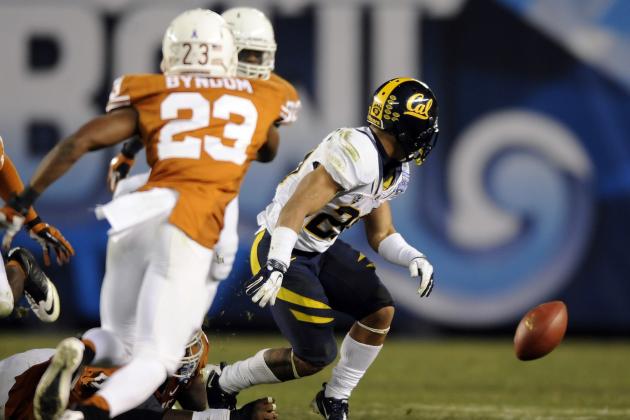 Christopher Hanewinckel-US PRESSWIRE

For the last nine seasons, we have seen the Cal Bears produce two running backs for a combined 1,500 rushing yards.
Marshawn Lynch, Shane Vereen, Jahvid Best and many more future Cal Bears are going to continue the great tradition they have in terms of going to the NFL.
Isi Sofele looks like he is the next one in line, but there are a few capable backups that may not only take more of the looks but also take away the production as well.
Brendan Bigelow (5'10", 188 pounds) was one of the more highly touted backs coming out of high school just a few seasons ago and he is officially recovered from two torn ACL's.
Throw in the goal-line and bruising tailback in CJ Anderson (5'11", 214 pounds), and there clearly will not be enough footballs to entertain everybody.
The biggest concern however should be the opponents that are expected to scare the Bears from appearing in the postseason.
Nevada in the opener will be tough and then Ohio State (Horseshoe) will be waiting for Tedford and the boys in Columbus.
The worst is yet to come as the very next week (9/22) they must travel to take on potentially the top-ranked team in the country as the USC Trojans' speedy defense could be licking their chops.
Utah, Washington and Oregon will all be improved defensively and they too are on the schedule towards the end of the season.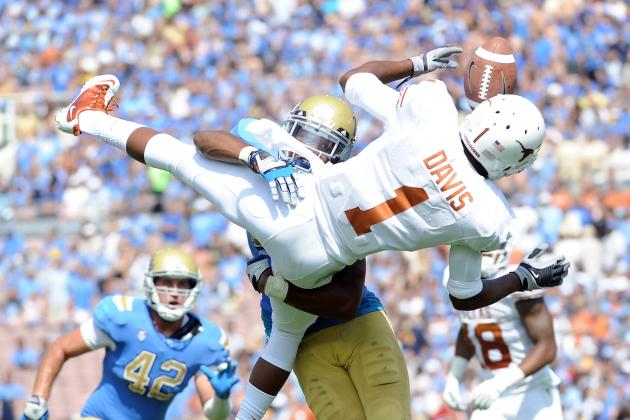 Harry How/Getty Images

Mike Davis is an exceptional athlete and wide receiver for the Longhorns. They will be counting on him to develop as he enters his junior season.
Last season, he was able to haul in 45 passes for 609 yards and 3 TD. The major issue was the quarterbacks that could not remain consistent throughout the season, and the receivers did not do a great job getting separation from the opponents' defensive backs.
Jaxson Shipley and Marqise Goodwin should help David have a solid season, but there is no mortal lock to see Davis double his numbers.
Goodwin is one of the most explosive and fastest players in the country (Olympic speed), and Shipley is a solid hauler himself (Big 12 Second Team).
Throw in Barrett Matthews at tight end with a slew of backs that have the ability to take passes out of the backfield to the house, and it will be far from a runaway for Davis to become the most productive Longhorn receiver.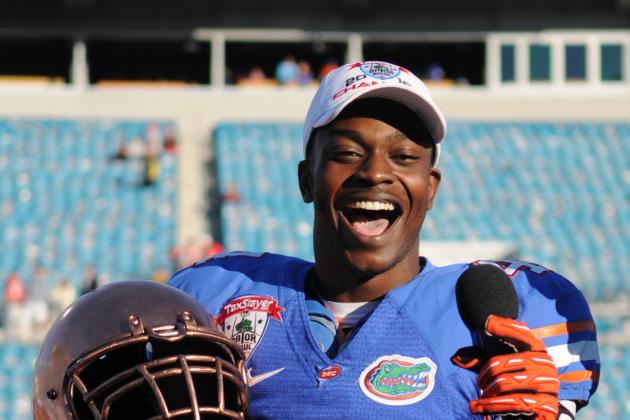 US PRESSWIRE

Coming off his Gator Bowl MVP (99-yard KOR TD), it may be a bit bold to say Andre DeBose is in for a tough upcoming 2012 campaign.
However, he is just coming off 16 receptions for 432 yards and 4 TD from last season and the quarterback carousel may only get worse.
Jeff Driskel and Jacoby Brissett should end the madness in terms of production (one would hope), but it is not like the Gators have much time to decide who is their leader.
After opening up against Bowling Green at home, the Gators travel to College Station in what may be the most hostile environment of the entire season.
Follow that up with a friendly and quiet trip to Knoxville and there is a chance the Gators start out 1-2 if the production in the passing game does not improve by leaps-and-bounds.
DeBose's numbers will barely improve if his team around him does not improve offensively speaking, but playing the likes of LSU, Georgia, Florida State and South Carolina is beyond brutal.
In fact, those four defenses are simply the best in the nation and it has the case of being the most difficult schedule in terms of overall defensive ability.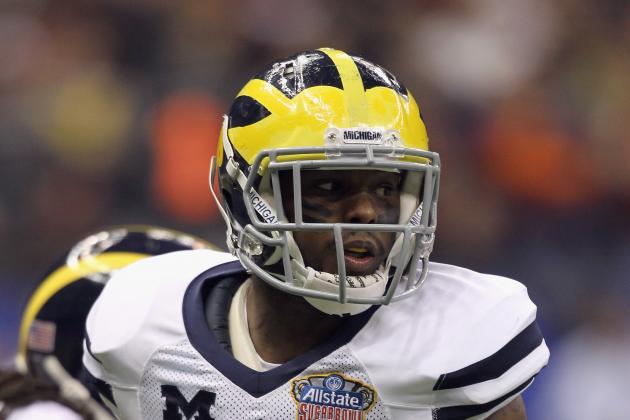 Matthew Stockman/Getty Images

The starting tailback at Michigan is almost always a factor for a Doak Walker achievement, especially when he is coming off the caliber of a season like Fitzgerald Toussaint is.
Toussaint toted the rock 187 times for 1,041 yards and 9 TD and was destined for a breakout season for an improving Michigan squad that is expected to be ranked somewhere around the top 10 to start off the season.
Currently speaking, the Wolverines backfield is a jumbled mess after the the team has suspended Toussaint indefinitely after a recent DUI charge.
He could still put up some solid numbers depending on how many games he ultimately does get suspended for, but the future is filled with questions at the moment.
Plus, guys such as Thomas Rawls, Vincent Smith and Justice Hayes could steal or at least spell him.
Lastly, potentially missing that opener against the defending national champions was a great opportunity to show your talent and now the upcoming season does not have nearly the same excitement as it once did for this talented back.