WWE's Top 10 Catfights of All-Time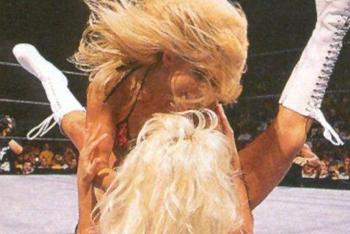 Women's wrestling is known for bringing the hilarity on many occasions, but none more so than during catfights! While I love to see a good, old fashioned wrestling match, I also can't help but get riled up when the women go at it brawler-style.
It's just too hilarious!
Let me take you all on a trip down memory lane with this highly-entertaining slide show of what I believe are the top 10 catfights in WWE history:
10: Victoria and Torrie Wilson
Such a shining moment in Torrie Wilson's career, no?
9: Kelly Kelly and Layla
Now this is comedy!
Kelly's acting actually made this segment much more entertaining than it would've been if she actually played her part well.
And did you see Layla randomly snatch that cover stand?! Just perfect.
8: Michelle McCool, Kristal, Jillian and Ashley
Two-on-two makes for one happy viewer.
7: Dawn Marie and Jackie Gayda
These two always seemed to go at it a little harder than the usual catfight...
6: Dawn Marie and Michelle McCool
Dawn Marie was notorious for her passionate anger, and this was no exception.
Best moment? When Michelle got caught on the guardrail, of course.
5: Stephanie McMahon and Debra
Oh that Stephanie...
But good Lord, oh that Debra! I'd hate to be on her bad side. She has more of that sneaky rage—it jumps at you from out of nowhere, just like that vicious slap!
Keep your eye out for that weird part where Stephanie says "Don't you dare!" but her lips aren't moving.
4: Melina and Mickie James
This was so full of win!
Kudos to Melina for that hilarious line at the end...you know the one.
3: Melina and Jillian Hall
I would've ranked Melina's catfight with Mickie above this one, but the drop-dead comedic antics of Melina here were just so much better!
2: Lita and Trish Stratus
OK, not even a full minute and this was still a perfect segment. These girls beat the crap out of each other!
1: The Bella Twins and Gail Kim
That's right people! For once, one of these top 10 lists on the Divas isn't topped by something or someone from the Golden Era. This is my favorite for the pure brutality and craziness of it all.
I mean, it starts with a strong shove from Gail and ends with Nikki being completely rag-dolled like some sort of chew toy.
It was absolutely priceless.
Keep Reading