Shane Doan's latest meeting with an Eastern Conference team will reportedly be with the Montreal Canadiens, according to TVA Sports (via TSN).
The free agent courtship of Shane Doan continues, as TVA Sports in Quebec reports that the free agent forward will visit the Montreal Canadiens next week.

"Doan has been in discussions with Canadiens this week and he has told his agent that he wanted to make a visit," a source close to the situation told TVA Sports on Tuesday.
Will Doan sign a deal with the Canadiens, who are a team that would be lucky to even make the playoffs next season? I can't see it happening, especially since the Phoenix Coyotes have a much better chance to win the Stanley Cup than the Canadiens do heading into next season.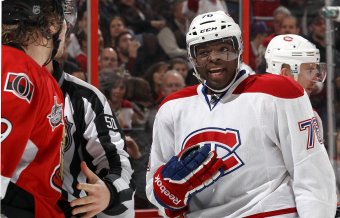 Jana Chytilova/Freestyle Photo/Getty Images
The Canadiens would be better off continuing their youth movement.
Alex Galchenyuk, who the team selected with the No. 3 overall pick in the 2012 NHL Draft, will be with the club in about a year's time and is a future top-six center. Young stars P.K. Subban and Carey Price will also be important young players for the team going forward.
Doan would be the right player for Montreal if it were a player or two away from making a run in the Eastern Conference next season, but this is not the case. He doesn't fit with the future plans of the team and is not worth spending a large amount of money on.
Doan isn't going to help the Canadiens get back to the top of the Northeast Division in a significant way next season, so while the thought of him in a red, white and blue sweater may seem awesome to Canadiens fans, it's not a move that the team should be making.