Olympic Basketball 2012: Breaking Down Entire Team USA Women's Roster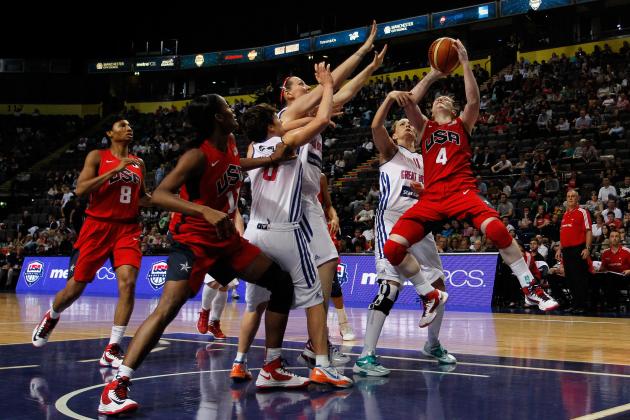 Paul Thomas/Getty Images

In the debut year of women's basketball at the summer Olympics in 1976, the U.S. team finished in second place to the Soviet Union, and the USSR repeated at the boycotted 1980 Games. Since then, the United States has won six gold medals in seven Olympiads, losing only in 1992.
The Americans' dominance of the sport looks likely to continue in the 2012 London Olympics, as Team USA is sending one of its most impressive squads ever. The team consists of a mix of some of the true legends of the women's game (Sue Bird, Diana Taurasi) as well as some of the brightest young stars in the sport (Maya Moore, Tina Charles).
Led by University of Connecticut head coach Geno Auriemma, it is hard to imagine any team toppling Team USA off the podium in London.
Begin Slideshow

»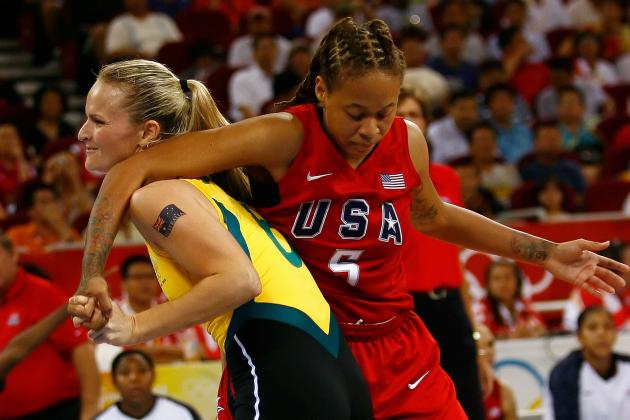 Quinn Rooney/Getty Images

The London Games will be Seimone Augustus' second Olympics, after her participation in the gold medal-winning effort by the 2008 team. Augustus was selected to that team because of her tremendous play at Louisiana State University and the early promise she had shown to that point in the WNBA.
In the four years since, she has only gotten better.
Augustus was named an All-American three times at LSU, twice earning both the Naismith Award and Wooden Award. She was the first overall pick in the 2006 WNBA Draft and was named an All-Star and Rookie of the Year in her first season.
After the Beijing Olympics, Augustus suffered medical problems, causing her to miss much of 2009 and 2010. She returned to the sport full time in 2011 and immediately looked like her old self. She helped lead the Minnesota Lynx to their first championship and was named Finals MVP.
Augustus is able to play both shooting guard and small forward, and while she is a good defensive player, she excels on offense. She has a lifetime field goal percentage of 47.8, a free throw percentage of 86.5, and a three point percentage of 37.3. She is one of the best shooters on a team full of sharpshooters.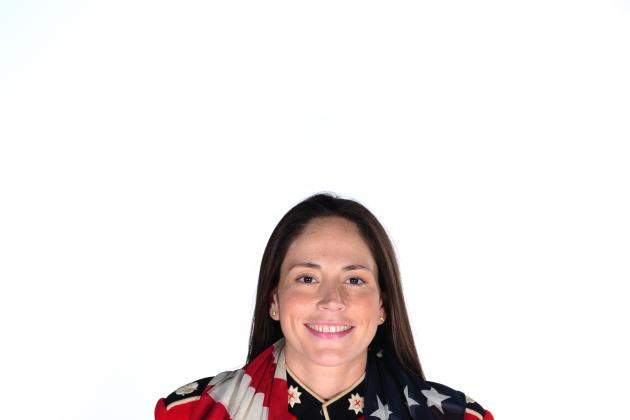 Harry How/Getty Images

The 2012 London Olympics will be Sue Bird's third Olympic games (she previously competed in Beijing and Athens), and the 5'9" guard brings a wealth of experience to Team USA as one of the greatest players in the history of the women's game.
After leading her high school team to a state and national championship, Bird led the Connecticut Huskies to two NCAA championships. She was the first overall pick in the 2002 WNBA Draft, and by 2004 continued her habit of winning championships by helping the Seattle Storm win the WNBA title, which she would win again in 2010.
In 2011, WNBA fans recognized Bird as one of the 15 greatest players in the first 15 years of WNBA history.
Bird has been a regular presence on Team USA since participating in the gold medal-winning 2000 Jones Cup Team. She's one of the best passers in the WNBA, averaging 5.5 assists per game in her career, while scoring 12.7 points with a 43 field goal percentage and 87.3 free throw percentage. She also averages nearly a steal and a half per game and can be a menace on defense.
Bird is the fourth oldest member of Team USA, but she is no figurehead a la Larry Bird (no relation) in 1992. She will be critical to Team USA's success in London.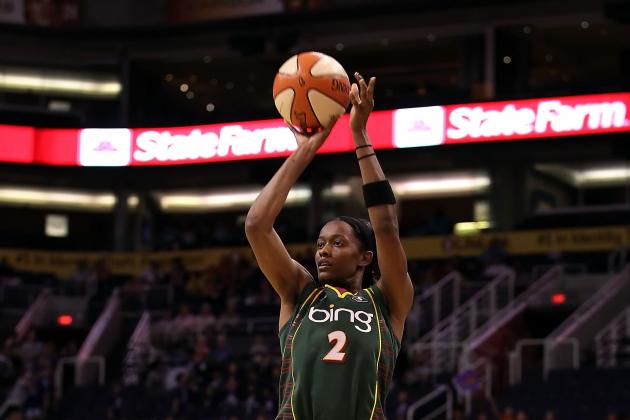 Christian Petersen/Getty Images

Another of the six Connecticut Huskies on the Team USA roster, Swin Cash returns to the American Olympic team after participating in the 2004 gold medal-winning effort.
Cash was an All-American and won two national championships at Connecticut. She was drafted second overall by the Detroit Shock in the 2002 WNBA Draft. Within a two-year period, Cash won the 2003 WNBA championship with the Shock, was selected to the 2003 All-Star team and won Olympic gold.
Cash is a 6'1" forward who has averaged 5.9 rebounds, 12.7 points and 0.9 steals per game in her career. She has won three WNBA championships and has been selected to play in four All-Star Games, where she was twice named game MVP.
Cash has nothing left to prove, and this point is only further adding to her legacy. She brings size and strength to the Team USA roster, and few international players will be able to keep up with her.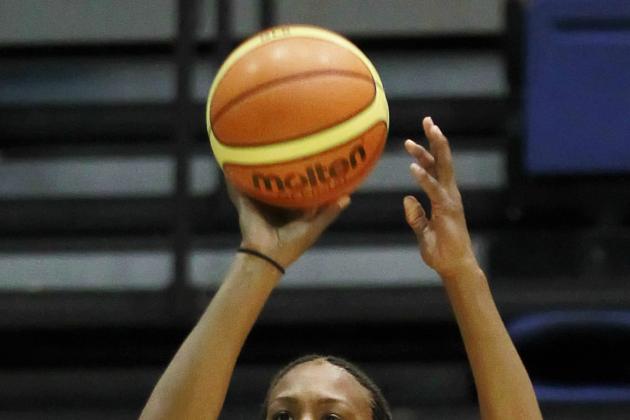 Geoff Burke-US PRESSWIRE

Along with Candace Parker, Tamika Catchings is one of two former Lady Vols on Team USA. Catchings is the oldest member of Team USA and brings a wealth of experience in the international game to the squad. She was on both the 2004 and 2008 Olympic gold medal winning teams and has been in the WNBA since she was drafted third overall in 2001.
Catchings is the best defensive player on Team USA and perhaps the best defensive player in women's basketball. She has led the WNBA in steals six times and posted a career-high 3.1 steals per game in 2007. She has been selected WNBA Defensive Player of the Year four times, most recently in 2010.
Yet Catchings is no one-dimensional player. She has averaged 16.5 points per game over her career with a 41.5 percent field goal average. Last year she made 88.3 percent of her free throws.
Catchings has been named to the All-Star team seven times, won the 2011 MVP Award and was named one of the 15 best players in WNBA history.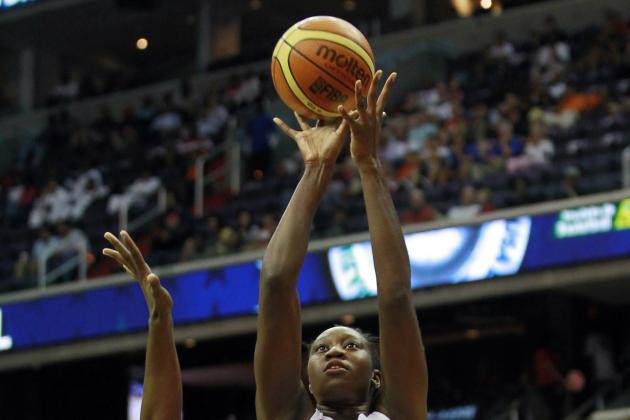 Geoff Burke-US PRESSWIRE

In a team full of sharpshooters, Tina Charles brings much needed rebounding to Team USA.
Charles only recently finished her second season in the WNBA, but she is already the best rebounder in the league, having led the league in each of her first two seasons with 11.7 and 11.0 rebounds per game. She's just as strong a shot blocker, averaging 1.7 and 1.8 blocks per game in the generally block-absent league.
At 6'4", Charles will tower over nearly all of her competition. She has already proven herself one of the best players in the game, earning Rookie of the Year in 2010 and her first All-Star selection in 2011. The Olympics will be her first time playing the elite of the international game.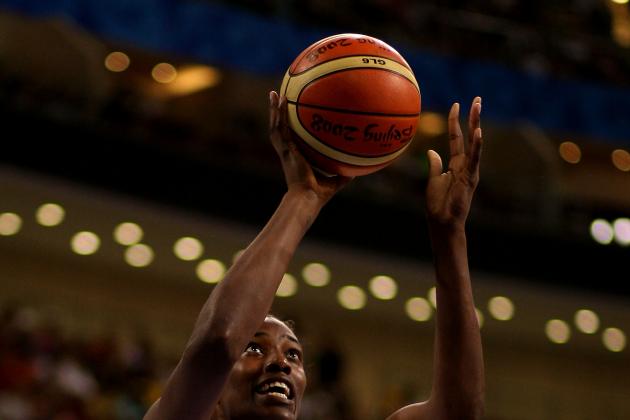 Ezra Shaw/Getty Images

The tallest member of Team USA at 6'6", Sylvia Fowles returns to the Olympics after helping Team USA win gold in Beijing.
Though Fowles did not win a championship in college, she led the LSU Lady Tigers to Final Four appearances in each of her four years at the school.
Fowles has been the league's best shot blocker in each of the last two seasons and has twice led the league in field goal percentage. She has improved her rebounding totals in every season she has played, reaching 10.2 boards per game in 2011.
Few of Team USA's competitors will be able to keep up with Fowles' size and athleticism. Along with Tina Charles and Candace Parker, it's hard to imagine a more dominant big three.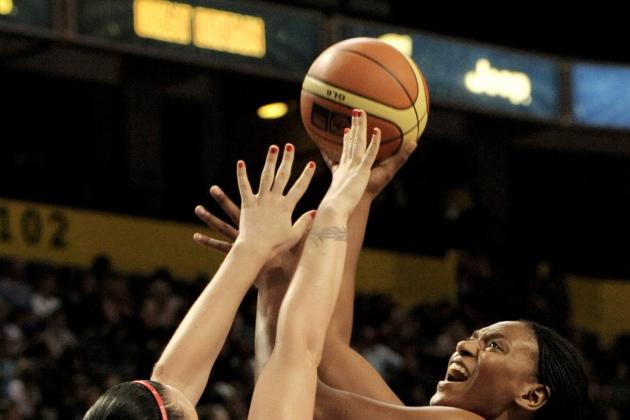 Joe Toth-US PRESSWIRE

A member of the gold medal-winning 2010 FIBA World Championship team, Asjha Jones has been in the WNBA since 2002, playing for the Washington Mystics and Connecticut Sun.
She is a well-rounded forward, averaging 11.4 points and 5.0 rebounds per game with a 45.1 field goal percentage. She has been rewarded with two All-Star game selections.
Despite her long career both in the WNBA and in European basketball, Jones is one of the lesser-known members of Team USA and has not achieved the level of stardom that several of her peers have. Still, she is a tremendously talented player who offers much needed size and physicality to the team.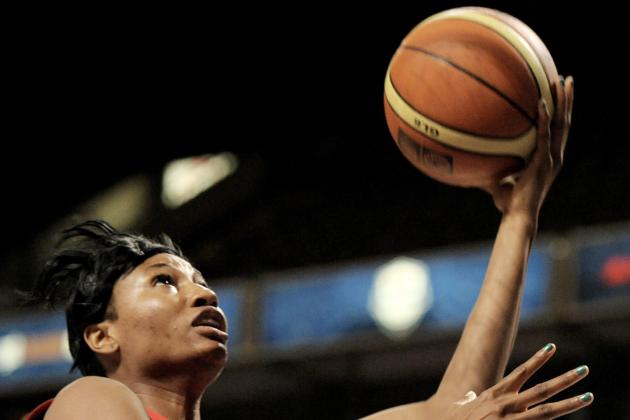 Joe Toth-US PRESSWIRE

Perhaps the best player in Louisville Cardinals history, Angel McCoughtry was the first overall pick in the 2009 WNBA Draft. She won the Rookie of the Year Award that season, and almost immediately became one of the best scorers in the league, averaging 21.6 points per game in her most recent season.
McCoughtry has also been a strong presence on the defensive side, averaging 2.1 steals and 0.6 blocks per game over her first three seasons.
Perhaps the only thing McCoughtry cannot do well is shoot three pointers (26.9 percent in her career).
McCoughtry was a member of the 2007 Pan American Games team and the 2010 FIBA World Championship team, both of which won gold. Though she was not a starter on the FIBA team, she excelled off the bench and should see even more playing time in her first Olympics.
McCoughtry is getting demonstrably better each season, and she should be one of the leaders of the team at the 2016 Rio Olympics.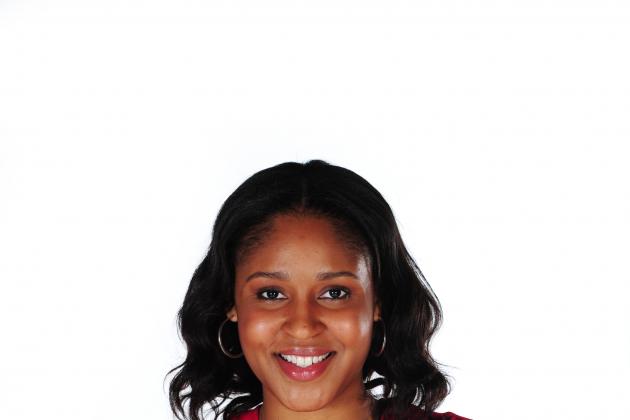 Harry How/Getty Images

At 23 years old, Maya Moore is the baby of the team—edging out Tina Charles by seven months—but she is unlikely to take a backseat to her elders in the Olympics.
Moore was a high school phenom, winning three Georgia state championships and two Naismith Prep Player of the Year awards.
Moore announced she would enroll at the University of Connecticut, and she wasted no time in taking the reigns of the Huskies basketball team.
She led the team in scoring in her freshman season, and was selected as an Associated Press first-team All-American, a designation she would receive in each of her four years playing college basketball. She went on to lead the Huskies to two national championships, and in the process won a Women's John R. Wooden Award, the Naismith Trophy, the USBWA National Player of the Year award and a laundry list of other recognitions.
The first overall pick in the 2011 WNBA Draft, Moore immediately went to work in making a name for herself in the league. She was named an All-Star and Rookie of the Year, and helped push a very talented Minnesota Lynx team over the edge to their first WNBA title.
Maya Moore is already making her mark as the best player of her generation, and she brings energy, outstanding defense and keen shooting to the Team USA squad.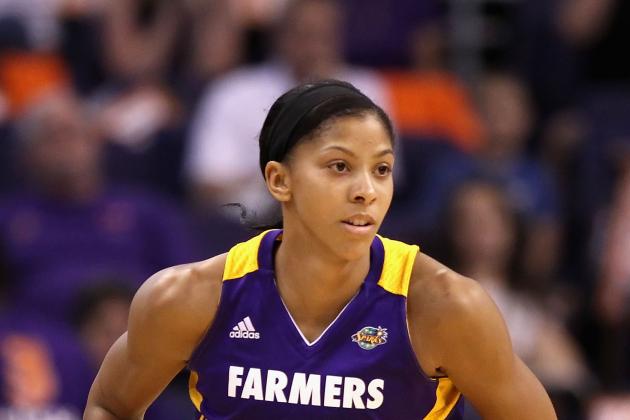 Christian Petersen/Getty Images

Candace Parker is able to do things on the court that no other player in the women's game can do.
She was the first woman to ever dunk in an NCAA tournament game, the first to ever dunk in a high school game and the second player to ever dunk in a WNBA game.
But she has used her size for far more than just dunking. She has twice led the WNBA in rebounding and once in blocked shots, all while averaging 17.2 points per game.
Parker is the winner of two Wooden Awards and one Naismith Award and was drafted first overall in the 2008 WNBA Draft. In only four years in the league, she has won the Rookie of the Year and MVP award (in the same season), was selected to an All-Star team and twice led the league in rebounds. She was also a member of the gold medal-winning 2008 Olympic team.
Parker's 6'4" size and extreme physicality is almost unguardable in the international game, and Team USA hopes to feed the ball to her in the post early and often.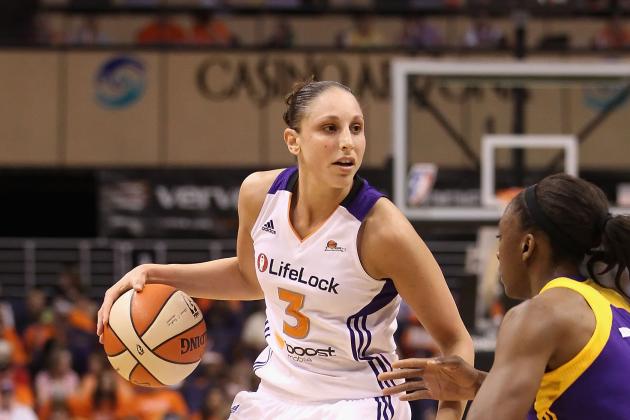 Christian Petersen/Getty Images

Another of the athletes voted as one of the top 15 players in WNBA history, Diana Taurasi's resume is perhaps second to none.
She has won three NCAA national championships, two WNBA championships, five WNBA scoring championships, two Naismith Trophies, a Finals MVP award, a WNBA MVP award and two Olympic gold medals.
Taurasi is the best scorer in the WNBA, leading the league in points per game five times, and has averaged more than 20 points per game in her eight-year career with the Phoenix Mercury. She has also averaged 4.0 assists and 1.2 steals per game, proving she is not just a one-dimensional scoring machine.
Taurasi is only 30 years old and still is at the very top of her game. It is very possible we will see her again in Rio, but for right now she's focused on adding yet another accomplishment to her already stunning resume.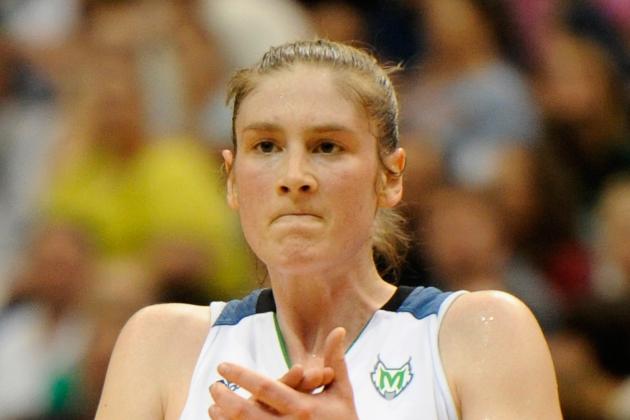 Hannah Foslien/Getty Images

The greatest player in University of Minnesota Golden Gophers history, Lindsay Whalen has played for her hometown Minnesota Lynx since she was traded from the Connecticut Sun in early 2010.
Whalen has been one of the premier point guards in the NBA since she was first named to the All-Star team in 2006. She's been named to two more All-Star teams and was twice named First Team All-WNBA. Along with Seimone Augustus and Maya Moore, Whalen led the Lynx to their first WNBA Championship in 2011. She finished fifth in MVP voting for the season.
Whalen is an exceptional point guard who has had at least five assists per game—a high number in the WNBA—in five seasons, twice leading the WNBA. She has averaged 12.0 points per game and 4.1 rebounds per game in her career, and has a field goal percentage of 45.1. She has also been strong on the defensive end, averaging 1.4 steals per game in her career, with a high of 2.1 per game in 2007.
Whalen has long been a presence in the international game. She participated in the gold medal-winning 2002 U-20 team, the 2003 U-21 team and the 2010 FIBA World Championship team. The 2012 London Games will be her first Olympics.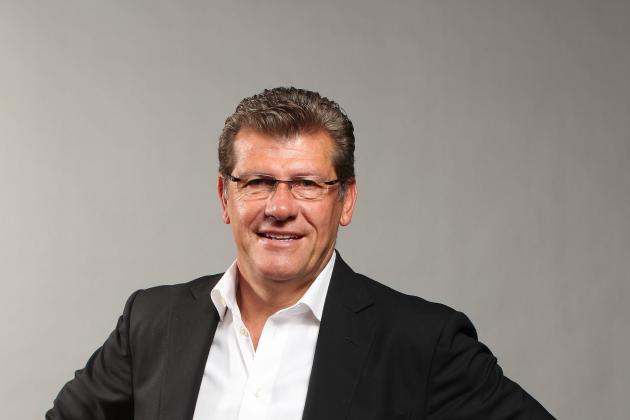 Nick Laham/Getty Images

Geno Auriemma is one of the most accomplished coaches in women's basketball history.
He has led the University of Connecticut Huskies to seven national championships, earning six Naismith College Coach of the Year awards and seven Associated Press Coach of the Year awards in the process. Auriemma has been recognized with inductions into both the Naismith Memorial Basketball Hall of Fame and the Women's Basketball Hall of Fame.
Auriemma has been involved in Team USA basketball since serving as head coach for the West Team at the 1993 U.S. Olympic Festival. He coached a few national junior teams and moved up to the Olympics an assistant for the gold medal-winning 2000 Olympic team. Auriemma is replacing Seton Hall head coach Anne Donovan, who led the 2008 Olympic team to the gold medal in Beijing.
Auriemma coached six of the 12 athletes on the Olympic team at Connecticut, and thus has greater familiarity with his players than perhaps any Team USA coach ever has. He hopes to lead the women's team to their seventh gold medal in eight Olympic games.