Big Ten Media Days: 12 Burning Questions for Head Coaches Going into 2012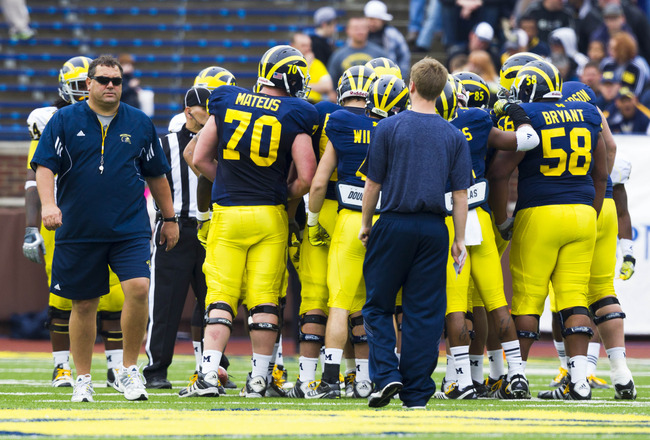 Rick Osentoski-US PRESSWIRE
The Big Ten media days will kick off on July 26 and July 27 in Chicago. All of the teams will be represented, and there will be several big names in the building representing their respective teams.
This is a chance for everybody to get caught up on the offseason, as we quickly approach fall camp and the regular season. We have a couple of new coaches in this conference who will make their Big Ten debut, playoff talk to get out of the way and of course Penn State talk.
But with each team dealing with its own issues, here is that one question that each coach will certainly have to answer at some point during Big Ten media days.
Illinois: What Will It Take for a More Consistent Season?
Kirk Irwin/Getty Images
Tim Beckman spent three years as a head coach for Toledo and is entering his first as head of Illinois. He is replacing Ron Zook, a coach who has been terribly inconsistent throughout his career. Just last season alone, the Fighting Illini started the season off with six straight victories, only to lose six of the last seven.
Illinois has not had much success making bowl games lately, and barely sniff the Top 25 throughout the year. Returning 15 starters from a year ago, including eight on defense and the starting quarterback, you would expect a much-improved season with experience on the field.
The question we all want to know is what will Beckman do differently to turn things around?
Indiana: Feeling Better About This Year's Team?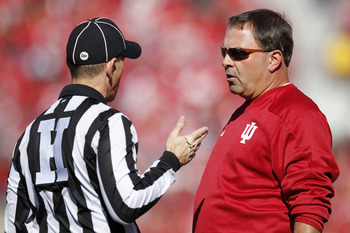 Joe Robbins/Getty Images
First-year head coach Kevin Wilson only won one game last year for Indiana, making it the worst season in school history since 1984. The offense was ranked 101st in the country, while the defense allowed over 37 points per contest.
To be fair, this was an extremely young team last season, playing a total of 32 true or redshirt freshmen.
A total of 15 starters return to Indiana, so hopefully Wilson feels better about his team in 2012 than he did last year.
Iowa: Is Your Seat Getting Warm?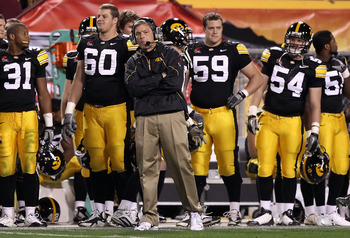 Christian Petersen/Getty Images
Kirk Ferentz has been the head coach of Iowa since 1999 and has done a bunch of tremendous things for this program. He has won a total of 96 games, led the Hawkeyes to two Big Ten titles and is a three-time conference coach of the year.
But Ferentz has lost at least five games in five of the last seven years and has not seemed to get over the hump with this team. He has won three of the last four bowl appearances, including a BCS bowl in 2009, but in a conference were there hasn't been a lot of domination, you would think he could do a little more with this Iowa team.
I'm sure his job is still secure for now, but with just six returning starters on the offensive side of the ball, you would think that window is beginning to close.
Michigan: What in the World Is Up with Fitzgerald Toussaint?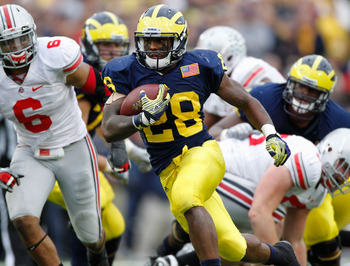 Gregory Shamus/Getty Images
Michigan is looking to improve on last season's success, and running back Fitzgerald Toussaint was going to be a big part of that. He rushed for over 1,000 yards last season and scored 10 touchdowns, providing the Wolverines with another great weapon besides quarterback Denard Robinson.
The problem is that he was arrested for a DUI charge and has been suspended indefinitely from the team.
Michigan needs as much help as it can get if it is going to contend for a Big Ten title and possible national championship. The Wolverines also have the biggest game of the year against Alabama the first week of the season. This team must figure out something soon when it comes to Toussaint.
Michigan State: Where Are the Offensive Playmakers?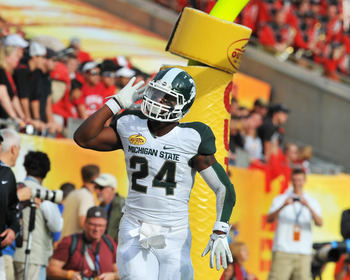 Al Messerschmidt/Getty Images
I know all about running back Le'Veon Bell, a guy who has rushed for over 1,500 yards in the last two seasons combined and has scored 21 touchdowns. He should have another big year and will be the workhorse for this Spartans offense.
Other than Bell though, who is going to help carry the workload on the offensive side of the ball? Michigan State lost not only its starting quarterback but also the top four receivers from a year ago.
We know the defense is one of the best in the country, but that will only take a team so far. Some of these inexperienced players will have to grow up quickly if this team wants to achieve its goal of winning a Big Ten title.
Minnesota: Can MarQueis Gray Become One of the Better QBs This Year?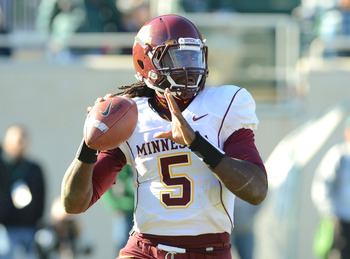 Mark A. Cunningham/Getty Images
MarQueis Gray was a wide receiver his first two seasons on this Minnesota team. He then switched to the quarterback position full-time last season and ended up throwing for 1,495 yards and eight touchdowns. He also showed off his playmaking ability, rushing for 966 yards and an extra six touchdowns as well.
Gray has spent the whole offseason working on his mechanics and decision making. If he can improve heading into 2012, the Golden Gophers may have one of the better quarterbacks in the Big Ten. Granted, that really isn't saying much, but it may be enough to lead Minnesota to its first bowl game since 2009.
Nebraska: Is Taylor Martinez Improving?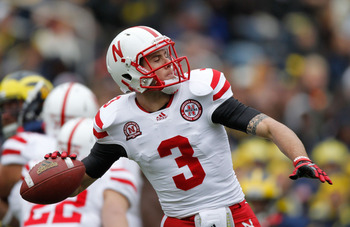 Gregory Shamus/Getty Images
Like many of the quarterbacks in the conference, Taylor Martinez is a dual-threat quarterback who isn't exactly going to scare defenses with his arm. He has completed less than 60 percent of his passes throughout his career and has thrown 15 interceptions to 23 touchdown passes.
Martinez has spent the entire offseason working on his footwork and mechanics, trying to develop into a more consistent passer. If he can iron out a few wrinkles, this Nebraska team can do extremely well this year. The Cornhuskers have the running game in Rex Burkhead and return seven starters on the defensive side of the ball.
Northwestern: Where Are the Defensive Playmakers?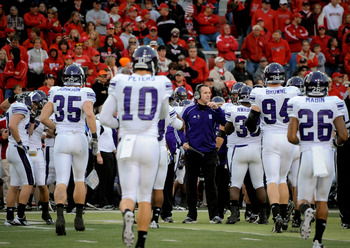 Eric Francis/Getty Images
Pat Fitzgerald is doing a remarkable job with this Northwestern program, but he must discover playmakers on the defensive side of the ball. The Wildcats had a balanced offense last season, although to take that next step, the defense must create big plays.
Last season, Northwestern finished 77th in the country with only 20 forced turnovers, 104th with 59 tackles for loss and 106th with only 17 sacks.
Good news is that six starters are returning on defense, and the Wildcats have a favorable schedule. Hopefully they can find some difference makers heading into 2012.
Ohio State: How Are You Keeping the Team Motivated?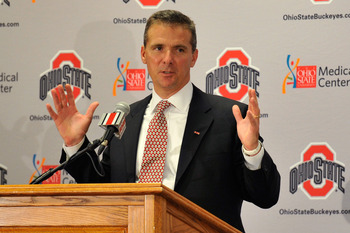 Jamie Sabau/Getty Images
We all know the deal with Ohio State this season. There is no way the Buckeyes can play in a bowl game, compete for a national championship or contend for a conference title. So what exactly is this team playing for in 2012, and how will they stay motivated, knowing that there is no reward at the end of the year?
Urban Meyer, I'm sure, will have the answer to this question, but it is easy to answer in July. The Buckeyes begin the season with a few tough games against UCF, California and Michigan State. If this squad gets off to a rocky start, will they still be that motivated bunch?
Penn State: How Do You Keep Your Spirits Up?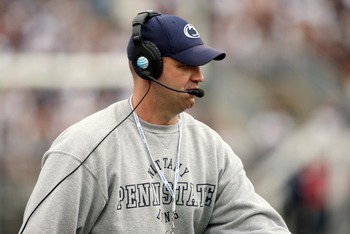 Rob Christy-US PRESSWIRE
The entire Big Ten media days will center on Penn State, so when head coach Bill O'Brien steps up to the podium, you can bet there will be plenty of questions about off-the-field issues. It is going to be interesting to see how he will keep this team's head in the game, after finding out there is nothing to play for at the end of the season.
The Nittany Lions received a four-year bowl ban and loss of scholarships, and the current players have the right to transfer immediately, after what happened with the Sandusky scandal.
For a first-year head coach, O'Brien has to be in over his head at the moment. How he is able to create positives out of this situation is anyone's guess at the moment.
Purdue: What Is the Status of Ralph Bolden?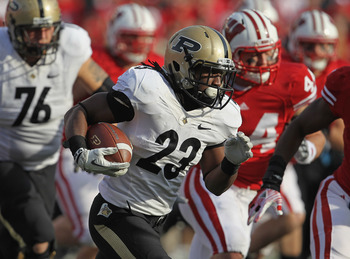 Jonathan Daniel/Getty Images
Ralph Bolden led the Boilermakers in rushing yards last season with 674 and six touchdowns, despite missing the final game of the season due to injury. Bolden suffered his third ACL injury in his career, and his status for the 2012 season is still up in the air.
Besides Bolden, there isn't a lot of experience at the running back position, or guys simply aren't built to carry the entire workload until he gets back on the field.
Purdue returns nine starters on both sides of the ball, and getting a healthy Bolden back could make this a serious team to watch out for in the Big Ten.
Wisconsin: What's Up with the QB Situation?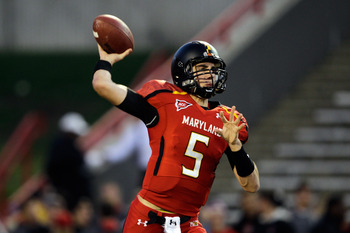 Rob Carr/Getty Images
Last season, Wisconsin was blessed with the gift of Russell Wilson transferring to become a Badger. Now that he is in the NFL, the quarterback position remains a huge question mark for this team. Both Joe Brennan and Joel Stave are young players who haven't shown much during spring ball to make anyone feel comfortable heading into 2012.
Wisconsin did receive Maryland transfer, Danny O'Brien, who could very likely become the starter, but we have yet to see how quickly he can pick up this new offense.
We have seen how successful this team can be with a solid quarterback leading the way. The question now is who will replace Wilson?
Keep Reading