NBA Free Agency: Knicks Add Ronnie Brewer, Fill Void Left by Landry Fields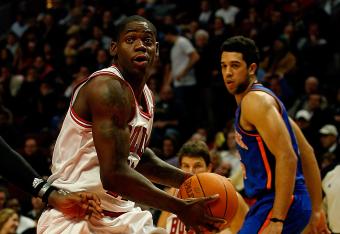 Jonathan Daniel/Getty Images
The New York Knicks filled out their roster Tuesday by making their best move of the offseason, agreeing to terms with free-agent guard Ronnie Brewer according to the team.
The 26-year-old swingman spent last season playing major minutes for the Eastern Conference's top-seeded Chicago Bulls.
After the departures of Jeremy Lin and Landry Fields, the Knicks were in need of one last bona fide guard to start training camp—especially while last season's breakthrough rookie Iman Shumpert recovers from a torn ACL.
Brewer started 43 games for Chicago in 2011, and he will likely begin the season with the starting gig for the Knicks, as J.R. Smith would then slide back into his more natural sixth-man role.
Without Brewer, the Knicks were likely to include Smith in their starting five to open the season. Last season, that move proved especially poisonous during the playoff series versus the Miami Heat, when coach Mike Woodson was forced to do so following the injuries to Lin, Shumpert and Baron Davis.
The signing of Brewer makes Smith all the more valuable, as Woodson will now be able to spell Smith before his ice-cold shooting streaks obliterate any chance of victory.
Adding Brewer to the first team likely leaves the second team to shape out like this:
PG: Jason Kidd
SG: J.R. Smith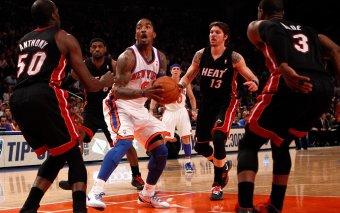 Jeff Zelevansky/Getty Images
SF: Steve Novak
PF: Kurt Thomas
C: Marcus Camby
The Knicks may have the deepest squad in the NBA—even after the loss of Jeremy Lin—and will only get deeper once Shumpert returns in January (if his recovery stays on track).
Brewer will likely play a role similar to the one Landry Fields played during his two years in the Big Apple: A guard who can play large amounts of minutes while offering limited offense but giving 100 percent defensive effort.
The only difference is that Brewer is better.
It's no knock on Fields; he was a great asset to Mike D'Antoni's Knicks. There was a time when he provided great three-point shooting while finishing fast breaks better than any rookie in the NBA.
The pieces just didn't fit together anymore.
The Knicks have shifted into a defensive-minded, veteran team. Brewer is simply a better defender than Fields, and he's proven it over a six-year career.
Both are extremely limited on the offensive end. Brewer shot an ugly 28 percent from three-point range last season, while Fields shot a hideous 26 percent. Fields averaged nearly two points per game more than Brewer did. Fields had the edge in rebounding over Brewer too; Fields' biggest asset to his game may be his size and rebounding out of the 2 spot.
What Brewer lacks on offense, however, he makes up for on the defensive end. He could provide stops that Fields simply wouldn't be able to make.
When the game slowed down, Fields often seemed lost with his head in the clouds. Since the Knicks have now morphed into a slowed, iso-ball team, it was no longer a match for either party.
And for the veteran's minimum salary, as opposed to Fields' shiny new $19 million contract, Brewer is practically stolen.
The strategy that the Heat have made famous—surrounding stars with three-point shooters—is a route the Knicks could have gone but chose not to. If they had decided to follow the Heat game plan, they would've simply inserted Smith into the starting lineup and called it an offseason.
The acquisition of Brewer screams out to the rest of the league that the Knicks are no longer D'Antoni's team, which would have been among the leaders in points scored but points against as well.
Defense is the new focus, as made evident with the additions of Camby and Thomas, along with defending Defensive Player of the Year Tyson Chandler.
Amar'e Stoudemire may have misspoke when he said, "The Knicks are back," way back in 2010. After an offseason of overhauling the core mentality of New York's team, the Knicks now resemble the tough, veteran, no-layups Knicks who enjoyed success when Ewing and Oakley were patrolling the Garden's blue paint.
It'll only be a matter of time before word gets around the league that New York finally has its toughness once again.
Those Knicks are back. And not a moment too soon.
This article is
What is the duplicate article?
Why is this article offensive?
Where is this article plagiarized from?
Why is this article poorly edited?

New York Knicks: Like this team?