Florida State Football: Top Recruiting Pipeline Schools for Seminoles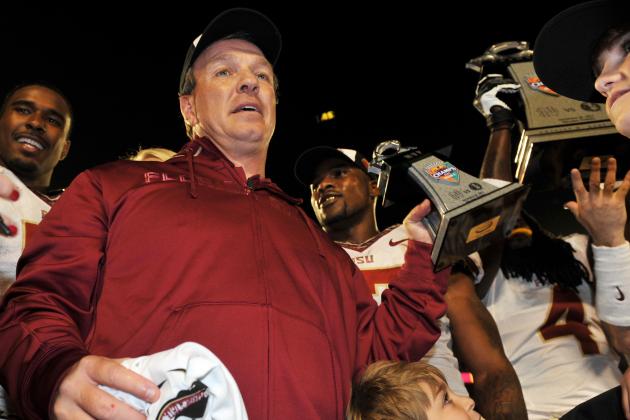 Al Messerschmidt/Getty Images
Jimbo Fisher has worked tirelessly to get a foot in the door at some of the nation's top prep powerhouses.
The pipeline concept in recruiting is one of several tactics used by schools and coaching staffs across the country to get their foot in the door of high schools that are noted factories for producing prep talent.
The popularity of pipeline schools is something that has gained considerable traction in recent years. With the phenomenon that recruiting has become, leading coaches search for any possible competitive advantages in the race to secure a top recruiting class.
The distinction even appears in NCAA Football's EA Sports video game when you are trying to build a class only fit for the world of PlayStation and X-Box—unless you are USC.
Florida State is one school that has benefited from this approach since Bobby Bowden hauled in top flight classes. Now, Jimbo Fisher has taken the baton and set up shop at a select few high schools.
Which schools have been the most fruitful for the Seminoles, and which is Fisher trying to establish a presence in?
Find out in this breakdown of FSU's biggest pipelines.
Begin Slideshow

»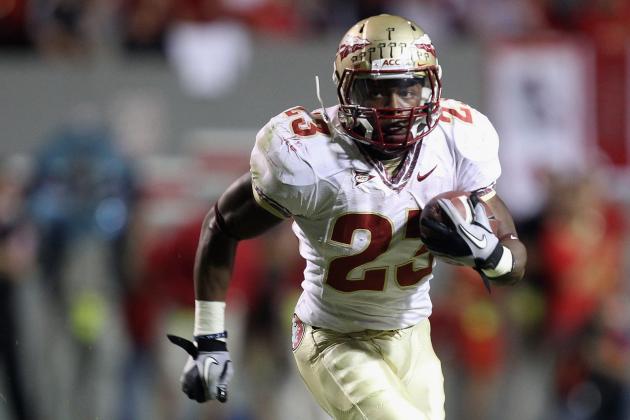 Streeter Lecka/Getty Images
RB Chris Thompson is one of a pair of former Cowboys currently on FSU's roster.
Located about an hour's drive on Interstate 10, East of Tallahassee, Madison County high school has been Seminole territory for the better part of a decade.
Current Seminoles include defensive tackle Jacobbi McDaniel and running back Chris Thompson.
While the last few years have been quiet for the Cowboys in terms of producing BCS-level talent, the Seminoles have secured a commitment from Cowboys offensive lineman Ira Denson—one of the nation's top guard prospects for the class of 2013.
Current Players on Roster: Two
Next up: 2013 commitment OL Ira Denson
Notable FSU Alumni: LB Geno Hayes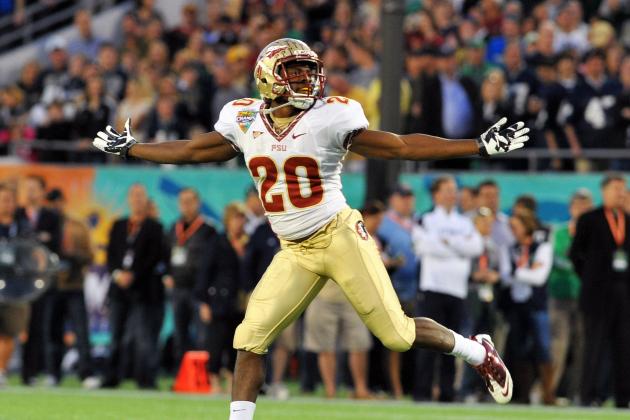 Al Messerschmidt/Getty Images
Joyner is one of four former Raiders currently starring in Tallahassee.
The Raiders have been one of the nation's top programs—capturing the mythical national championship in 2008 and capturing six Florida Class 5A state titles in the last two decades.
Four former Raiders are currently on the Seminoles roster and all four have a chance to crack the starting lineup for Fisher this season.
Safety Lamarcus Joyner is one of the defensive backs in the ACC, and wide receiver Rashad Greene was one of the nation's top freshmen last season.
Add in offensive linemen Bobby Hart and Austin Barron, and it looks like Fisher has struck gold with each former St. Thomas Aquinas star that has made their way to Tallahassee.
Current Players on Roster: Four
Rising Star: Sophomore WR Rashad Greene
Notable FSU Alumni: OL Andrew Datko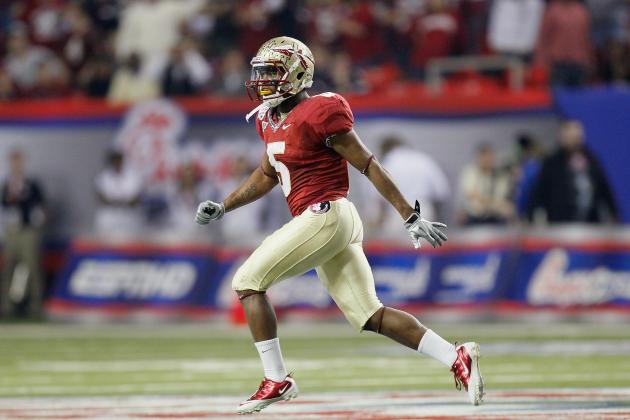 Kevin C. Cox/Getty Images
Reid is one of three FSU defensive backs that played their prep football at Lowndes HS in Valdosta, GA.
Arguably Fisher's first successful battle in recruiting at FSU was luring in then 5-star corner and former Lowndes Co. Viking star, Greg Reid.
Safety Gerald Demps was another Lowndes product to find his way into FSU's 2009 recruiting class, and since then, Fisher has landed former Vikings stars linebacker Telvin Smith and corner Tyler Hunter.
Although the Seminoles missed on linebacker Josh Harvey-Clemons (who chose Georgia over FSU in February) they still have a strong presence at a school that has captured three state titles in the last decade.
Current Players on Roster: Four
Rising Star: Sophomore CB Tyler Hunter
Notable FSU Alumni: Former FSU baseball and MLB stars and brothers J.D. Drew and Stephen Drew.
Fisher secured a trio of former Buccaneers stars in 2008 when he was still the Seminoles' offensive coordinator.
Since then, he hasn't stopped scouting a team that has become a powerhouse in the biggest classification in Florida's prep school ranks.
Seven former Buccaneers have signed with Florida State in the last nine years, with current running back Eric Beverly and defensive tackle Derrick Mitchell representing the pair of First Coast alumni on the FSU roster.
Help is on the way, with 2012 signee linebacker Reggie Northrup beginning his career at FSU next month, and 2013 commitment linebacker Tyrell Lyons on the way.
With the recent commitment of the Bucs' current starter at quarterback, sophomore and 2015 recruit Deandre Johnson, the Seminoles figure to be a presence at First Coast for years to come.
Current Players on Roster: Two
Next Up: Freshman LB Reggie Northrup
Notable FSU Alumni: RB Jermaine Thomas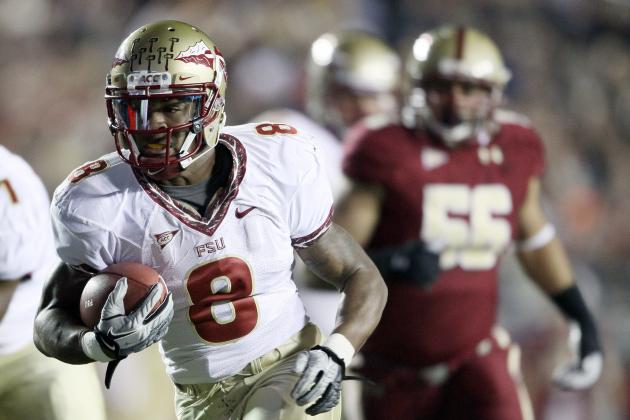 Elsa/Getty Images
Freeman burst onto the scene after a monster senior season at Miami Central HS.
Fisher and the Seminoles have worked hard to establish relationships with the four schools aforementioned, but he is still knocking on the door of several other prep juggernauts trying to build a new path to Tallahassee.
In particular, his efforts seem to be taking on greater significance at a trio of rival schools in the talent-rich Miami area.
Booker T. Washington (home of current 2013 commitment safety Michael Johnson and targets linebacker Matthew Thomas and offensive lineman Denver Kirkland) has traditionally been a pipeline for FSU's hated rival—the Miami Hurricanes.
Another 'Canes stronghold has been Northwestern High School (home of 2014 commitment athlete JoJo Robinson and 2013 corner target Artie Burns) which won the 2007 national title.
Fisher found a gem at Central High School in 2010 when he offered a then-little known backup running back by the name of Devonta Freeman—who now enters his sophomore year as the 'Noles starter (and he went back to secure the commitment of 2014 stud running back Joseph Yearby).
When it comes to establishing pipelines, Fisher and his staff have shown the ability to cultivate lasting relationships at some of the nation's top prep programs—which should continue to help the Seminoles maintain their dominance on the recruiting trail.