Philadelpia Eagles: Updating the Biggest Training Camp Battles
Rich Schultz/Getty Images

Training camp is officially under way at Lehigh for the Philadelphia Eagles. The rookies are already here while the rest of the team will report on July 25h. It will be a fierce competition all around as several players are trying to climb the depth chart, or in some cases, just find a spot on the final 53-man roster.
Most of the starting spots and key depth roles are set. There are a few spots which will remain open over the next few weeks. This is a team that started 4-8 last season. What some players did last season will mean little in earning a starting job this season.
Training camp isn't about finding 53 players with the most experience in your scheme. Training camp is about finding the 53 best players on your roster—period.
Five key positions are available for the taking at Lehigh. Three starting jobs, weak-side linebacker, slot cornerback and left tackle, along with the No. 2 tight end and running back, are wide open.
Veterans will battle rookies and high draft picks will battle players who never heard their name called on draft weekend. All these players, battling for a position, will come in with a clean slate.
It will really be about who has made the most progression through camp and who's the best fit at their position.
Begin Slideshow

»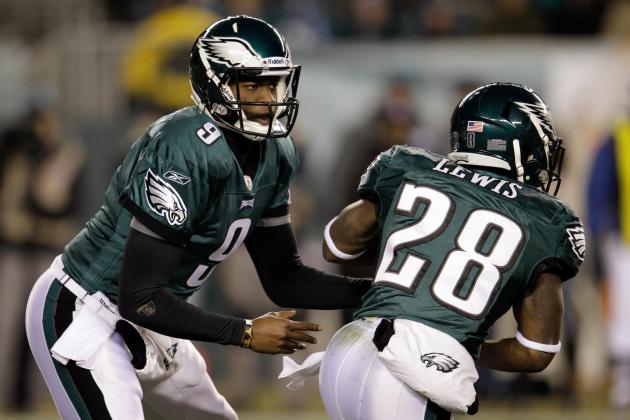 Rob Carr/Getty Images

This isn't really the battle for the backup running back. The backup running back role means that the set player will fill in if the starter goes down to injury. The complementary running back is so much more than that. The NFL is a ferocious league. You need two running backs to share carries in order to keep your starter healthy and fresh.
So who's going to be the running back who gets to share carries with LeSean McCoy on Sundays? It's impossible to say exactly who has a leg up right now. There are three contenders right now—Dion Lewis, Bryce Brown and Chris Polk. Lewis is the only player with any NFL experience while Brown has the most upside.
Dion Lewis had just 99 total yards of offense last year as the Eagles third-string back. He is somewhat of a similar player to McCoy. He has quick feet and a strong lower body. He fights for extra yards on every single carry. He's one of those smaller backs who just has a way of making up for their lack of size with toughness and effort.
I have no idea what type of impact Bryce Brown will make on the Eagles roster. He might be a part of final cuts, he might be the third running back on the roster or he might be the best No. 2 running back in the NFL. He has that type of potential, but he didn't prove it in college.
He played just one full season in college—his freshman year at Tennessee. He transferred, after one season, to Kansas State and played in just one game at Kansas State before leaving the team and focusing his efforts on the NFL. He was clearly a player who had his sights set on the NFL before he every accomplished anything in college.
Brown is a rare type of running back. He is both a power back and a home run threat. At 220 pounds, he can be a physically imposing back, but he also possesses great straight-line speed(4.37 40 at his pro day).
He's a natural receiver out of the backfield as well. He's really the total package at running back. Had he been a three-year starter in college, he might have been the first running back selected in last April's draft.
Chris Polk is another player whom we really don't know what kind of impact he will make just yet. He was once a early-round projection heading into the 2012 NFL draft.
Shoulder injury concerns scared every NFL team away from drafting Polk. This isn't a three-month deal where Polk just needs time to heal. This may be something that he will always have to deal with.
Until we see him on the field, we won't know for sure. He didn't look great during the Eagles OTAs, but he's more of a physical back that would rather run through defenders than around them. Until we see the pads come on at training camp, we can't really judge what type of player he can be this season.
He was a very successful back in college at Washington. He racked up over 4,000 rushing yards in his last three seasons. If he's healthy, he's worthy of making any NFL roster and getting his share of touches each week.
If he's healthy is still a big "if." Teams just don't pass on a player because of some minor injury. General managers did their homework and determined that he was too big of a risk to draft.
Brown is starting to become the favorite, out of this group, to be McCoy's complement in the running game. He just does everything so well. He can block, he can catch, he can run up the middle and he can bounce any carry to the outside.
He's a home run threat, and he's a power runner as well. All of this means nothing until we see it on the field, but it really bodes well for him to earn that No. 2 running back role in 2012.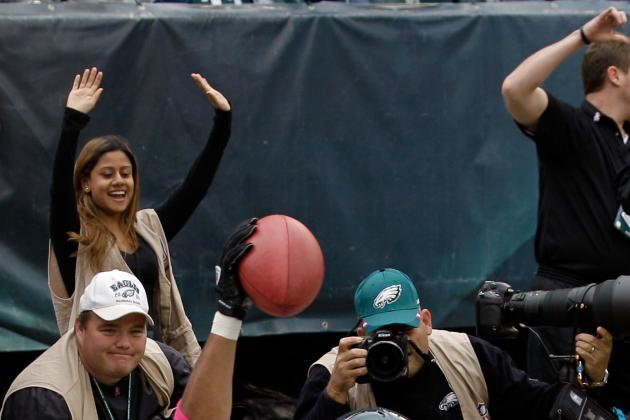 Rob Carr/Getty Images

The Eagles recently brought Visanthe Shiancoe in for a workout and were very close to signing him. The fact that they were interested in bringing in a veteran tight end tells me that they're likely going to keep three tight ends this season.
I don't see them going after another veteran tight end like a Jeremy Shocker or Bo Scaife. They would have already brought in those players for a workout had they been looking to add either of them.
I expect the Eagles to run more two-tight end sets in 2012. It just adds another element to the passing game and gives them another extra blocker to use in the running game. In order to utilize more two-tight ends sets, you need to have three tight ends for depth purposes.
You wouldn't expect a team that likes to use a lot of four-wide receiver sets to keep only four wide receivers, so why would a team that wants to use more two-tight end sets only keep two tight ends?
The Eagles have four tight ends on the roster right now who have a realistic shot at making the team. Brent Celek is the starter and is in no danger of losing that role. The other tight ends, Clay Harbor, Brett Brackett and Chase Ford are all battling for two more roster spots and the No. 2 tight end spot as well.
The No. 3 tight end will most likely be inactive on game day and will only see the field if either Celek or the No. 2 gets hurt. Whoever wins the No. 2 job will see plenty of action on Sundays and be a vital part of the red-zone offense.
Clay Harbor is the favorite. He has played that role the past two seasons and will enter training camp as the No. 2 tight end. The problem with Harbor has been has lack of production since being drafted in 2010. He has just 22 receptions for 235 yards and two touchdowns since being drafted in 2010.
He has to show signs of progression over last season in order to keep that No. 2 tight end role. If he has already reached his ceiling, the coaches will be looking for someone else in camp to take his spot. Camp is about finding the 53 best players for your roster, not the players with the most experience in the schemes.
Brett Brackett is a player I really like going into camp. He was a slot receiver at Penn State before entering the NFL draft in 2011. He made the switch to tight end to better his chances of making an NFL roster. He spent last season on the Miami Dolphins and the Philadelphia Eagles practice squads. The issue with Brackett isn't his receiving skills, it's his blocking.
Andy Reid doesn't want one-dimensional tight ends, he wants good blockers and receivers at the position. What's the point of having a two-tight end set if the tight end opposite of Celek can't block? The defense will know where the run is going.
I like Brackett's chances this summer. He has an outstanding work ethic and is a natural receiver. If he's really overmatched in run blocking, I don't think the Eagles would have kept him on the roster. It's all about technique. If he keeps getting better with his blocking, he will make this roster.
He was such a natural receiver over the middle in college and should be really good receiving tight end right away. He isn't a superior athlete like a Vernon Davis or Antonio Gates. He's closer to a Jason Avant-type receiver at the tight end spot. He just does the little things so well to get open and beat his man.
Chase Ford was a really nice surprise during the Eagles' OTAs. He did very little in college at Miami after transferring from junior college. He has just 16 catches in two seasons. Ford looked like a player who should have been a much bigger part of the Hurricanes offense based on what we saw during OTAs.
He was so fluid in his route running and showed that he's a pretty good athlete. Again, blocking will be key for him. You don't get by on this Eagles team by being a one-dimensional player. If he can show off his receiving skills once the veterans get here and prove he can be a capable blocker as well, he will be a really tough player to cut.
Shiancoe would have been a great pickup for the Eagles if healthy, though he has signed with New England, according to Jason Cole of Yahoo! Sports. He was an outstanding red-zone target for the Vikings. Now, the door is wide open at tight end.
Any of these three players could wind up making the roster and being the No. 2 tight end. Everyone will have a clean slate at camp. The two best guys make the roster, regardless of whether or not they were drafted.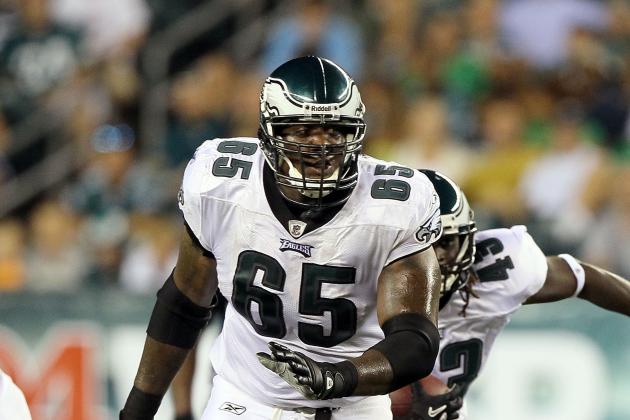 Jim McIsaac/Getty Images

When Jason Peters suffered a torn Achilles tendon last March, it really was a big loss for the offense. They lost their best offensive linemen and maybe their best overall player. Peters was one of, if not, the best left tackles in all of football. Replacing him was going to be a tall order.
King Dunlap was expected to take over at the left tackle spot. He was the backup left tackle and has prior experience at the position. The fear with Dunlap is that he isn't your typical Howard Mudd linemen, and he had never made more than a spot start or two at tackle.
Left tackle is big responsibility, even in a offense with a left-handed quarterback. You may not be protecting his blindside, but you are going up against better athletes on the left side. Facing players like DeMarcus Ware and Jared Allen is just par for the course.
The Eagles signed Demetress Bell with the idea that he will be the starting left tackle this season. He's a more athletic tackle with plenty of starting experience. The problem with Bell is that he's learning a new blocking scheme, and he has struggled to stay healthy in the past.
Bell is a perfect fit in Mudd's blocking scheme. He struggled at times in Buffalo because they run a more standard blocking scheme. Their tackles move back and wait for the pass rush to come to them.
Bell won't do that in Philly. He will initiate contact and use his athleticism a lot more. If he picks up the scheme quickly, he will be a really good left tackle for Coach Mudd.
Dunlap will still be competing for the starting job. He has a leg up because he knows the blocking scheme. If Bell struggles early, Dunlap will start to see more time with the first time offense.
Either way, the Eagles should be happy with two capable left tackles. One of these players will start to run away with this position once we get going in camp. It should be Bell, but you can't rule out Dunlap just yet.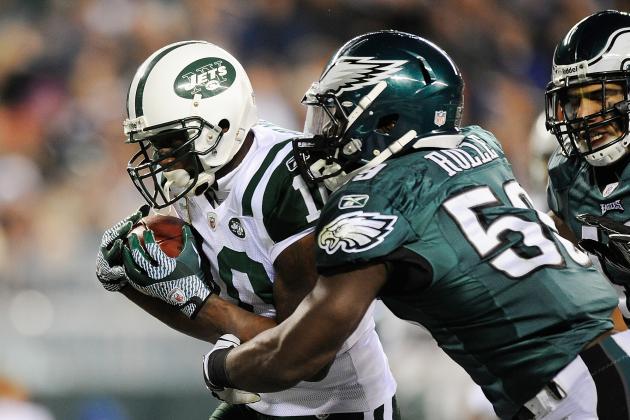 Patrick McDermott/Getty Images

This position battle is really about previous performance versus potential. Brian Rolle performed at a high level as the team's starting weak-side linebacker after Week 3. Jamar Chaney has shown some signs of potentially being a really good linebacker in this league but really has had maybe one or two good starts in his career.
2012 is a new year. Rolle won't win the starting weak-side linebacker spot based on his play last season. Chaney won't be ruled out because of his past struggles either. Both players will get a pretty fair shot to earn a starting role this season. This will be the closest position battle between two players at training camp this summer.
It's important to understand the exact role of the weak-side linebacker. It's not an every-down position. They will play only in base formations and on obvious running downs. They won't cover the tight ends very often and will cover more full backs than they will running backs. The key for this position is ability in run support.
Rolle excelled in run support because he's fast, he's strong and he plays the game like a true mad man. He is plenty comfortable meeting a blocker head on and going right through them to get to the ball-carrier. He threw down St. Louis Rams center Jason Brown in Week 1 last season—his first career NFL game.
Chaney just doesn't play the game with the same mentality that Rolle does. He's plenty athletic to be a starting linebacker in the NFL, but his ability as an open-field tackler and in run support need a lot of work. He looks overmatched and lost at times. Maybe, playing a much simpler position will help him out.
I believe this position will come down to the third week of preseason. I like Brian Rolle, but I know the coaches have a lot of faith in Jamar Chaney. It will really come down to which player performs better against the run in preseason.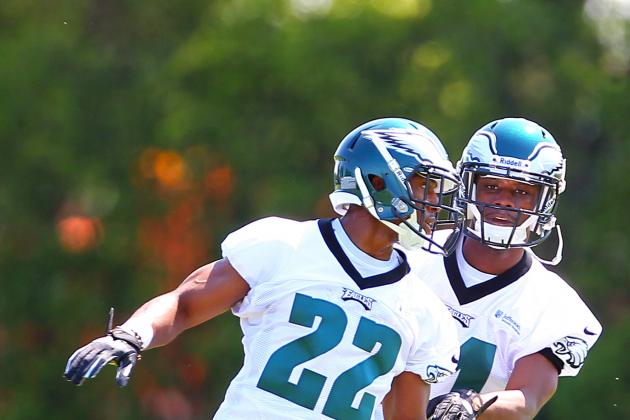 Rich Schultz/Getty Images

It's experience versus potential in the battle for the nickelback and slot corner role. Brandon Boykin has the potential to be a great slot corner in this league while Joselio Hanson has proven to be a solid player in the slot.
Boykin has plenty working in his favor. The Eagles probably don't want to keep two slot corners. He was just drafted in the fourth round of last April's draft, and he's also an outstanding return man. He's all but assured of a roster spot.
Hanson doesn't have that luxury. He's in the final year of his contract. He's over 30, and he has proven to be unreliable as an outside cover corner. He really is just a solid slot corner. He's really good at what he does, but he can't really do anything else.
The slot cornerback has become a really important position in the NFL. The Eagles' slot corner will have to cover Victor Cruz twice this season along with Marques Colston in the slot. Everyone in the NFL utilizes three-wide receiver sets. You need a specific type of player to cover slot receivers.
Hanson will go into training camp as the starting slot corner in nickel packages, but Boykin won't be far off. I fully expect Boykin to win this job. He's more athletic, more apt to jam receivers at the line of scrimmage and has great deal of upside at the position.
Hanson has the experience at the position and won't have much of a learning curve. It should be a pretty tight battle all the way through camp.