What a U23 USA Basketball Team Would Look Like for 2012 Olympics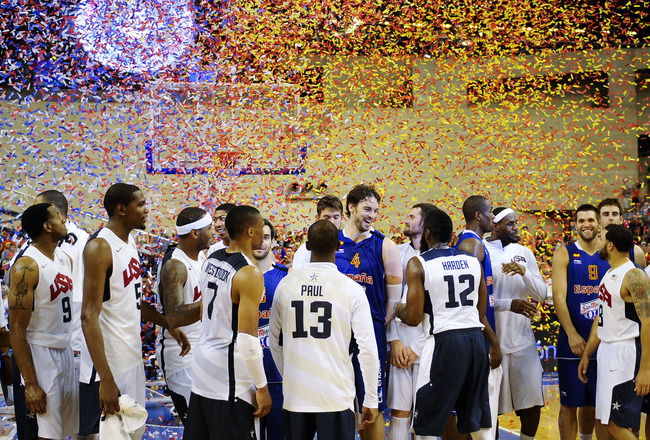 David Ramos/Getty Images
Kobe Bryant has made it abundantly clear he does not very much care for NBA Commissioner David Stern's idea of a 23-and-under age restriction for USA basketball for Olympics post-2012. In fact, he even called it "stupid," as reported by ESPN's Marc Stein. Well, unfortunately for the Black Mamba and the rest of the Team USA, David Stern likely couldn't care less what Kobe thinks. This is the man, after all, who cupped his hands to his ears in sheer delight as boos rained down on him at this year's NBA draft in Newark.
So Stern's wish will likely come to fruition eventually. But what if such age policies were in effect for this year's games? What would Team USA's roster look like, and, more importantly, how would they fare against international competition?
Given the already hypothetical nature of this entire team, I took the liberty of erasing Blake Griffin and Kyrie Irving's injuries from the history of time since they took place in a summer that could have happened differently in this alternate universe I am birthing.
However, the injuries of Derrick Rose and Eric Gordon both remain intact because they transpired on NBA time. Any players that meet the 23-and-younger age requirement and are already on the real-life USA roster were automatically included, just because it's my fictional team and I can do that.
Without much further ado, let's take a look at the youthful squad…
PG: Kyrie Irving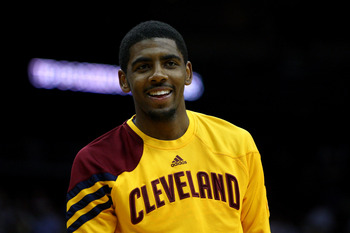 Chris Chambers/Getty Images
Uncle Drew!
Kyrie Irving has only played one year in the NBA after a brief, injury riddled season at Duke, but has shown much promise and appears to be one of the next elite point guards in the league. His assist-to-turnover ratio still needs work, but some credit of his faults have to be dealt to the less than stellar team around him in Cleveland. Also, three-point shooting abilities are even more important in the international game than the NBA, and Irving shot an impressive 39.9 percent from beyond the arc during his debut season. This was good enough to crack the top-25 three-point shooters in the association on the year.
G: Russell Westbrook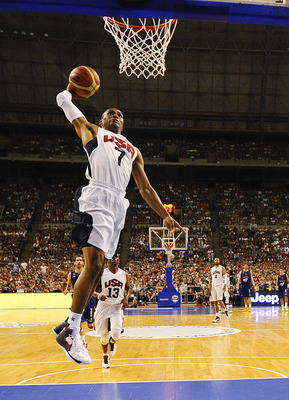 David Ramos/Getty Images
I know, I know, I know. Russell Westbrook plays point guard. Well, for this team in particular, Westbrook would be best served starting at the two so as to free up playing time for other players. Also, who says you can't have two point guards on the court for international basketball, where the game is more pass heavy anyway? Furthermore, Westbrook has an attacking play style, and with his improved jumper, could be a lethal scoring weapon for this squad. Besides, he only started to play point guard when he came to the NBA only a scant four seasons ago, so he's spent most of his life playing shooting guard. Switching guard spots for one summer would not be a huge issue for this young star.
SF: Kevin Durant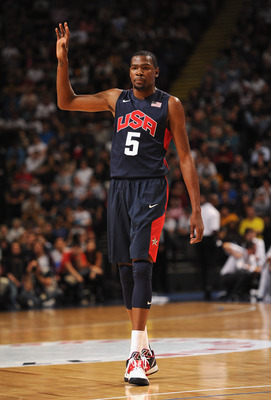 Stu Forster/Getty Images
This selection is a no-brainer. Kevin Durant is already a superstar in both the NBA and on the current USA Team, and would clearly be the unquestioned leader of this young, talented group. Aside from that, nothing else really needs to be said about his place and importance on this team.
PF: Blake Griffin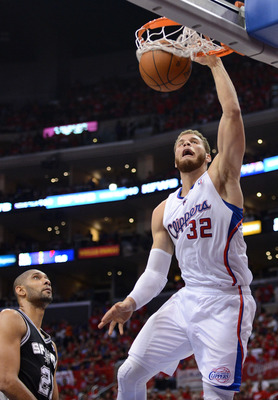 Harry How/Getty Images
Griffin would be on the current USA roster if it weren't for a knee injury that required surgery recently. Sure, one could make the argument that it was a nagging injury that was bound to sideline him anyway, but in this hypothetical world we're going to say everything was hunky-dory during training and his knee was injured no further (because I can). Welcome to the team, Blake! Besides, how much more fun is this team with Griffin on it? Hell, the UN may even sanction this team just for how many ridiculous alley-oops get lobbed up to the athletic trio of Durant, Westbrook and Griffin.
C – Kevin Love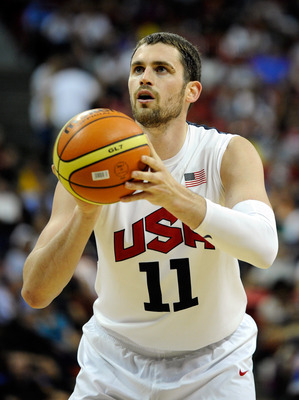 David Becker/Getty Images
Love would have to shift over from his usual power forward position to play the 5 on this team, which should fly internationally due to Love's rebounding expertise if nothing else. Love gives this starting squad even more versatility with his three-point shooting ability, which will further allow Team USA to stretch defenses.
6th Man: James Harden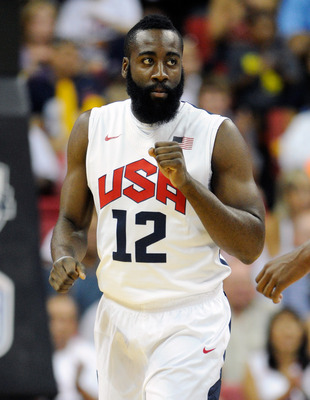 David Becker/Getty Images
A lot of kids grow up wanting to play in the NBA, but don't succeed for a number of reasons.
James Harden made it to the NBA, but that hasn't stopped him from following his dream of looking like Mr. T. Either way, he's shown he is a premier player in the NBA (Finals? What Finals?) and easily it's best sixth man. Harden's job here would be very similar to his on the Thunder: come off the bench and perform. Given the flexibility of Westbrook to play both guard positions, Harden would be able to come in directly for either he or Irving in sub-situations. And, due to Harden's size (listed at 6'5" and 220 pounds), he could play the 3 against smaller lineups if needed.
Rotations Bigs: DeMarcus Cousins, Anthony Davis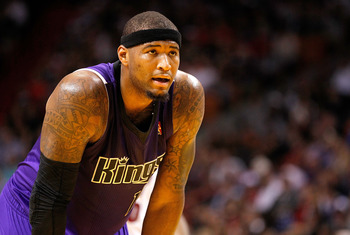 Mike Ehrmann/Getty Images
DeMarcus Cousins probably should have been on the current USA Team over Anthony Davis following the Blake Griffin injury. That a perfectly healthy second-year player who averaged 18 and 11 last year was passed on for one who has yet to play a single nano-second of an NBA game is nothing short of illogical. This isn't even to say Anthony Davis has not been playing up to snuff in the exhibition games leading up to the Olympics; it just makes more sense to use the services of a young, already proven player (see: Laettner, Christian).
Apparently Jerry Colangelo, chairman of USA Basketball, found Cousins to be immature during his time with the USA Select Team, mainly because of "overly physical play," during the Selects scrimmages against Team USA in preparation for the Games, as reported by Sporting News.
Huh? You're Jerry Colangelo, start calling fouls on him then! It's essentially your team! And would Cousins not have greatly benefited and matured from playing on such a loaded and professional USA team? It's tough to say he wouldn't. Either way, there's enough room for both Cousins and Davis to play on this fictional team. Everybody wins!
Rotation Guards/Wings: John Wall, Tyreke Evans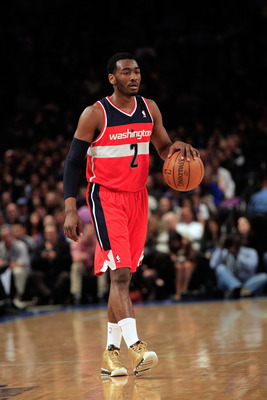 Chris Trotman/Getty Images
John Wall would serve as the backup point guard to this team. It was a difficult choice deciding between him and Irving for the starting spot, with the edge going to Irving because of his far superior shooting abilities. However, Wall would still receive significant time on this team, especially in situations where Team USA wanted to run its no-one-crosses-half-court high school-esque full court press that the real USA squad has shown off at times thus far. He and Russell Westbrook in a backcourt together at any time would clearly be suffocating to any opponent from an athletic standpoint.
Tyreke Evans gives the USA the versatility of someone who can play the 1, 2 and 3 positions. The value of players who can play multiple positions at a high level has clearly been a priority of Team USA (arguably their two most important players, Durant and Lebron James, can play in three and four different spots, respectively), and Evans brings such skills to the table. The only issue with both Evans and Wall is that neither are proficient shooters, to say the least, which helped keep both of them out of the starting lineup.
Fun Guys at the End of the Bench: Bradley Beal, Michael Kidd-Gilchrist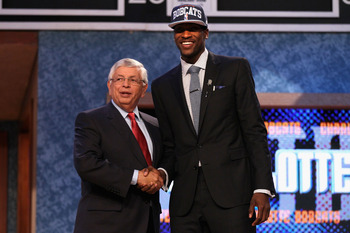 Elsa/Getty Images
I know earlier I bashed Team USA's decision to replace Blake Griffin with Anthony Davis over Demarcus Cousins partly because Davis had never played in an NBA game. But because of Beal and MKG's skill sets, I found their talents more than useful for this particular team, especially if they are going to be at the end of the rotation.
Bradley Beal can flat out shoot the basketball, and from distance, too. Given John Wall and Tyreke Evans usually need a map to find the basket on three-point attempts, adding another great deep threat is incredibly necessary for one of the final roster spots. So why not Beal? Being able to shoot is a skill that almost always seems to translate in some capacity to the pros, and Beal should be great with the nearly college-length three-point line of international play.
Michael Kidd-Gilchrist, though not the most offensively gifted player, gives this team a guy at the end of the bench who can come in and provide a ton of energy. He can also presumably come into a game and shut down an opponent's wing who is getting hot. MKG has also been a winner at every level and always plays like his life is on the line. That's the kind of guy I want on a young team.
Could They Compete?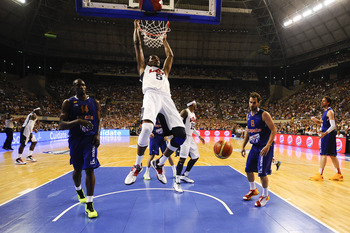 David Ramos/Getty Images
Absolutely. Would they be able to skate to the gold medal game the way this year's team seems on course to do? Most likely not. Obvious concerns could be pointed out about this team's ability to defend. That doesn't mean a team of this caliber should not be expected to medal, even playing against strong teams like Argentina, France and Spain. They have length and a great deal of athleticism, and with less talent surrounding them, I believe stars like Westbrook and Durant would have the green light to do even more without worrying about getting others their touches. Essentially, there are several younger players on this team (Love, Durrant, Westbrook, Griffin) that have the ability to be stars on the current Olympic squad if it were not for the other more experienced players already ahead of them.
Notables Left off the Team and Why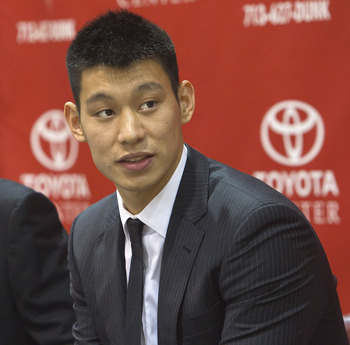 Bob Levey/Getty Images
Greg Monroe – Would have provided a great presence at center, but I would rather have Anthony Davis, who appears to be just as good if not better as a defender. Also, Monroe is essentially a statue, and that could be a weak spot in international play.
Paul George/Evan Turner – Both seem to be off to promising young careers, but it essentially came down to them and Beal/Gilchrist. George is an awesome athlete whose game could definitely translate well at the international level, but Beal is just a better shooter. Turner has a great all-around game and could be a useful point-forward (what he did so well at Ohio State), but MKG is a better defender and I don't know if Turner would be able to make a huge impact with lesser minutes (he couldn't for the Sixers).
Kenneth Faried/Kawhi Leonard – Two very tempting players to put on this team because of their motors, athleticism, defense and rebounding, but their offensive games just aren't developed enough at the end of the day. Still, it was a tough call to pick Kidd-Gilchrist over them.
Brandon Jennings/Jrue Holiday/Jeremy Lin – Jennings and Holiday just simply aren't better than the other three point guards on this team. Jeremy Lin wouldn't play at 85 percent for a Knicks team that was depleted at guard in the playoffs. Oh, and the Knicks were paying him. You think he's even answering calls for this no-payment opportunity? I doubt it. Also, he's not even as good as Jennings or Holiday, let alone Irving, Westbrook or Wall.
Keep Reading