Penn State Scandal: In Wake of Sandusky Trial, Potential for More Allegations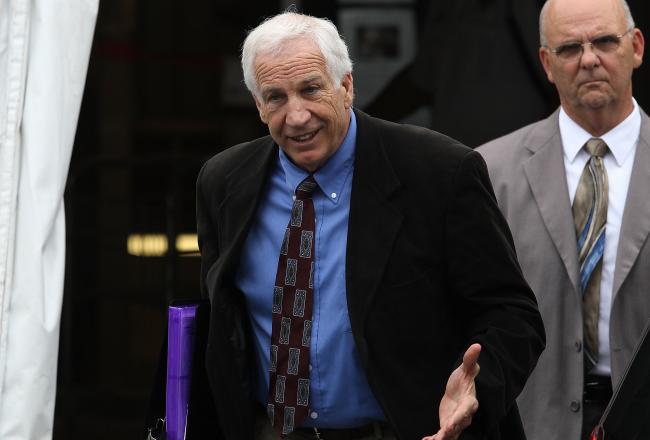 Mark Wilson/Getty Images
Things are finally moving along from a punishment standpoint in the messes that are the Penn State and Jerry Sandusky scandals.
Last month, Sandusky was found guilty on 45 of 48 counts of sexual abuse. His sentencing will take place no later than September 22.
Monday, the NCAA dropped the hammer on Penn State, putting them about as close to death as one can be without actually executing them.
Obviously, neither of these events are going to do anything to ease the pain that the victims and their families have endured and continue to endure on a daily basis.
On the surface it would appear that things are working their way to being resolved as best they possibly can.
But are they?
It is terrible to even speculate about other hideous acts being committed since so much has already been revealed. But given the track record of all the parties involved and the lengths to which they went to keep things covered up, one would be naive not to take a harder look, especially when you consider the time line of events.
The Freeh Report launched a detailed investigation which revealed that Joe Paterno, former president Graham Spanier, and former athletic director Tim Curley covered up Sandusky's hideous crimes from 1997 until the present.
But what about events prior to 1998?
Do you think there's more to the Jerry Sandusky scandal?
If any pre-1998 allegations were to be made, that would no doubt force things to be reevaluated.
Consider the timeline:
Jerry Sandusky was born in 1944. His playing career at Penn State ended in 1965. After a year as a graduate assistant and two years as an assistant elsewhere, he returned to his alma mater as defensive line coach in 1969 at the age of 25, in the prime of his life.
He opened The Second Mile eight years later in 1977, at the age of 33.
Are we to believe he kept his nose clean for 28 years while operating an organization specifically aimed at helping children for 20 of those 28 years? Did he just start committing hideous crimes against children out of the blue at age 53?
It's awful to even think about the possibility of more heinous acts that could have taken place but, given what we've just seen the past few months, it's completely naive if we don't.
This article is
What is the duplicate article?
Why is this article offensive?
Where is this article plagiarized from?
Why is this article poorly edited?