Breaking Down the St. Louis Rams' 2012 Training Camp Roster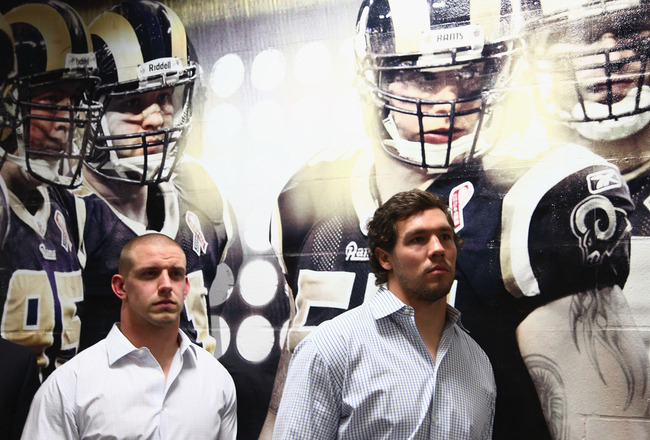 James Laurinaitis (left) and Sam Bradford are two of the core pieces the Rams have in place.
Dilip Vishwanat/Getty Images
The St. Louis Rams have a long way to go to re-establish themselves as a contending team in the NFC West. St. Louis is coming off the worst five-year stretch in NFL history. The Rams have a 15-65 record over that span, including a 2-14 campaign in 2011 that ended with Steve Spagnuolo getting fired after three seasons and 10 total wins. General manager Billy Devaney was shown the door after four years.
New head coach Jeff Fisher and GM Les Snead have combined efforts to overhaul the roster. Fisher has also assembled an impressive coaching staff with assistant head coach Dave McGinnis, offensive coordinator Brian Schottenheimer and secondary coach Chuck Cecil.
Fisher, McGinnis, Cecil, and linebackers coach Blake Williams will oversee the defense in the absence of suspended defensive coordinator Gregg Williams, Blake's father.
The Rams do have some talent at core positions with quarterback Sam Bradford, running back Steven Jackson, right guard Harvey Dahl, safety Quintin Mikell, defensive end Chris Long and middle linebacker James Laurinaitis. Signing cornerback Cortland Finnegan upgraded that position and the team drafted fairly well.
The Rams have many question marks with a new coaching staff and several new faces on their roster. As all things go in today's NFL, how the Rams do in terms of wins and losses will depend on how well Bradford picks up Schottenheimer's offense.
The rebuild begins today as the rookies report to Rams Park and the ContinuityX Training Center. Veterans will report in on Saturday.
Quarterbacks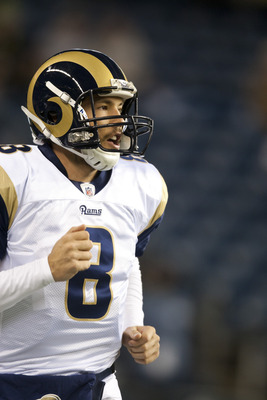 Sam Bradford will try to rebound from a dismal 2011 season.
Jay Drowns/Getty Images
Sam Bradford; Tom Brandstater; Kellen Clemens, Austin Davis (R).
Bradford is the entrenched starter. The 2010 offensive rookie of the year will have to bounce back from an injury-plagued 2011 season that watched him complete just 54 percent of his passes for 2,164 yards with six interceptions and a measly six touchdowns in 10 starts. He also had several key fumbles and was sacked 36 times.
Clemens played fairly well, considering the circumstances. He made his first start in St. Louis just five days after signing with the team. He knows offensive coordinator Schottenheimer's system well after spending five years playing it while the two were with the New York Jets.
Davis had an excellent offseason—standing out at the rookie minicamp and then continuing to impress during organized team activities. He could push Brandstater out of a job. Davis broke nearly all of Brett Favre's passing records at Southern Mississippi and has the arm strength to make every throw.
Running Backs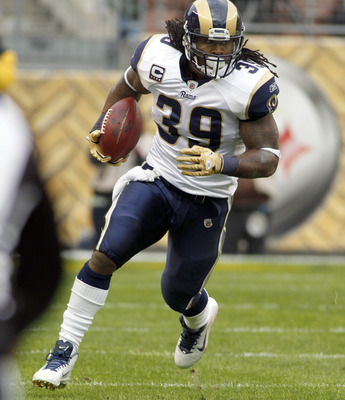 Steven Jackson will be eyeing an eighth straight 1,000-yard season (and a playoff berth).
Justin K. Aller/Getty Images
Steven Jackson; Calvin Middleton (R); Isaiah Pead (R); Chase Reynolds; Daryl Richardson (R); Nicholas Schwieger (R).
Jackson is a three-time Pro Bowler who has had more carries over the last eight years than almost every other running back in the NFL. He's also one of just seven players with seven straight 1,000-yard rushing seasons. Behind Jackson is where things get muddled.
The Rams tried to bring in veterans Cadillac Williams and Jerious Norwood to spell Jackson last year. That didn't work, so coach Jeff Fisher and general manager Les Snead have adopted a different approach by going young. They drafted Pead in the second round and took Richardson in the seventh. Both are speedsters and Pead is looked at as a possible successor to Jackson.
Reynolds is back after spending 2011 on the practice squad. Middleton went undrafted out of Jacksonville State. Schweiger attended Dartmouth, also the alma mater of executive vice president of football operations and chief operating officer Kevin Demoff. For the Big Green, Schwieger finished his collegiate career as the school's all-time leading rusher.
Fullbacks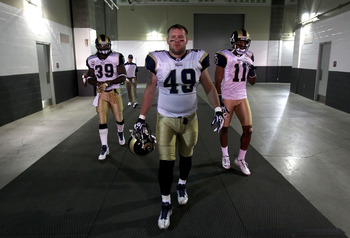 Fullback Brit Miller (49) walks out to the tunnel last season and is trailed by running back Steven Jackson (39) and wide receiver Brandon Gibson.
Christian Petersen/Getty Images
Brit Miller; Todd Anderson (R); Ben Guidugli.
Miller won the starting job last year but, Anderson, an undrafted rookie out of Michigan State, looks the part and could put the pressure on Miller. While Miller's strength over his four-year career has been on special teams, Anderson is more of a true fullback and built a good reputation for Sparty as a lead blocker.
Guidugli is more of an H-Back tight end who was listed as such as a rookie, but has been given the FB roster distinction this year. Undrafted out of Cincinnati, Guidugli was one of the team's hardest working—and patient—practice squad players last year. He was finally rewarded with a promotion to the active roster in the final week of the season, but did not see any game action.
Wide Receivers
Will Brian Quick be the playmaking deep threat the Rams have been missing?
Dilip Vishwanat/Getty Images
Danario Alexander; Danny Amendola; Mike Campbell; Brandon Gibson; Chris Givens (R); Nick Johnson (R); Austin Pettis; Brian Quick (R); Greg Salas; Steve Smith.
The Rams, and quarterback Sam Bradford, really missed Amendola last year. The team's leading receiver from 2010 missed all of 2011 after dislocating his elbow in the season opener. The Rams struggled to find a reliable third-down receiver, but just when Salas was finding his groove, he went down with a broken leg.
To say the Rams had bad luck last year with injuries would be like saying the Dead Sea is a tad salty.
Pettis will miss the first two games of the 2012 season as part of a four-game suspension for violating the league's performance-enhancing drugs policy. The scuttlebutt is that Pettis had used an over-the-counter substance similar to NoDoz that flagged him for PEDs. That would explain why his performance wasn't enhanced with only 27 catches for 256 yards and zero touchdowns for the 2011 third-round draft pick.
Alexander will also be battling the injury bug with his well-documented knee issues in addition to a hamstring ailment that caused him to miss some time in 2011. He still led the team with a 16.6-yards-per-catch average. He was the team's only real deep threat last year, but that could change with the addition of Quick, Givens, and Smith.
Quick wowed the Rams when they worked him out at the Appalachian State campus. The Rams rewarded him with a second-round selection—33rd overall. Givens, a speedster from Wake Forest, impressed the coaches and quarterbacks during the offseason workouts. Smith is hoping to return to form when he led the NFL in receptions in 2009 while with the Giants.
Johnson and Campbell appear to be camp bodies and Gibson may be the one veteran player on the outside looking in when final cuts are made. Gibson had 36 catches for 431 yards and two scores last year.
Tight Ends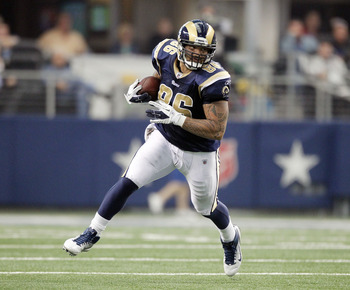 Can Michael Hoomanawanui stay healthy for an entire season?
Layne Murdoch/Getty Images
Jamie Childers (R); Brody Eldridge; Cory Harkey (R); Michael Hoomanawanui; Lance Kendricks; Mike McNeill; Matthew Mulligan; Deangelo Peterson (R).
Maybe this will be the year that Hoomanawanui and Kendricks can prove the Rams did not make a mistake drafting them. Hoomanawanui, the team's fifth-round pick in 2010, has been plagued by various injuries. Kendricks, the team's third-round pick last year, had a severe case of the dropsies during his rookie season.
McNeill, a St. Louis native who was promoted from the practice squad late last year, is the only other tight end retained from last year.
Eldridge was claimed off waivers from Indianapolis, but faces a four-game suspension to begin the year for violating the league's policy for banned substances. Harkey, a big (6'4", 260 lbs.) guy with superb hands, is the son of former Major League Baseball player Mike Harkey.
The younger Harkey missed most of the offseason workouts, though, because of the NFL's graduation rule, which prohibits players from attending specific workouts until his college has held its graduation ceremony. Such was the case with Harkey, who went to UCLA.
Childers is another big kid (6'5", 230 lbs.) and also played quarterback for Coastal Carolina. Peterson drew praise from coach Jeff Fisher during organized team activities, but is fairly raw at the position.
Mulligan is familiar with Fisher after spending 2008 and 2009 on Tennessee's practice squad. He then went to the New York Jets, where he worked in Schottenheimer's system for three seasons. Considered primarily a blocking tight end, Mulligan essentially replaces Billy Bajema on the roster.
Offensive Tackles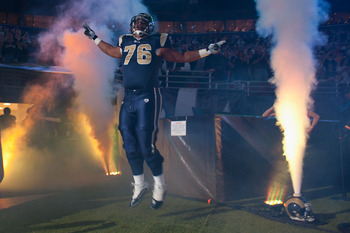 Rodger Saffold is hoping to leap back onto the field for a healthy and productive third NFL season.
Dilip Vishwanat/Getty Images
Joe Long (R); Barry Richardson; Rodger Saffold; Jason Smith; Jose Valdez.
Saffold and Smith are both coming off injured reserve. Saffold had a freak weight lifting injury when he tore his pectoral muscle. Smith has been plagued over the last three years by concussions. Saffold should be the starting left tackle, where he played very well as a rookie in 2010.
The new coaching staff has shown faith Smith, the second overall pick in 2009. Smith said during the June minicamp that he's grateful to Coach Fisher for keeping him around so he can prove that he can be a starting-caliber player. Smith will be pushed by Richardson, who spent the last two years starting for the Kansas City Chiefs.
Valdez is a first-year player who spent last season on Minnesota's practice squad. He played college ball at Arkansas. Long played at Wayne State and definitely has pedigree on his side. The undrafted rookie is the younger brother of Miami's Jake Long, the top overall pick in the 2008 draft.
Guards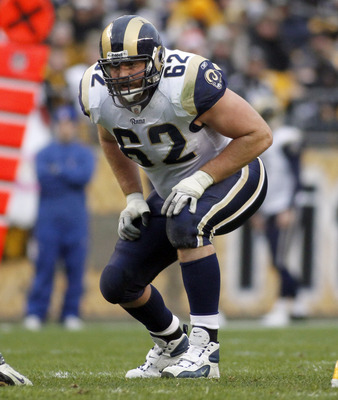 Harvey Dahl had a solid first season in St. Louis, despite the fact that he had to play part of the season at right tackle.
Justin K. Aller/Getty Images
Harvey Dahl; Bryan Mattison; Quinn Ojinnaka; Rokevious Watkins (R); Kevin Hughes.
Dahl is the starting right guard and played well despite injuries that forced him to play right tackle last year. Known as one of the league's most tenacious linemen, Dahl came over to St. Louis last year following four seasons in Atlanta.
The left guard spot is up for grabs after Jacob Bell left and then retired after eight seasons. Bell ended 2011 on injured reserve. That pushed Mattison into a starting role and he played better than expected. Mattison had been getting time during organized team activities.
But, Ojinnaka also saw time at tackle as Rodger Saffold continued to mend from a torn pectoral muscle. Ojinakka spent training camp with the Rams last year before getting cut and going to Indianapolis. He told me in June that he hopes his stay in St. Louis is a longer one this year.
Saffold's injury last year also kicked Hughes, an undrafted rookie last year, outside to left tackle, where he struggled mightily. Hughes is definitely better suited to play inside.
Watkins was the team's fifth-round pick and is a giant of a man at 6'4", 340 lbs. The former South Carolina Gamecock impressed coaches and players alike with his strength and surprising agility for such a big player. There were questions about his work ethic, however, at South Carolina. That is likely one of the reasons why a player with the talent to go much higher slipped to the fifth round.
Centers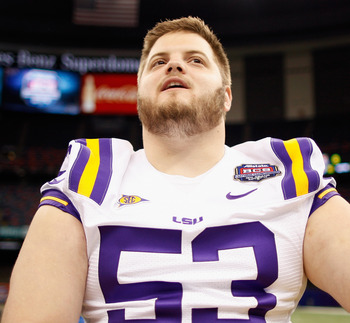 Rookie T-Bob Hebert has quickly become a media favorite, but will he make the final 53-man roster?
Chris Graythen/Getty Images
Tim Barnes; T-Bob Hebert (R); Robert Turner; Scott Wells.
Wells was one of the team's big free agent signings. The former Packers standout won a Super Bowl while in Green Bay and went to the Pro Bowl last year. The Nashville native said he's always respected coach Jeff Fisher and wanted an opportunity to play for him.
As a free agent in 2012, that opportunity presented itself in St. Louis. Wells missed most of the offseason workouts with first a slight knee injury, then followed by a complicated adoption process for Wells and his wife. Those issues should be behind him when he reports to camp on Saturday.
With Wells out of town, Turner took most of the first-team reps during organized team activities and the minicamp. Turner comes over from the New York Jets and is reunited with offensive coordinator Brian Schottenheimer, for whom he played five years in New York.
Barnes and Hebert, the son of former Saints quarterback Bobby Hebert, will compete for a possible third spot. Barnes, undrafted in 2011 out of Missouri, spent last year on the practice squad. The jocular and loquacious Hebert was a media favorite at OTAs and his play and knowledge of the game were lauded by the coaches.
Defensive Tackles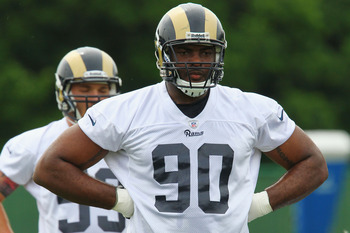 First-round draft pick Michael Brockers hopes to plug the middle and collapse the pocket.
Dilip Vishwanat/Getty Images
Cornell Banks; Michael Brockers (R); Matthew Conrath (R); Jermelle Cudjo; Trevor Laws; Darell Scott.
The Rams surprised some by taking Brockers in the first round of the draft. After trading down twice and missing out on top receivers Justin Blackmon and Michael Floyd, the Rams settled on the 6'6", 322 lbs. Brockers.
Brockers was just a one-year starter at LSU, but his size and strength are undeniable. He should be able to get a push up the middle to collapse the pocket. That was one area where the Rams faltered last year with the league's second-worst rush defense and ranking 22nd overall with just 39 sacks.
Langford was signed in March after four years in Miami, where he had 7.5 career sacks and four forced fumbles. He appears to be slated for the other starting spot.
Laws, a second-round pick by the Eagles in 2008, was also brought in to help bolster the interior. He had four solid seasons in Philadelphia and has five career sacks. Cudjo was undrafted in 2010 and won a roster spot before sitting out the 2011 season on injured reserve. Banks, who has spent time in Cincinnati, could also provide depth.
Conrath, an undrafted rookie from Virginia, is essentially a camp body. Scott was a fourth-round pick in 2009 and is entering a contract year. He has yet to live up to his potential with inconsistent play. He has 54 career tackles and zero sacks.
Defensive Ends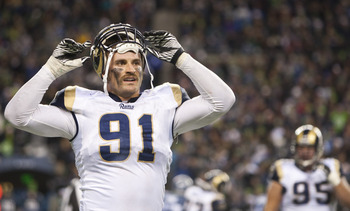 Chris Long is coming off his best season as a pro.
Jay Drowns/Getty Images
Chris Long; Robert Quinn; William Hayes; Jamaar Jarrett (R); Eugene Sims; Scott Smith (R).
Long had 13 of the team's 39 sacks and continues to improve with each year. The second overall pick in 2008 could be on the verge of a Pro Bowl season—especially if the team can live up to Robert Quinn's claim that the Rams' coaches have set a goal to break the NFL's sack record. Quinn was the team's first-round pick a year ago and came on to record five sacks and a pair of blocked punts.
Sims is another player who has shown improvement. A sixth-round pick from West Texas A&M in 2010, Sims has yet to record a sack but did have a couple of quarterback pressures last year while playing sparingly on defense.
Hayes, who has eight career sacks, was another free-agent signing after playing four years in Tennessee—three of those for current Rams coach Jeff Fisher. Jarrett is a dead ringer for former Rams d-end C.J. Ah You. Jarrett has good size (6'5", 265 lbs.), but comes with some off-the-field concerns after failing a drug test at the combine. Smith, undrafted from Texas Tech, is even bigger at 6'7", 261 lbs. but the group may be too crowded for him to find a spot on the final roster.
Linebackers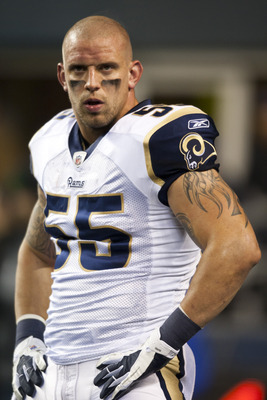 James Laurinaitis has led the Rams in tackles in each of his three NFL seasons.
Jay Drowns/Getty Images
Aaron Brown (R); Sammy Brown (R); Justin Cole; Jo-Lonn Dunbar; Mario Haggan; Alex Hoffman-Ellis (R); Josh Hull; Noah Keller (R); James Laurinaitis; Rocky McIntosh.
The Rams are set in the middle with Laurinaitis, who has led the team in tackles in each of his three NFL seasons after being selected in the second round of the 2009 draft. The questions are on the outside, where Cole is the only player who was on the roster last year. Cole is not a contender for the starting job and will likely be relegated to a special teams role.
The favorites to start on the outside are Dunbar and Haggan. Dunbar played in the Rams' current defensive scheme in New Orleans, where now-suspended Gregg Williams served as the defensive coordinator. Dunbar has 27 career starts over four years—including 14 games started last year—with 159 tackles and two sacks.
Gregg Williams installed his defense in St. Louis, but the system will be run by head coach Jeff Fisher, assistant head coach Dave McGinnis, secondary coach Chuck Cecil, and linebackers coach Blake Williams—Gregg's son.
Haggan is the biggest of the group at 6'3", 274 lbs. He told me in June that his size will not be a hindrance in coverage. Entering his 10th NFL season, Haggan has just one career interception to go along with his eight sacks.
McIntosh didn't sign with the Rams until the final day of the mandatory minicamp on June 14. He spent the previous two days working with the Rams on a tryout basis. He comes to St. Louis after spending six seasons in Washington, where he recorded 471 tackles with eight sacks and three interceptions.
Aaron Brown was a seventh-round draft pick from Hawaii. Considering Brown's off-the-field issues and the fact that he's undersized at 6', 237 lbs, his selection was a bit surprising. That being said, both Browns had good minicamps and organized team activities. Sammy Brown, undrafted from Houston, has good speed and could be an outside pass rusher and used in coverage.
Hoffman-Ellis has the best hair of the group, but he and Keller will likely be elsewhere when the regular season opens.
Cornerbacks
Cortland Finnegan followed coach Jeff Fisher from Tennessee to St. Louis.
Streeter Lecka/Getty Images
Cortland Finnegan; Jerome Murphy; Bradley Fletcher; Janoris Jenkins (R); Trumaine Johnson (R); Josh Gordy; Quinton Pointer (R).
Finnegan was the first big free-agent signing the Rams had this year. He played for coach Jeff Fisher and secondary coach Chuck Cecil in Tennessee and wanted to be reunited with them in St. Louis. The deal came together fairly quickly and Finnegan enters St. Louis as the leader of the cornerback group.
Who will start opposite Finnegan is questionable. The Rams do have some talent, but with 11 corners placed on injured reserve last year, how players like Murphy and Fletcher bounce back will go a long way in deciding who that No. 2 guy is. If Fletcher and Murphy are healthy and Gordy can play well like he did for most of the season last year, the Rams will have a very good group.
Add in rookies Jenkins and Johnson, selected in the second and third rounds of the draft, respectively, and St. Louis is in very good shape at corner. The key is getting those two to camp. The rookies reported to Rams Park today, but without Jenkins or Johnson. Coach Jeff Fisher expects the deals to happen before the start of camp with the full roster on Sunday.
The sticking point with Jenkins, who had a trouble-filled college career, is with his signing bonus.
Pointer, undrafted from UNLV, is undersized at 5'9". What he does have is great speed and good football instincts with a nose for the ball. He makes up for his lack of height with a 39-inch vertical leap. That being said, it's going to be hard for Pointer to find a spot ahead of Finnegan, Fletcher, Gordy, Jenkins, Johnson and Murphy.
Safeties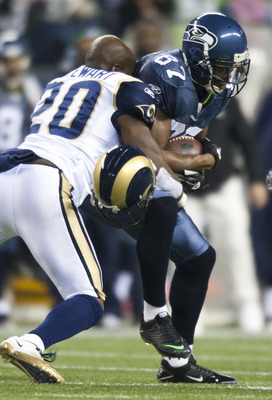 Rams safety Darian Stewart (20) has built a reputation over two seasons as a big hitter.
Jay Drowns/Getty Images
Matthew Daniels (R); Quintin Mikell; Craig Dahl; Darian Stewart; Rodney McLeod (R).
Mikell will be one starter and the other is between Stewart and Dahl. Of the rookies, Daniels has the best chance to make the team. Undrafted out of Duke, Daniels is one of the better players to not get drafted and is one of the reasons why several pundits said the Rams had the best undrafted free agent class.
Stewart was also undrafted in 2010, but has grown into a feared player. While he still needs to develop in coverage, Stewart is a big hitter and sure tackler. Dahl's weakness is also with coverage and it wouldn't be a surprise if he's among the final cuts.
McLeod has talent, but is undersized and has a history of knee problems.
Specialists
Jake McQuaide was undrafted out of Ohio State last year and beat out the incumbent. Could the same happen to him this year?
Jamie Sabau/Getty Images
LS Jake McQuaide; LS Travis Tripucka (R); P John Hekker (R); P Tom Malone; K Garrett Lindholm; K Greg Zuerlein (R).
This is the team's youngest position group. Malone is the dean of the group and is considered a first-year player. Though he was signed by the 49ers in 2006 and has bounced between four NFL teams, the Berlin Thunder of NFL Europe and two United Football League teams, Malone does not have any regular-season NFL kicks.
McQuaide is entering his second season after beating out 10-year veteran Chris Massey last year for a roster spot. McQuaide was undrafted out of Ohio State and had a very solid rookie season. He's faced with a familiar situation this year as he's the incumbent with an undrafted rookie in camp to compete for his job. Tripucka is the son of former NBA player Kelly Tripucka and is built just like Massey, who was ideal for the position.
As long as the long snapper does his job, it will be on rookies Hekker and Zuerlein to get the job done. Zuerlein was drafted in the sixth round out of Missouri Western State and the Rams then cut longtime veteran Josh Brown. Hekker was signed as an undrafted rookie from Oregon State after Donnie Jones signed a free-agent deal with Houston.
Lindholm went undrafted in 2010 after playing college ball at Tarleton State in Texas. He has spent time with Atlanta and Indianapolis. He does not have any regular-season experience.
Keep Reading

St. Louis Rams: Like this team?