Should Sergio Romo Be the San Francisco Giants' Closer?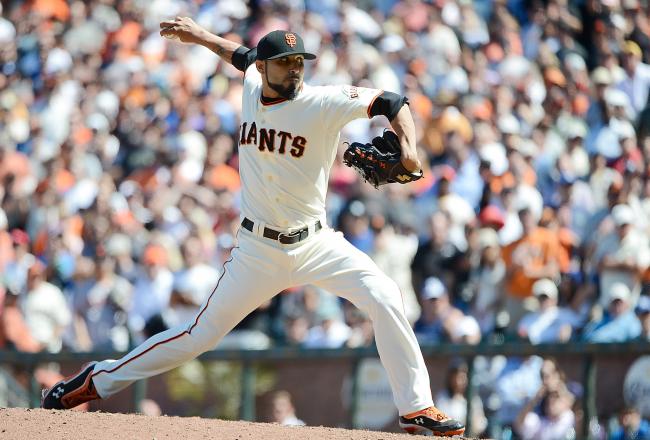 Sergio Romo is having an outstanding season
Thearon W. Henderson/Getty Images
When the season started, the Giants were set with Brian Wilson as their closer. Sergio Romo, Santiago Casilla, Javier Lopez and Jeremy Affeldt were the primary seventh and eighth inning men.
Unfortunately, Wilson went down in his second game of the year and had his second Tommy John surgery. He is lost for the season, which thrust Santiago Casilla into the closer's role.
Casilla handled the job beautifully at first, but has struggled of late. He has 24 saves, but has blown five out of his last nine save opportunities. Overall, Casilla has an ERA of 3.16 and a WHIP of 1.297. Those numbers were considerably better prior to his recent problems.
Casilla's struggles can be attributed to three main issues. He tried to pitch through a blister on his throwing hand, which may have caused some of his initial problems. The blister forced him to miss a few games, also.
After blowing a few save chances, Casilla seemed to lose some confidence and was not throwing the ball with the same conviction as he was earlier in the season. It appeared he was throwing to the catcher, as opposed to finishing his pitches and throwing through the catcher.
Finally, in recent games, Casilla has become too predictable, trying to rely solely on his fastball. In a game against the Braves, he allowed a game-winning hit to Brian McCann when he threw him nine straight fastballs.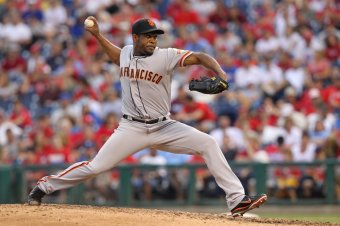 Santiago Casilla has struggled in recent outings
Hunter Martin/Getty Images
Casilla has to mix in his off-speed pitches more regularly. He has a devastating slider, which he seemed to go away from in many of his recent outings. Although he has not said anything to the media, perhaps the slider is the pitch that caused the blister or is bothering his arm.
If the slider is causing Casilla any physical problems, that is a huge issue. If this is the case and Casilla is trying to be a one-pitch pitcher, that will not work against big league hitters.
Meanwhile, Sergio Romo has been lights-out virtually every time he has entered the game. He has thrown 30 innings this year and allowed only 14 hits. Romo has an ERA of 0.60, which is incredible. His WHIP is also outstanding, at 0.733.
Romo has the stuff to close and has recorded five saves to go along with his 3-1 record. He has struck out 35 batters, while allowing only eight walks.
With these types of numbers, one would think Romo should be the closer, without question.
However, there is a key factor that must be considered. There are questions and concerns about Romo's durability and stamina. When questioned about the possibility of using Romo as the Giants' closer, manager Bruce Bochy and pitching coach Dave Righetti both mentioned those factors.
Who should be the SF Giants' closer?
Over the past few years, I have noticed that Romo typically has a period or two during the season when he needs to sit out, due to injury. In addition, when Romo is overworked, his effectiveness and command are compromised. He simply is not as sharp when he pitches too much.
Bochy will rarely use Romo in three games in a row. His concern is that Romo loses something whenever he pitches a lot. Watching Romo closely over the past few years, I must say that these are very valid concerns.
Earlier this season, Romo had to sit out, as he was being troubled by both knees at one time or another. Romo's best pitch is his slider, which is tremendous, especially against right-handed batters.
The slider takes its toll on Romo's arm, which is a big reason he has thrown only 30 innings in 38 appearances. In comparison, Casilla has appeared in 42 games and has thrown 37 innings.
Barring a trade, the Giants will count on both Casilla and Romo to close out games. However, I do believe that Casilla will get the majority of the save chances, if he can get himself back on track. As great as Romo has been this season, you must be very careful about overworking him.
Romo will get more chances to earn some saves, but Casilla will maintain the role of closer. The Giants will stop short of calling it a "closer-by-committee" situation, but Bochy will be much more matchup-oriented over the remainder of the season.
Even left-handed relievers Jeremy Affeldt and Javier Lopez will be called upon when the situation dictates. If the opposing team has a strong left-handed batter coming up in a key ninth inning situation, Affeldt or Lopez will likely be summoned.
The Giants are well positioned to win the NL West, as they are currently leading the Dodgers by 2.5 games. Whether it's Casilla, Romo or somebody else, the Giants must win the games when they're leading heading into the ninth inning.
This article is
What is the duplicate article?
Why is this article offensive?
Where is this article plagiarized from?
Why is this article poorly edited?

San Francisco Giants: Like this team?