Olympics Gymnastics 2012: Jordyn Wieber Will Be America's Newest Olympic Darling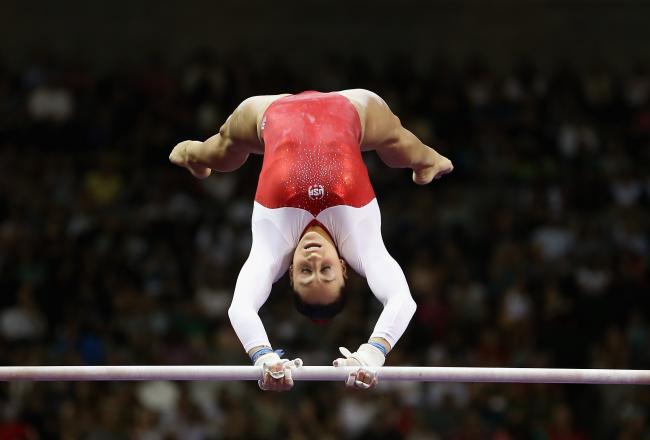 Ezra Shaw/Getty Images
Whether it's Mary Lou Retton's perfect scores on the floor exercise and vault at the 1984 Los Angeles Games, or the incredible courage shown by Kerri Strug in the vault at the 1996 Olympics in Atlanta, there's nothing more endearing to the American people than a fresh-faced young gymnast displaying grace and agility en route to Olympic glory.
Well, the folks at General Mills may want to get a head start on that next Wheaties box, because by the time the Games of the XXX Olympiad have concluded in London the United States will have found its latest Olympic sweetheart.
America, meet Jordyn Wieber.
This isn't to say that the 17-year-old from Dewitt, Michigan is some relative unknown that will shock the world by taking the Olympics by storm. In fact, the opposite is the case, and it would be an even bigger shock if Wieber doesn't make her presence known in a big way in London.
Wieber is the reigning all-around world champion, is considered by many to be the best female gymnast in the world and is dangerous in all four individual events at the Games.
Her biggest strength may lie on the vault, where Wieber placed first in the all-around at the World Championships. Not only is Wieber already one of the best there is at the event, but the youngster is reportedly again going to attempt the incredibly difficult Amanar vault in London.
For those of you out there (including me) who have absolutely no idea what an Amanar vault is, The New York Times did an excellent step-by-step job of explaining it that you can view here.
I pulled a hammy just watching that.
Wieber also placed first in the all-around on the balance beam in Tokyo last year. Apparently that's not good enough for the tenacious teenager either, as Brian Cazeneuve of Sports Illustrated recently reported that U.S. National Team coordinator Marta Karolyi (wife of Bela, carrier of Kerri) has implemented a more difficult routine for Wieber on the beam.
If Wieber has a weakness, it's likely on the uneven bars, where she finished 12th in the all-around at the World Championships. However, Wieber has been working tirelessly at improving on the bars, according to Cazeneuve, including adding a more difficult dismount to her routine that she landed twice successfully at the Olympic Trials.
All this isn't to say that Wieber is a shoo-in for the all-around gold. She'll face stiff competion both from international stars such as World Championships runner-up Viktoria Komova of Russia and American teammates such as Gabby Douglas.
Also, gymnastics is an incredibly unforgiving sport. All it takes is one stumble, one misstep or one bad dismount to turn Olympic dreams into a nightmare of disappointment.
With that said, though Wieber has everything it takes to bring home the all-around gold in London, and if she can complete that quest not only will her life change forever but she may just find her greatest wish fulfilled, according to a report on ESPN.
[After winning gold at the World Championships] Wieber told anyone who would listen that she -- and her teammates, of course -- would like to meet Justin Bieber. Then she sent out a tweet to her nearly 9,000 followers:

"Now that we are world champions…can we meet Justin Bieber yet? #welldeserved … Who has connections!?!?"
Oh well, I guess no one's perfect.
This article is
What is the duplicate article?
Why is this article offensive?
Where is this article plagiarized from?
Why is this article poorly edited?