MLS All-Stars vs. Chelsea: Live Score, Analysis, Recap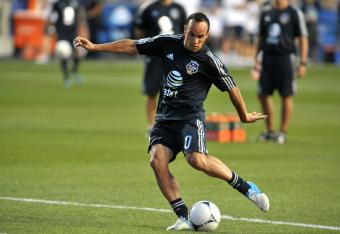 MLS All-Star Game, PPT Stadium
MLS All-Stars 2-3 Chelsea
Chris Wondolowski (21', MLS)
John Terry (32', CHE)
Frank Lampard (58', CHE)
Chris Pontius (73', MLS)
Eddie Johnson (91', MLS)
Lineups
MLS All-Stars: Nielsen (Kennedy, 45'), Beitashour, Collin (Valdes, 33'), DeMerit, Morrow (Corrales, 56'), Alonso (Beckerman 56'), Beckham (Farfan 74'), De Rosario, Donovan (Pontius, 45'), Henry (Zusi, 56'), Wondolowski (Johnson, 60').
Chelsea: Hilario (Turnbull, 45'), Ivanovic, Terry (Luiz, 45'), Cahill (Calobah 76'), Cole (Ferreira, 45'), Benayoun (Malouda, 45'), Essien (Mikel 61'), Lampard (Meireles, 61'), Marin (Piazon, 61'), Ramires (Hazard, 61'), Lukaku (De Bruyne, 75')
That's it for us tonight. Check back on my profile for post-match analysis in a few hours, but for now, thank you for joining us tonight, and we hope to see you next time!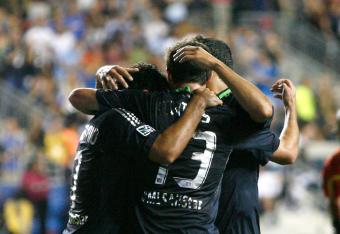 FINAL SCORE: MLS ALL-STARS 3, CHELSEA 2
It wasn't the most intense of games, and it wasn't played at the highest tempo, but it was a game filled with excitement.
Chris Wondolowksi opened the scoring by finishing a cross from Thierry Henry, before John Terry equalized off a corner kick for Chelsea.
In the second half, substitutions interrupted the flow of the game for big chunks of time, but Frank Lampard scored the tie-breaker in the 58th minute, before Chris Pontius equalized for MLS in 73rd minute once again.
Comeback kid Eddie Johnson had the last laugh though, as his shot took a fortunate bounce to win the MLS All Stars the game at the death, in the 92nd minute.
Chelsea had a moment of controversy in the 89th minute though where they should've been awarded a penalty for a handball, and can feel a little aggrieved not to have left this game with a win, or at least a draw.
Chris Pontius wins the MVP, and Dwayne De Rosario wins the match as the team's captain. Ben Olsen, DC United's coach, wins as the team's coach. Great night for DC United.
Final two tweets from B/R's National Lead Writer, who watched the whole game from the press box:
The #MLSAllStar Game: Handballs in the box optional.

— Dan Levy (@DanLevyThinks) July 26, 2012
The MLS All-Stars scored an extra time goal. Eddie Johnson with the probable winner. He is my MVP. #MLSAllStar

— Dan Levy (@DanLevyThinks) July 26, 2012
93rd minute—David Luiz goes centre-forward, charging through the MLS's defense to win a free kick outside the goal. He takes the free-kick himself, it hits the wall, and that's the game!
Wow. For a friendly, that was some game.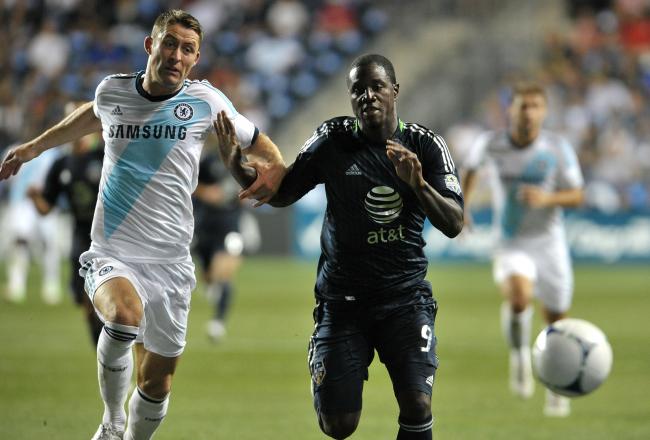 92nd minute—WHAT A FINISH!
EDDIE JOHNSON HAS SURELY WON IT! WHAT AN ENDING TO THIS GAME!
Kyle Beckerman plays to ball to Eddie Johnson, and he cuts in to get the ball on his preferred foot. It takes a deflection, the ball bounces over Petr Cech, and it goes into the goal. Surely it's game over for Chelsea, and what a way to win a match!

89th minute—PENALTY SHOUT!
Malouda attempts to cross the ball, and the ball CLEARLY HITS THE ARM OF STEVEN BEITASHOUR! No penalty awarded though!
Good thing this is a friendly. That could've been a very controversial moment in a competitive match.
84th minute—Great Run!
The MLS All-Stars combine will to attack down Chelsea's right-flank, but the cross put into the box has no receipient. Still, well played and great hustle by the MLS players.
81st minute—Lots of pressure from Chelsea!
Chelsea play lots of crosses into the box with plenty of players in the box. Some last ditch clearances by Dan Kennedy and decent defense by MLS' All-Stars are able to prevent Chelsea from scoring a winner though.
78th minute—Foul just outside the box by Branislav Ivanovic on Dwayne De Rosario. Good chance here...
Hits the rough of the net. It looked dangerous though!
73rd minute—And as I say that, CHRIS PONTIUS SCORES!
He gets the assist from Dwayne De Rosario, his team-mate at DC United. From watching these two players live, I can tell you that they are hugely talented and have good chemistry.
2-2, who knows what else we'll see!
David Beckham comes off for Farfan after a rather subdued, quiet performance.
71st minute—Looks like we're experiencing an extended post-subs lul. Eddie Johnson has been active for the MLS team, and Chelsea have been getting forward, but not many chances have been made.
Both teams have almost completely changed their look as we enter the 65th minute. Chelsea still look in control of this game though, and their reserves are much stronger than the MLS All-Stars.
Florent Malouda wins Chelsea a corner.
MLS Subs:
Kyle Beckerman for Osvaldo Alonso
Graham Zusi for Thierry Henry
Ramiro Corrales for Justin Morrow
Chelsea Subs:
Raul Miereles for Frank Lampard
John Obi Mikel for Michael Essien
Eden Hazard for Ramires
Lucas Piazon for Marko Marin
58th minute—GOAL FOR LAMPARD!
Terrible goalkeeping leaves Frank Lampard with an easy tap-in to score. Dan Kennedy made a good save to prevent Lampard from scoring on the previous move, but he couldn't reach the ball on the corner kick, leaving Lampard with an easy goal.
He's coming off, along with a whole host of other players, for Chelsea subs.
SUBSTITIONS
According to MLSsoccer.com, Chelsea made four substitutions at half-time:
David Luiz for John Terry
Ross Turnbull for Henrique Hilario
Florent Malouda for Yossi Benayoun
Paulo Ferreira for Ashley Cole
MLS All-Stars made one:
Chris Pontius for Landon Donovan
55th minute—Ivanovic with a shot from distance! It goes wide, but not a bad crack at goal.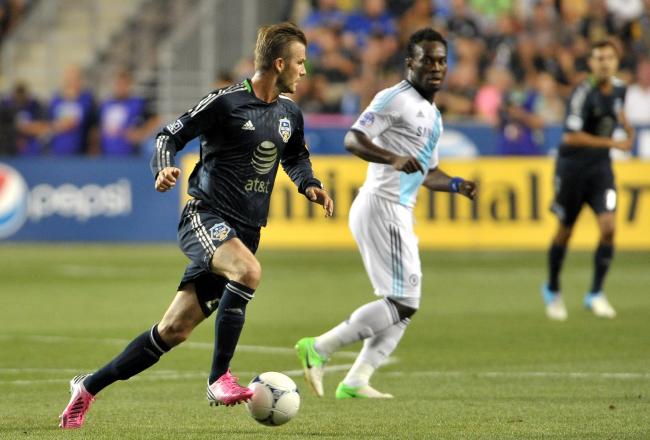 52nd minute—David Beckham takes a free-kick, which hits the top of the wall and goes out for a corner. Beckham takes the corner too, but it's exceptionally poor as it never goes in-bounds and the ball goes back to Chelsea.
49th minute—Jiimmy Nielsen is pressured by Frank Lampard, and his clearance takes a deflection. MLS' defenders react quickly to block Lukaku's shot though, and clear the ball without much difficulty.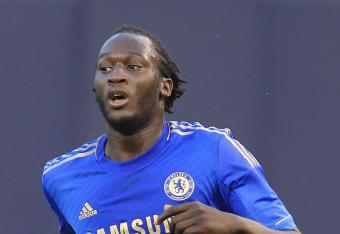 We're back. Lukaku's just skied another shot over the bar, so nothing new there.
And half-time! Good game so far, with a couple of good opportunities for both teams.
We'll be back in 15-20 minutes with the second half.
In the meantime, send your thoughts and questions to @Mo_Hendy, and I'll feature them here.
42nd minute—Beckham and Henry link up, with Henry nearly connecting well-enough to score. Good chance though.
Beckham left a perfect ball for Henry just missed wide. It took all of 35 minutes for the 2 to link up well. Becks will be on RBNY by August
— Dan Levy (@DanLevyThinks) July 26, 2012
40th minute—Good spell of posession for Chelsea, and even though Marko Marin gets a few good cracks on goal, Jimmy Nielsen is well-positioned for both.

SUBSTITUTION
Carlos Valdes comes on for Aurelien Collin.
Collin was shaken up after colliding with Michael Essien earlier in the half, and Ben Olsen decided it wasn't worth risking his health over a friendly. Valdes, a defender for the Philadelphia Union, takes his place.
He gets a decent amount of applause to, coming from a team so close to the stadium.
BR's National Lead Writer with a bit of humor:
Chelsea ties it up on a header by national hero John Terry, off a corner. #MLSAllStar

— Dan Levy (@DanLevyThinks) July 26, 2012
32nd minute—CHELSEA EQUALIZE!
John Terry with a trademark header for Chelsea. 1-1, and its game on once again. Two goals in roughly 30 minutes, we could be in store for a good game.
This article is
What is the duplicate article?
Why is this article offensive?
Where is this article plagiarized from?
Why is this article poorly edited?

Chelsea: Like this team?