Breaking Down Cleveland Browns' Emerging WR Depth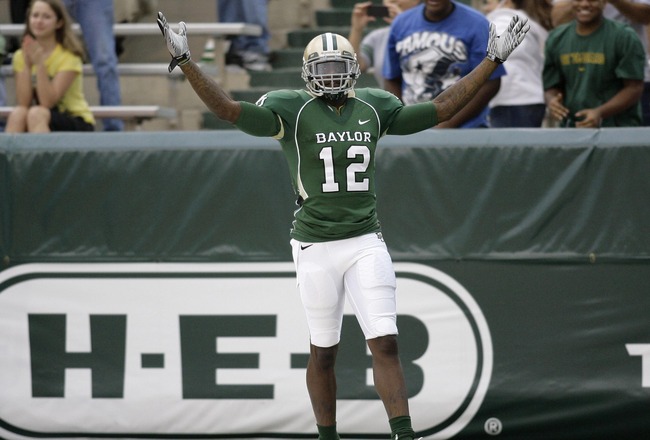 Brett Davis-US PRESSWIRE
Will Cleveland Browns' wide receiver Josh Gordon start in 2012? The Browns spent a second-round pick in the 2013 draft on the ultra-gifted Gordon, so it isn't out of the question.
Is it possible the Browns have addressed every need on the offensive side of the ball—in one draft?
On paper, that is the case for the young Browns. In one offseason, the team went from having a crop of questionable wide receivers to having to make a decision on which will even make the 53-man roster.
But, who is it going to be? Will the team carry six wide receivers AND Josh Cribbs for his special teams utility? Or, more likely, will there be five receivers in addition to Cribbs—the receiver/special teams' return man/gunner cover man?
OR, will the regime part ways with Cribbs, who has one season remaining on his contract? There are several intriguing battles that are going to take place during training camp.
Will experience win out over familiarity? Can undrafted free agent Josh Cooper use his experience with probable starting quarterback Brandon Weeden to beat out the competition and earn a roster spot?
Is this the end of the Carlton Mitchell project?
I'll examine each of these battles and the likelihood of each happening in the following slides.
Starting Flankers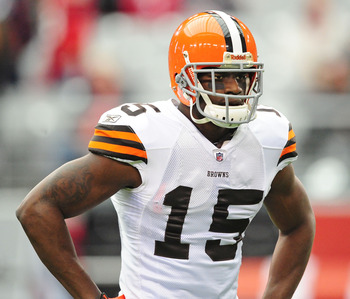 Mark J. Rebilas-US PRESSWIRE
Josh Gordon isn't the only Cleveland Browns wide receiver picked from the second round of the draft. Mohamed Massaquoi and former Browns WR Brian Robiskie were both selected in Round 2 of the 2009 NFL Draft.
Gordon, though, has superior physical gifts to both Robiskie and Massaquoi. Robiskie, as you know, washed out and never lived up to his second-round selection. Massaquoi, on the other hand, is still in the mix and vying for a starting spot in 2012.
Greg Little, who is approaching his second season with the team, will also competing and likely starting as the team's No. 1 WR this season. Who will it be across the field, lining up at the opposite flanker position on opening day?
A lot depends on how ready and how far along Josh Gordon will appear during training camp. The fact he practiced the entire 2011 season with the Utah Utes gives him an advantage that Greg Little didn't have a season ago. Gordon, like Little, missed his final college season due to a suspension, resulting in ineligibility.
For those concerned about Gordon's production in college—don't be. There is little doubt what Gordon could have done if given another season with Robert Griffin III at the helm of the high-octane Baylor Bears offense.
Who, then, will be the starting No. 2 wide receiver and flanker on opening day (assuming Greg Little is the No. 1)?
Mohamed Massaquoi has not been spectacular as a starting wide receiver in the NFL. Drops, injuries and inconsistency has hampered his development and ability to truly stand out as a playmaker for the Browns.
His inability to stay on the field and his horrendous 45 percent reception mark from last season will not do him any favors in this competition.
Travis Benjamin has the speed to line up at the flanker position and stretch opposing defenses. His initial ability to beat press-man coverage will be the deciding factor in how soon he sees time at the position.
If he can bulk up during camp and demonstrate the same lightning speed he has thus far, he is a dark horse to start opposite of Little on opening day.
Starting Slot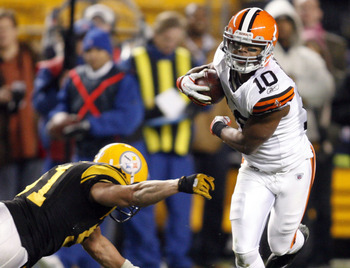 Charles LeClaire-US PRESSWIRE
The slot receiver position in the Cleveland Browns' offense could likely end up being played by Travis Benjamin. As mentioned, Benjamin will need an easy free-release from the line of scrimmage in order to utilize his blazing speed and he would be afforded that if lined up in the slot.
However, the Browns also often split tight ends off the line of scrimmage to fill this role. A two and even three tight end set is not a freak occurrence in their offense.
With the development of Jordan Cameron likely to take off this season, there will be many plays in which Evan Moore and Cameron are utilized in passing situations in addition to Benjamin Watson or Alex Smith lining up at the traditional tight end position.
What does this mean for the wide receiver competition?
Unfortunately, there is not a pressing need for the Browns to carry more than one true slot guy in their receiving group. Greg Little, Benjamin, Josh Cribbs, Josh Cooper and Jordan Norwood are all very capable slot type receivers who could line up in the position this year.
However, as mentioned, not all of them will likely be on the roster on opening day. Of the group, Cooper and Norwood are best designated as strictly "slot guys."
In that mindset, the winner of the roster spot will also likely be the starting slot WR or the No. 3 on the depth chart.
Who's it going to be? Tony Grossi of ESPN Cleveland said not to be surprised if Cooper edges out Norwood and makes the roster.
Both Cooper and Norwood were UDFA's coming out of college. Norwood has put in his time on practice squads and has already succeeded, to an extent, in an NFL environment.
He's experienced in the Browns' offense and has done nothing but improve since signing with the Browns. On the other hand, Cooper was quarterback Brandon Weeden's second option at Oklahoma State.
Norwood proved, in a bad passing offense, that he can make plays when given the chance. With Weeden at the helm, his talents can be fully realized. He boasted a 70 percent completion rate with passes thrown in his direction a season ago.
Also, he only dropped one pass in 33 targets. His numbers show a proven experience in the NFL, one that will greatly benefit him with added playing time and more balance and effective offensive game plan in 2012.
Are Cooper's sure hands and rapport with Weeden, the likely opening day starting QB for the Browns, enough for the Browns to keep him around? Unfortunately, I do not think that will be the case as the Browns cut down their 53-man roster throughout the preseason.
Without help from injuries, Cooper will likely wind up on the practice squad and Norwood will become team's primary slot receiver.
However, if the Browns do choose to keep six wide receivers in addition to special teams ace Josh Cribbs, Cooper will have a chance at catching on at the expense of Carlton Mitchell.
Depth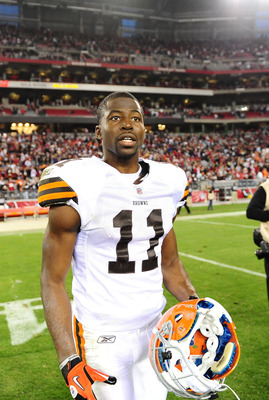 Mark J. Rebilas-US PRESSWIRE
No matter who stays and who goes, for the first time in a long time, discussions are ongoing on who the Cleveland Browns should keep and who they should let go during the preseason. That is enough to signal that there is real change happening on the Browns offense.
At the same time, it also provides the team with dependable depth in the event of poor play or injury. Both have bit the Browns in recent years due to a lacking of suitable depth players on the roster and the practice squad.
It feels good knowing probable former starters Mohamed Massaquoi and Josh Cribbs will be available as a depth option behind the young talents being deployed.
Massaquoi still has a running shot at earning a starting position, but the only thing he has going for him is experience at this point.
Travis Benjamin, Josh Gordon and Greg Little look like a formidable future in the Browns' passing attack. Cribbs, Massaquoi, Norwood and Cooper may round out roster spots but they will likely, sooner or later, take a backseat and provide depth behind the youngsters.
The Rest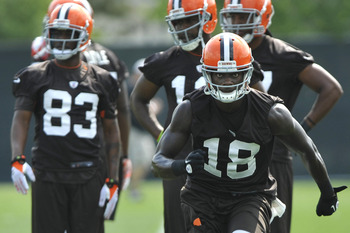 David Richard-US PRESSWIRE
Carlton Mitchell has all of the physical attributes you look for in an NFL split-end/flanker receiver. The problem for Mitchell was that he was injured in his second season, a year after he already took a season to adjust and develop to the pro game.
For a late-round draft pick, there is a limited shelf life for your development and for how long you have to make your mark.
Can Mitchell be a successful NFL receiver? That's a possibility. As the ranks of those competing for rosters spots fills out, the chances of Mitchell doing so in Cleveland decrease. However, there's also the possibility GM Tom Heckert isn't ready to give up on his former late-round receiver.
It is more likely, though, that the pick of Josh Gordon has signaled the end of the Carlton Mitchell development project in Cleveland. After all, both receivers fit a similar mold physically and present the same type of long and athletic body frame needed to win battles with NFL secondaries.
As for the remaining UDFA's vying for a roster spot, there are no names that really scream out as being a lock to surprise.
Jermaine Saffold presents unique physical skills but is said to be extremely raw in route running. However, his 4.36 40 yard dash time at Missouri State's pro day and his 20 YPC average last season are hard to deny.
Saffold is an intriguing prospect that should be kept on the practice squad for development. Speed and size do not always translate into instant NFL success.
But as they say, you can't teach speed and size.
Who's Going to Make It?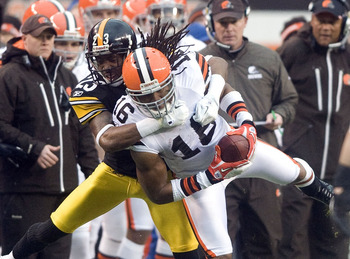 Vincent Pugliese-US PRESSWIRE
It's hard to really determine who the Cleveland Browns wide receivers are going to be due to the many factors I've discussed. But what's the fun in not taking a chance?
As you might have guessed from the preceding slides, I have a favorite set to make the roster and I'll re-state them here:
Greg Little, Josh Gordon, Jordan Norwood, Mohamed Massaquoi, Josh Cribbs and Travis Benjamin are my picks to make the Browns 53-man roster.
Stay tuned for more coverage of the upcoming Cleveland Browns training camp.
If you haven't already, check out B/R's complete guide to the Cleveland Browns' training camp.
Follow me on Twitter @BigHoagowski if you want to talk Cleveland Browns or anything sports related.
Keep Reading

Cleveland Browns: Like this team?