For Justin Blackmon, making his name in the NFL and living up to an illustrious collegiate career instantly became more difficult when he was selected No. 5 overall by the Jacksonville Jaguars. As the newest member of one of the most pedestrian offenses and precarious quarterback situations in football, he didn't need to make matters worse for himself.
Sadly, he did.
Via ESPN per the AP, Blackmon was arrested for aggravated DUI in June after he was pulled over for speeding and police smelled alcohol on his breath. A breathalyzer test showed Blackmon to have a BAC of .24, three times the legal limit.
On Tuesday, he pled guilty to the charge.
According to CBSSports.com, Blackmon was given a "one-year deferred sentence," which will keep him out of jail. He also must complete 50 hours of community service and must pay a $500 fine.
At Oklahoma State, it came easy for the 6'1'', 215-pound wideout.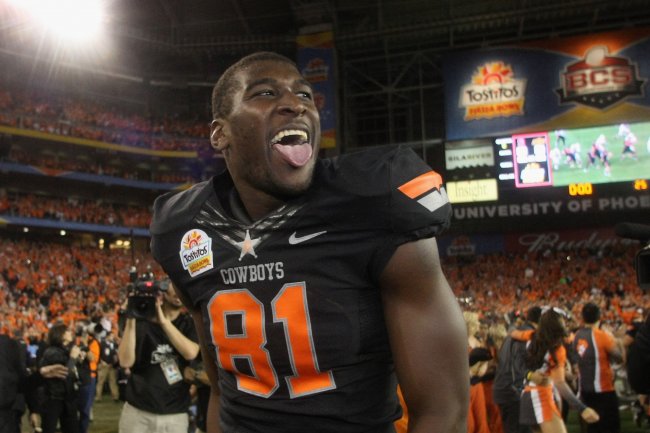 Donald Miralle/Getty Images
He was a menacing target in a wide-open spread offense, with a future first-round draft pick throwing him passes against the super-penetrable secondaries of the Big 12 conference.
His combination of size and speed alone allowed him to dominate the opposition.
He won't be able to win with size and speed alone in the NFL.
Sure, for Blackmon, it's great that he avoided jail time. However, the arrest could quite possibly be the reason he remains unsigned. Missing any portion of training camp would put him behind the eight ball even more.
How will Blackmon be in the 2012 season?
OK, missing the start of training camp doesn't spell the end of Blackmon's career before it even starts, but, safe to say, a rookie wideout looking to acclimate himself to the much faster, more complex and more physical NFL game usually needs as much practice time with his quarterback as possible, especially if that quarterback is Blaine Gabbert or Chad Henne.
Blackmon hasn't gotten off to the best start with the Jaguars, that's for sure. A late training camp arrival coupled with what's typically a slow transition to the NFL for receivers while playing on a poor team, could cast a dark shadow over his rookie year, thus damaging his confidence. Next, he'll be playing under added pressure in year two to avoid the dreaded "bust" label.
Not good.
The two-time Biletnikoff award winner has all the talent to become a legitimate star at the professional ranks. Playing on the Jaguars was already bound to make it hard enough. Blackmon's recent arrest has made his potential ascension to stardom much more unlikely.