Team USA vs. Spain Live Blog: Analysis and Reaction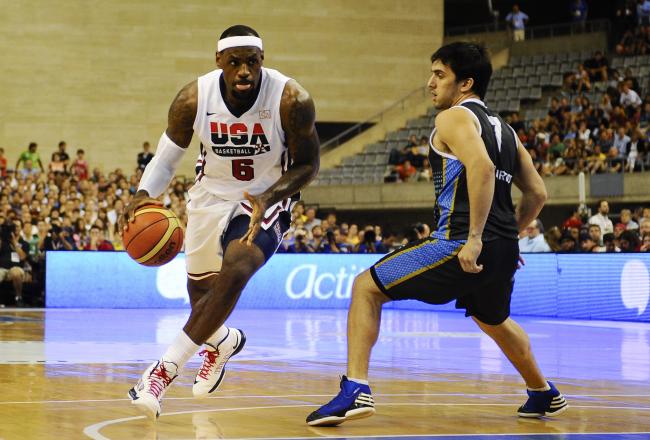 David Ramos/Getty Images
The U.S. took this one rather easily after a strong opening by Spain. Team USA went 13-for-23 from beyond the arc, with Carmelo and LeBron leading the way. Take a look at some of thoughts along the way...
Final Score: USA 100, Spain 78
If Team USA hits 13-for-23 from long range, no one can beat them. Carmelo was outstanding, and so was LeBron (both 10-for-15 from the floor). The absence of Marc Gasol is huge, but even with him in there Spain wouldn't have won this game. The U.S. didn't accomplish much offensively in the post, but they won't need to if the wings can exploit their match-ups in this fashion. I thought the defense was strong, and if it ever breaks down or gets soft we can always put in Iguodala, a fantastic perimeter defender who we didn't see at all today.
See you next time!
USA 94, Spain 74, 1:30 Q4 Spain clears the bench.
What do you think Coach K tells them about rules in Barcelona tonight? Is Anthony Davis going to be celebrating his contract by popping bottles in a VIP somewhere? I'm saying yes. Stay out of trouble, boys...
Loved Kevin Love's effort down low on that put-back. Like Westbrook, he's a young guys that can really give a jolt to the lineup when things get flat.
That breakaway dunk by LeBron might have done it. Spain looks gassed down 16. LeBron looks like he could play another one right after this no problem.
End of Q3 USA 74, Spain 59
USA in control but kind of frustrated, as evidenced by Westbrook's audible F-Bomb right before the commercial break. It's not over yet, but you get the feeling that there is a lot being learned by both sides during this game. Spain's defense over the past few minutes has been very solid.
0:43 Q3 USA 71, Spain 59 If Spain is going to make a run, this is the time. U.S. offense looks out of sync during this 11-2 Spain run.
Spain's 2-3 zone is a problem for the U.S. right now, but the Americans are looking comfortable up 71-55.
Love how the broadcast team is openly saying that Team USA is going to be the victim of bad calls in London. No hiding it.
Whenever an international team tries to make a second-half run, Coach K needs to find energizers to spark the U.S. Meet Russell Westbrook...
This is exactly the kind of separation that the U.S. was looking for to start the second half. The next test will be whether they can twist the dagger and keep the lead above 10 the rest of the way. If I were Coach K I'd challenge then to do that.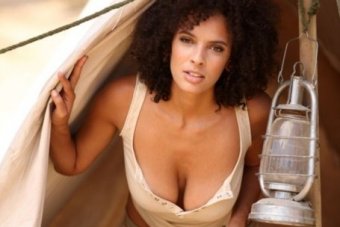 Serge Ibaka's ex girlfriend, Hedisa Visapa...
Halftime opinion question: Which player on the court for this game would win in a Bloodsport-like pit-fighting tournament? I'd take LeBron on brute strength beating Ibaka's length and athleticism in the championship fight.
END OF HALF: USA 48, Spain 40
Pretty solid first half for both sides. With Marc Gasol not playing, Spain has to be encouraged. I like Team USA's aggressiveness around the basket and their perimeter D not allowing the ball to get inside easily. Chandler needs to figure out the foul situation. That just can't happen when it's all on the line. Look for Americans to come out pedal-to-the-medal in the second half to get some separation.
Okay people, in the comments section tell me who you would rather have on your favorite NBA team: Chandler, Pau or Marc Gasol? I like Marc, even though I know he's not very popular stateside right now.
Eric Hartline-US PRESSWIRE
Ibaka and Hope Solo should hook up. Both great goaltenders...
With both Gasols off the floor, the U.S. has turned it into a track meet. LeBron just drew three defenders on a drive and kicked it out to red-hot Anthony. They are just too athletic...
How do you pronounce "Gasol"? Not like Kenny the Jet, I hope...
Carmelo is going off, or as the Spanish would say "es en fuego" right now...
Chandler's three early fouls are a huge deal. That can't happen in London unless LeBron really likes guarding 6-10 power forwards.
A little entertainment during the commercial... Remember Ibaka's entrance in the dunk contest?
Haven't seen Marc Gasol yet. I think he's Spain's MVP (playing in Memphis has made it hard to get out of big brother's shadow). Excited to see how Davis holds up when he comes in against the Spain bigs.
This is a previous piece I wrote that some people called ridiculous... But Pau is hitting jumpers over shorter U.S. players so far and LeBron is having to scrap down there in the post right now. I don't like it...
Kobe has NEVER had that travel called on him in NBA play.
Spain's jerseys are pretty ugly, but not as bad as their Opening Ceremonies garb...
This article is
What is the duplicate article?
Why is this article offensive?
Where is this article plagiarized from?
Why is this article poorly edited?