Breaking Down the Arizona Cardinals' Training Camp Roster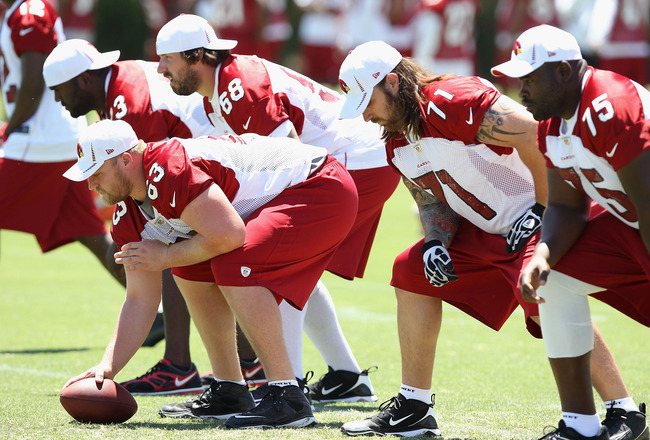 Christian Petersen/Getty Images
The Arizona Cardinals concluded the 2011 season strong, winning four of their final five games to end the season at 8-8. If the Cardinals are going to use that strong finish as momentum to 2012, they will need more consistency from the quarterback position.
The Cardinals are similar to last year's version of the San Francisco 49ers—a solid roster with excellent defensive talent that simply needs above-average play from the quarterback to contend for a division title. As the Cardinals open training camp, an in-depth look at their roster reveals that they do have enough talent to make a playoff run, but everything starts behind center.
Quarterbacks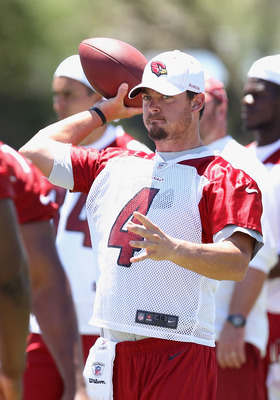 Kevin Kolb faces a lot of pressure in 2012.
Christian Petersen/Getty Images
Kevin Kolb; John Skelton; Richard Bartel; Ryan Lindley (R).
This is the year Kolb has to prove that he can be the man in the desert. Kolb played in just nine games last year after being acquired from Philadelphia in a trade. Various injuries, including a season-ending concussion, plagued his first season with the Cardinals. With Kolb sidelined, Skelton did enough to lead the Cardinals to six wins in his eight appearances.
Lindley, a sixth-round draft choice out of San Diego State, will push Bartel for the third spot. Bartel is a journeyman whose career began in 2007 with Dallas, where he spent two seasons on the practice squad. He's also been with Cleveland, Jacksonville, Washington and the Sacramento Mountain Lions of the United Football League.
Running Backs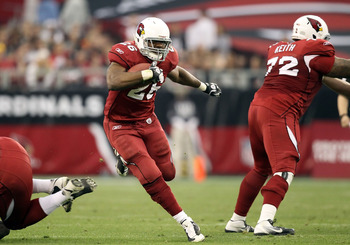 Beanie Wells is coming off his first 1,000-yard season.
Christian Petersen/Getty Images
Javarris James; William Powell; Alfonso Smith; LaRod Stephens-Howling; Beanie Wells; Ryan Williams.
Wells enters 2012 as Arizona's top back, but his spot isn't secure. The Cardinals had high hopes for Williams, a second-round draft pick in 2011 before a patella injury in a preseason game ending his rookie campaign before it got started.
Wells got over 1,000 yards last year for the first time in his brief career. Stephens-Howling is a return specialist who will contribute, offensively, in third-down situations. James comes over from Indianapolis after playing sparingly on special teams. Smith got 30 carries last year for 102 yards and a score with three receptions for 21 yards in 15 appearances, most of which were on special teams. Powell has not have any regular-season action.
Fullbacks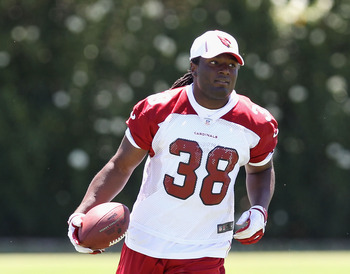 Rookie Jared Crank could win the starting fullback job.
Christian Petersen/Getty Images
Jared Crank (R); Anthony Sherman.
Sherman played in 15 games last year, getting one carry and hauling in eight passes. He will be challenged for a roster spot by Crank, a big (6'2", 238 pounds) undrafted bruiser from Purdue who can contribute on special teams.
The Cardinals will likely keep just one fullback on the 53-man roster, so it will be interesting to see which player will be clearing a path for Beanie Wells and Ryan Williams.
Wide Receivers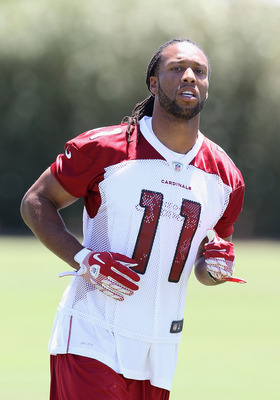 Larry Fitzgerald is still one of the league's best.
Christian Petersen/Getty Images
Stanley Arukwe (R); LaRon Byrd (R); Gino Crump (R); Early Doucet; Larry Fitzgerald; Michael Floyd (R); Tre Gray (R); Jaymar Johnson, Andre Roberts; DeMarco Sampson; Isaiah Williams; Stephen Williams.
The Cardinals receiving corps begins with Fitzgerald, a future Hall of Famer will possibly the best hands in the game today. Identifying Arizona's No. 2 guy isn't so easy. Floyd, a first-round draft pick from Notre Dame, will push Doucet for that second spot. The addition of Floyd does give the Cardinals three solid receivers who can make plays. The question with Floyd is if he can keep his off-the-field problems with alcohol away from the Birds Nest.
Arukwe is an undrafted speedster from Troy who could help as a second return man to running back LaRod Stephens-Howling. Arukwe is a former track star who had just 12 catches in one season of collegiate football. Byrd, an undrafted rookie from Miami, Fla., is more polished than Arukwe. Bird is big (6'4", 220) and has zero off-the-field issues to go with 106 career receptions for 1,254 yards and seven touchdowns.
Crump played just two seasons at Arizona after transferring from a junior college. He had 65 catches for 610 yards and two scores last year and has made a good early impression in Tempe. Gray set several records at the University of Richmond, but still went undrafted. He's a smaller player (5'10", 175) with average speed for a receiver (4.54 40), but his 95 catches for 1,187 yards say a lot about his ability to find an opening on the field.
Roberts and Sampson are the pre-camp leaders to round out a possible five-man receiving corps. Roberts had 51 catches for 586 yards last year, while Sampson, a seventh-round draft pick in 2011, finished his rookie season with three catches while playing primarily on special teams in 12 games.
Johnson was a sixth-round pick by the Vikings in 2008, but had only seen game action with six appearances in 2009. He played in one game for the Cardinals last year and has one career catch—in 2009—for nine yards. Isaiah Williams has bounced around with four teams since 2009 but does not any regular-season playing time. Stephen Williams has nine career receptions for 101 yards after signing with the Cardinals in 2010 as an undrafted rookie out of Toledo.
Tight Ends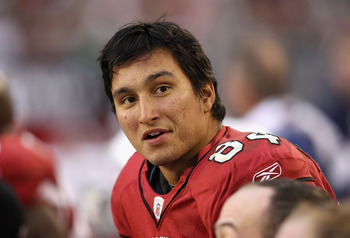 Rob Housler's stock is on the rise.
Christian Petersen/Getty Images
Jim Dray; Todd Heap; Rob Housler; Jeff King; Steve Skelton; Martell Webb.
Heap's first season in Arizona was disappointing, with only 24 receptions in four starts. He enters his 12th NFL season with some young talent behind him, including Steve Skelton, the brother of Cardinals quarterback John Skelton. The younger Skelton spent last season on the Cardinals practice squad following a very good collegiate career at Fordham.
Dray has just five receptions in two seasons and is primarily a blocking tight end. That being said, he has averaged more than 14 yards with those five catches. Housler, a third-round pick from Florida Atlantic in 2011, got better as his rookie season progressed. He played in 12 games with two starts and finished the year with 12 catches for 133 yards.
After spending five seasons in Carolina, King matched his career high with three touchdowns last year for the Cardinals. Webb spent last year on the practice squads of four teams— Eagles, Jets, Buccaneers and Cardinals.
Offensive Tackles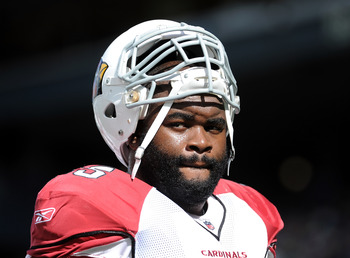 Levi Brown is ready for a solid season to prove his doubters wrong.
Harry How/Getty Images
D'Anthony Batiste; Jeremy Bridges; Levi Brown; Bobby Massie (R); Nate Potter (R); D.J. Young.
It's been a roller-coaster offseason for Levi Brown, whose previous five years have also been an up-and-down ride. Brown has been inconsistent since the Cardinals made him the fifth overall pick of the 2007 NFL draft. He was released last March, but re-signed to a five-year contract just a few days later after agreeing to a restructuring of his contract. Brown wants to silence his critics and prove that he is still worthy of a first-round pick and top-tier tackle.
The other starter could be this year's fourth-round draft choice, Bobby Massie. Some believe the Cardinals got a steal with the mammoth 6'6", 315-pounder from Ole Miss. The Cardinals also took Potter in this year's draft, selecting the Boise State product in the seventh round.
Batiste's pro career began in the Arena League before going to the Canadian Football League and then to the NFL in 2006 on Dallas' practice squad. He has seen time with five other NFL teams since then and signed with the Cardinals in 2010. Bridges has been in Arizona since 2009 after bouncing between four different teams beginning in 2003. Young, undrafted last year out of Michigan State, was promoted to the active roster late last year and will compete with Potter to back up Brown at left tackle.
Guards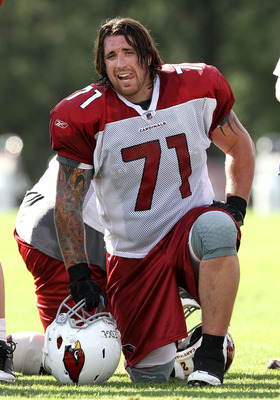 Daryn Colledge enters his second season with the Cardinals.
Christian Petersen/Getty Images
Braeden Clayson (R); Daryn Colledge; Blake DeChristopher (R); Senio Kelemete (R); Adam Snyder; Chris Stewart.
Colledge is the starter at left guard, but the Cardinals need a right guard following the departures of both Rex Hadnot (Chargers) and Deuce Lutui (Seahawks). Snyder would appear to be the front-runner. A free-agent acquisition this year, Snyder played for the 49ers for six seasons, including three as a starter.
The Cardinals did draft Kelemete in the fifth round out of Washington. Clayson and DeChristopher are both undrafted rookies who had stellar college careers at Idaho State and Virginia Tech, respectively. Stewart went undrafted last year and spent camp with the Jets.
Centers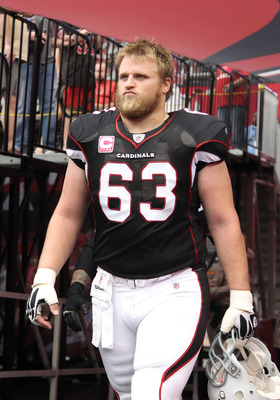 Lyle Sendlein returns as the Cardinals' starting center.
Christian Petersen/Getty Images
Ryan Bartholomew; Lyle Sendlein; Scott Wedige (R).
The Cardinals basically have two guys competing for one spot. Sendlein is the starter and has been since 2008.
That leaves youngsters Bartholomew and Wedige competing to be Sendlein's backup. Bartholomew is only 6'1" and isn't great off the ball. He spent part of last year in Baltimore after going undrafted out of Syracuse. Wedige is an undrafted rookie from Northern Illinois, where he was a two-year starter, All-MAC and second-team All-American selection. Put your money on the 6'4" Wedige.
Defensive Tackles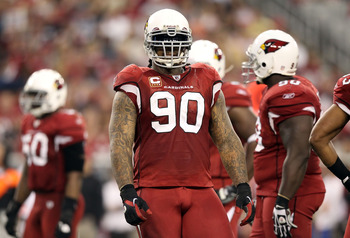 Darnell Dockett returns to wreak havoc in the middle of Arizona's defensive line.
Christian Petersen/Getty Images
David Carter; Darnell Dockett; Nick Eason; Ricky Lumpkin; Dan Williams.
Dockett and Eason enter training camp as the interior starters, but Williams will push Eason for a starting job. Williams, the team's first-round pick in 2010, started 10 games last year. Eason is on his fourth NFL team since 2003. Dockett went to the Pro Bowl three straight seasons before missing out last year. He can also play defensive end in Arizona's 3-4 scheme.
Carter was a sixth-round pick in 2011 and could be a star in the making. Lumpkin, undrafted out of Kentucky last year, will struggle to find a roster spot.
Defensive Ends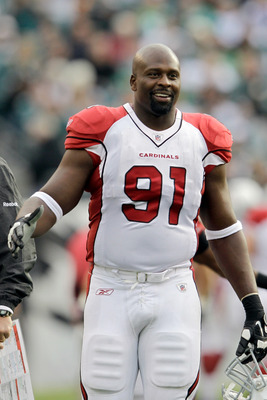 How much does Vonnie Holliday have left in the tank?
Rob Carr/Getty Images
Calais Campbell; Landon Cohen; Vonnie Holliday; Ronald Talley.
Who knew Vonnie Holliday was still in the league? He's entering his 15th season and has been slowed by age. Campbell is the clear leader of this group. He is coming off the best season of his four-year career with eight sacks, two forced fumbles and his first career interception.
After solid years in Green Bay, Kansas City and Miami, Holliday has had one-year stints with Denver and Washington. He was traded to Arizona last year and re-upped for 2012. Holliday did not record a sack last year for just the second time in his career and has had more than five sacks just once since 2003.
Talley began his college career at Notre Dame before transferring to Delaware. He then spent two seasons on Green Bay's practice squad before coming to Arizona in 2010. He has two career tackles. The Cardinals are Cohen's sixth NFL team in five years, and he has 31 career tackles.
Outside Linebackers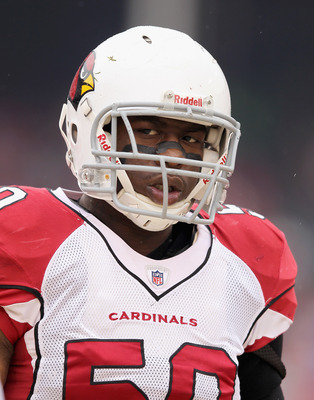 Will 2012 be O'Brien Schofield's breakout season?
Ezra Shaw/Getty Images
Sam Acho; Antonio Coleman; Quentin Groves; Clark Haggans; Zack Nash (R); O'Brien Schofield; Brandon Williams.
Arizona began training camp on Monday with an age dichotomy on the outside. Acho is entering his second season, while Haggans is a grizzled 13-year veteran. That soon changed, as Schofield, in his third year, has reportedly knocked Haggans out of that starting role on the left side. Schofield was a skilled pass-rusher at Wisconsin before a knee injury at the 2010 Senior Bowl. He had 4.5 sacks last year and could be a double-digit guy this season in a full-time starting role.
Nash is another skilled pass-rusher, but went undrafted out of Sacramento State. He has good size (6'4", 260) and played d-end in college. He'll have to show he can play in space and stay with backs coming out of the backfield.
Groves was a disappointing second-round pick for the Jaguars in 2008. They gave up on him after two seasons, and he spent the next two years in Oakland. He has 107 career tackles with 2.5 sacks and two interceptions.
Williams was fourth-round pick of the Cowboys in 2009 spent two years in Dallas before coming to Arizona last year. Coleman spent 2010 with Buffalo after going undrafted out of Auburn, where he was a three-time All-SEC selection. He spent 2011 on the practice squads of the Giants, Bills and Cardinals.
Inside Linebackers
Paris Lenon should still be a starter in 2012.
Harry How/Getty Images
Stewart Bradley; Paris Lenon; Marcus McGraw (R); Colin Parker (R); Quan Sturdivant; Paul Vassallo (R); Reggie Walker; Daryl Washington.
The Cardinals have a wealth of experience inside with Lenon, an 11-year veteran, Bradley in his sixth year and Washington entering his third season. Walker is a four-year vet.
Lenon's number's dipped from 125 tackles to 93 last year, but still appears to be entrenched as a starter. Washington has 25 starts over the last two years, and Walker will be his primary backup. The others may have to find a spot on special teams.
Sturdivant was a sixth-round pick in 2011. Parker is an undrafted rookie from Arizona State, so he hasn't even had to leave Tempe. The Chandler, Ariz., native could be leaving in early September or late August.
Vassallo led the Arizona Wildcats in tackles in 2010 and finished his two-year career in Tucscon with 172 tackles in 25 starts. McGraw was undrafted out of Houston, where he was on the watch list for the Nagurski and Lombardi Awards each of the last two years.
Cornerbacks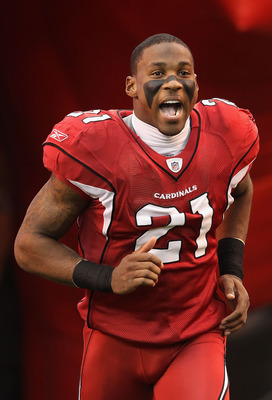 Patrick Peterson is hoping to be a gamebreaker on defense this year.
Christian Petersen/Getty Images
Michael Adams; Crezdon Butler; Jamell Fleming (R); William Gay; Marshay Green; A.J. Jefferson; James Nixon (R); Larry Parker (R); Patrick Peterson; Greg Toler.
Peterson made his biggest splash last year as a punt returner. His second NFL season is one where we could see him break out as a pass defender. After Richard Marshall left for Miami following a disappointing one season in Arizona, either Jefferson or Adams could step in opposite Peterson.
Gay comes over from Pittsburgh after four years with the Steelers and will also compete for the second starting job. Gay was primarily a backup for the Steelers, but comes to Arizona with a Super Bowl title under his belt when the Steelers beat the Cardinals in Super Bowl XLIII. Butler was also with the Steelers in 2010 before coming to Arizona last year. He has just one career tackle.
Toler will look to bounce back from a torn ACL that forced him to miss the 2011 season.
Parker was a two-year starter at San Diego State and led the Aztecs with seven interceptions last season. Nixon played three years at Temple before finishing college at California, Pa. He has extensive special teams experience and could contribute as a returner. Jefferson was undrafted in 2010, but signed with the Cardinals. He has 65 career tackles with one interception.
Green was also an undrafted signee by the Cards in 2010, but has yet to see action in a regular season NFL game. Fleming could have the biggest impact of any non-starter. He was the team's third-round pick this season from Oklahoma and was the defensive MVP of the 2011 Fiesta Bowl.
Safeties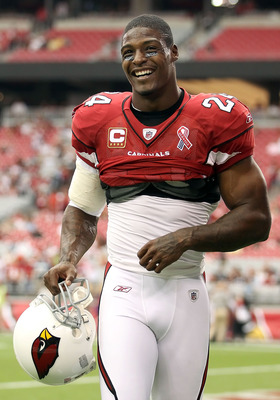 There aren't many NFL safeties better than Adrian Wilson.
Christian Petersen/Getty Images
Justin Bethel (R); Eddie Elder (R); Blake Gideon (R); Rashad Johnson; Kerry Rhodes; James Sanders: Adrian Wilson.
When it comes to NFL safety tandems, they don't get much better than Wilson and Rhodes. The two have a combined 20 years of experience. Rhodes was an All-Pro selection in 2006 with the Jets and came over to Arizona as a free agent in 2010. Wilson has been a five-time Pro Bowl selection in his previous 10 years and knows how to bait quarterbacks into making bad throws. He has 26 interceptions, but is just as dangerous as a blitzer, with 22.5 sacks and 15 forced fumbles over his career.
He set the NFL sack record for a defensive back with eight in 2005. Behind their dynamic duo, the Cardinals have three rookies joining Johnson and Sanders. Johnson is entering his fourth year after being taken in the third round by Arizona in the 2009 draft. Sanders comes over from Atlanta, where he spent one season after six in New England.
Bethel is a versatile rookie who could move up to play corner if need be and can also be a solid special teams contributor. Elder had 20 starts in two years at Arizona State and recorded three interceptions to go with 130 tackles.
The best of the rookie group may be Gideon, who was a four-year starter at Texas and had 276 tackles and 10 interceptions to go with 20 passes defensed, two sacks, two forced fumbles and fumble recoveries and a blocked punt.
Specialists
Jay Feely can still get it done.
Christian Petersen/Getty Images
K Jay Feely; P Ricky Schmitt; Dave Zastudil; LS Mike Leach.
Following a disastrous opening game against Seattle, where he missed three field goals, Feely missed only two the rest of the season. Entering his 12th season, Feely is still going strong.
Zastudil is entering his 11th season and should make the team following a season that saw him record a 45.2-yard gross average without a block. Schmitt is likely in camp to relieve the workload on Zastudil's knee and shoulder. Schmitt was signed as an undrafted rookie by the Cardinals in 2007, but has seen time with six different teams.
Leach comes into his 13th year as one of the league's better long snappers. This will be his fourth season with the Cardinals.
Keep Reading

Arizona Cardinals: Like this team?