NHL Free Agency: 3 Goal Scorers the Boston Bruins Should Still Pursue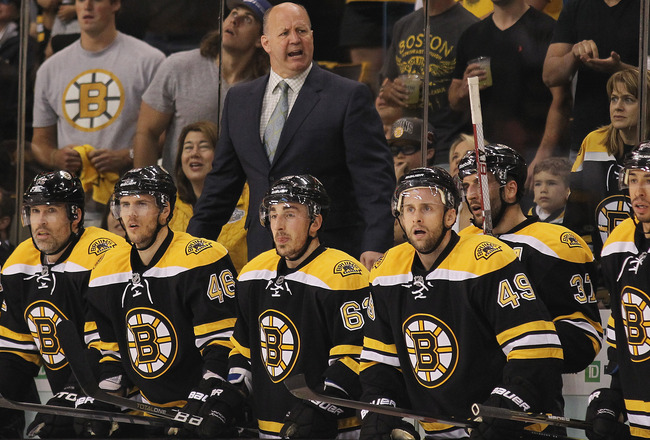 Bruce Bennett/Getty Images
After watching the New York Rangers acquire superstar winger Rick Nash on Monday in a major trade, Boston Bruins fans are starting to become frustrated with their team's lack of aggressiveness in the trade and free-agent markets this summer.
During Tuesday's press conference to announce the team had signed head coach Claude Julien to a contract extension, Bruins general manager Peter Chiarelli talked about some of the moves his team's rivals have been making.
"And we got some things that we may do at a later point, we may wait until later this season. We're not standing still. And with the Weber thing, the Nash thing, those are things that we certainly don't ignore – we don't react right away – but we certainly don't ignore."
Let's look at three goalscorers that Chiarelli should pursue in free agency to give his team more depth and offensive talent.
All quotes obtained from the Bruins media website.
Andrew Brunette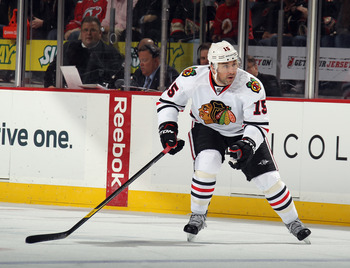 Bruce Bennett/Getty Images
Andrew Brunette is a veteran winger who would add some goalscoring and impressive playoff experience to the Bruins' roster.
He could fill the Bruins' need for a third line winger and would also be a leader in the locker room. Before last year, Brunette scored at least 18 goals in six-straight seasons. Brunette scored 12 goals last season for the Chicago Blackhawks which wasn't too impressive, but he didn't play a huge role in their offense.
He would have more of an opportunity to shine offensively in Boston. He had a salary cap hit of $2 million last season, and wouldn't be an expensive addition to the Bruins' roster. In 49 career playoff games, Brunette has scored 17 goals with 18 assists.
Andrei Kostitsyn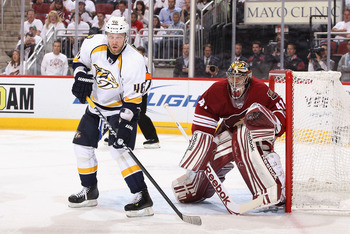 Christian Petersen/Getty Images
Bruins fans should be quite familiar with Andrei Kostitsyn, who spent about six and a half seasons with the Montreal Canadiens before joining his brother Sergei in Nashville at the trade deadline last season.
Kostitsyn has a lot of offensive talent and has scored at least 15 goals in each of the past four seasons. Three times in his career, he has scored 20 or more goals in a season. He could play around 15 minutes per game and also help the Bruins' power play.
Kostitsyn's defense is not too impressive, but there are very few players left in free agency that can produce offensively like Kostitsyn. He's one of the top-five forwards left on the market.
Alexander Semin
For the first time this summer, I actually believe the Bruins should pursue Alexander Semin in free agency. Defense is certainly not a strength of his game, and there have been questions about his effort at times; but players can change.
It's entirely possible that free agency has humbled him a bit and that he would come to the Bruins or any team he signs with as a player looking to prove himself. Whenever you have a player with a chip on his shoulder, especially one with the unbelievable offensive talent that Semin has, it can be a real positive for your team.
While the Bruins wait for Tyler Seguin, Milan Lucic and Brad Marchand to reach their full potential, they should strongly pursue Semin to give them a goal scoring boost and a winger that can significantly improve the quality and consistency of the team's power play this season. He has averaged 31 goals per year over the past six seasons.
The Bruins have strong leadership in their dressing room from guys like Zdeno Chara, Shawn Thornton and Bergeron, so signing a player like Semin to a one-year deal isn't too much of a risk for Boston, especially when there's a chance he could shine offensively.
Keep Reading

Boston Bruins: Like this team?