USA vs. Spain: Live Score, Stats and Analysis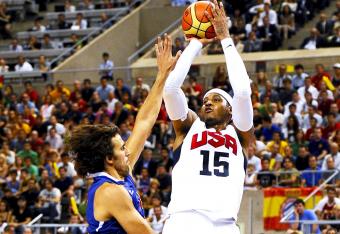 Today is the toughest exhibition test for the boys in red, white and blue as they face off with the Gasol Brothers, Serge Ibaka, Rudy Fernandez and a host of former and future NBA players this afternoon against Spain in their final test before the Olympics.
Keep checking here for live scores, statistics and analysis as the game gets underway.
A few quick observations from this game:
First, the US did an amazing job of overcoming Spain's good perimeter defense with superior ball movement and unselfishness. This team realizes that a win with Team USA is a win for everyone, while a loss gets them derision from everyone. Individual success is meaningless.
Second, this game is probably meaningless in the long run, and when (fine, I'll say if) these two teams meet in the Gold Medal Game, it's going to be much different. Spain seemed fine running the pick-and-roll exclusively and shooting threes, not showing too much of what they'll do once Marc Gasol re-joins the team.
Finally, Anthony Davis has earned some playing time, even if it's just a few meaningful minutes at the end of the first and second quarter. Davis played the fewest minutes of any player on the US squad, but he led the team with five blocks in the five exhibition games, and Davis only played in five games.
This US team doesn't look like they'll be one to beat themselves, but anything is possible I suppose.
Until next time, B/R readers.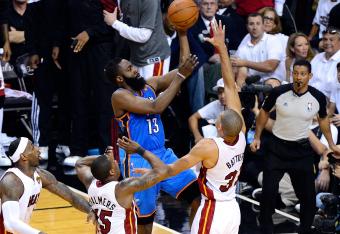 James Harden pulls up and sinks a three in traffic with a minute left to go, gets it back and hits another three to get the USA to triple digits. I wonder if everyone gets free corn dogs for the 100 point game in Barcelona?
USA 100, Spain 78.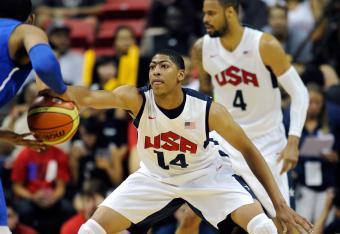 A shot from Navarro is sent back by the big paws of Anthony Davis and then keeps Gasol from getting close to the rim. Get this man more minutes.
Each team looks ready to just run the clock down and get the Olympics started.
USA 94, Spain 74.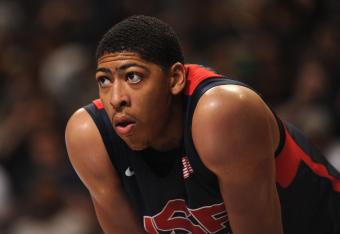 Aaaand I spoke too soon, Davis comes in after LeBron gets fouled, sinking two free throws.
USA 94, Spain 74.
Time is winding down as chances look worse and worse for us to see a bit of Anthony Davis.
At least we get to see LeBron James pull up and hit daggers from downtown like he does so well.
USA 92, Spain 74.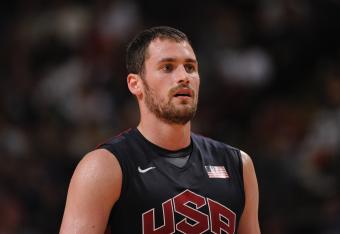 Kevin Love goes baseline, spins past Pau Gasol and elicits oohs from the crowd.
Gasol gets him back with the same move and on the other end.
USA 86, Spain 69.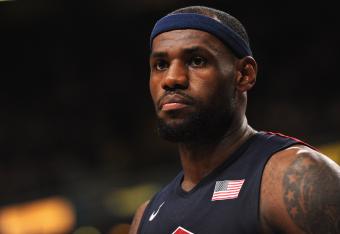 After calling everything in the third quarter, the refs seem to want to get home, letting everything everything go as Kevin Love gets bowled over.
LeBron gets yet another easy dunk in transition and it seems like nothing can slow this team down.
This is basically how LeBron is reacting to people speculating that the US team might get beat at this point.
USA 84, Spain 67.
Tyson Chandler gets his fifth foul and gets a trip to pine-town. What an extremely disappointing showing from Chandler tonight.
Felipe Reyes puts in an easy two for spain, but fouls Kobe on the other end. Kobe makes both shots.
USA 80, Spain 65.
LeBron hits a turnaround, fade-away jumper, but we're all still waiting to see his unblockable shot.
USA 78, Spain 63.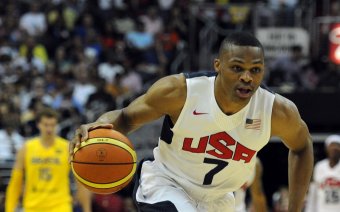 Patrick Smith/Getty Images
My word Russell Westbrook is fast.
That's it for the third quarter, US finishes it up by 15.
USA 74, Spain 59.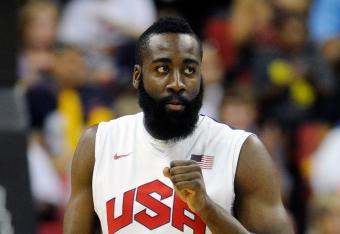 Rudy Fernandez coughs the ball up with a chance to cut the lead to 10 points and James Harden gets to the line on the other end, making one of two, followed by a Carmelo put-back.
USA 74, Spain 59.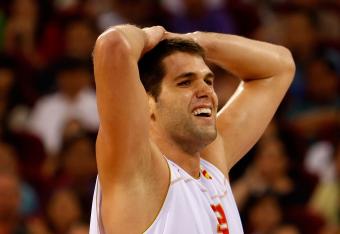 Two free throws go down for Rudy Fernandez. Is it just me or does that seem like the first time a team has made both free throws.
Felipe Reyes puts in another easy shot to break the lead down to 12.
USA 71, Spain 59.
With the big differential in this game I'd be shocked if we don't see Anthony Davis come into this one during the fourth quarter.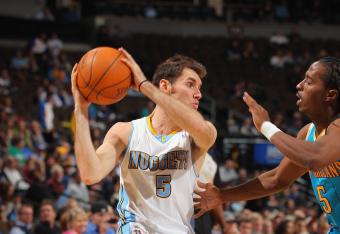 The US has broken down a bit on both ends of the floor here and there in the third, but to no real detriment as they're still up big as Carmelo Anthony ekes in a lay-up.
Spain responds with a Rudy Fernandez transition basket.
USA 71, Spain 55.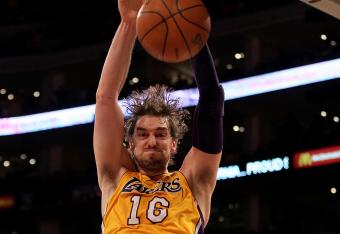 Chaos leads to a Pau Gasol lay-in and a foul on Kevin Love as USA's defense has broken down for a few straight possessions. Gasol makes the free throw.
USA 69, Spain 52.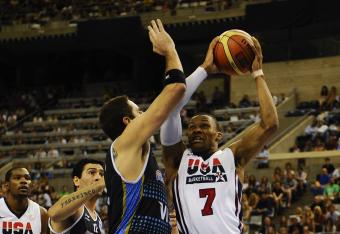 Russell Westbrook with a drive to the lane, puts down the shot and the foul. Russ makes the free throw then goes on defense, pokes the ball free and gets himself an easy dunk.
USA 69, Spain 48.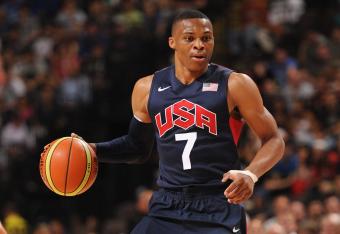 Serge Ibaka goes to the line and continues to show each team's struggles from the free throw line, but Rudy Fernandez gets fouled on the jostling for his rebound, making one of two.
Russell Westbrook goes to the other end and gets his first two points of the game.
USA 64, Spain 48.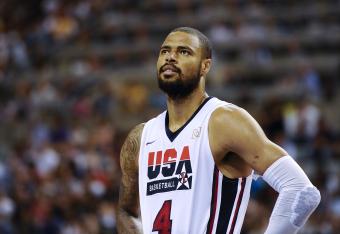 Tyson Chandler is coming back in, let's see how he handles himself with three fouls and if he can slow down the big guys of Spain.
LeBron gets the ball on the fast break for an easy dunk to push the US to their biggest lead of the game.
USA 62, Spain 47.
Kevin Durant gets a feed from Chris Paul and the US gets another easy two in the paint as Spain's interior defense begins to break down.
Pau Gasol gets fouled on the other end and knocks down one of two. Both teams are struggling from the line in this one.
USA 60, Spain 47.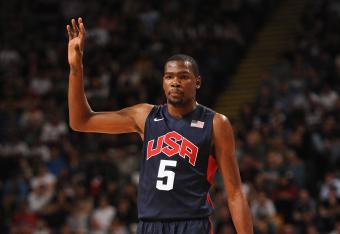 Lebron answers the iffy foul call with a thunderous dunk to get two points for the US.
Spain goes down and the US lets Calderon sneak down low for an easy lay-in, but Durant gets another three for the US.
USA 58, Spain 46.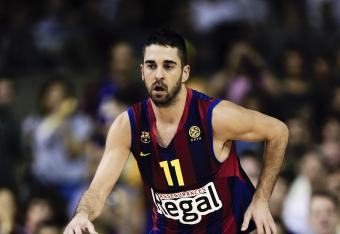 LeBron picks up his third foul as the US goes on transition, giving the ball back to Spain leading to a long lay-in for JC Navarro.
USA 53, Spain 44.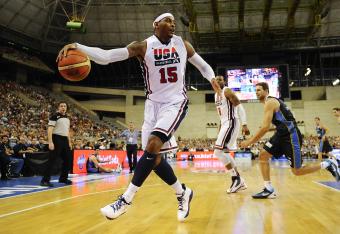 It's amazing that LeBron James, Kobe Bryant and Kevin Durant can go the first half without scoring much but the US team still has Carmelo Anthony to take on the scoring load.
The third quarter starts with the US trading a Durant three for a Spanish two.
USA 51, Spain 42.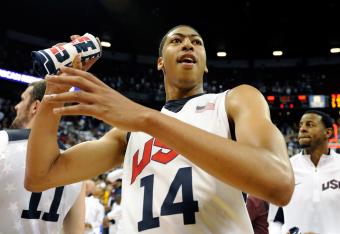 I'd like to see some Anthony Davis in the second half if only to see if he can slow down Ibaka with Chandler on the bench.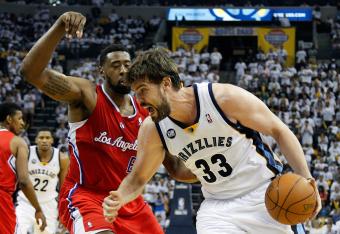 Spain has been playing defense well, but it's obvious they're having troubles with rotating well and running around chasing the ball when the US goes from iso ball to playing an actual offense.
Meanwhile, the US has done terrible trying to match-up with Serge Ibaka with Tyson Chandler in foul trouble. It's troubling to think how well Spain would be doing in the post if Marc Gasol were in the game.
This article is
What is the duplicate article?
Why is this article offensive?
Where is this article plagiarized from?
Why is this article poorly edited?