US Olympic Men's Gymnastics Team 2012: Roster, Top Contenders & More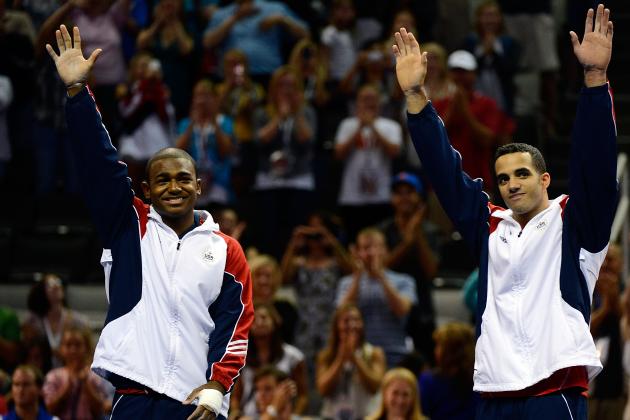 Ronald Martinez/Getty Images

The women may have landed a spot on the cover of Sports Illustrated, but America's best male gymnasts enter the 2012 London Olympics with just as much bold-ink intrigue.
Fortified with youth, talent and uncommon depth, the U.S. men's gymnastics team could have its most successful showing ever at a fully-attended Summer Games.
With that tantalizing possibility as our backdrop, let's take a look at the men slated to represent Team USA this summer.
Begin Slideshow

»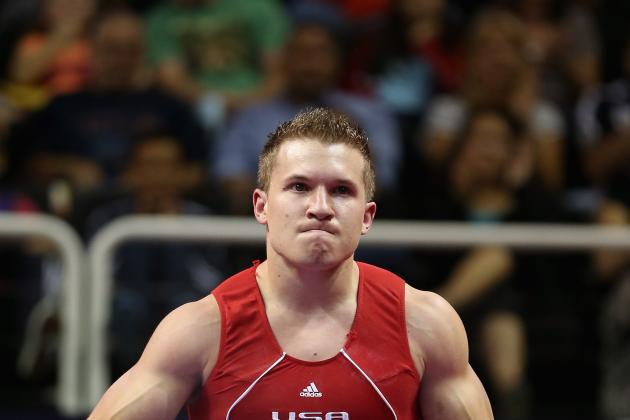 Ezra Shaw/Getty Images

Jonathan Horton (26, Houston, TX)
Horton is the only American gymnast—male of female—with prior Olympic experience. With two more medals, Horton would tie Mitch Gaylord as the most decorated American male gymnast of the modern era (excludes 1904 Games).
Jake Dalton (20, Norman, OK)
Dalton leads the way on vault and floor exercise.
Danell Leyva (20, Homestead, FL)
America's best all-arounder is also a threat to win individual medals on parallel bars and high bar.
Sam Mikulak (19, Ann Arbor, MI)
Mikulak looked like the breakout star of U.S. Trials before re-aggravating his troublesome left ankle. If healthy, he's a major player on vault, pommel horse and, potentially, in the all-around.
John Orozco (19, Colorado Springs, CO)
Though he doesn't wow on any one apparatus, the Bronx native is a solid all-arounder who may well hold the keys to USA's medal hopes in the team competition.
Alternates
Chris Brooks (25, Houston, TX)
Steven Legendre (23, Norman, OK)
Alex Naddour (21, Glibert, AZ)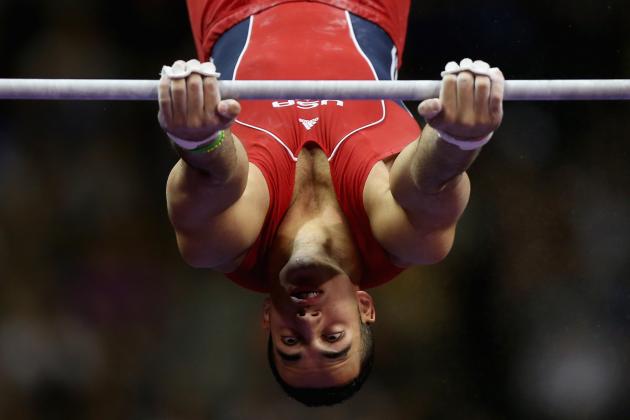 Ezra Shaw/Getty Images

Danell Leyva: Levya has the best individual medal prospects of any American gymnast in London. He's a contender to medal in the all-around and could challenge for gold in the parallel bars and high bars. On the latter apparatus, Leyva's penchant for risk-taking gives his routine the feel of a high-wire circus act. Win or lose, the Cuban-born daredevil makes for fantastic television.
John Orozco: The team's youngest member finished fifth at 2011 Worlds in the all-around, surprising more than a few observers with his consistency and maturity. Nicknamed "Silent Ninja" for his smooth movements and the stealth efficiency with which he racks up points, Orozco could enter the individual all-around medal picture if gymnasts in front of him stumble.
Jonathan Horton: You can never count out the veteran, and Horton is still Team USA's best threat on rings. An individual medal is unlikely, but Horton has the kind of trophy case that says, "Don't doubt me."
Kiyoshi Ota/Getty Images

China: The defending Olympic and world champions are favored to win a second consecutive gold, though not with as much ease as they did four years ago. Without a master all-arounder to lead them, Team China will rely on its depth. The Chinese have elite performers on high bar (Zou Kai and Zhang Chenglong), rings (Chen Yibing) and floor exercise (Zou Kai).
Japan: Led by Kohei Uchimura, an overwhelming favorite in the individual all-around, Japan has the best chance of unseating China as Olympic champion. Though the Japanese don't have as many individual apparatus contenders as the Chinese, Uchimura is like a one-man band-aid for the team's lack of specialists.
Russia: Don't be surprised if the battle for a team bronze comes down to Russia and Team USA. The Russians are led by David Belyvasky, their best all-arounder, and three-event threat Denis Ablyazin. Of note: The loss of Olympic veteran Anton Golotsutskov to a herniated disc could hurt Team Russia on vault.
Great Britain: While the Brits don't have much in the way of gymnastics pedigree, it seems the program may be cresting just in time for a home Olympics breakthrough. Beijing pommel horse bronze medalist Louis Smith—the first Brit to win an individual gymnastics medal since 1908—is back for a second run and will be joined by all-around medal threat Daniel Purvis.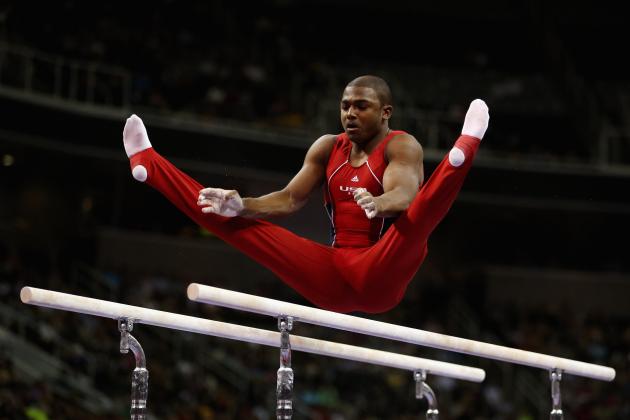 Ezra Shaw/Getty Images

— In the past year alone, John Orozco has starred in a Gym Class Heroes music video and a PSA with First Lady Michelle Obama.
— Danell Leyva's step father and coach, Yin Alvarez, tends to get a little bit excited when his son performs (video note: Alvarez is the guy in the red shirt).
— Danell Leyva wants to win an Emmy, Oscar, Grammy and Tony after his gymnastics career. Hey, if Tracy Jordan can do it…
— Jonathan Horton, like many gymnasts, uses honey to aid his grip. Unlike other gymnasts, Horton snacks on said honey during practice to regulate his blood sugar.
— Born in Cuba, Danell Leyva defected to Peru, Venezuela and then South Florida, all while he was still in diapers. His mother and stepfather were both members of the Cuban national gymnastics team.
— At least the oft-injured Sam Mikulak doesn't need to go far for a professional consultation. His father, Stephen, is an orthopedic surgeon.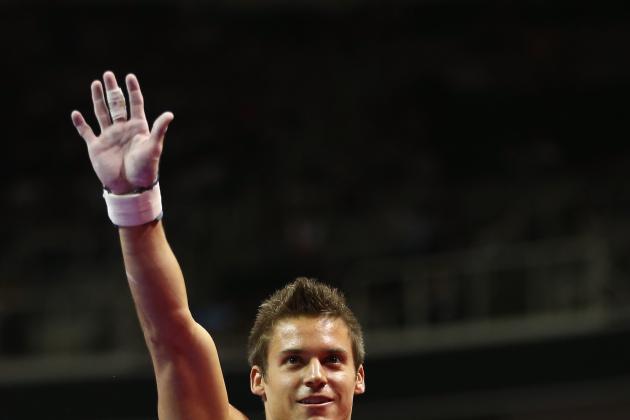 Ezra Shaw/Getty Images

Medals Won: 62 (22 gold, 21 silver, 19 bronze)
Interesting Fact: All but eight of the 119 gymnasts at the 1904 St. Louis Olympics represented America.
Most recent Olympic title in…
Team Competition: 1984
Individual All-Around: 2004 (Paul Hamm)
Floor Exercise: None (bronze for Peter Kormann in 1976)
High Bar: 1992 (Trent Dimas)
Parallel Bars: 1984 (Bart Conner)
Pommel Horse: 1984 (Peter Vidmar)
Rings: 1932 (George Gulack)
Vault: 1924 (Frank Kriz)