Hunter Pence Trade Rumors: 6 Teams That Should View Him as Market's Top OF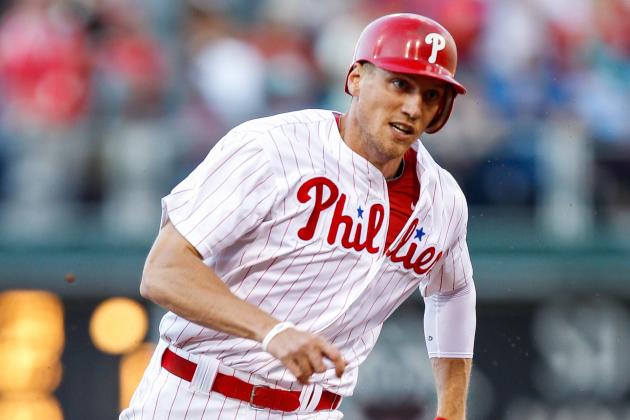 Brian Garfinkel/Getty Images
Hunter Pence leads the Phillies in RBI with 57.
As we head toward the end of July, the Philadelphia Phillies are 11 games under .500 and 14 games behind the Washington Nationals in the NL East. Last place is getting comfortable for them (though the Miami Marlins will probably give them a run).
With a playoff bid all but out of reach now, the Phillies have a decision to make about whether or not to sell some of their veteran players off at the trade deadline. Judging from the trade buzz around baseball, general manager Ruben Amaro Jr. is calling around to see which players he might be able to move. However, the Phillies haven't quite decided to call it a season yet.
Cole Hamels and Shane Victorino are drawing the most interest as we approach the July 31 trade deadline. Amaro is still looking for the right deal, but if another team is willing to exchange what he's looking for, both players should be in other uniforms by the end of the month.
But what about Hunter Pence? His name doesn't get mentioned as heavily in trade rumors, but he might actually draw more interest from teams, being under contract through 2013. ESPN's Jayson Stark and the Philadelphia Inquirer's Matt Gelb have both suggested that Pence would yield the most value in a potential trade.
According to Fox Sports' Ken Rosenthal, the Phillies agree and are now letting other teams know that they're willing to trade Pence.
Which contenders would regard Pence the most highly? Who could he help the most?
Here are six teams that should keep checking in with the Phillies to see if Pence is available.
Begin Slideshow

»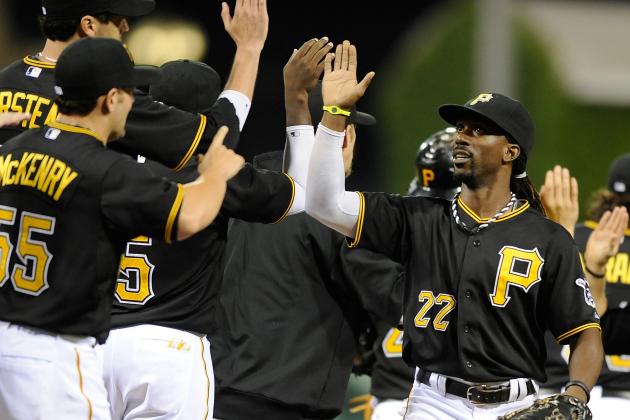 Joe Sargent/Getty Images

Stark already mentioned the Bucs as the team that could make the biggest run at Pence if he becomes available.
Pittsburgh has been looking for a power-hitting corner outfielder ever since becoming a playoff contender.
Carlos Quentin and Justin Upton have previously been attached to the Pirates in trade rumors.
Right field in Pittsburgh is sitting there waiting for Pence. The Pirates are practically wiping the seat clean for him, setting his favorite beverage alongside the chair.
Pence could bat behind Andrew McCutchen in the cleanup spot, providing protection for the NL MVP frontrunner. Or if Clint Hurdle prefers to go right-left-right, Pence could bat fifth behind Garrett Jones (Jones would have to move to first base).
With one more arbitration season, Pence would be in Pittsburgh through 2013, giving the Pirates an opportunity to not only build a playoff contender this season but help form a core that could establish an NL Central power next year.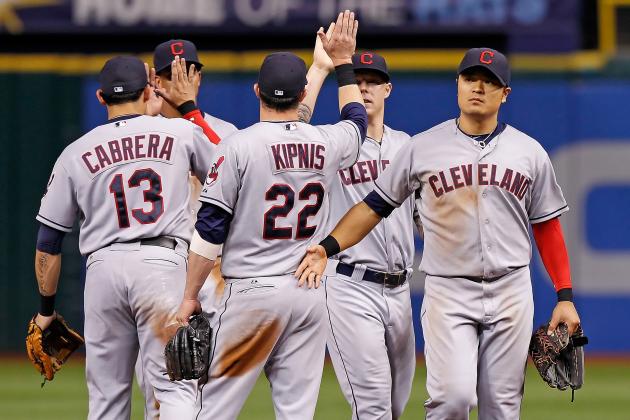 J. Meric/Getty Images

The Tribe needs a corner outfield or infield bat to stay competitive with the Tigers and White Sox in the AL Central.
Pence might not be as ideal a fit as with the Pirates, since he's mostly played right field throughout his career and Shin-Soo Choo mans that position well already.
During his rookie season, Pence played some center field but has been a right fielder for the past five seasons. Besides, the Indians won't—and shouldn't—move Michael Brantley out of center.
Could Choo move over to left to accommodate Pence? He hasn't played there since 2009.
Neither Pence nor Choo is playing great defense this season, according to Fangraphs' UZR, so moving Choo to left field arguably wouldn't hurt Cleveland's outfield defense.
And if it did, Pence would compensate by improving the team's offense. The Indians should find a way to make this work.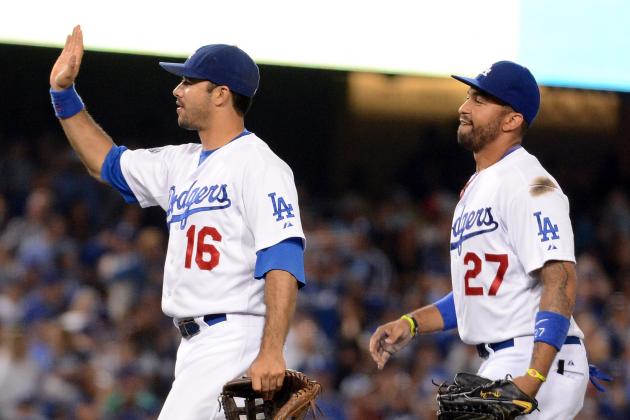 Harry How/Getty Images

As with the Indians, Pence might not be an ideal fit in the Dodgers' outfield.
Andre Ethier is the Dodgers' second-best offensive threat and is playing good defense in right field this season.
Ethier has experience in left field but hasn't played there since 2008.
Again, whatever the Dodgers might lose in outfield defense, they'd gain on offense. Pence would fit nicely in the No. 5 spot for the Dodgers, giving them Matt Kemp, Ethier and Pence in the middle of their order through 2013.
Pence's contract situation would also be more appealing to Dodgers general manager Ned Colletti, who's shown reluctance to trade top prospects for players that will become free agents after the season.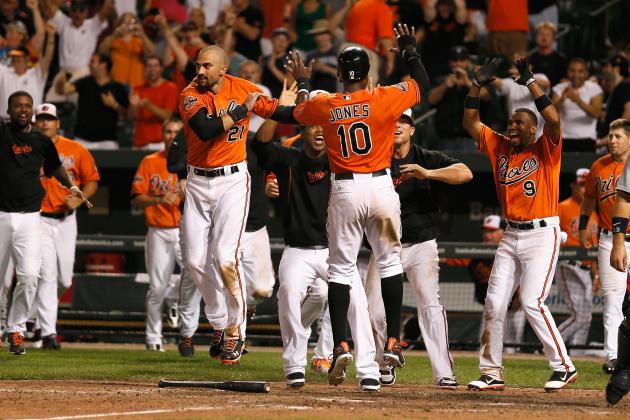 Rob Carr/Getty Images

Yet again, we appear to have a team with an established right fielder that might not be too keen on moving to accommodate Pence.
Nick Markakis has played some left field in his career, but not since his rookie season.
And even then, he only played 26 games at the position.
If Markakis was willing to make the move to left, Pence would fit nicely into the Orioles' batting order, especially now that manager Buck Showalter has been batting Markakis in the leadoff spot.
Pence could bat in the No. 6 spot behind Matt Wieters in the middle of the lineup.
Or if Showalter wanted to be bolder, he could bat Pence No. 2, giving the O's some pop at the top of the order. Then Baltimore would have a nice left-right-left combination with Markakis, Pence and Jim Thome as its first three batters.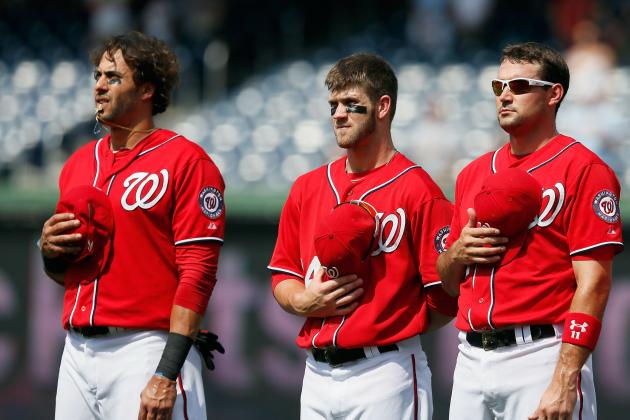 Rob Carr/Getty Images

Davey Johnson doesn't think the Nationals need to make a big trade.
However, with the team already featuring outstanding pitching in the starting rotation and bullpen, the Nats' chances of winning the NL East and making a run in the postseason would greatly improve with a stronger offense.
Right field would be available for Pence, pending the possible return of Jayson Werth this season.
That would create an issue next season, as the Nationals would have a logjam of outfielders. Someone would have to be traded.
In the meantime, however, Michael Morse could play left field with Bryce Harper in center. Pence could fit nicely in the Nats' cleanup spot, batting between Ryan Zimmerman and Morse.
That would push Adam LaRoche down to the No. 6 spot, giving the Nationals a deeper lineup for opposing pitching staffs to face.
This would be an "all-in" move for the Nats. Given the opportunity available for them, it's one they should strongly consider making.
Jason O. Watson/Getty Images

The Giants already made a big trade for a right fielder last year, one that cost them top pitching prospect Zack Wheeler.
Yet if Giants GM Brian Sabean were to make a similar deal this season, at least he'd have Pence around for one more season after this one, making a trade less of a gamble.
Nate Schierholtz could be included in a trade with the Phillies, clearing a spot for Pence. Gregor Blanco could then become a reserve outfielder, pinch-runner and late-inning defensive replacement, which is probably what he should be anyway.
Pence could fit into the lineup after Pablo Sandoval in the fifth or sixth spot, giving the Giants a right-left-right combination for opposing pitching staffs to deal with throughout the game, but especially in later innings.
If only Pence was a leadoff hitter. Then he'd be an absolutely perfect fit for the Giants.
Follow @iancass on Twitter