Would Dwight Howard Make the Los Angeles Lakers Unstoppable?
Chris Graythen/Getty Images
The privilege of playing alongside fellow NBA All-Stars has been a rare and fleeting privilege in the superstar career of Dwight Howard. It's happened once for Howard—in 2009, when Rashard Lewis and Jameer Nelson were picked to play in Phoenix.
Coincidentally (or not), that was the same year that Howard lifted the Orlando Magic to the NBA Finals, wherein they fell to the Los Angeles Lakers in five games.
Those same Lakers who've ranked among the suitors hardest after Howard since his trade demands first surfaced last fall. Those same Lakers who currently boast four All-Star-caliber players on their roster—Kobe Bryant, Steve Nash, Pau Gasol and Andrew Bynum—but could use one of Superman's particular talents to shore up their next dynastic run.
Of course, any team could use Howard. He's one of the two or three most valuable players in the league, and has been for the last six years or so, at the very least.
Statistically speaking, he's a virtual lock for a double-double on any given night, if not the 20-point, 13-rebound output he's averaged in four of his last five seasons. He doesn't need the ball in his hands to pump out numbers like that either; he's converted 57.7 percent of his career field goals and does much of his offensive work on put-backs, alley-oops and quick passes into the post.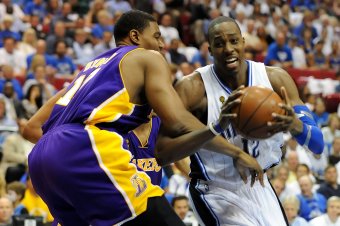 Ronald Martinez/Getty Images
Truth be told, the Lakers already have an All-Star center who's capable of putting up numbers like those. His name is Andrew Bynum, he's more skilled offensively than is Howard and he averaged just under 19 and 12 last season.
Then again, that was Bynum's first supremely productive campaign, whereas Howard's been stuffing stat sheets galore for the better part of a decade.
More importantly, Dwight brings a consistent energy and presence to the floor that 'Drew doesn't. For all the criticism Howard took (and deservedly so) for throwing his teammates under the bus and hijacking the Magic's 2011-12 season with trade requests made and rescinded, it's easy to forget the fact that he still averaged 20.6 points, a career-high 14.5 rebounds and 2.1 blocks while earning his fourth consecutive selection to the All-NBA and All-Defensive first teams.
Which is to say, Howard brought it almost every night, even with back problems and without his heart in it during a lockout-compressed schedule. All the while, he put the Magic in position to qualify for the playoffs for the sixth year running before undergoing season-ending surgery on his back in April.
Surely, a player of Howard's elite talent could and would perform to an even higher standard in a situation he doesn't resent, while surrounded with top-tier talent. He's never played with even one perennial All-Star, let alone three, like the Lakers would have if they were to sacrifice Bynum in a deal for Howard.
A worthy sacrifice, to be sure. Bynum is younger (by two years) and both have significant health concerns (i.e. Bynum's knees, Howard's back).
But whereas Bynum's effort waxes and wanes without rhyme or reason, particularly on the defensive end, Howard is as dependently dominant a center as there is on the planet.
And defense, as it happens, is precisely where LA needs the biggest boost. According to Team Rankings, the Lakers dropped from sixth in defensive efficiency in 2010-11 to 17th in 2011-12, even though the actual numbers involved shifted only marginally.
Still, the prospect of starting over with a new head coach, in Mike Brown, amidst roster uncertainty in a lockout-shortened season didn't help matters on that end. Neither did Bynum's enigmatic play, Kobe's aging, Metta World Peace's lack of fitness and the revolving door at point guard that saw Derek Fisher, Steve Blake and Ramon Sessions all struggle to defend their position.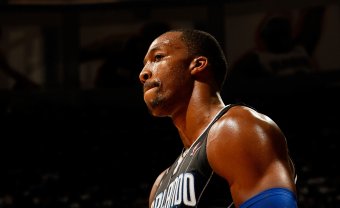 Kevin C. Cox/Getty Images
Howard doesn't and wouldn't change all of that by himself, though his mere presence would be enough to reshape the Lakers' on-court dynamic, most notably on the defensive end. To say that Howard is a superior defender to Bynum is something of an understatement, to which Dwight's three Defensive Player of the Year awards and five All-Defensive honors will attest. Bynum is certainly big enough, tall enough and long enough to bother and block shots, but has yet to show the sort of commitment to doing so (not to mention the requisite skill and timing) that's made Howard the most intimidating interior force of his generation.
Schematically, having a help defender of Howard's repute would allow the Lakers' perimeter players to apply more on-ball pressure and gamble for turnovers away from the basket, with Howard waiting at the rim to send back those who sneak by.
Which is bound to happen anyway, considering that Kobe is no longer the athletic, lockdown defender he once was and that Nash has never been in that category. That being said, both of LA's starting guards are smart and savvy enough to understand how to play the angles on defense and how best to funnel opposing players to a shot-blocker like Howard behind them.
Thanks to the dearth of offensively competent big men in today's NBA, Howard would likely have the luxury of committing himself to help defense on most nights, aside from those spent against scoring centers like Bynum and Brook Lopez.
Not that Howard isn't an offensive threat himself. You won't see him launching three-pointers like certain purple-and-gold-clad centers, though folks in Lakerland can certainly live with that, especially if Howard's proficient enough with his jump hook.
But where Howard might really shine is in the two-man game. Bryant, Nash and Gasol are all more than capable of playing pick-and-roll basketball with another big. Howard, too, has long been rumored to have affections for teaming up with a point guard like Nash, who's made stars out of powerful finishers like Amar'e Stoudemire and Marcin Gortat while turning the pick-and-roll into an art form over the years.
Don't forget, either, about Pau's proficiency as a passer and facilitator up front. He and Bynum were known to throw lobs to one another on a nightly basis, thereby helping the Lakers to outpace the "Lob City" Clippers in that very category last season.
In either case, it'd be fair to expect Howard—with his superhero-like leaping ability—to be a reliable finisher on the "oop" end of "alleys", as he has been for so long in Orlando.
In the grand scheme of things, it'd be difficult to imagine the Lakers simply running away and hiding from the rest of the NBA, even if they were to snag Howard from the Magic. To be sure, Las Vegas would probably install them as the odds-on favorites to lift the Larry O'Brien Trophy in 2013 should GM Mitch Kupchak pull off yet another blockbuster move.
Where will Dwight Howard be when the season starts?
That being said, they'll still have to contend with the ever-maturing Oklahoma City Thunder, the upgraded Clippers and the still-intact San Antonio Spurs and Memphis Grizzlies in the Western Conference alone. Not to mention the defending-champion Miami Heat (with Ray Allen coming off the bench), the reloaded Boston Celtics and the new-look Brooklyn Nets, among others, in the Eastern Conference.
For their own part, the Lakers would boast the best starting five in the league, but could still use some help for a bench that's still dangerously thin beyond Steve Blake, Jordan Hill and newcomer Antawn Jamison.
Nevertheless, just about any trade that lands Dwight Howard in purple and gold would put the Lakers front-and-center in the championship conversation, even in a league as loaded as the NBA is at present.
Whether Superman actually gets to team up with his Super Friends in LA this season (or in any other) is another story entirely.
This article is
What is the duplicate article?
Why is this article offensive?
Where is this article plagiarized from?
Why is this article poorly edited?

Los Angeles Lakers: Like this team?