Olympic Gymnastics 2012: Breaking Down the Biggest Hopefuls in Every Event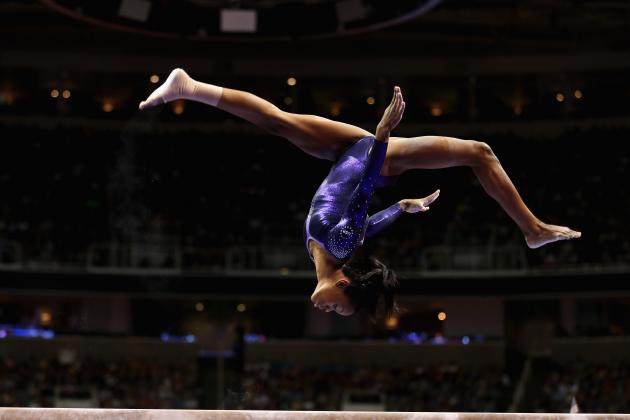 Ezra Shaw/Getty Images
Gabby Douglas will look to maintain the U.S. women's success in Olympic gymnastics.
The 2012 London Olympics signals the return of gymnastics back into the global spotlight.
Four years ago, Nastia Liukin and Shawn Johnson captivated audiences by winning five and four medals, respectvely, for the United States at Beijing. Now that Johnson retired and Liukin failed to qualify after falling during Olympic trials, the door is open for new names to steal the show.
An exciting cast of competitors are set to undergo fierce battles for medals in all 14 gymnastic category. Well, this is gymnastics, so probably more graceful than fierce.
Here are some athletes poised to take home the gold in each event in the 2012 Olympics.
Begin Slideshow

»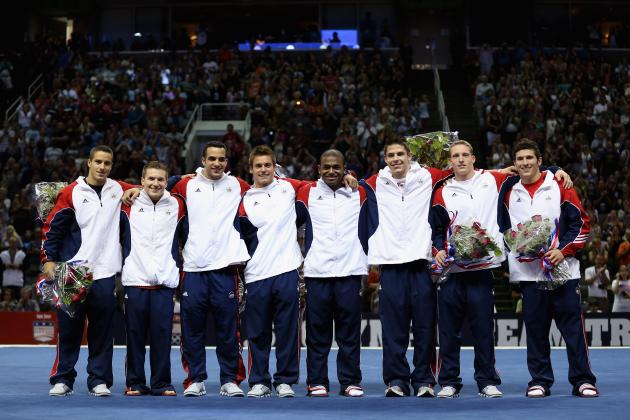 Ezra Shaw/Getty Images

The US emerged as a legitimate threat in men's gymnastics when they earned the bronze medal in 2008. They will face a tough, uphill battle to top China or Japan.
China ran away with the gold last time and can continue their stronghold over the sport by picking up gold again. While China will likely finish toward the top again, Japan could threaten their reign as No. 1 in men's gymnastics.
Led by Kohei Uchimura, a perennial favorite to win individual medals, Japan looks even stronger now and could challenge China for the top spot.
Despite a sub-par showing in Beijing, Russia still has a strong program that can at least battle the US for the bronze.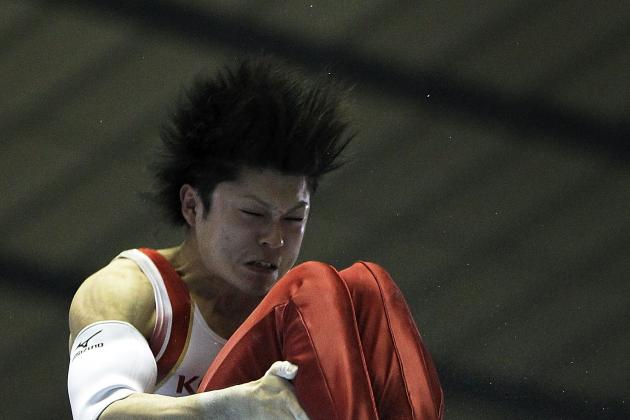 Kiyoshi Ota/Getty Images

This is Uchimura's event to lose.
Uchimura won silver during the 2008 Olympics, but gold-medal winner Yang Wei retired to pave the path for the Japanese star to dominate. The 23-year-old has let to lose anywhere since and might become one of the leading performers throughout this year's events.
Americans looking for an inspiring upset story can rally behind Danell Leyva, a 20-year-old looking to make his mark in London. Team USA also has hope in John Orozco, a 19-year-old who topped Levya in the US Olympic trail's all-around results.
Hannah Johnston/Getty Images

Yang Hak-Seon is a strong contender to secure a gold medal for South Korea in the men's vault. After winning the event at the 2011 World Artistic Gymnastics Championships, the 18-year-old can make a major splash during the Olympics.
Hak-Seon won ahead of Russian Anton Golotsutskov, who earned bronze at Beijing before moving up to second at the worlds. The experienced vaulter could maintain the trend and rise one spot higher.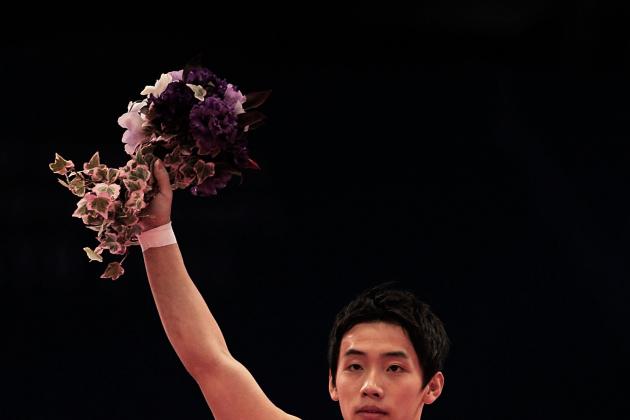 Adam Pretty/Getty Images

Among the men looking to fight off Uchimura is China's Zou Kai, who will return to secure his second consecutive gold medal in the floor exercise.
At 24, Kai is still young and in his prime. He's a solid bet to maintain his stranglehold over the event.
Alexander Shatilov will fight to make his native Israel proud as well. The 25-year-old claimed bronze in the event at the world championship last year and earned silver at the European Artistic Gymnastics Championships. Not a country particularly known for gymnastics, Israel will hope for Shatilov to bring home a medal.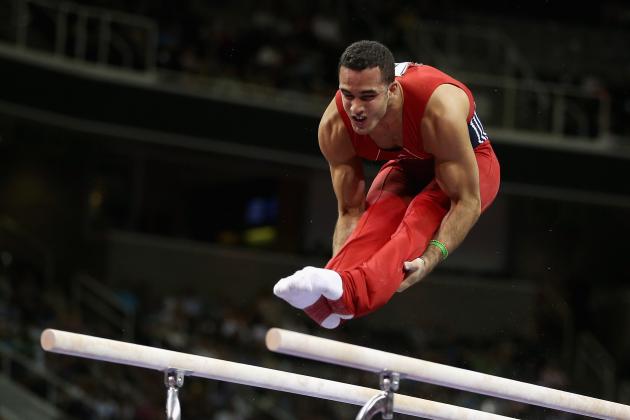 Ezra Shaw/Getty Images

Leyva excells at the parallel bars, having recently won the event by one-tenth of a point at last year's world championships. This could represent the U.S. men's best shot at nabbing a gold medal.
After losing by such a narrow margin, China's Zhang Chenglong will look for redemption on a worldwide stage. For Chenelong's sake, he needs to make sure the Olympic results are not parallel to last year's heartbreaking defeat.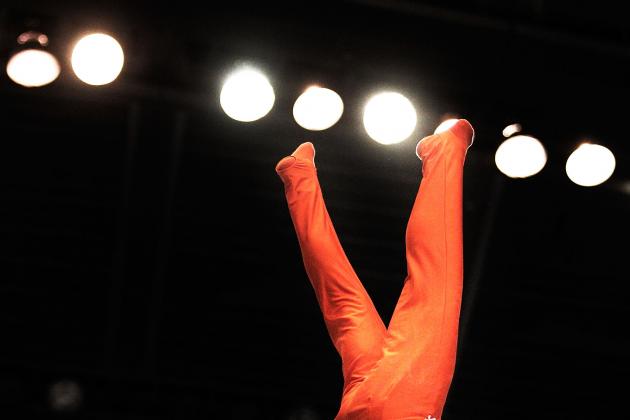 Adam Pretty/Getty Images

Kai and Chenglong will participate in the high bar as well, giving a China an endearing chance to snatch more medals.
Placing first in the event during the 2008 Olympics and 2011 world championships, Kai is the favorite to win again. Then again, Uchimura could top both of them to give Japan a major victory over China.
The Netherlands' Epke Zonderland, who won silver in the high bar during the 2010 world championships, could place in the event and possible pull off an upset.
Lintao Zhang/Getty Images

The rings are yet another event expected to be won by a Chinese participant.
Chen Yibing, who won the event at Beijing, might repeat the feat four years later. At age 27, which makes him a seasoned veteran for an Olympian, Yibing has already won the event four times in non-Olympic play.
The captain of China's male gymnastics team will likely extend his dominance on the rings and win his favorite event again.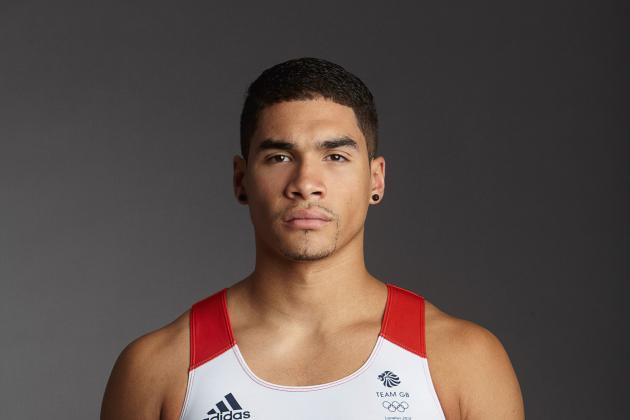 Handout/Getty Images

After China cleaned up in front of the home crowd in 2008, England would surely like to do the same.
Despite featuring a solid group, few English gymnasts display a strong opportunity to claim a medal in London. Louis Smith earned bronze at Beijing and will try to at least match that accomplishment with his fellow countrymen watching.
At this year's European Championships, Smith—the second black gymnast to win an Olympic medal—earned silver in the pommel horse.
Krisztian Berki of Hungary could stand in Smith's way of grabbing gold, but the coveted medal is more up in the air than most other events.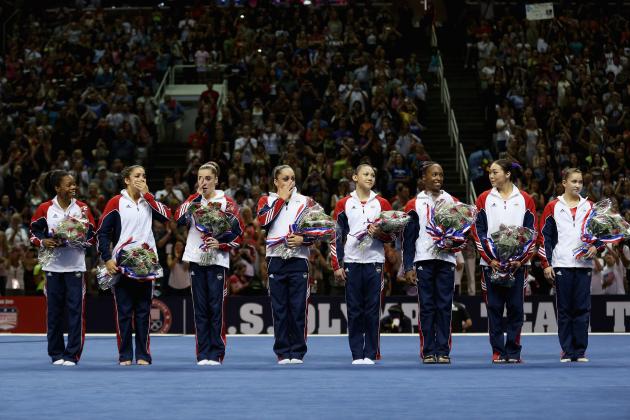 Ezra Shaw/Getty Images

Even without Johnson and Liukin, the US women enter the Olympics as favorites to snag the gold.
Led by Gabby Douglas and Jordyn Wieber, Team USA will look to upgrade their silver finish from 2008 and top China this time. After doing so at the 2011 world championships, their chances seem strong.
Russia also has an array of talented young athletes in their arsenal that can impact the London Olympics
Romania, who earned bronze at Beijing, should remain in the mix and perhaps even threaten top mainstay powerhouses. You can never count anything out, but the US seems ready to take the next leap and leave London with gold.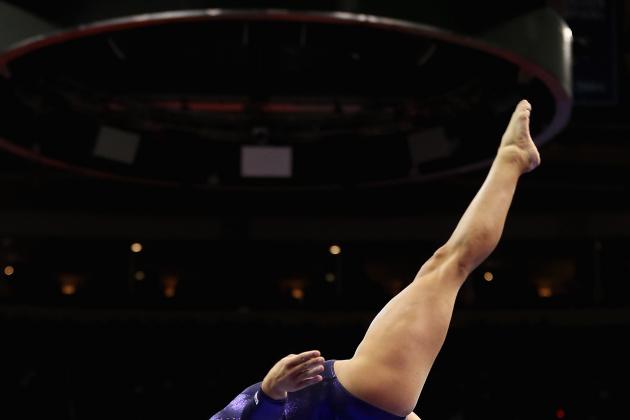 Ezra Shaw/Getty Images

A pair of 16-year-old Americans could match Johnson and Liukin's success from 2008.
Jordyn Wieber and Gabby Douglas can both enter the Olympic scene in grand fashion. Wieber, the all-around winner during the 2011 world championships, is rolling through the path to stardom.
Douglas, however, bested her teammate in Olympic trials and just might steal some attention away. Wieber and Douglas could finish in the top two like Liukin and Johnson did at Beijing.
They will have to fight off Russian Viktoria Komova. Also a teenager at age 17, Komova fell just shy of Wieber at the championships in Tokyo last year. A strong case can be made for any one of these three women winning the gold medal this summer.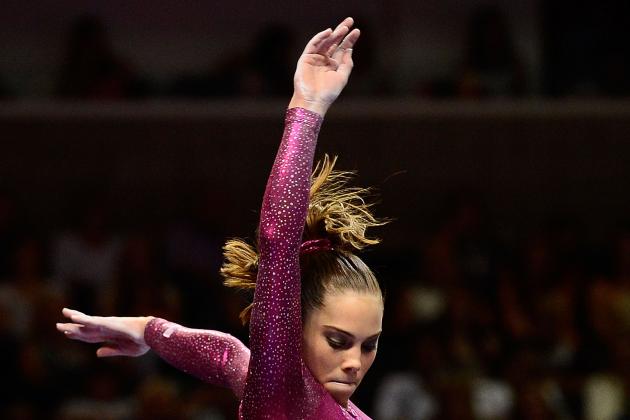 Ronald Martinez/Getty Images

Not to be outshined by Wieber and Douglas, McKayla Maroney will work to make her presence felt in the vault.
Maroney, yet another 16-year-old, has taken a penchant to this event. The reigning world champion enters the Olympics as the favorite and should meet the hype at London.
Oksana Chusovitina, who finished in second during 2008, could also finish with some hardware. As the old lady in the group, this could be the 37-year-old German's last opportunity to win a gold medal.
Jamie McDonald/Getty Images

Last year, the uneven bars featured an odd tiebreaker scenario between Liukin and China's He Kexin and Liukin. Neither of those competitors will return,and hopefully the new champion will not endure such a bizarre circumstance.
Komova hopes to take home a gold medal in the floor exercise after winning the competition during last year's worlds.
Russian Aliya Mustafina could threaten her teammate's quest for gold. Mustafina earned silver in the 2010 world championships before tearing her ACL and MCL the following year. She returned in March and quickly re-established herself with a strong showing at the Russian nationals.
Great Britain's own Beth Tweedle could push for a medal in London after finishing fourth during the 2008 Olympics. The 27-year-old winning at home would certainly provide a feel-good story for the sport.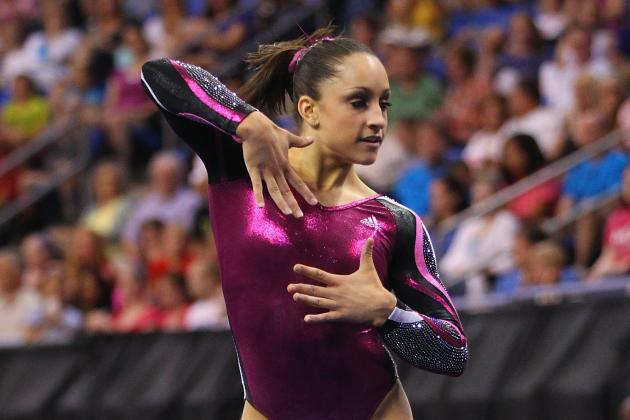 Dilip Vishwanat/Getty Images

Wieber did not particularly excel at the event at Tokyo last year, but she should still be considered one of the leading candidates to win the floor exercise.
Lauren Mitchell, who won the event at the 2010 worlds, could take the gold for Australia while Romanian Larisa Iordache is a dark horse to earn a spot on the podium.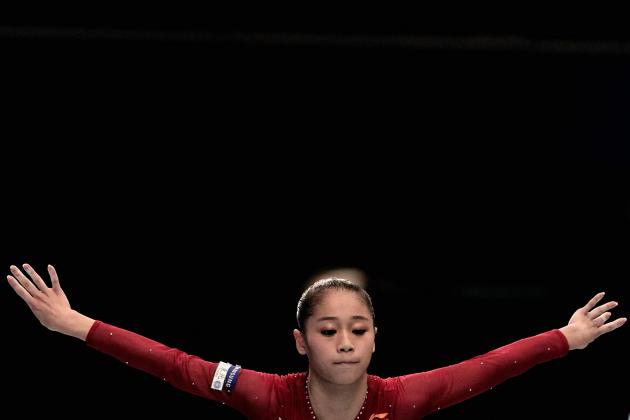 Lintao Zhang/Getty Images

As the current world champion in the competition, Sui Lu of China seemed primed to pick up the gold medal in London.
Lu, 20, is already one of her country's most polished performers and is a strong bet to win on the balance beams.
Yao Jinnan finished behind her at second place, but doesn't figure to pose a serious threat to her teammate. Wieber earned bronze and could rank in yet another event in her hopes of becoming the new face of US gymnastics.