St. Louis Rams 2012: The Pre-Training Camp Awards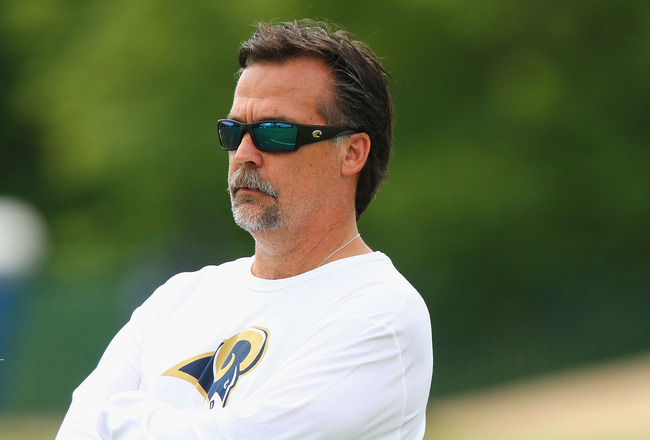 Dilip Vishwanat/Getty Images
St. Louis Rams' fans, the long wait is over.
With rookies getting ready to report, and the entire football team assembling by Saturday, we are finally ready to put the pads on and play some real football.
So before camp opens, and the hitting begins, let's make some predictions.
We've looked at the roster, broke down strengths and weaknesses and talked about all of the question marks the Rams have. This isn't a perfect roster by any means, but the Rams are going to be better. Today, I want to take the discussion a step further.
Today, let's break down the "pre-training camp awards." Let's take a look at who is going to be the MVP, the most improved player, the biggest disappointment, the best rookie, the top defensive player, and the top offensive player.
Feel free to agree or disagree with my picks. I just think it's fun to try to take a guess before we've actually seen these guys in pads.
Most Improved Player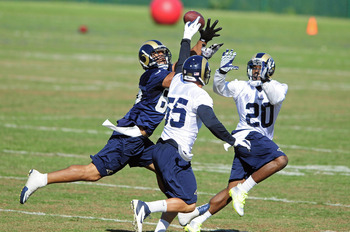 Jeff Curry-US PRESSWIRE
Lance Kendricks only caught 28 passes last season. As a second round pick who really tore it up in the preseason, this was a major letdown for most fans, including your's truly.
Now, with a season under his belt, and a normal offseason where he got to learn the offense, expect Kendricks to play much better.
The Rams are going to be a power running team. That means they could be a killer play action passing team, and Kendricks, with his elite athletic ability, could be a lethal weapon over the middle. Expect him to have a breakout season.
Most Pleasant Surprise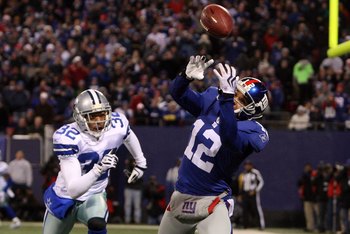 Jim McIsaac/Getty Images
Steve Smith led the NFL in receptions, and was the primary target for Eli Manning. Then he hurt his knee. Then he went to Philadelphia, where he wasn't fully recovered from his knee injury, and where the Eagles were absolutely loaded at receiver.
Smith is now almost two years removed from the injury. If he is healthy, he automatically becomes the most accomplished, most experienced receiver on the Rams' roster. If he's not healthy, this will probably be the end of his NFL career.
If he can't make a difference in the Rams' sorry passing game, then he's washed up. I'm betting that Smith proves he still has something left.
Top Offensive Player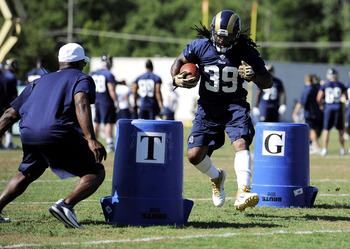 Jeff Curry-US PRESSWIRE
Steven Jackson had the best season of his career when Paul Boudreau was the offensive line coach for the St. Louis Rams back in 2006. Jeff Fisher loves to run the football. Offensive Coordinator Brian Schottenheimer orchestrated the New York Jets' "Ground and Pound" offense.
Add it all up, and you have a monster season in store for Steven Jackson. With Fisher in charge, Schottenheimer calling the plays, and Boudreau coaching the Rams' O-line again, expect Jackson to get the ball a lot, and expect the line to blow some serious holes open for him.
Top Defensive Player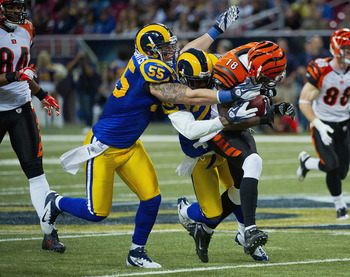 Scott Rovak-US PRESSWIRE
A great middle linebacker needs his defensive tackles to keep blockers off of him. Up to this point in his career, James Laurinaitis has played with very mediocre defensive tackles, but he has still managed to be a very good player.
With Michael Brockers and Kendall Langford now in the mix, expect Laurinaitis to take his game to another level. Brockers in particular, who is a mountain of a man, should make life easier on Laurinaitis.
The Rams have a terrific pass rush, and their secondary could be among the best in football. If Laurinaitis can help the Rams stop the run, this defense has a chance to be among the best in the NFL.
Biggest Disappointment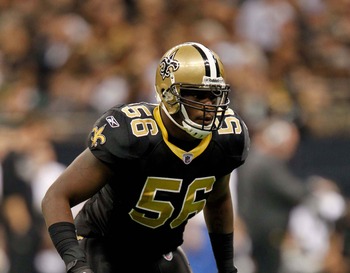 Derick E. Hingle-US PRESSWIRE
There's a reason the Saints let Jo Lonn Dunbar go. According to Pro Football Focus, Dunbar posted a truly unbelievable -25-5 rating last year. Dunbar has shown potential, but when you think about how poorly he played a year ago, it has to make you wonder about his long-term future in St. Louis.
Bottom line, Dunbar will be an upgrade over the sorry excuse for OLB's the Rams ran out there a year ago, but he is a stop-gap player. Dunbar won't play well enough this year to stop the Rams from drafting a starting OLB in next year's draft.
Best Rookie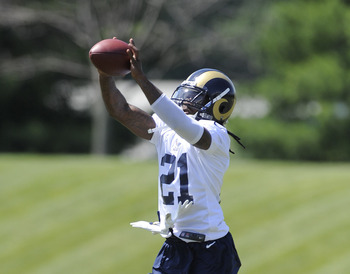 Jeff Curry-US PRESSWIRE
Janoris Jenkins has All-Pro talent, and he fills a serious team need at corner. That alone would be enough to make a big impact as a rookie. However, Jenkins also has the luxury of being able to fill the role of the No. 2 corner on this football team.
When the Rams signed Cortland Finnegan, they found their No. 1 corner. Finnegan is talented, physical, and nasty. He will lock horns with the opposing No. 1 receiver, meaning QB's are going to have to throw at Jenkins.
As a rookie, he is going to make some mistakes. He is going to get burned. He's also going to make a lot of big plays, and he will have a huge impact during his rookie season.
Fan Favorite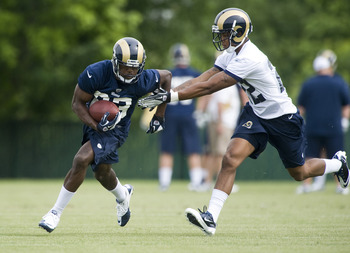 Jeff Curry-US PRESSWIRE
Brian Quick is the guy we're all pulling for to have a monster season. The rookie has the size and the talent to make a big impact. The Rams need a receiver to emerge and give Sam Bradford that security blanket he has been missing.
If Quick plays up to our expectations as a rookie, I'll be shocked. It will be fun rooting for him though. I think his future is bright, but expect some great games followed by some games where he disappears for long stretches of time.
Most Valuable Player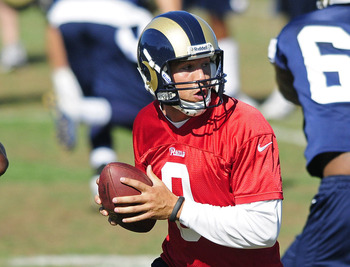 Jeff Curry-US PRESSWIRE
If Sam Bradford has a great season, the Rams will probably sneak into the playoffs as a wild card team. If Bradford plays even close to the level he played at a year ago, it will mean that (1) The Rams' O-line broke down, again, and (2) the Rams' receivers were pathetic, again.
The Rams could win four, maybe five games this season with Bradford playing like an average QB. If he takes that next step, and becomes a good QB, this team has a chance to sneak into the playoffs.
Keep Reading

St Louis Rams: Like this team?