Atlanta Falcons: 5 Potential Sleepers to Watch for in Training Camp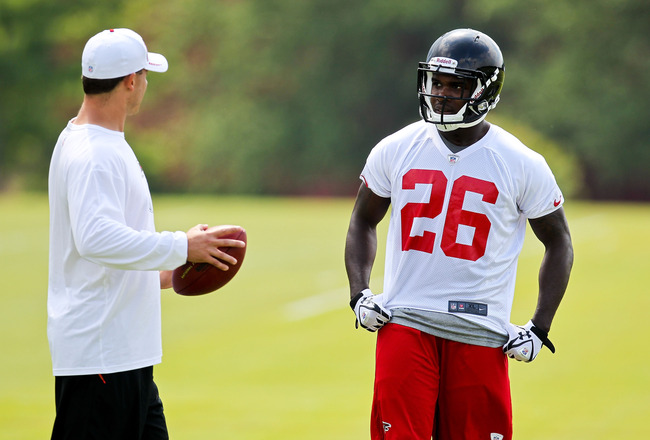 Daniel Shirey/Getty Images
When the Atlanta Falcons kick off Training Camp on July 26, it'll be business as usual for such stars as Matt Ryan, Brent Grimes, Tony Gonzalez and Sean Weatherspoon.
With their spots on the team guaranteed, the worst that could affect them is injury.
For the rest, however, there will be a lot more at stake.
Some will be fighting hard for a starting job.
Others hope a strong showing in camp will net them more playing time this season.
Others still are just trying to make the team.
No matter the role, numerous potential sleepers have waited patiently for their opportunity to shine.
Their opportunity comes now.
Here are a few under-the-radar Falcons who could turn some heads come training camp.
James Rodgers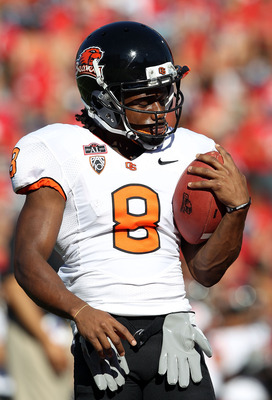 Christian Petersen/Getty Images
After Roddy White, Julio Jones, Harry Douglas and Kerry Meier, there is a wide-open competition at the receiver position.
Currently, six Falcons are set to fight for the team's final receiver spot.
One player who could win the job is James Rodgers.
An undrafted rookie out of Oregon State, the older brother to the Falcons' own Jacquizz Rodgers is another example that size means little in football.
Despite his 5'7'', 188-pound frame, Rodgers finished his college career with a school record 222 receptions and became the first player in OSU history to record 1,000 rushing yards and 2,000 receiving yards.
But his versatility on offense aside, Rodgers' best chance to make the team is on special teams. Rodgers was the primary kick and punt returner for most of his career with the Beavers and is now competing for those roles with the Falcons.
While Harry Douglas and Dominique Franks are currently the favorites to win the competitions, Rodgers stands as a close third and has a fighting chance to come out on top.
Lawrence Sidbury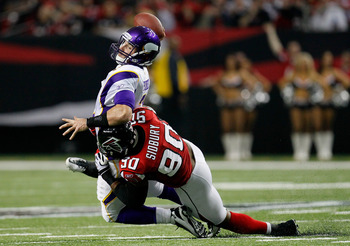 Kevin C. Cox/Getty Images
The Atlanta Falcons' defensive line has been making quite the headlines this year.
Rumors of Kroy Biermann becoming a hybrid DE/OLB are picking up steam, Ray Edwards says he is now fully healthy, John Abraham was re-signed and Jonathan Massaquoi was drafted.
Lost in the fray is fourth-year man Lawrence Sidbury.
The 26-year-old defensive end out of Richmond is coming off his best statistical season after having recorded 11 tackles and four sacks in just 220 total snaps in 2011 (per Atlantafalcons.com's Jay Adams), not all of which were spent rushing the passer.
Those four sacks tied for the second-most on the team, leaving room to wonder how many he might have had with more time spent attacking the quarterback and more playing time overall.
With a new season upon us and the aggressive-minded Mike Nolan leading the charge, we might not have to wonder much longer.
If Nolan likes what he sees from Sidbury in camp this year, an eight-sack season may not be out of the question for him in 2012.
Charles Mitchell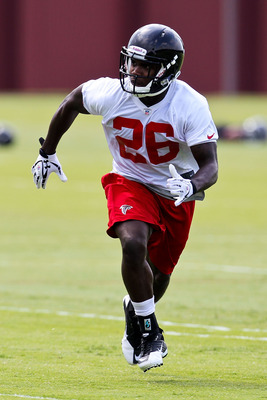 Daniel Shirey/Getty Images
As the Falcons' sixth-round draft pick this year Charles Mitchell isn't exactly a lock to make the team.
Not helping his cause is the team's signing of 10-year veteran safety Chris Hope in June.
What would help Mitchell's cause, however, is a strong performance in training camp.
With William Moore and Thomas DeCoud (the unquestioned starters at strong safety and free safety, respectively), Mitchell quickly will have to prove he can be of value on special teams if he has any hope of making the team.
Undrafted free agent Chad Faulcon and third-year pro Shann Schillinger will be looking to do the same, but Mitchell's status as a recent draft pick by a general manager that seldom gives up on his selections will only play in his favor.
That, and the fact that he was a three-year starter in the SEC with a knack for making tackles—a lot of them.
In 50 games for the Mississippi State Bulldogs—38 of which he started—the hard-hitting safety racked up 283 tackles. 95 of those came last season alone which is good for second-best on the team.
Joe Hawley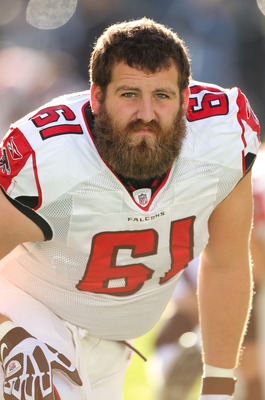 Otto Greule Jr/Getty Images
Potential camp battles at the left tackle and right guard positions have caught the attention of Falcons fans and media alike so far, but one of the tightest battles may actually take place at center.
Todd McClure has anchored the Falcons' offensive line for over a decade and was re-signed earlier this year.
However, he may only play a supporting role by the time the season starts.
That's because after filling in at right guard for most of last season when Garrett Reynolds didn't perform as expected, the 23-year-old Joe Hawley can now go back to focusing on developing into the long-term center Atlanta drafted him to be.
Selected in the fourth-round of the 2010 draft, Hawley proved to be one of UNLV's strongest and smartest blockers through 2008 and 2009 and has shown flashes of that talent in 12 starts for the Falcons last season.
With a new line coach in Pat Hill overseeing his development, Hawley will have to show great improvement in camp this year. But if he does, that 12-start total from a year ago could reach the 16-game mark and beyond in 2012.
Jerrell Harris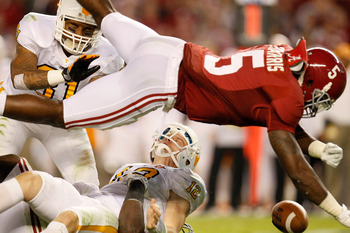 Kevin C. Cox/Getty Images
Lofa Tatupu's recent pectoral injury may end his chances of making the team, but Jerrell Harris' remain very much alive.
The undrafted free agent out of Alabama will compete for a spot as a backup outside linebacker this year.
Based on seniority, Spencer Adkins and Robert James may have the upper hand with three and four years under their belts, respectively, but that means little in the NFL.
On-field play is what matters, and Harris' background is cause for great promise in that department.
As a two-year starter playing both weak side and strong side linebacker in Nick Saban's pro-style defense at Alabama, Harris won't have as steep a learning curve as three other undrafted free agents trying to make the team.
For now, however, his special teams abilities are his likely road into the NFL.
But if special teams is what gets him there, it may be his skills at linebacker that keep him in.
And all of that will depend on what Harris can do when the pads come on in camp.
Keep Reading

Atlanta Falcons: Like this team?