Texas Rangers: 10 Reasons Why They Should or Should Not Trade for Cole Hamels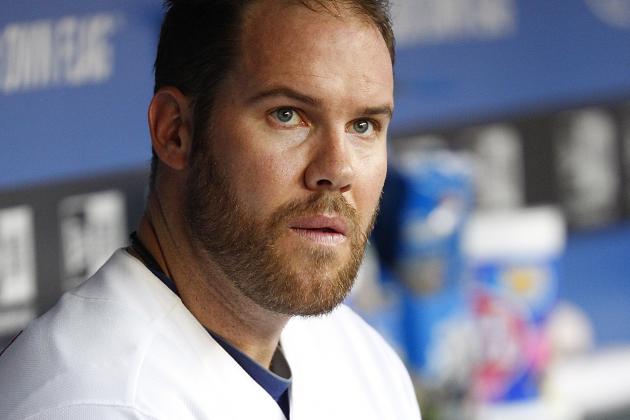 Rick Yeatts/Getty Images
Done for year, and most of next year as well.
July is always a fun month in the world of Major League Baseball. Whether or not you're a fan of the MLB All-Star Game, chances are you get fired up when a member of your favorite teams makes the cut.
And July in the big leagues wouldn't be complete without the wild speculation and rampant rumors that go along with the MLB trade deadline.
Exactly one week from today there will be plenty of players abandoning one team for another. From contenders to pretenders, just about every team will try to improve or cut payroll in some fashion during the next few days.
The Texas Rangers, have been scouting this year's trade deadline diva, Cole Hamels—and that was before they learned that postseason stalwart and opening day starter Colby Lewis would be lost for the season due to a torn elbow ligament.
If the Rangers are to acquire the Phillies' stud left-hander, it's going to take a bevy of talented minor leaguers.
Are the Rangers prepared to depart with members of their top-notch farm system? Is it even necessary for them to do so to make another postseason run?
There are no right or wrong answers, of course, but here's a look at 10 reasons why the Texas Rangers SHOULD go for broke and pick up Hamels, and why they should NOT...
Begin Slideshow

»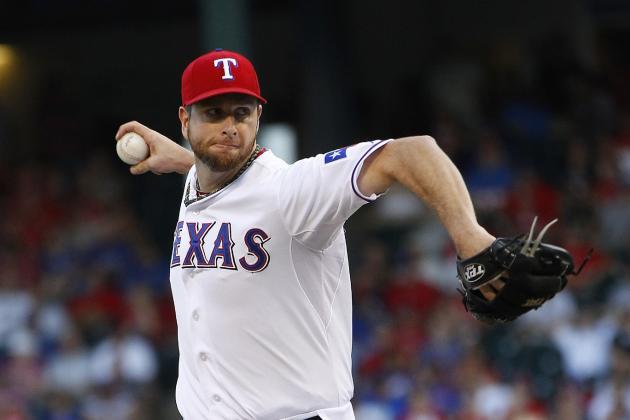 Rick Yeatts/Getty Images
In the wake of the Colby Lewis/Roy Oswalt dilemma, Feldman put together his finest start of the year Monday night.
Feldman hasn't exactly been a bright spot for the Texas Rangers as a spot-starter in 2012.
However, Feldman was outstanding in Monday night's 9-1 whipping of the Boston Red Sox.
Scooter's start—he went a season-high seven innings, scattering seven hits with no walks and five strikeouts—was so stellar, it makes you wonder if the Rangers need to make a move for a pitcher before next week's non-waiver trade deadline.
If last night's Scott Feldman was any indication that his early season woes are a thing of the past, the Rangers might just want to stay pat.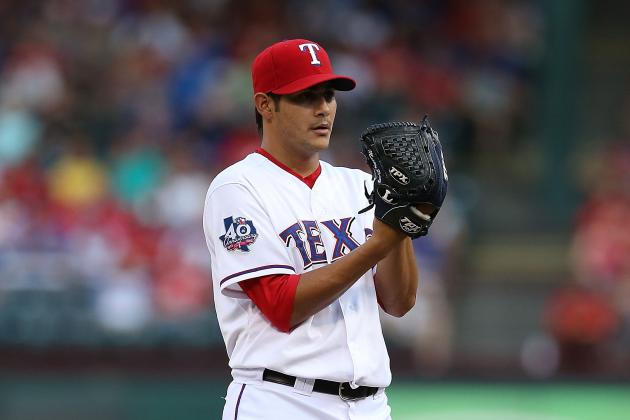 Ronald Martinez/Getty Images

Martin Perez, long considered the organization's No. 1 prospect, finally got a taste of the big leagues last month.
After getting roughed up in his debut—he came on in relief against the Detroit Tigers last month—Perez has validated the high praise.
Perez was brought back up to the big leagues after Roy Oswalt's balky back scratched him from last night's start.
Perez will get the start tonight against the Red Sox, and he if puts together a solid game—much like Scott Feldman last night—the Rangers might tap the brakes on their pursuit of a second half rental.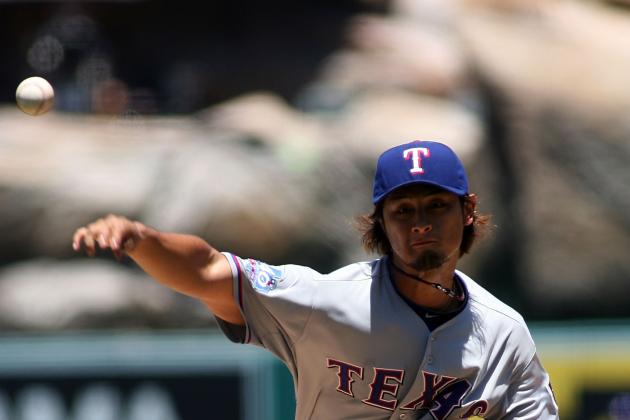 Jeff Golden/Getty Images

This year's All-Star representatives Yu Darvish (11-6, 3.88 ERA) and Matt Harrison (12-5, 3.02 ERA) have pitched well all season, giving the Rangers a formidable one-two punch at the top of the rotation.
Plus, Derek Holland is now back and fully healthy. Sprinkle in Oswalt—while keeping your fingers crossed that his lower back stiffness is nothing serious—and the Rangers rotation appears strong enough for a deep playoff run as it is.
Neftali Feliz might be available as early as next month to solidify a starting rotation that has been a key point of strength all season long.
And let's not forget that Alexi Ogando is also available should Martin Perez falter or—heaven forbid—another injury requires a disabled list stint.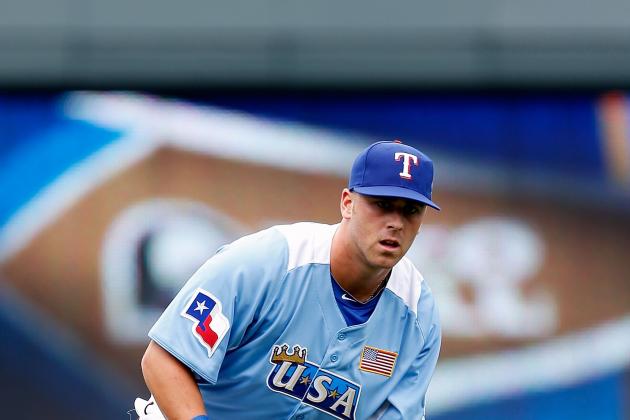 Jamie Squire/Getty Images

For even a casual fan of the Texas Rangers, names like such as Mike Olt, Jurickson Profar and Martin Perez should ring more than few bells.
Names such as those are a big reason why the Rangers farm system is considered to be one of the top—if not the best—system in all of Major League Baseball.
Now, bringing in a top of the rotation starter, or "TORP" would require at least one, and possibly two of those aforementioned super-prospects.
Should the Rangers be willing to risk their future depth for a player such as Hamels, that is likely to jump ship right after the playoffs have concluded?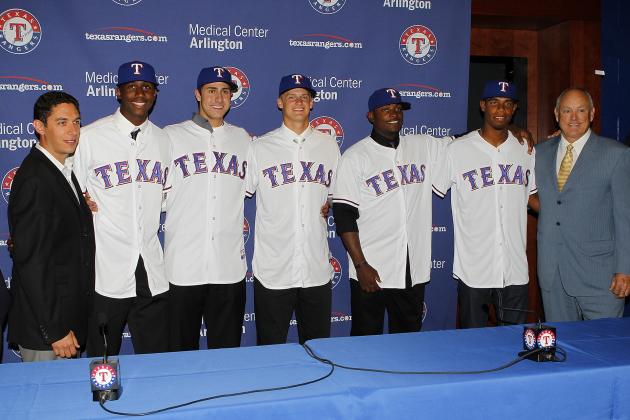 Rick Yeatts/Getty Images

The recently ratified MLB Collective Bargaining Agreement (CBA) has changed the way teams look at trading—in particular how they handle prospects as trade pieces.
Per the old agreement, a team was granted compensatory draft picks should there trade acquisition flee via free agency. Sometimes this could workout even better than the initial trade.
For example, Mark Teixeira was traded from the Atlanta Braves to the Los Angeles Angels of Anaheim in the summer of 2008. The Angels received minor leaguer Steve Marek and Casey Kotchman.
Yawn.
But once Teixeira decided to sign with the New York Yankees that winter, the Angels were given a 2009 first round draft. The Angels then used that pick to draft some dude named Mike Trout...pretty sweet deal, huh?
Now the CBA doesn't allow for compensatory picks. Thus, if a team moves top prospects they will lose not only those prospects, but the ability to rebuild there depleted systems via compensatory picks.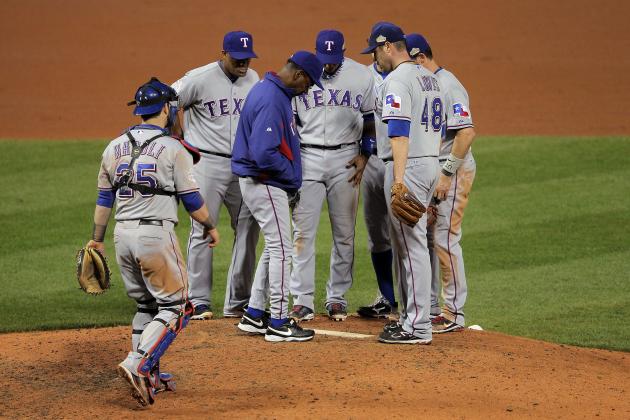 Doug Pensinger/Getty Images

As mentioned earlier, the Texas Rangers are now without opening day starter Colby Lewis for the remainder of the season.
Lewis, who had gone 6-6 with a 3.43 ERA this season has been invaluable to the Rangers...especially in the postseason.
Colby Lewis has far and away been the Rangers most successful postseason pitcher. He's gone 4-1 with a 2.34 ERA. He also did something even Cliff Lee could not pull off while with the Rangers—he won a game in the World Series.
Gamers like Lewis have an extra gear once the playoffs role around. He will certainly be sorely missed. This is a solid reason to pick up a veteran like a Cole Hamels. Hamels, like Lewis, is at his best when the stakes are the highest.
Consider this: of the 2011 Phillies vaunted "four aces" which included current Ranger Roy Oswalt, as well as Roy Halladay, Cliff Lee and Hamels, only Hamels has a World Series championship ring.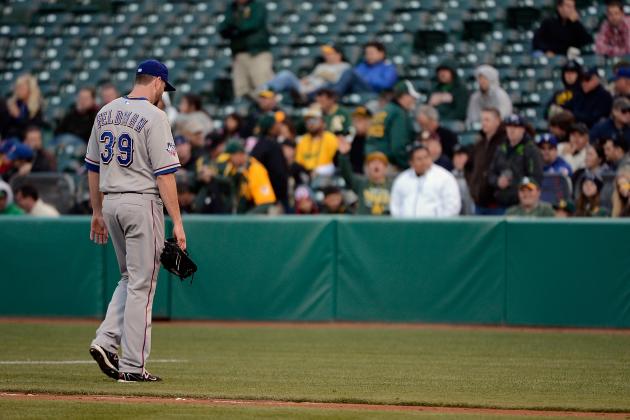 Thearon W. Henderson/Getty Images

Feldman had an excellent start last night, but, lets face it, he's best used as a long-man out of the Rangers bullpen.
And if Oswalt's stiff back continues to be an issue, you're looking at a possible playoff rotation that would include Feldman as a No. 4 starter.
Should Neftali Feliz continue to struggle during his rehabilitation assignments, the Rangers might decide to put him back in the bullpen. A move such as that would green light a Feldman as fourth-man scenario.
Yikes.
No knock on Feldman, but a playoff rotation that includes him in it, just doesn't have a championship-caliber feel to it.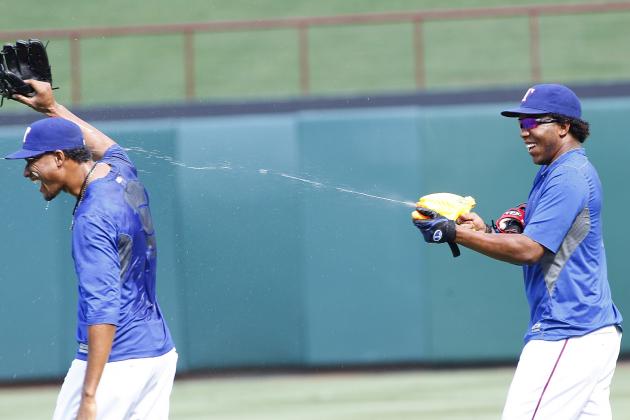 Rick Yeatts/Getty Images

Much like Feldman, Alexi Ogando is at his best in the bullpen. Granted, Ogando was outstanding as a starter last year, and was rewarded for his efforts by an all-star nod.
But Ogando faded down the stretch in 2011, only to have a revival of sorts as a dominant relief presence throughout last year's World Series run.
If it were up to me, I would go with Ogando over Feldman in the rotation without hesitation. The bullpen goes from solid to excellent with Ogando in the mix...the Rangers need to pick up another starter so Ogando—and Feldman—can do what they do best: provide spot-starts and lights-out relief.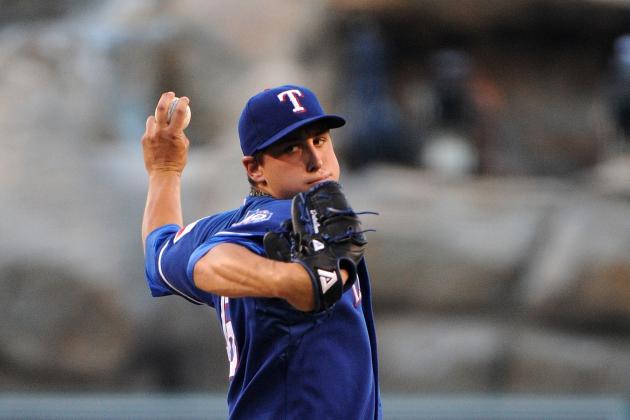 Lisa Blumenfeld/Getty Images

Derek Holland is a source of strife throughout Ranger Nation.
We all know what he can do—World Series Game 4, anyone? Yet we also know he is fully capable of an indescribable meltdown—eight earned runs over less than two innings, against the Mariners...
Holland is wildly inconsistent to put it bluntly.
Another rotation arm could push Holland into the four-hole in the playoffs, or possibly, move him into a bullpen role for the postseason.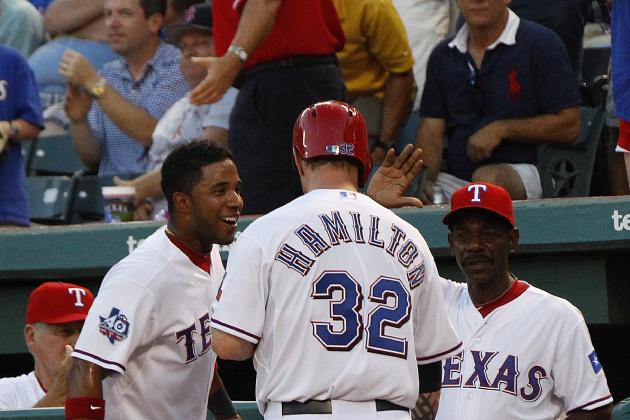 Rick Yeatts/Getty Images

The Texas Rangers have proven they have one of the best teams in all of baseball over the last few years. The 2012 version might be the best team Texas has ever fielded.
That being said, next year's Rangers are likely going to be quite different. The chances are good that the team will still be in the upper-tier in all of baseball, but there are questions that need to be addressed as soon as this season comes to a close.
Josh Hamilton might not be a Ranger past this season. Mike Napoli isn't a "slam dunk" to be extended anymore. Derek Holland's contract is a trade-friendly one should the Rangers decide to trade the consistently inconsistent southpaw.
There are plenty of top-notch talents throughout the farm system that will challenge for spots on the big league roster next season.
The Rangers' future is a bright one, no doubt, but this is also a team that is geared to win it all right now. With Colby Lewis now lost for the season, and with Roy Oswalt's questionable back, the Rangers need a top-flight arm for their rotation if they want to make it back to the World Series for a third-straight season.
The stakes would be high and the price would be steep to bring in Cole Hamels. But if the Rangers can pull that off and finally win that ever-elusive World Series championship, wouldn't that be worth it?