WWE Monday Night Raw 1000: 10 Reasons the Program Will Never Be Topped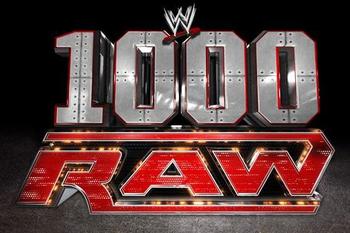 We're still hearing the ratings and reaction from Monday's Raw 1000. There are still lots of questions being formed about the product itself, from new general manager AJ to the new attitude of WWE champion CM Punk.
The 1,001st episode, next Monday, will have some interesting points to hit on as they continue with the new three-hour format on a permanent basis.
Can Raw continue this streak of weekly episodes for another 1,000 episodes?
Considering that reaching 1,000 episodes seemed impossible, reaching 2,000 episodes is surely out of the question. However, with the ratings that Raw brings in on a weekly basis, it's hard to imagine the show ever slowing down.
Here are 10 reasons to keep believing that Raw will never stop rolling along and shattering television records in its wake.
Raw Would Have to Stop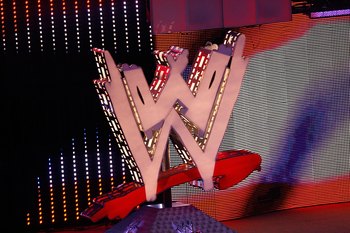 Jim Rogash/Getty Images
For any show to catch up to Raw in the rankings, Raw would have to cease operations.
Any upstart show would have to run a new episode every single week for the next 19 years or so to reach 1,000 episodes. Most shows these days roll out an episode each week for 23 weeks and then go away until their next season starts.
No matter what else happens on TV, Raw is on every Monday night, no matter what.
If a show began tomorrow and were to reach 1,000 episodes in the weekly episodic category—which Michael Cole loves to say—Raw would by that point be at 2,000 episodes.
There's no end in sight for Raw. It will absolutely shatter television standards for longevity.
No Offseason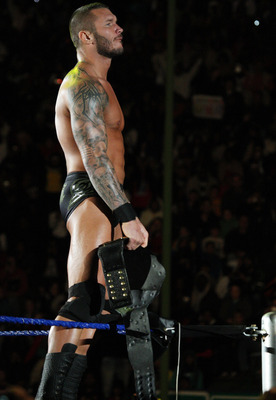 Gallo Images/Getty Images
Following on from the last slide, the WWE has no offseason.
The WWE takes a hit in the ratings during the football season, competing directly with Monday Night Football on ESPN, as well as college bowl games in January and the NCAA Tournament in March.
They often don't have to worry too much about other sports, but in terms of sports programming, nothing compares to WWE. That's mainly because they never take time off.
Even when those sports are in season, the threat of lockouts and work stoppages can still threaten records. There is no such thing in the WWE.
Writers can go on strike in Hollywood and player unions can halt a season of a sport, but it is the WWE that stays together and produces a new episode every single week.
New Faces Can Always Appear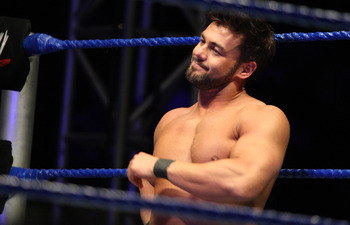 Gallo Images/Getty Images
Players retire from teams and great TV shows lose cast members. Sometimes, that all but halts production.
When a star cannot be signed back to a show or simply moves on, it can all but end a show right then and there.
That does not happen in the WWE.
If someone leaves the company, gets injured or is involved in some other catastrophic twist of fate, there is always another option. After Stone Cold Steve Austin, Triple H and The Rock, there was John Cena, Randy Orton and CM Punk.
Even now, there are new stars on the horizon. Chris Jericho won't be around forever, which is why a guy like Dolph Ziggler is so valuable.
A superstar like Evan Bourne has had issues with his conduct and his health in recent years, but a superstar like Justin Gabriel is waiting in the wings to try to become that next great high-flyer.
Legends Are Always Around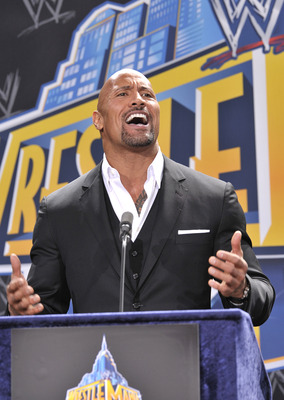 Michael N. Todaro/Getty Images
Need a spark to an episode? For a regular show, it's a cameo or a special guest star. It can even be the return of an old face. That certainly helps in the WWE as well.
This isn't a discussion about special guest hosts, because few actually looked at that as a ratings booster.
My apologies to Seth Green and Al Sharpton, but I don't think you specifically drove the ratings any higher.
Rather, a special treat on any given Raw is the possibility of a former superstar returning.
The Rock has returned to spice up a few Raws this year, as has Brock Lesnar. Who could be next? What next great cameo could come next week?
It's Never the Same Show Twice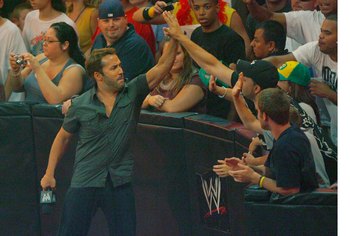 Jim Rogash/Getty Images
Don't you hate it when the time comes for your favorite TV show to come on, only to see that it's an old episode?
Repeat episodes are enough to ruin your day, especially if you make it a point to set your schedule around watching your favorite show.
Raw never lets you down in that department.
Rarely in the history of Raw has there been an episode that did not include a unique match that had not been seen before.
There have been rematches and matchups that have happened in the past, but those rematches are completely different matches than those that came before. No two episodes of Raw are exactly alike, and you can be sure you'll see something each week that you didn't see in the last.
WWE Is a Ratings Machine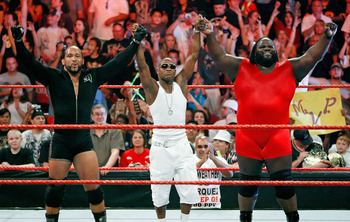 Ethan Miller/Getty Images
TV shows have been canceled over the years due to low ratings.
If people aren't interested in watching, networks won't be interested in showing that program on television.
That isn't the issue with WWE Raw.
Raw has gone from USA to TNN (now Spike TV) and back to USA, but only because of demand for the product.
The investment of WWE programming on a channel means consistent ratings. With Raw now expanding to three hours, USA enjoys an extra hour of Raw, which means the ability to own all of Monday night primetime in the cable ratings.
Then again, if USA ever gives up Raw, I'm sure they'll be just fine with a few NCIS re-runs.
People Love to See Fighting
Ethan Miller/Getty Images
One person fighting another person is entertaining—it's human nature.
That's what made boxing popular for so many years. That's what makes MMA such a rising sport in the world today. It's what makes people stop and watch people who are fighting nearby.
We love to see a good fight.
The WWE has that ability to give us good fights. The knowledge that the fights are choreographed and that participants are not supposed to get seriously injured is nice for peace of mind.
Seeing wrestlers using weapons and doing damaging moves to destroy one another can feel pretty terrible. It makes some feel guilty.
Knowing that things are going this way on purpose, and that the participants are—for the most part—going to be fine, makes that guilty pleasure a little bit easier to stomach.
There Is Constant Loyalty to Wrestling
Mark A. Wallenfang/Getty Images
Ever talk to a wrestling fan? No, I mean a hardcore wrestling fan?
You may just end up being one yourself. No matter what happens with the product, your heart is set on watching Raw, no matter what. Even if things look bleak, many fans will simply check in every week to see if things are getting better or more to their liking.
Millions persevere through pointless segments and comic relief that makes a former rising star look completely foolish. Chant for other promotions all you like, but when CM Punk vs. John Cena comes on, you'll still watch it.
Turn on a televised show from another wrestling company—chants, references on signs and t-shirts in the crowd will all reference the WWE. It's good to have that many people obsessed with your product.
USA Adores WWE Programming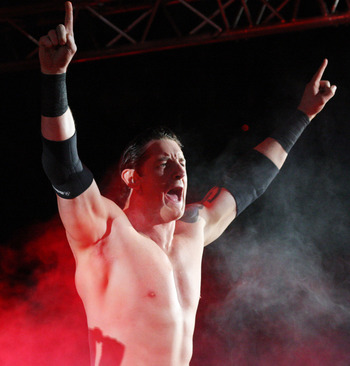 Gallo Images/Getty Images
Can you blame them? USA barely had programming of any quality years ago.
My apologies to those die-hard fans of Pacific Blue, but the WWE practically carried original programming on USA up until a few years ago.
Shows like Psych, Suits and White Collar certainly round the station out nicely now, but things were bleak for a long time there.
Along with Raw's regular airing, USA has A.M. Raw, a condensed version of the show to air overnight instead of infomercials. A.M. Raw actually drives decent ratings for a graveyard shift show.
This doesn't even include the history of other shows on USA that are WWE-based.
WWE has had shows named Action Zone, All American Wrestling, LiveWire, Mania, Prime Time Wrestling, Sunday Night Heat, Superstars, Tough Enough and Tuesday Night Titans all air at some point on the USA Network.
Vince McMahon Will Not Let It Die
Michael N. Todaro/Getty Images
Even if Raw was struggling, Vince McMahon and the rest of the powers that be in the WWE would never let the program suffer.
Sure, this is the same guy who tried to create a professional bodybuilding federation and a pro football league, but he also created the sports entertainment juggernaut we are speaking about today.
Without McMahon, there is no WrestleMania. There is no Monday Night Raw if McMahon doesn't make it happen. Each week, it is a different city and a different outcome to the night. That's ultimately thanks to McMahon and his people.
The WWE is creating their own television network, which may ultimately bring Raw on and take it away from USA. However, with the money that USA offers to broadcast the show, it may not be going anywhere.
Still, if the WWE Network comes with a price, just imagine the millions who will pay to keep watching the WWE. McMahon's product has been in demand for decades and will continue to be. If it ever drops in popularity, McMahon will do what he has to in order to come back.
Keep Reading