Adjustments Fed-Ex Must Make from Previous Olympics to Win 2012 Gold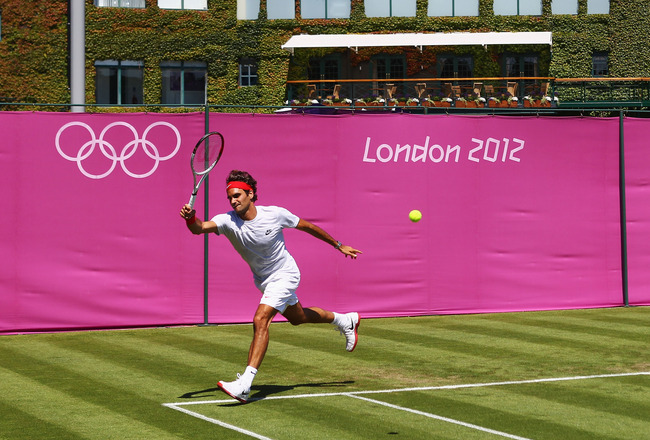 Clive Brunskill/Getty Images
Roger Federer is fresh from winning a record seventh Wimbledon title few weeks ago. Federer has beaten the long-time record of Pete Sampras of the most number of weeks at the No.1 position.
All that is left for Roger to pursue is the Olympics gold. Singles gold to be precise. Roger has already felt how it is to win a gold at the Olympics—in Beijing along with his friend Stan Wawrinka, Federer won the doubles title defeating more fancied rivals on their way to the gold.
This will be Federer's fourth appearance at the Olympics and he is keen to finish off this version with a bang.
Coupled with his great form at Wimbledon in early July as well as the withdrawal of the defending champion Rafael Nadal, Federer has a great chance to win the gold on his favorite Wimbledon courts.
How did he fare in the earlier Olympics and what should he do differently this time? Let us see.
2000 Sydney Olympics: Semi-Final Finish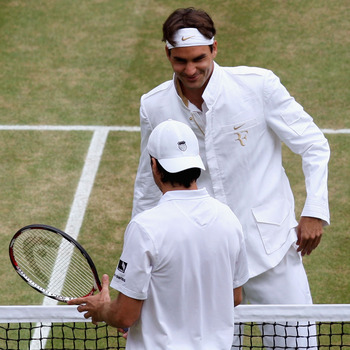 Pool/Getty Images
In the 2000 Sydney Olympics, Roger Federer was still far away from the finished product he would be few years later.
Ranked in the late 30's in the world, Federer started his competition in the right manner defeating Germany's David Prinosil(6-2, 6-2), Karol Kucera of Slovakia (6-4, 7-6(5)), Sweden's Mikael Tillstrom (6-1, 6-2), and Moroccan Karim Alami(7-6(2), 6-1) before meeting Tommy Haas of Germany in the semi-finals.
Haas won the semi-final encounter in straight sets 6-3, 6-2 to advance to the finals. Haas and Federer would go on to become friends and surprisingly they played their recent match before Wimbledon. Haas though has not qualified for the London Olympics.
In the bronze-medal match, Frenchman Arnaud Di Pasquale defeated Federer 7-6(5), 6-7(7), 6-3 to win the medal.
The 2000 Olympics was personally special for Federer since this is where he met his wife, Mirka, while both were competing for their country.
2004 Athens Olympics: Singles Loss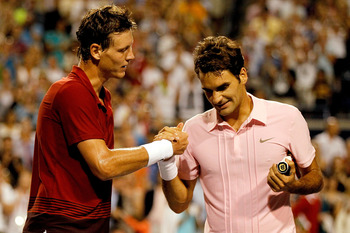 Matthew Stockman/Getty Images
By the time 2004 Olympics were held, Federer was one of the favorites to win the title.
He started his quest first against the Russian Nikolay Davydenko (then-ranked No.38) and came through a tough round 6-3, 5-7, 6-1
The next round was disastrous for Fedex when he lost to Czech Tomas Berdych (ranked 115 then) 6-4, 5-7, 5-7. This was one of the six matches Federer lost in the entire year.
2004 Athens Olympics: Doubles Defeat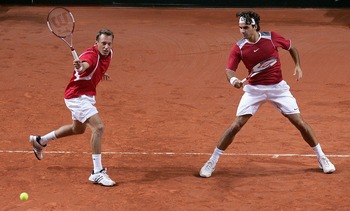 Clive Brunskill/Getty Images
Playing doubles with Yves Allegro for his country, Federer defeated the Polish duo Mariusz Fyrstenberg and Marcin Matkowski 6-3, 6-2.
Tennis fans who follow the doubles circuit know that the Polish team is among the favorites to win a medal this year.
The next round was very tough for Fedex when he faced up with India's Mahesh Bhupathi and Leander Paes—they lost 2-6, 6-7(7).
2008 Beijing Olympics: Singles Defeat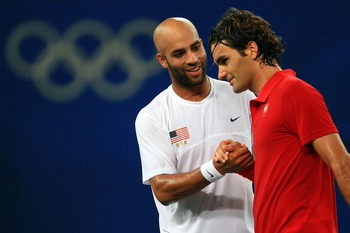 Jamie Squire/Getty Images
2008 Olympics saw Federer lose his No.1 ranking to Rafael Nadal just before the competition started.
Determined to win the gold, Federer started his quest impressively, notching up wins over Russian Dmitry Tursunov (ranked No. 29) 6-4, 6-2 and Rafael Arevalo from El Salvador (ranked at 447) 6-2, 6-4.
In the third round, Federer gained revenge on Czech Tomas Berdych (ranked 20 then) by defeating him 6-3, 7-6(4). Berdych had denied him further access to the latter half of the draw in Athens but not this time.
The man to stop Fedex in his strides was seventh seeded American James Blake, who won in straight sets 6-4, 7-6(2).
Once again a mission that stopped before the end goal was reached for Roger. But the dream was not completely lost yet!
2008 Beijing Olympics: Doubles Delight
Clive Brunskill/Getty Images
Playing doubles with his friend, Stanislas Wawrinka, Federer was like a man possessed to win a medal.
The quest picked up heat after Federer lost in the singles event—he was even more determined to win the gold for his country.
The first round saw the Swiss defeat the Italians Simone Bolelli and Andreas Seppi easily 7-5, 6-1.
Russians were next—Dmitry Tursunov and Mikhail Youzhny—but they were also swept 6-4, 6-3.
Revenge-time came once again for Federer when he defeated the Indian pair of Leander Paes and Mahesh Bhuphati 6-2, 6-4.
It became bigger in the semifinals when the World No.1 pair of Bryan twins were defeated 7-6(6), 6-4.
Facing the Swedes in the final, Federer and Stan defeated Thomas Johansson and Simon Aspelin 6-4, 6-7(4), 6-3 in an emotional final to lift the doubles gold.
2012 London Olympics: What Will Fedex Have to Do?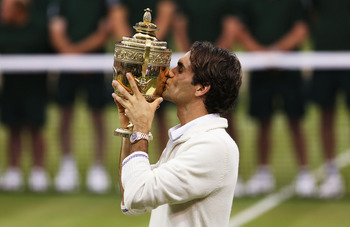 Julian Finney/Getty Images
2012 has seen Federer climb back to No.1 after his win at Wimbledon.
The Olympics will be played on the same lawns as The Championship, meaning Roger will be surely the man to beat.
Federer can definitely become the first man to win two titles on Wimbledon courts in a year if he remains the same player who defeated Djokovic and Murray in the latter part of the tournament.
Since the Olympics is played on best-of-three-sets in the rounds till the final, Federer does not have to worry about long matches and feel his age as a burden.
Also, his long-time nemesis, Rafael Nadal has announced his withdrawal from the tournament last week—this will strengthen the chances of Federer that much more.
There has been no mention of Andy Murray's injury problems faced during the Wimbledon final.
Only Djokovic and Tsonga (from the rest of the field) remain as the strong contenders to prevent Federer's quest.
If Federer can win his matches quickly and ensure that he gets enough rest between matches (his doubles schedule might trouble him though), he will be on course to win the gold.
He had problems with his back during the Wimbledon though there was no visible signs of the injury during the latter phases.
When it's all said and done, Roger Federer is most likely to be the last man standing at Wimbledon on the Fifth of August.
Keep Reading