10 NBA Teams That Made a Huge Splash Through Free Agency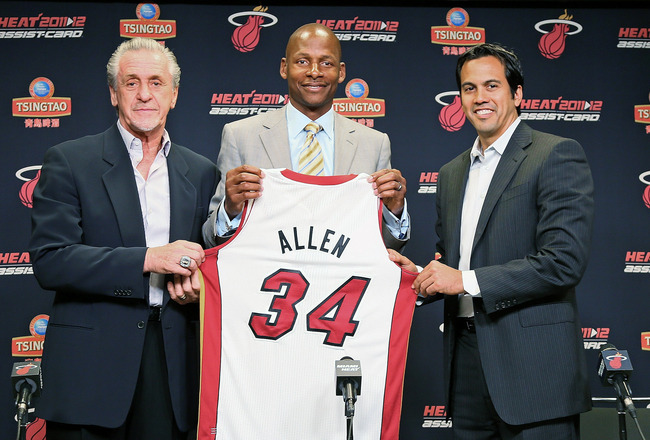 Mike Ehrmann/Getty Images
Free-agency season is often something that makes or breaks an NBA team.
Adding just one piece can make the difference in the professional basketball world, and if that piece is brought in for the right price, all the better. Free agents are sometimes responsible for a team winning a championship and leave their mark on their new team forever. No matter how you look at it, this is an incredibly exciting time of year, and in 2012, some teams have made some huge moves.
Take the Miami Heat, for example. Even though they're fresh off a championship season, GM Pat Riley realized the need to add bench depth, so he went out and got three-point shooter extraordinaire Ray Allen for the team's midlevel exception. In an instant, Miami just got more dangerous outside of its Big Three.
Sure enough, this year, quite a few other teams have made big splashes in free agency.
No. 10: Indiana Pacers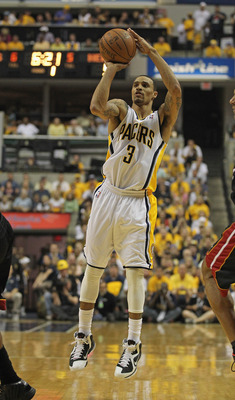 Jonathan Daniel/Getty Images
Indiana's offseason has been relatively quiet, but they have still managed to make a small amount of noise on the free-agent market. Not only did they bring back three-point specialist and point man George Hill (pictured) on a five-year, $40 million deal, but they also added point guard depth in bringing over D.J. Augustin from the Charlotte Bobcats on a one-year deal.
Seeing as how Augustin is more of a pass-first point guard as opposed to the shooter Hill, the Pacers could be in a prime position to improve off the 2011-2012 campaign, when they made the playoffs as the No. 3 seed. With center Roy Hibbert also back on a max-level contract, Indiana's prospects for next season are looking bright.
No. 9: Phoenix Suns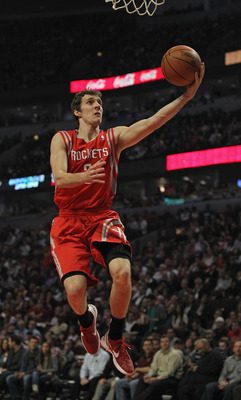 Jonathan Daniel/Getty Images
The Phoenix Suns are a team defined by fast-paced, high-scoring offense, and once long-time point man Steve Nash left for another team, team management's first priority became finding a point guard who could do well in coach Alvin Gentry's offensive system.
Enter Goran Dragic, who averaged 16.9 points, 7.5 assists and even 1.8 steals per game. He was also reliable from behind the three-point line.
That being said, it's safe to say that the Suns are going to pick up right where they left off last season. There may be a bit of an adjustment period as the returning players get used to playing with Dragic, but chances are, they'll soon be back to their productive, high-scoring ways.
No. 8: New Orleans Hornets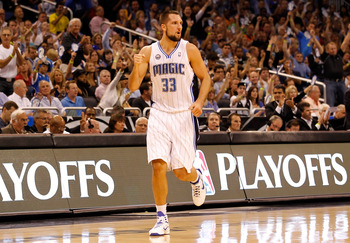 J. Meric/Getty Images
First, the Hornets needed to make a big splash in the NBA draft, and they did just that in landing both Anthony Davis and Austin Rivers. Next, they needed to add a solid veteran in free agency who could make up for the loss of Trevor Ariza.
GM Dell Demps got just that in reigning NBA Most Improved Player Ryan Anderson, who averaged career highs in all major categories last year. Entering 2012-2013, he will provide some much-needed scoring and experience on the young Hornets' roster.
Throw in the fact that he can play both forward positions, and basketball life in "The Big Easy" could soon be looking up in the aftermath of Chris Paul being traded.
No. 7: Boston Celtics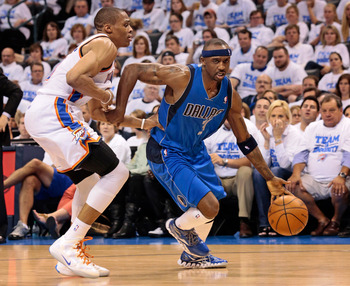 Brett Deering/Getty Images
With Ray Allen having left for the Miami Heat, Boston needed to get some help at shooting guard since Avery Bradley is still not fully recovered from a shoulder injury. Instead of just getting one man to fill the hole, GM Danny Ainge went ahead and got help in two free agents.
First, they brought in former Sixth Man of the Year Jason Terry. Here's a man who has never been the model of what one would call consistency, but he still provides a valuable scoring touch off the bench and averaged 15.1 points per game on 38 percent shooting from downtown last year.
To top off that signing, Boston went and got Courtney Lee as well, who is probably going to be the starting shooting guard. He will provide some much-needed athleticism and youth to the Celtics, and given how well he can dunk, the Celtics are going to be a fun team to watch in 2013.
No. 6: Brooklyn Nets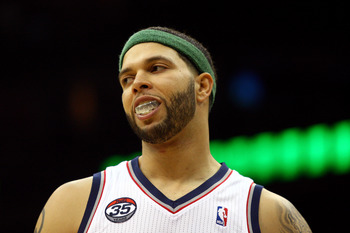 Chris Chambers/Getty Images
Entering this offseason, the Nets had one sole priority: re-sign all of the key free agents.
They did just that in bringing back Gerald Wallace on a four-year, $40 million deal as well as star point man Deron Williams on a five-year deal worth just north of $98 million.
Yet, as good as both Wallace and Williams are, they would be part of a nothing team entering next season were it not for GM Billy King doing everything he could to get them some size.
Thus, he re-signed scoring center Brook Lopez to a max-level contract and also brought back rebounding machine Kris Humphries. As a result, the Nets' starting lineup could look like this to start the season:
PG: Deron Williams
SG: Joe Johnson
SF: Gerald Wallace
PF: Kris Humphries
C: Brook Lopez
Simply put, take both Williams and Wallace out of that lineup and the Nets go from an upstart, kinda-sorta expansion team to one that could probably contend from the get go.

No. 5: Los Angeles Clippers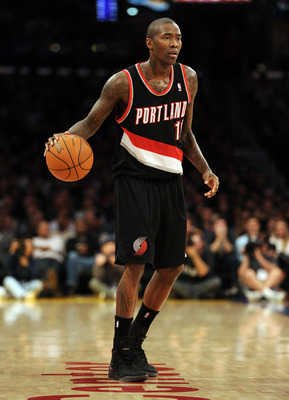 Harry How/Getty Images
With Lob City set to return for a second season, Clippers management chose to get point guard Chris Paul some more scoring targets, so that the team could make even more noise in the ultra-competitive Western Conference this coming season.
On the trade market, they reacquired Lamar Odom in hopes that he could recapture some of his former luster with the team that drafted him.
In free agency, however, Los Angeles fared a bit better. Not only did the front office re-sign sharpshooter Chauncey Billups, but they also brought in reliable bench scorer and 2010 Sixth Man of the Year Jamal Crawford.
The former Michigan Wolverine came with a heavy price tag at three-years, $15.7 million, particularly since he's coming off a bit of an off year in Portland, but his explosive abilities will be more than welcome in Los Angeles.
Throw in some key veteran leadership from Grant Hill, who signed a two-year deal, and the Clippers are sure to make tons of noise in 2013.
No. 4: Houston Rockets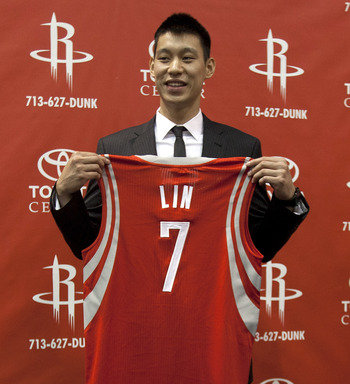 Bob Levey/Getty Images
To describe Houston's free-agency season, ladies and gentlemen, we need just one word: Linsanity.
GM Daryl Morey should consider himself ridiculously lucky that the Knicks did not match the offer sheet that Jeremy Lin signed with Houston, otherwise, a new chapter of Houston basketball history probably never would have been.
With the Harvard grad running the point, expect big things from the Rockets, if Lin can build relationships with each of his scoring targets.
No. 3: New York Knicks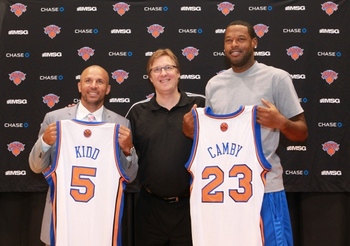 photo courtesy of newyork.cbslocal.com
New York is a big city, so it's only fitting that the New York Knicks made a big splash in free agency. Depth was the greatest need for this franchise, so they got right to work in re-signing three-point specialists Steve Novak and J.R. Smith. Yet, GM Glen Grunwald wasn't done.
Grunwald also brought in some top veteran talent in point guard Jason Kidd and center and one-time New York Knick Marcus Camby—both of whom are reliable producers despite their advancing ages. Next season, I anticipate both will have strong years.
Yet, Grunwald's greatest decision came when he seemed to realize that Jeremy Lin wouldn't be in a Knicks uniform next year. Instead of getting upset and pouting about it, he took initiative and brought back Raymond Felton, who enjoyed great success in New York before being sent to the Denver Nuggets in the infamous Carmelo Anthony trade.
Needless to say, the Knicks made quite a bit of moves. Yet, all of them were actually beneficial to the team, so I'll call it a pleasant surprise.
No. 2: Miami Heat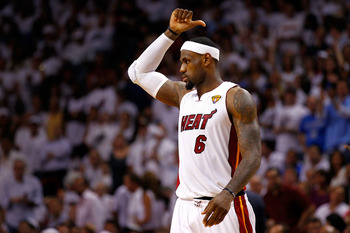 Mike Ehrmann/Getty Images
Though the Miami Heat just won a championship, GM Pat Riley was not done adding pieces, so that a dynasty may be built. Given his moves this offseason, it's slowly becoming obvious as to what the team's approach is going to be.
In the same style of the Phoenix Suns of the early 2000s, Miami's plan seems to be to shoot, shoot and shoot some more.
Not only did they bring in all-time three-point leader Ray Allen, who averaged 14.2 points and shot an incredible 45 percent from long range, but they also chose to take a chance on Rashard Lewis, who signed a two-year deal after being bought out by the New Orleans Hornets.
Simply put, though, I will root against the Heat until the day I die. I'm legitimately excited to watch them next year. They really improved their bench depth and to be honest, I'd prefer to see coach Erik Spoelstra use the second unit more and not so much rely on his Big Three.
No. 1: Los Angeles Lakers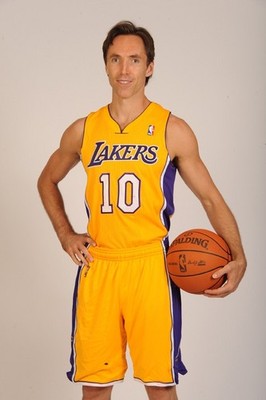 photo courtesy of windycitizensports.com
Ever since the championship years of Shaq and Kobe, the Lakers have been without a true point guard. Nothing against Derek Fisher, but he was more of a pest and a clutch three-point shooter. Yet, Lakers management realized this problem and chose to address it this offseason.
How did GM Mitch Kupchak address his team's problems this offseason, and thus, make the biggest splash of the summer? Well, to be honest, he didn't do much. All he did was woo the greatest point guard available on the free-agent market and sign him to a three-year contract. That guard was Steve Nash, who's going to do wonders in LA.
You see, Nash is going to turn the Lakers into one of the most threateningly versatile teams in the league. By utilizing scoring options besides just Kobe Bryant and running the show on offense, Nash will help the Lakers turn from being a loud and obnoxious prima donna-led team into one of the most efficient squads in the NBA, all because of his team-first approach.
Keep Reading