NBA Summer League 2012: 5 Biggest Revelations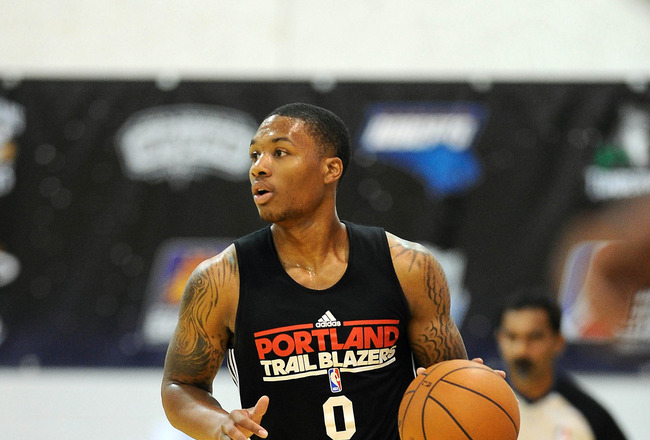 Jayne Kamin-Oncea-US PRESSWIRE
The NBA Summer League gives us a first look at our newest faces to the league. There is much to be learned from the five exhibition games.
Of course, this is just a small preview, and we cannot get too ahead of ourselves. We must keep in mind that the first-rounders did not play with their actual regular season teammates, which will make a big difference.
These games are also not even coached by the actual head coach of the team. However, the rookies' play might be foreshadowing to how their seasons might turn out. These are the five biggest revelations from the summer league.
5: Josh Selby Needs More Playing Time
Jayne Kamin-Oncea-US PRESSWIRE
The second-year point guard out of Kansas, Josh Selby, showcased what the Memphis Grizzlies have been missing out on. Last season, Selby only played 28 games and averaged just over 8 minutes per game. Those minutes need to go up.
Selby won co-MVP of the Summer League and led the league in scoring with 27.5 points per game. He was shooting unconsciously. He shot 59.3 percent from the floor and 70.6 percent from three-point range.
Yes, he did it against rookies and players who we most likely will not see in uniform or on the court this season. However, a scorer is a scorer in any environment, and Selby is proving he is a solid scorer.
With O.J. Mayo departing, he might be picking up some of his minutes and proving himself during the regular season.
4: Wizards Have a Solid All-Around Guard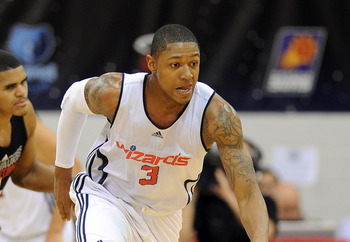 Jayne Kamin-Oncea-US PRESSWIRE
The Wizards have struck something pretty close to gold by drafting Bradley Beal. During the Summer League, he averaged 17.6 points, 4.6 rebounds and 1.8 assists per game while earning himself a spot on the All-Summer League team.
Beal shot 40.8 percent from the floor, which is not the best, but is solid and better than what the Wizards currently have at the shooting guard spot. Beal was able to grab 6 rebounds in three of the five games and scored at least 20 points twice.
Beal will definitely be a big help to John Wall and the backcourt. Look out for the tandem of Wall and him in the future.
3: Rockets' Future Looks Bright with Rookie Class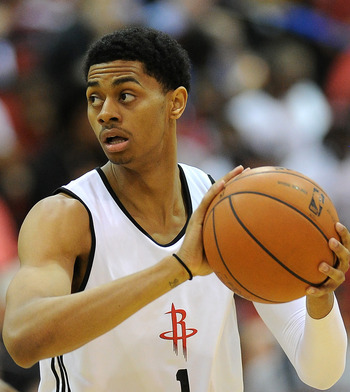 Jayne Kamin-Oncea-US PRESSWIRE
To think that the Rockets were shopping around their three draft picks before the draft almost seems preposterous. The three rookies they have in Jeremy Lamb, Terrence Jones and Royce White will be a great set of building blocks for the future.
Lamb led the team in scoring, with 20 points a game. White used his athleticism to average 8.4 points per game and 7.2 rebounds per game. Jones nearly averaged 20 and 10 with 18.2 points and 8.6 boards per game.
You mesh these three young players with a rising Jeremy Lin, and the Rockets will compete in the West in no time at all.
2: Austin Rivers Will Struggle Early at Point Guard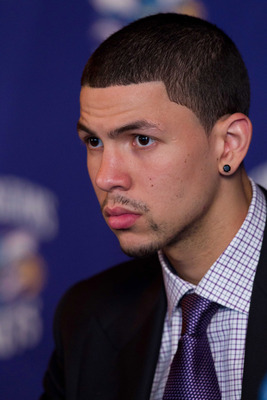 Derick E. Hingle-US PRESSWIRE
New Orleans Hornets first-round pick Austin Rivers had a disappointing Summer League, to say the least. In two games, he averaged 10 points while shooting a dismal 21 percent and acquiring just 3.5 assists per game.
Rivers bruised his knee with hard tumbles and was forced to miss the last three games. He only shot 1-for-8 from three and the team was 0-2 with him. It is clear that the transition from shooting guard to point guard will be anything but smooth for him.
That was expected. However, Summer League showed that it might be tougher than anyone could have imagined.
1: Damian Lillard Will Be a Top Point Guard in the Future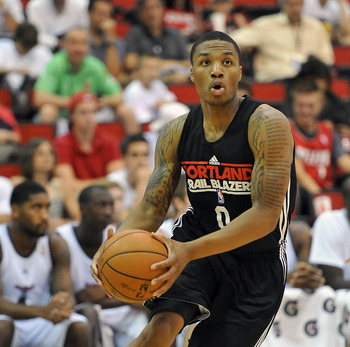 Jayne Kamin-Oncea-US PRESSWIRE
The other co-MVP of the Summer League was the No. 6 pick for the Portland Trail Blazers, Damian Lillard. He led all rookies in scoring, with 26.5 points and 5.6 assists in four games.
He shot 43.8 percent from the floor and outplayed any point guard matched up against him. In the first game, he showed up Austin Rivers with 25 points and 4 assists and also hit the dagger against the Hornets.
He reminds many of Russell Westbrook and will be making his way up the ladder of top point guards within the next few years.
Keep Reading