WWE Raw 1,000: DX Reunion Reminds Fans Why WWE Needs Stables to Return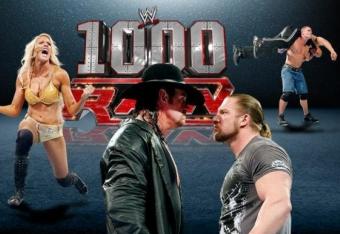 Photo from wwe.com

To open episode 1,000 of Monday Night Raw, Vince McMahon said a few quick thank yous and then promptly stepped aside for the members of DX to soak up some deserved love from the fans.
All the memories that seeing Triple H, Shawn Michaels, X-Pac and the New Age Outlaws brought back must have had a number of fans wondering where the great stables have gone.
Triple H and Shawn Michaels came out together and Michaels quickly realized he'd forgotten something about the DX reunion.
It was officially not his underwear.
He and Triple H goofed around a bit before the rest of the crew came to the ring. The full DX reunion (minus Chyna) caused the audience to explode in joy.
Seeing the guys joke in the ring, playing off each other naturally, stirred up memories of all their Attitude Era antics. Their feuds, matches and promos were an integral part of Raw for many years.
The power of the stable, Michaels and Triple H's star power, helped carry the New Age Outlaws to new heights. Would they have been half as beloved without being a part of that group?
While Nexus began strong, after the fizzling end to their storyline, WWE has been left without a compelling stable. From The Von Erichs to The Four Horsemen, Evolution to The Corporate Ministry, the stable has made story writing easy, added depth to feuds and made stars out of midcarders.
With so many talented wrestlers treading water in terms of storyline and persona, forming new stables is the perfect solution.
Wrestlers like Tyson Kidd, Justin Gabriel, Drew McIntyre and Claudio Castagnoli would all benefit from being a cog in a larger machine. A team like Tyler Reks and Curt Hawkins could be this generation's New Age Outlaws in the right situation.
The glee of seeing DX back together for one night only should be inspiration for the WWE creative team to come up with the newest group of rowdy rebels, the next great stable.
This article is
What is the duplicate article?
Why is this article offensive?
Where is this article plagiarized from?
Why is this article poorly edited?