5 On-Field Questions Indianapolis Colts Must Answer in 2012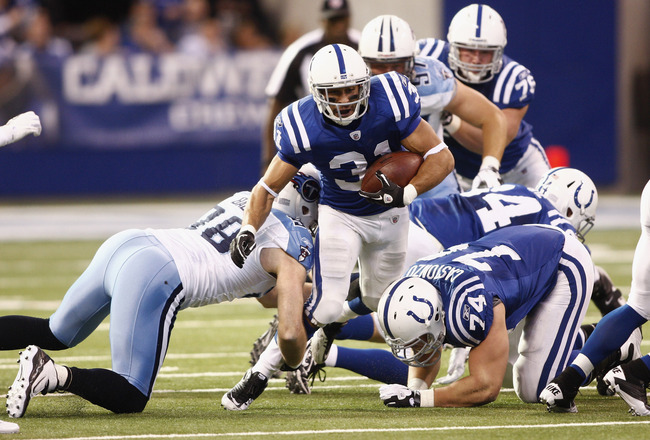 John Grieshop/Getty Images
The Indianapolis Colts are back in 2012 with a newly renovated team, a reputation to salvage and many questions to answer.
Training camp begins on July 29 at Anderson University, and it will be the first glimpse into what the Colts will bring to the field in 2012.
Now that Jim Caldwell and Peyton Manning are no longer in Indianapolis, the players will have a new coaching staff to work with and the fans will have a new franchise quarterback to pin their hopes on.
These new faces paired with last season's record of 2-14 leaves the Colts with many questions to answer on the field. Fans and players alike are all wondering if the former powerhouse team can turn their team around this season.
Will Indianapolis be able to set its sights on a championship anytime soon?
1. Can the Offense Make Up for Pierre Garcon's Absence?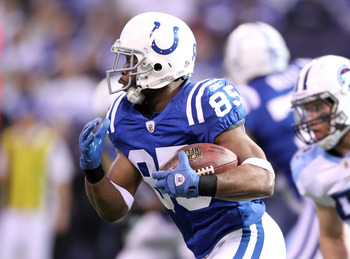 Andy Lyons/Getty Images
Pierre Garcon's exit from Indianapolis leaves the team out one valuable receiver.
Garcon led the team with six touchdowns last season. He completed the 2011 season with 947 yards and averaged 13.5 yards per reception. Garcon saw personal improvement while playing for the Colts but now he's moved out to Washington to hone his skills as a Redskin.
True, the Colts still have Reggie Wayne who is certainly the team's veteran leader right now.
But the Colts offense will need to build around new quarterback Andrew Luck and make up for Garcon's absence.
Without a stronger and more cohesive offense led by Luck, the Colts will likely see a repeat of their terrible 2011 season.


2. Will Andrew Luck Be the Answer?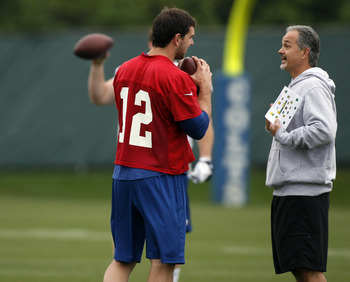 Brian Spurlock-US PRESSWIRE
This is the big question mark that the Colts absolutely must answer in 2012.
If nothing else, Colts fans are looking to see if they have something to cheer for this season. And Luck's performance will show fans if they need to throw in the towel, or rally on for their hometown team.
As Indianapolis pushes past the end of the Peyton Manning era, it's time for the Colts to rebuild and make up for years of relying on their lone, star quarterback.
The Colts neglected to train and utilize their backup players and did without recruiting strong young players. With Luck coming in as both a rookie and a starting quarterback, the Colts will need to prove that they made the right choice to start rebuilding the franchise.
To answer on-field questions surrounding Luck, the Colts needs to put him out on the field well-prepared and confident. They need to show the fans who they are cheering for.
Luck is the Colts' vision for the future, and once he's out on the field, fans will be able to see what they are rallying for.
3. Is Pagano a Good Replacement as Head Coach?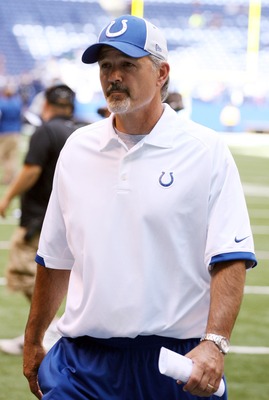 Brian Spurlock-US PRESSWIRE
Chuck Pagano is entering the 2012 season as a sort of rookie himself.
This will be Pagano's first year as head coach of an NFL team. Colts fans can widely agree that the firing of Jim Caldwell was a smart and necessary move.
The Colts were hanging by a thread last season, and it was best for Caldwell and the team to cut their losses and go their separate ways. Great, now what?
The Colts hired former Baltimore Ravens defensive coordinator Chuck Pagano for the job. The team's coaching staff was cleaned out and replaced by Pagano and his new staff. It was a risky move appointing not only a new coach, but also a coach that was new to the position.
Is Pagano a better fit than Caldwell?
This will be a question that the Colts will need to answer first in 2012. With their abysmal 2011 season, the blame went straight to Caldwell.
Now fans will be looking for noticeable improvements, especially from a hopefully new and improved coaching staff.
4. Will the Defense Improve?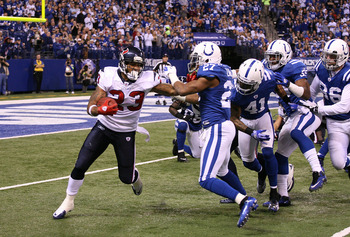 Brian Spurlock-US PRESSWIRE
A new coaching staff means a new defensive coordinator for the Colts as well.
After hiring Greg Manusky, the Colts are likely to see a changeup in their defense. And the answer everyone is looking for is that this change will lead to improvement.
Manusky will likely bring a 3-4 defensive scheme to Indianapolis and head coach Chuck Pagano is sure to bring his skills as a former defensive coordinator into the mix as well.
With Manusky and Pagano's heavy emphasis on defense, the Colts will see a change in their defensive style and that could turn out to be a very good move for the team.



5. Can the Team Turn Itself Around in 2012?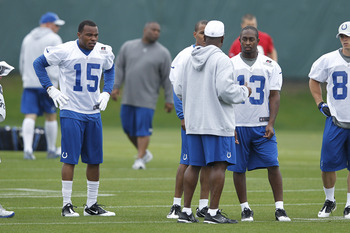 Joe Robbins/Getty Images
Now isn't this what's on everyone's mind in Indianapolis?
After years of success with Peyton Manning as their starting quarterback, the Colts saw a disheartening 2011 season. With every game that Manning missed, all hope seemed to slip away.
Any improvement on their previous 2-14 record will show that the Colts have some life back in them.
But don't expect a complete turn around and a run at the championships right away. That's not what the 2012 season should be about for the Colts. 2012 needs to be about rebuilding and rejuvenating the crumbling team and answering these questions on the field.
The Colts need to focus on gradually erasing doubt among their fans and reclaiming both their franchise and their reputation.
Keep Reading

Indianapolis Colts: Like this team?