There's a sad trend in modern media where writers, pundits and professional bloviators take on the role of divine arbiters of justice following any decision or ruling by a governing body.
We see it most often in politics, mostly because everyone wants to be the person to say, "They can't do that because..."
Part of dissecting the sanctions leveled against Penn State by the NCAA has turned into this idea that Mark Emmert, as president, didn't really have the power to bring a hurricane of destruction upon the innocent land of Happy Valley.
Ty Duffy of The Big Lead was perhaps the most eloquent in his criticism, while ESPN's Ivan Maisel made it seem like Mark Emmert had gone gestapo on Penn State and completely ignored the rules and precedents set in the past.
In Maisel's case, it's as if he was completely unaware of what had gone on.
His defense was: Well, Penn State didn't break any NCAA rules.
I'm sorry, but what the heck are you talking about?
This was an institution who habitually hid the truth about a vicious and pathological child-rapist for more than a decade.
To say there was a lack of institutional control is actually ironically false. In this case, Penn State wielded complete institutional control.
To attack what the NCAA did based on some strange idea that it now sets a cumbersome, burdensome precedent doesn't make sense because the NCAA has never had to deal with something of this gravity and perhaps never will.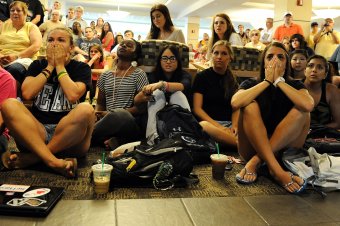 Patrick Smith/Getty Images
No, the NCAA didn't complete a full investigation before taking action. On the other hand, the criminal justice system had, as had Penn State, both providing compelling and convincing evidence that Penn State had not only known about the acts of Jerry Sandusky, but protected the truth like an offensive lineman would a quarterback.
Furthermore, there is overwhelming evidence at this point to believe any exculpatory evidence that would wash an administrators' hands clean of this.
The Paterno family insists the whole story hasn't come out. Why have they waited to provide a story?
As the ruling authority in college sports, the NCAA has the power to act in the best interest of all of its member institutions.
You'll notice the death penalty was eschewed in favor of fines and scholarship losses because the University of Indiana and Iowa and the other Big 10 schools don't deserve to suffer because one school failed on a colossal scale to show human decency.
It's bad business for the NCAA to continue it's snail act—a role-reversal Pat Forde describes beautifully—and wait months before coming down on these schools.
I'm not advocating a shoot first, ask questions later approach from the NCAA when it comes to sanctions, but that's hardly the case here.
We are now almost a year after the allegations were made public and Joe Paterno's legacy was forever tarnished.
Is there a slippery slope here? Perhaps, but the circumstances were so aberrational, so strange and unique, that I believe the NCAA's swift and draconian actions were justified.
There's no reason to believe that this now sets the stage for Mark Emmert to ride in on his horse guns blazing every time there is an impropriety.
To deny the singular circumstances involved here and the necessity for unprecedented action is to deny the truth.
What's more, waiting and allowing this season to play out without action would have done significantly more harm not only to Penn State, but the college sports as a whole.