Penn State Sanctions: The NCAA Becomes the Latest Addition to the Angry Mob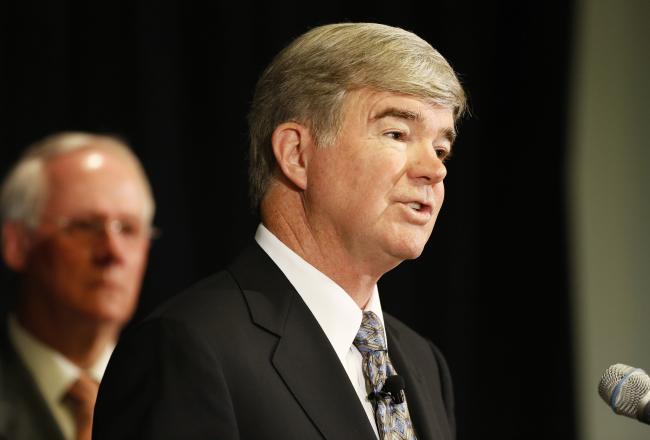 Joe Robbins/Getty Images
Before we begin I need to make a few things clear:
Disclaimer 1: What Jerry Sandusky did is without a doubt one of the worst things that a human being can do. He deserves his life sentence, and I hope he is treated worse in prison than Andy Dufresne was at Shawshank State Prison. And anyone that knowingly turned a blind-eye to his actions deserves the same, so please don't think that anything I'm about to write is defending those actions.
Disclaimer 2: When it comes to sports, I am an unabashed homer, and I make no bones about it. I still believe that the Phillies will make the playoffs, that West Virginia is the best team in the country and that Randall Cunningham, Jon LeClair and Darren Daulton should all be in their respective halls of fame.
So, if it seems like I'm biased when it comes to the Penn State situation, maybe I am. But that doesn't change the fact that what happened to Penn State today is a complete and utter disgrace.
Four years with no Bowl games. A severe scholarship ban, with a pesky $60 million fine thrown in for good measure. And, 111 wins wiped away from the record books of both Penn State and Joe Paterno, which, depending on your level of sentimentality, could be the biggest blow of all.
In 1987, when Southern Methodist was forced to shut down all football operations for one season, it quickly became known as the "Death Penalty." Well, Penn State managed to dodge the Death Penalty, but what they got was much worse. If SMU's punishment was the Death Penalty, then you might as well call the Lions' punishment a "Guantanamo Bay Penalty. "
The NCAA Sanctions Given to Penn State where...
Sure they can keep playing games, give out a few scholarships and maybe even earn a few bucks to pay off that $60 million tab; but lets be honest, the next four years of Penn State football is the sports equivalent of being water boarded.
And as a Penn State fan I'm worried that much like a torture victim, the program is going to crack. If you are a Division I athlete with NFL dreams, would even consider the Nittany Lions? If you are a fan, would you travel to Happy Valley and pay good money to watch a game that is really nothing more than a glorified exhibition?
Perhaps most importantly of all, if you are incumbent head coach Bill O'Brien, do you coach each meaningless game doing whatever you can do win, or are you already looking towards your next job, working on your resume in-game more egregiously than Art Howe did in Moneyball?
Any one of those things happening would be a huge blow to the program. But if all three happen? Suddenly Penn State can forget about competing with other teams in the Big Ten, they will be fighting for recruits against powerhouses like Villanova, Delaware and Towson.
The irony of the whole situation is that Penn State was punished for "a lack of institutional control," the very thing that the NCAA displayed today. With most media outlets doing everything short of blaming the school for global warming, the NCAA decided to curry favor by giving president Mark Emmert carte blanche towards Penn State, a privilege of which he took full advantage.
So now the University has to pay.
Yes, they screwed up, and they fully deserve to face the consequences that come from turning a blind eye toward a monster, but they shouldn't be forced to pay for a media-driven witch hunt and a governing body that decided this was the scandal where they would show the country just how much power they had; consequences or a small town and its economic bloodline be damned.
But as a true college football fan, the sanctions given out today have a deeper meaning for me.
As much as I love the Nittany Lions and will always root for them, my loyalties over the past decade have shifted towards West Virginia. That tends to happen when you go to school there.
As legendary Mountaineer announcer Tony Carridi would say, "It's a great time to be a Mountaineer, wherever you may be."
A move to the Big 12, a Heisman candidate playing quarterback and a probable preseason ranking somewhere in the top 10, the upcoming season is quickly becoming one of the most anticipated in West Virginia history.
To be honest, I don't care. The way Penn State was treated by the NCAA today, it doesn't seem to matter as much.
So congratulations Mark Emmert, you made your point. You showed everyone just how much power the NCAA has, and what happens when a school draws your ire. You put the final nail in the coffin of one of college football's most storied programs and succeeded in sullying the name of one of football's most iconic figures.
For at least one college football fan, you made the whole sport seem pretty worthless.
This article is
What is the duplicate article?
Why is this article offensive?
Where is this article plagiarized from?
Why is this article poorly edited?

Penn State Football: Like this team?