9 Easy Steps to Getting Through a Jon Lester Sunday at Fenway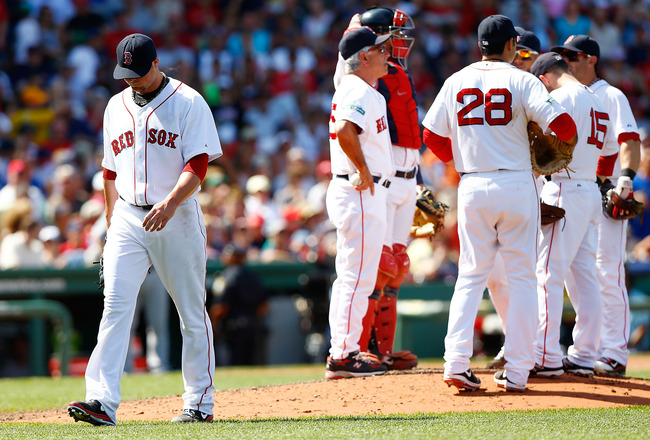 Another dismal day at the office.
Jared Wickerham/Getty Images
Jon Lester summed up yesterday's 15-7 game at Fenway Park quite succinctly when he said (h/t csnne.com), "I'm not a big fan of sucking." Neither are those of us who watched from the stands as Toronto completed its weekend sweep of the Red Sox, but at least Lester got to leave midway through the fifth inning.
What about those of us determined to sit through all nine—how did we do it?
Here's how:
Coming Prepared for Anything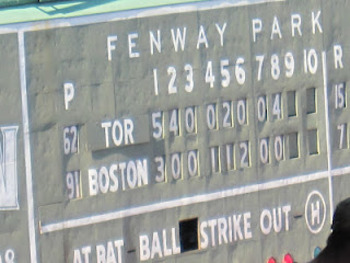 The hard truth in green and white.
A first-pitch home run by Brett Lawrie off Lester? Five Toronto runs in the top of the first? Par for the course with the 2012 Red Sox, who have made first-inning deficits an art form.
Lester started this game needing to show he could be an ace in the hole for the Sox, but he left out the ace part once again.
Cheering on a Comeback – Part I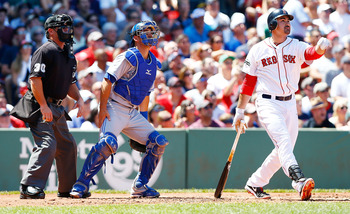 Gonzo offered hope -- albeit briefly.
Jared Wickerham/Getty Images
When Adrian Gonzalez smashed a home run in the bottom of the first, we exploded to our feet and thought maybe today would be different. You would think after 97 games we would know better.
Distracting Ourselves with Fun Diversions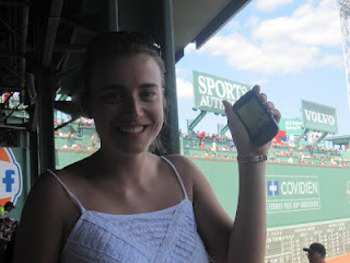 Laura couldn't care less about the score—she's now an aunt!
This came in real handy in the second inning when the Blue Jays scored four more times to deflate our enthusiasm and take a 9-3 lead.
My sister Julie had brought her friend Laura to the game, and just as Toronto was nearing its second time around the batting order, Laura's cell phone rang. It was her sister Emma, calling from England with news that she had just given birth to a baby girl.
Nothing like the smile of a brand-new aunt to get your mind off a six-run deficit.
Playing Nice with Opposing Fans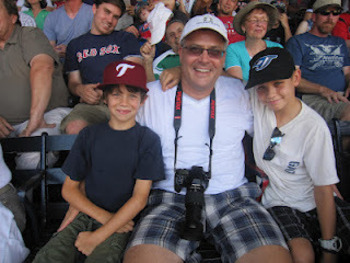 A great first Fenway visit for the Pearce family of Toronto.
This can be tough sometimes, especially with loudmouths from Yankee Country, but the Pearce family of Toronto proved delightful next-row neighbors.
Three generations of the clan were visiting Fenway for the first time, and needless to say they were quite happy most of the afternoon. At least somebody was.
Speculating Why Bobby Valentine Was Leaving Lester in so Long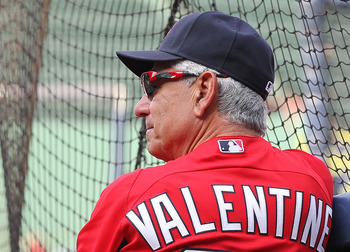 What was going through Bobby's mind? We're not sure.
Jim Rogash/Getty Images
This was the subject of much discussion in the fifth, when a Travis Snider homer—the fourth allowed by Big Jon—stretched Toronto's lead to 11-4. The Sox had scored a run in the fourth, and in Fenway a five-run deficit is not entirely insurmountable. Seven runs feels a bit worse.
Looking for Silver Linings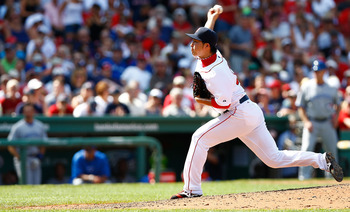 Tazawa gave Boston a sliver of a chance.
Jared Wickerham/Getty Images
The most obvious one in the middle innings was Boston right-hander Junichi Tazawa, who mercifully replaced Lester after the Snider smash and proceeded to throw three innings of two-hit, five-strikeout, shutout relief.
Another was Jacoby Ellsbury's first home run of the season leading off the bottom of the fifth.
Cheering on a Comeback – Part II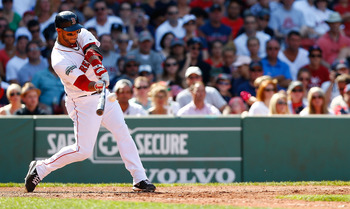 A double from Mike Aviles made it 11-6.
Jared Wickerham/Getty Images
Ellsbury's homer and two more Boston runs driven in by end-of-the-lineup guys Mike Aviles and Nick Punto in the sixth made it 11-7, and got our hopes up again.
When Tazawa struck out the side in the seventh—punctuated by a 95-mile-an-hour heater to overpowered catcher Jeff Mathis—he got a standing ovation from the sun-splashed crowd.
Maybe, just maybe…
Heckling "Sweet Caroline"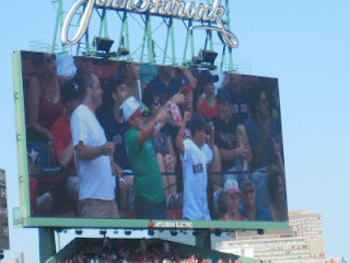 Four more Toronto runs in the eighth made it 15-7, and when the inning ended my semi-regular weekend seatmates (Nancy and Nancy) started shouting "NO! NO!" when Neil Diamond's Fenway anthem came over the loudspeakers.
I quickly joined them, and even came up with my own revised lyrics—instead of the fist-pumping "Da! Da! Da!" I yelled "Buy! A! Brick!" at the ridiculous people who could actually sing with the season going down the toilet—and would blithely be purchasing a commemorative Fenway Park 100th anniversary brick or two after the game.
Congratulating My Son for Sticking It out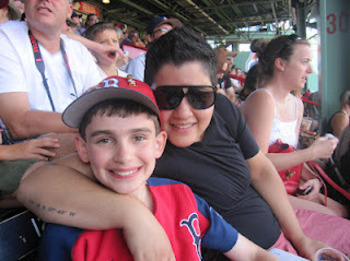 Jason and Julie will live to see another win...someday.
Jason comes from good tough Red Sox stock, and on his first visit to Fenway at age two sat through most of a 14-inning marathon. But rather than joining the 25,000 or so folks who left after the bottom of the eighth and gave the ballpark a Butch Hobson-era feel, he stayed until the end and even donned a rally cap for the 1-2-3 Red Sox ninth.
I got him a beautiful Dwight Evans card (complete with a piece of a real Dewey bat) as a reward, and the smile on his face helped soften the angst of the day a bit.
Saul Wisnia lives less than seven miles from Fenway Park and works 300 yards from Yawkey Way as Publications Editor for Dana-Farber Cancer Institute. His latest book, Fenway Park: The Centennial, is available at amazon.com and his Red Sox reflections can be found at http://saulwisnia.blogspot.com/. If you have memories of the 2004 season to share with Saul for his next book, Miracle at Fenway, contact him at saulwizz@gmail.com or @saulwizz.
Keep Reading

Boston Red Sox: Like this team?