NHL Central Division: Offseason Woes Continue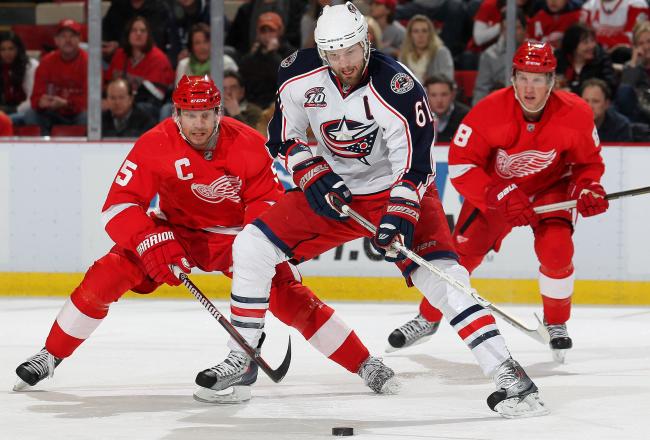 Claus Andersen/Getty Images
It has not been a kind offseason for the NHL's Central Division.
The latest blow came earlier this afternoon, when it was announced that former Columbus Blue Jackets' captain Rick Nash was acquired by the New York Rangers for a couple of depth players, a defensive prospect and a first-round pick in next year's draft.
This summer has been unrelenting to the Central Division, which emerged last season as arguably the toughest and deepest in the entire league. It seems as though the wheels may be falling off the wagon.
Here's a team-by-team overview of the division's offseason repercussions.
St. Louis Blues
With the recent addition of forward prospect Vladimir Tarasenko, the Blues may be the only team to have actually improved this summer. They've reacquired veterans Barret Jackman and Jamie Langenbrunner and re-signed T.J. Oshie and David Perron to long-term deals.
The team's only significant loss is defenseman Carlo Colaiacovo, which hurts but is a tolerable loss. They look to be heading into next season pretty much intact.
Hockeytown garnered significant lacerations with the losses of both Nicklas Lidstrom and Brad Stuart on defense. They are now forced to either pick up a depth defender or two via trade or free agency or depend on younger prospects like Brendan Smith and Jakub Kindl to carry a heftier load. Either way, there is no quick repair for the absence of Nick Lidstrom.
They also lost out on free-agents Zach Parise and Ryan Suter, and were also in the running for Nash before his reported trade to Broadway. The Wings are a perennial contender, and their fans show endless faith in the team's players and management, but this next season is going to be a turbulent one for the winged wheel.
Perhaps no team in the entire league has suffered more this summer than Music City has. In less than a month, the Nashville Predators have had to watch star defenseman Ryan Suter jump ship to Minnesota, and are now in the process of deciding if their captain and best player, Shea Weber, is worth the reported $110 million deal that the Philadelphia Flyers have negotiated with him via offer sheet.
The contract is heavily front-loaded and will require the Predators to pay Weber $26 million in signing bonuses alone before next July if they match the offer. Their compensation will be generous if they decide to reject the offer, but it will not be enough to replace a player of Weber's caliber and will send the crippled Predators straight into rebuild mode. They have not publicly announced a decision yet, and it seems as though the more time passes, the less likely it is that the Predators will match the offer.
If that's the case, they will have lost two of the NHL's top defensemen in the span of three weeks.
The Hawks have not had a bad offseason, but they have not had a productive one either. They were in the running for Zach Parise before he agreed to terms with Minnesota, and now they find themselves no better or worse than they were this past spring, when they were eliminated in six games by the Phoenix Coyotes.
Much like last season, they've merely plugged holes with the addition of Sheldon Brookbank on defense, but have not solved any necessary problems, like that of goaltending or depth at center. While the Hawks have not incurred any major setbacks, it is very likely we will see the exact same team on the ice next season that we left behind last spring.
Which Central Division team has suffered the most this summer?
Columbus Blue Jackets
It has been an abusive existence for this Columbus franchise, and perhaps the biggest swipe came this afternoon with the loss of their captain and franchise star, Rick Nash. The compensation they received for Nash was minimal, and nowhere near the value that Blue Jacket fans were expecting or that general manager Scott Howson was reportedly demanding.
Even for a team that wanted to announce its intent to rebuild once again, Howson should have waited out for a fairer, more lucrative trade. The Columbus Blue Jackets were already projected to be bottom-feeders going into next season, and the Rick Nash deal has all but guaranteed that this is exactly what will happen.
Before I conclude, there is a very good chance that this division will still be very competitive come next season. The Red Wings and Blackhawks still have high-end offensive talent, and the Blues' core is still very much intact. But with the significant losses these teams have faced this offseason, it is unlikely that four out of the top five records in the Western Conference will once again come from the Central.
This article is
What is the duplicate article?
Why is this article offensive?
Where is this article plagiarized from?
Why is this article poorly edited?