Fantasy Football: 7 Ways to Survive a 12-Team Draft at a Vegas Bachelor Party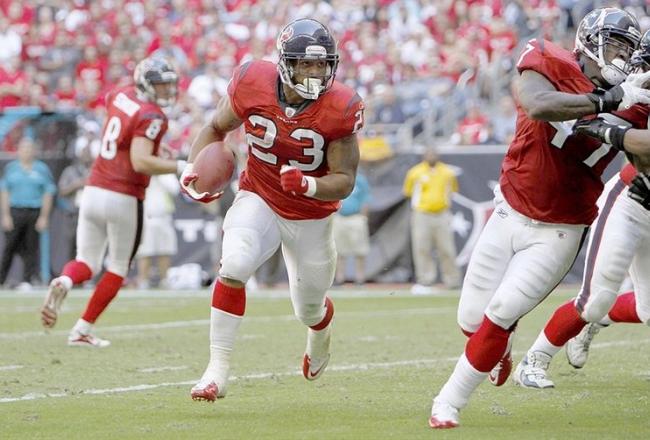 Texans tailback Arian Foster, a consensus top-3 pick in fantasy drafts this summer, racked up 1,841 total yards and 12 TDs in just 13 games last season. (US PRESSWIRE)

On July 14, while attending Golf.com guru Jeff Ritter's ultimate pre-marriage sendoff in Las Vegas (location: Hard Rock Hotel pool cabana), I participated in an impromptu fantasy draft with 11 other bachelor party invitees.

The 12-team league, replete with standard-scoring rules and RB/WR flex options, was basic in its setup. But to determine the draft order, everyone drew a number (1-12) out of a hat and then used it to bet on a horse at some random track in upstate New York. (I drew the No. 4 horse, a 7-2 favorite).

Watching the race through the TV feed of the Hard Rock sports-book casino, my horse—who apparently had no name, just like the America song—emerged as the runaway winner, securing my spot for the No. 1 pick in the Ritter draft. The horses finishing second to 12th then filled out the rest of the pecking order.

Simple enough, huh?

Here are a few lessons learned/theories advanced from last week's Vegas draft. It goes without saying: Our partygoers were distracted by beer, cigars, women in bikinis, the desert sun and whatever pool amenities the Hard Rock could spare throughout the draft. Thus, it should surprise no one that we only got through 10.5 rounds before quitting for the night. (The remaining picks will be handled through waivers.)


Draft Rules To Live By

1. It's OK to hedge your bets when holding the No. 1 pick.

I have tentative plans to be in 11 fantasy leagues this fall, the same as last year. And even though I've already hailed Eagles tailback LeSean McCoy as my No. 1 overall player heading into training camp, the differences between him and Arian Foster are razor-thin, at best. (In fact, a segment of the populace might rank Foster ahead of McCoy in standard-scoring leagues).

With a McCoy blockbuster trade in the works for Ritter's other league (a 12-team keeper), I opted to diversify, or hedge my bets on both Foster and McCoy, in the event of injury. It's all part of what I've been saying for years: When holding a top-four pick, it really doesn't matter who you take in Round 1. Just grab a superstar, hope for the best and focus on the next set of crucial picks.

2. Don't sweat the Marshawn Lynch situation in the early rounds.

As a disclaimer, my Lynch pick (No. 24 overall) predated his DUI arrest last week. But even if the NFL suspends the Seahawks masher (who scored a touchdown in 10 consecutive games last year) for a game or two, this is hardly any cause for great concern.

In April, Seattle drafted Utah State tailback Robert Turbin (1,689 total yards, 23 TDs last year) as Lynch's backup, and historically speaking, running back is the one position where NFL rookies can be expected to perform well right off the bat. Either you can run or you can't. Either you can catch the ball in the flat or you can't. It's rather elementary.

3. Accentuate the positive with back-to-back picks in successive rounds.

Most fantasy GMs would cower at the prospect of waiting 23 picks in between selections with 12-team drafts, but when you're prepared for all scenarios—and competing against owners who haven't been doing their mock-draft homework—it's a fun way to motor through an afternoon. Simply wait for the value-added picks, or outright steals, to fall into your lap...two choices at a time.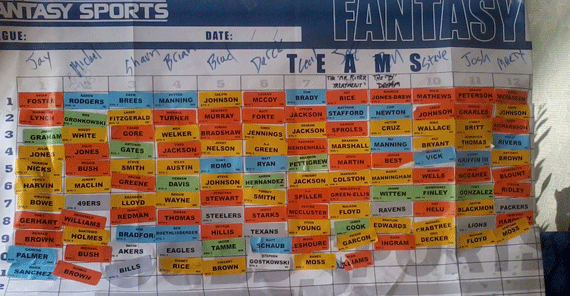 Photo by Jeff Ritter
4. Be true to your board...otherwise why have one?

When my turn came up at No. 48 overall, only 13 wide receivers had gone off the board (above)—including DeSean Jackson and Demaryius Thomas, two guys outside of my top 20 list (which gets updated this week). That prompted the golden opportunity to grab Julio Jones (54 catches, 989 yards, 8 TDs in just 13 games last year) and Hakeem Nicks (76 catches, 1,192 yards, 7 TDs last year; rehabbing from a broken foot) at Nos. 48 and 49.

Two rounds later, I jumped at the chance to land Percy Harvin (1,312 total yards, 8 TDs last season) and Dwayne Bowe (15 TDs in 2010; 1,159 yards receiving in 2011) with the 72nd and 73rd picks.

5. It's OK to be fascinated with Toby Gehart's fantasy potential.

I've been singing the same tune all summer: Whether the Vikings place Adrian Peterson on the PUP list during the preseason is immaterial; the coaches will still find creative ways to get Gerhart the ball for all four quarters. That's his reward for averaging 90.3 total yards and 0.66 touchdowns in the final six games of last season, a period that often included a healthy Peterson (torn ACL last December).

And Gerhart apparently shares that sentiment, telling the local media he's ready for a "big" role within the Minnesota offense. As stated last month, Peterson and Gerhart are one of fantasy's five best tailback combos, and Gerhart—a certifiable steal at No. 96 overall—will be able to keep the Vikings afloat in Peterson's stead.

6. Embrace the concept of stacking quarterbacks in the middle rounds.

In a bit of total honesty, I have no plans of selecting Tony Romo, Eli Manning, Michael Vick or Peyton Manning in any of my summertime drafts. My reasoning is simple: Either I'll splurge for Aaron Rodgers, Drew Brees, Matthew Stafford, Tom Brady or Cam Newton in the first three rounds...or just wait until Rounds 8, 9 or 10 to find a passer.

And when that happens, I'll likely double up on quarterbacks...just like with Carson Palmer (2,753 yards, 14 TDs in just nine starts) and Mark Sanchez (3,474 yards passing, 32 TDs) in the Vegas draft (above).

7. NEVER take a well-imbibed owner at his word.

Late in Round 6, with designs on taking Redskins tailback Roy Helu in Round 7, a fellow owner asked me to recommend "a great sleeper" at running back. Feeling good about my situation, partly off my first five choices, partly off the mass consumption of Jack-and-Cokes and ever-flowing beer, I revealed how Helu would be an easy lock for 1,300 total yards with just 50 more touches this season.

I then promised to bypass Helu with the next two picks, even though it was the perfect time to take the tailback plunge.

Well, to my surprise, Owner B drunkenly forgot to take Helu in Round 7...and Round 8, as well. When pressed for an answer afterward, he blankly stared at me before rationalizing, "Oh yeah, that was my plan."

And that's the story of how Toby Gerhart and Donald Brown became the third and fourth tailbacks of my yet-to-be-titled fantasy team.

Plans For Rounds 11-16 (Waivers)

1. Prioritize Ben Tate (1,040 total yards, 4 TDs last year with Houston) or Seattle's Robert Turbin as my fifth running back (and superstar handcuff).

2. Focus on Ed Dickson (Ravens), Coby Fleener (Colts), Jermaine Gresham (Bengals) or Jared Cook as the second tight end.

3. Grab a defense and kicker in Rounds 14 and 15 (they're all pretty much the same).

4. Wait until the last round to score a receiver with upside—Jerome Simpson, Kendall Wright, Alshon Jeffery, Danario Alexander, Michael Floyd or Buffalo's Donald Jones.
Jay Clemons can be reached on Twitter, day or night, at @ATL_JayClemons.
This article is
What is the duplicate article?
Why is this article offensive?
Where is this article plagiarized from?
Why is this article poorly edited?