Ranking Detroit Pistons 2012 Summer League Performances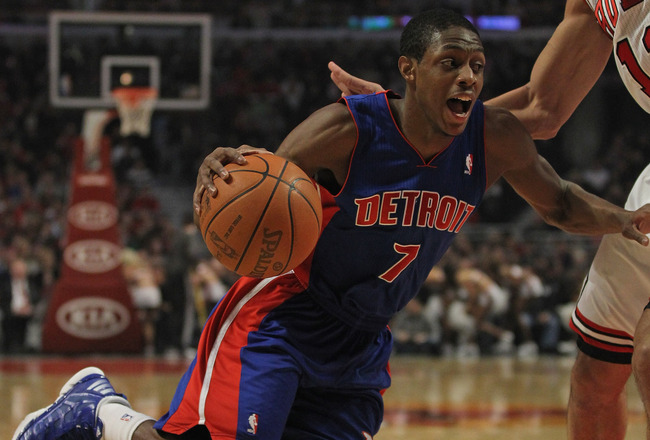 Jonathan Daniel/Getty Images
Hope—For the first time in quite a while, the Pistons and their fans have it.
Sure, it is a small measure of consolation for fans of one of the five franchises that have at least three titles in the shot-clock era.
But hope is a precious thing, and something that needs to be coddled like a weak spark until it reaches a flame.
For Detroit, the hope for the future is rooted in the performance of the young players.
Last week, we were able to see the bulk of those young players in Summer League play.
The results were largely encouraging, and led some fans to view the future with optimism.
Here are the breakdowns of each of the Pistons Summer League players.
Kim English, SG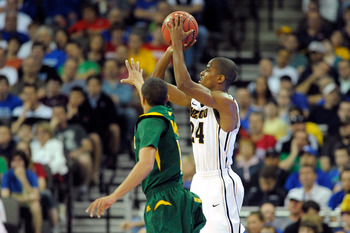 Eric Francis/Getty Images
I have to say, English was a revelation this summer.
I knew that he was an underrated talent back at Missouri, and largely played in the shadow of his point guard.
He was known as a basic spot-up shooter that parks on the perimeter and launches. He wasn't known for creating his own shot, and his athleticism was not seen as being elite.
But the English that I saw this summer really did surprise me.
He seemed much more athletic than advertised, his shooting was excellent and he showed a much better handle than I thought he had.
But the best part of his game was how willing of a defensive player he was. He constantly hustled, and put himself in the right position to make plays.
Personally, I envision him as an Aron Afflalo type of player, which would suit Detroit just fine.
He averaged 11.4 points per game, which included a 17 point performance as well as an 18 point game.
He scorched the three-point line, shooting at a better than 45 percent from deep.
Sure, he is far from a future star in this league, but if he could develop into a solid bench player, he could be a steal.
Overall Grade: B
Kyle Singler, F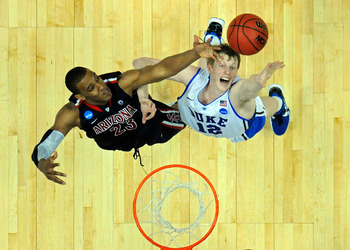 Kevork Djansezian/Getty Images
As impressed as I was with English, I was doubly impressed with Kyle Singler.
Singler showed more athleticism than I previously envisioned, and has improved his upper body strength since he left Duke.
In his first couple games, he showed ease at getting to the hoop, scrambled for loose balls and appeared to play with somewhat of a mean streak.
His perimeter shooting still is a little shaky, but he looks like he should be contributing to this team right away.
Overall Grade: B+
Austin Daye, F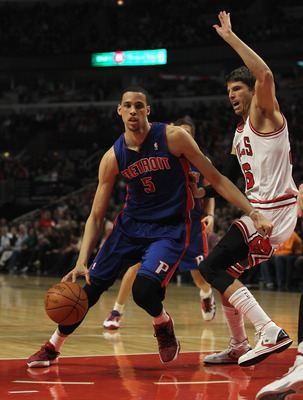 Jonathan Daniel/Getty Images
Some people are going to point to the fact that Austin Daye led the team in scoring and rebounding as some sort of sign of things to come.
Sure, I want to think that too.
But the truth of the matter is that Daye is no stranger to Summer League success, and two years ago, he looked to be a potential breakout performer before his true colors showed up.
I may be somewhat biased here as I really dislike Daye's game, but that is besides the point.
In all fairness, Daye looked pretty good this summer.
He shot very well from the field, adequately from deep, and even mixed it up for some rebounds.
He still lacks a true position, and going forward, Singler appears to be the better prospect.
That being said, I thought that two things would be ideal this summer in Daye's case.
Either he could get severely outplayed played Singler and Khris Middleton and fall out of the rotation, or he could outplay both those guys and bolster his trade value.
The latter happened, and now Detroit has some ammunition for a potential future trade.
Overall Grade: A-
Khris Middleton, F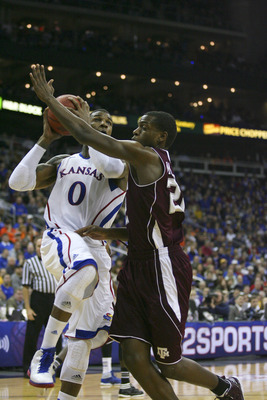 Ed Zurga/Getty Images
Middleton is long and athletic, and reminds some of a younger, shorter Kevin Durant.
I was hoping that he would tear it up this summer, but he largely fizzled.
His numbers were weak, his frame was weaker and his shooting was the weakest.
Middleton, at this point, is probably a long shot to make this team.
Overall Grade: C-
Andre Drummond, C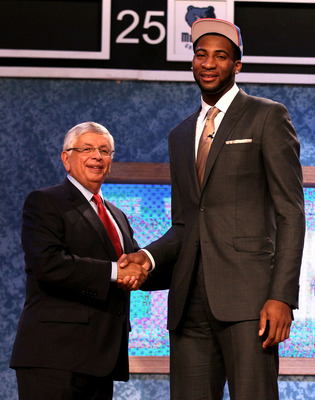 Elsa/Getty Images
The good news is that Drummond fell to Detroit and could develop, in time, into a very good center.
The bad news is that it appears that he is at least a few years away from being a significant player at this level.
Athletically, he is supremely gifted.
He is quick, long, and played with a surprisingly high motor.
But he has a very blockable shot, rarely initiates contact and has sub-par rebounding and shot-blocking instincts.
I was bracing for worse play than I saw, and therefore I am guardedly optimistic about Drummond.
But he needs loads of coaching.
Overall Grade: C+
Yancy Gates, F/C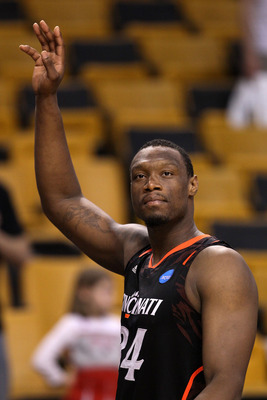 Elsa/Getty Images
Yancy Gates is built like a man, plain and simple.
In a lot of ways, he reminds me of Don Reid.
He likes to mix it up down low, but he has a real lack of offensive polish.
In all honesty, he is just a wide body that takes up space.
He won't make this roster, but could develop into a solid role player for someone else.
Overall Grade: C
Vernon Macklin, PF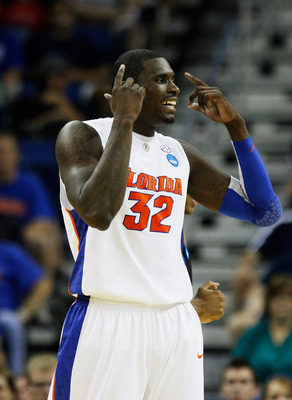 Kevin C. Cox/Getty Images
I really like Macklin as a player, so it bums me out to say that he probably isn't long for this roster.
He is a big, athletic power forward that has solid instincts down low on defense.
He can rebound fairly well, and though he is somewhat underweight for his position, he has a lot of value.
But sadly, he doesn't fit with Detroit right now, especially if Ben Wallace sticks around.
Overall Grade: C
Patrick Richard, G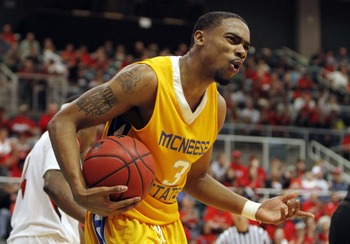 Brett Davis-US PRESSWIRE
Patrick Richard is a solid combo guard that likely won't make this or any other roster this year.
He shot the ball well from deep, and didn't turn the ball over.
But he didn't distinguish himself enough.
Overall Grade: C-
Malcolm Delaney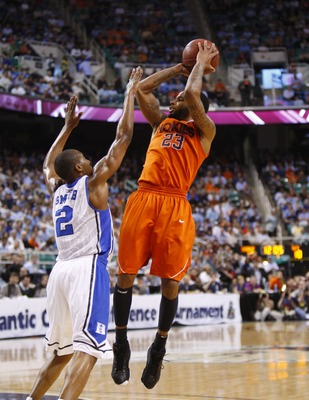 US PRESSWIRE
Malcolm Delaney is a solid player, but if he catches on anywhere it will be in the D-League.
He is a slasher that doesn't shoot the ball particularly well.
Overall Grade: D
Casper Ware, PG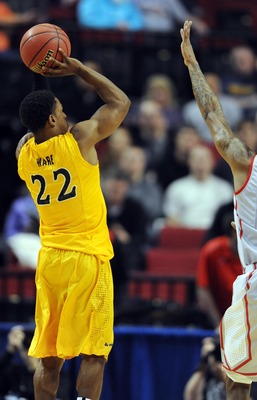 Steve Dykes-US PRESSWIRE
Some fans thought that Casper Ware would distinguish himself in the Pistons Summer League.
That just didn't happen.
The undersized scoring guard from Long Beach State shot poorly from the field, and even worse than that from deep.
He didn't have the burst some of us thought we would see, and he struggled to find open teammates.
He had one good game.
Overall Grade: D
Brandon Knight, PG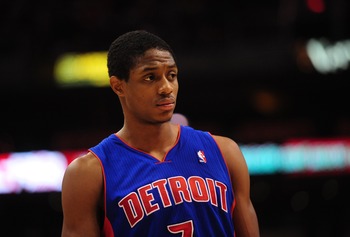 Mark J. Rebilas-US PRESSWIRE
Brandon Knight has officially become the leader of this team.
This summer, he showed the poise that impressed the Pistons brass last year, the leadership of a true point guard and the game that made him a lottery pick.
Knight led the Orlando Summer League in assists per game, and scored at a respectable clip (14.5 ppg).
His turnovers were high, but you have to love what you saw from him as a point guard.
He truly is the point guard of the future.
Overall Grade: A-
Keep Reading

Detroit Pistons: Like this team?