Why 2012 Olympics Could Help Catapult OKC Thunder Past Miami Heat in 2013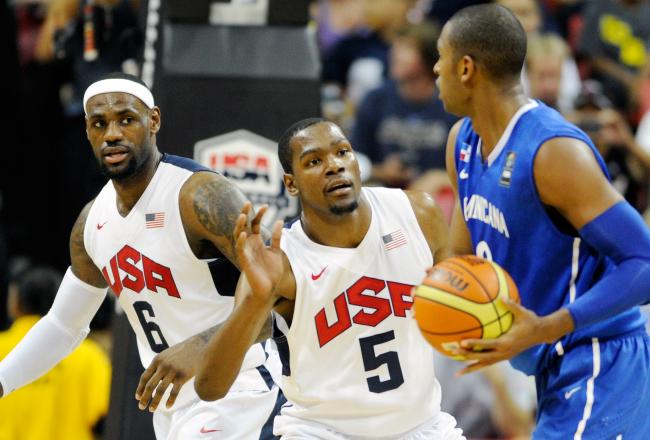 USA Basketball may henceforth be known as "Leap University."
David Becker/Getty Images
As the NBA world continues to monitor the latest updates on the Dwight Howard saga while keeping a bird's-eye view on the shakedown of the free-agent market, don't be surprised if Team USA's quest for gold ultimately proves to have the biggest impact in foreshadowing next year's NBA champion.
After all, there is something to be said about how the Olympic experience has proven to translate itself on the success of its players—a reality which should not be lost on the defending champions.
Dwyane Wade, for example, overcame an injury-riddled 2008 season, which saw his Miami Heat team finish with the worst record in the NBA, before helping team USA win a gold medal en route to becoming the 2009 scoring champion and posting an impressive MVP campaign.
All just part of the reward of playing the best of the best on a daily basis for a majority of the offseason.
Which is why it should come as no surprise that LeBron James and Kobe Bryant noted nearly two weeks ago that they would use their summer to not only win a gold medal, but to prepare for the upcoming NBA season.
A reality probably shared by each member of its team.
To that end, it can't be emphasized enough how much of a game changer it may become that the Oklahoma City Thunder's Big Three are all on team USA's roster, while their fourth banana, Serge Ibaka, plays a prominent role for Spain.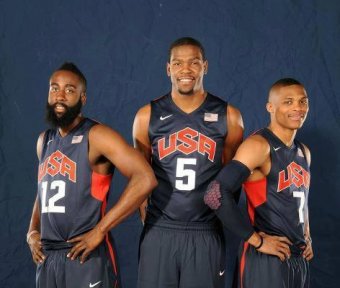 Still growing.
This is a group, mind you, that knows how to make the most of its limited experience.
In 2010, they were eliminated by the eventual champion Los Angeles Lakers in the first round. In 2011, they were eliminated again by a championship team, but in the third round. And we all know what happened this past season.
And while some will shortchange the Thunder's growth over the past three years with the stigma of a team that's been unable to get "over the hump," it can't be overlooked that they've gone a step further in the playoffs with each passing season.
Additionally, how much do you think it makes their blood boil to be in the daily presence of the player who spearheaded their defeat in the NBA Finals?
That motivation alone should be enough to help them make the most of their Olympic experience and grow as players.
But you know what's the scariest part?
Their average age is only 24, and they are so ahead of the curve that people often forget how much growth still remains in their individual games.
Think of how much tougher Durant will be if he becomes a better passer and rebounder.
...How much better Westbrook and Harden will be if they learn to play with a little more composure and a better understanding of the game.
What will have the most underrated impact in foreshadowing next year's NBA champion?
...How the three of them will all benefit from witnessing Kobe Bryant's daily game-preparation routine.
These are things that you just can't quantify.
So, with all due respect to Dwight Howard, who has proven to be as devastating off the court as he is on it, and to all the other relatively insignificant players left on the market or playing in the NBA Summer League, Heat fans should consider it their "patriotic duty" to tune in to team USA's basketball games for a real sneak preview of what next year's postseason may look like.
And perhaps the next several following it.
This article is
What is the duplicate article?
Why is this article offensive?
Where is this article plagiarized from?
Why is this article poorly edited?