Derrick Rose's Injury Gives Chicago Bulls Perfect Reason to Hit Reset Button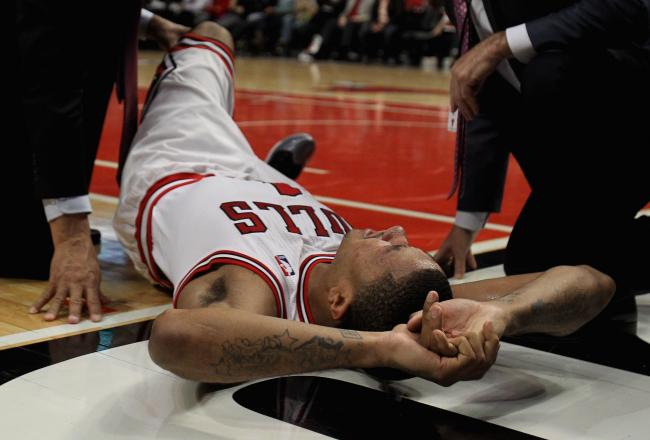 Jonathan Daniel/Getty Images
Though Derrick Rose's recovery from knee surgery is going quite well according to the doctor who performed the procedure, he'll still miss the vast majority of next season even in the very best-case scenarios.
How that affects the Chicago Bulls' approach to next season, or whether it should be affected at all, remains a point of contention among fans and onlookers.
Optimists note how successful the club was without Rose for lengthy stretches this past year. If the well-coached roster can just stay afloat until the postseason, the former MVP could swoop in and save the day in dramatic fashion.
Realists aren't so sure, and they're absolutely right to be skeptical.
Based on the moves general manager Gar Forman has made thus far, you can guess the category to which he belongs.
As the Chicago Tribune's K.C. Johnson explains, the Bulls' vaunted bench unit has already taken a step back:
Omer Asik's $5 million salary is on the verge of disappearing in favor of Nazr Mohammed's $1.4 million salary. Kyle Korver's $5 million salary has become Vladimir Radmanovic's minimum deal. Ronnie Brewer walked for nothing, replaced by Jimmy Butler, who is still on his rookie deal and sat out Sunday's summer-league finale because of injury as the Bulls finished 1-5 following a 113-68 pasting by the Bucks.
To be fair, Chicago's step backwards hasn't been quite as drastic as it might appear.
Kirk Hinrich will be better equipped than C.J. Watson to stand in for Rose, and giving Butler an opportunity has to do with more than finances alone. He's earned the opportunity to see some meaningful playing time.
He's also the best argument for Forman's more economical approach to this iteration of the Bulls.
Rose had a brilliant follow-up to his MVP season, but his best years are probably still ahead.
Derrick Rose's best years are ahead, and this organization needs to start acting like it. The 23-year-old point guard isn't too young to win it all, but the roster as it's currently configured isn't decidedly better than the Miami Heat or Boston Celtics.
Giving Butler some minutes may not make this squad better right now, but it could very well pay dividends two or three years from now.
Chicago shouldn't be planning for a heroic playoff comeback from its superstar.
It should be planning for his prime and preparing to surround him with more deserving second and third options. Carlos Boozer hasn't been what the Bulls bargained for, and Luol Deng has been asked to do more than he's cut out to do.
And, Richard Hamilton is a flat-out sign of desperation.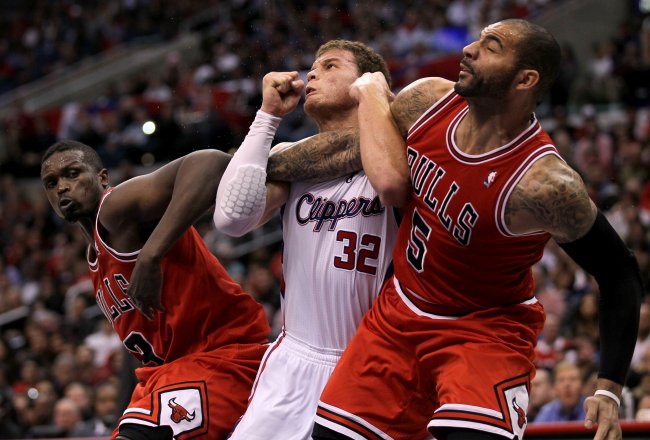 Are Luol Deng and Carlos Boozer the supporting cast Rose needs?
Stephen Dunn/Getty Images
Forman has to get the franchise's books in order if it's to find itself in position to surround Rose with the kind of star power that's gravitated toward LeBron James or Kobe Bryant. Chicago should make its move in the summer of 2014 when Deng's contract expires.
By using the amnesty clause on Boozer, Chicago could throw serious money at a difference-maker or two.
In the meantime, improved draft position isn't such a bad thing. Given the uphill battle this team would face in the playoffs, the difference between holding on to home-court advantage and sneaking in as a seventh or eighth seed probably isn't significant.
Take the draft pick. Find Rose some young cohorts that can grow with him and make a run in due time.
The last thing the Bulls need is a strategy modeled on the win-now approach taken by the Orlando Magic over the last few years. It left the organization with overpaid talent and a woeful absence of assets.
Patience is a virtue, especially when a young MVP is on the payroll.
This article is
What is the duplicate article?
Why is this article offensive?
Where is this article plagiarized from?
Why is this article poorly edited?

Chicago Bulls: Like this team?