After Rough 2011, Expect Cam Newton To Handle Pressure Better in 2012
With all Cam Newton's success, he still suffered through some rough patches in 2011.
Jeremy Brevard-US PRESSWIRE
Carolina Panthers quarterback Cam Newton sparkled in his rookie campaign last season.
Along the way to winning Rookie of the Year honors and setting multiple first-year quarterback records, Newton tossed 21 touchdown passes and threw for 4,051 yards. He also ran for 706 yards and scored 14 times on his feet.
However, there was a dark side to Newton's bright first year in the pros.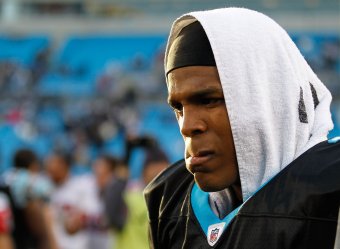 Streeter Lecka/Getty Images
Almost as memorable as his trademark opening of the jersey to display an imaginary "S" on his chest when Newton scored were the many times he sulked with a white towel over his head, or when he hung his head while walking off the field.
Newton had body-language troubles when things didn't go his way. Even with all the records he set, there were growing pains.
Each and every one of Newton's 17 interceptions—only five quarterbacks threw more picks than Newton—hurt. And even though Newton completed 310 passes, he failed to connect on 207, giving him just a 60 percent completion rate.
While interceptions and passes on the ground are commonplace among rookie quarterbacks, dealing with the NFL's bumps in the road with morose or brooding publicly should not be commonly seen.
A good case in point came after Carolina's Week 6, 31-17 loss in Atlanta. Newton threw three interceptions and finished with a quarterback rating of 44.6, the lowest of his rookie season. Being upset after a loss is justifiable; actually, it's the right emotion to feel.
But in the postgame press conference, Newton was detached and short, and when given a chance to open up and take credit for one of the good things that happened—his 14-yard touchdown run in the third quarter to give Carolina a 17-14 lead—he refused to open up.
The Panthers had just moved to 1-5, and Newton watched his team give up 17 unanswered points in the fourth quarter. Dejection was probably the right emotion. But a veteran quarterback—a member of the NFL's elite passing community—might have handled it differently.
Newton made a statement in May to Yahoo! Sports that he was a bad teammate.
I was very immature. I'll be the first one to tell you, the pouting and the moping, I kind of overdid it. I know that. I was a bad teammate. I shut off to some people who gave unbelievable effort...That's where I have to mature.
Heading into the 2012 season, Newton's doing something to improve upon his "sad clown" label.
During organized team activities, head coach Ron Rivera marveled on how different Newton's mental approach was heading into his sophomore season (via Panthers.com):
He's really maturing and becoming what you hope for in your starting quarterback. You're seeing the continued evolution based on what happened last year and how we finished the season out. Now he's just working and encouraging his teammates to keep working hard.

He's pushing himself. Cam doesn't just say it; he does it. I'm pretty excited about what we're getting from him as far as his overall development as a football player and a leader.
It's that kind of leadership, that kind of moxie that could allow Newton to completely take charge of this Panthers team and help to turn it into a contender.
The Newton that hung his head and barked at others when adversity hit can be a good quarterback, but that guy will never be great; he'll never be a leader.
The new and improved Newton, the one Rivera raved about, can be special.
Newton took another step in his campaign to lead by example when he decided to attend Carolina's three-day rookie minicamp that started Monday.
While the event was labeled for first-year players and select veterans, that term "select veterans" usually means guys who need some extra rehab time or fringe players looking to boost their chance at making the roster. Reigning Rookies of the Year are usually above rookie minicamp.
Not the new Newton.
By attending, Newton is erasing any doubt that he's not mentally ready to take the next step in his development. He's putting his best foot forward to prove that there's going to be a different kind of quarterback under center in Carolina in 2012.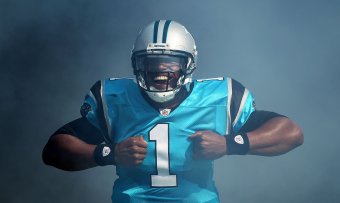 Scott Halleran/Getty Images
Expect the kind of quarterback that leads by example this year. Expect a guy whose fellow teammates will run through a brick wall for him. Expect a leader.
When Newton dons his Superman persona—a character that can leap tall buildings in a single bound—you would expect him to simply fly over that brick wall. But just like his teammates, Newton's going to run through it.
In doing so, he's setting the perfect example for his teammates. And he may be setting himself up to run into a few more awards.
This article is
What is the duplicate article?
Why is this article offensive?
Where is this article plagiarized from?
Why is this article poorly edited?